TLDR:
Economic data is deteriorating fast with Q2 GDP likely down 35% and unemployment reaching 20%+.
Opening up the economy is going to be tough if not combined with testing, tracking and capacity at hospitals.
Corporate debt defaults are expected to surge to 10-15%.
2020 S&P earnings are set to decline but analysts opinions are differing drastically.
I favor a cautious approach for portfolios for the near term as markets have almost fully recovered their lows reached in March.
There are a lot of questions about what direction the market will be headed next. As it stands now, the S&P is down around 10% YTD, and the NASDAQ is flat driven by companies such as Amazon, Google, Netflix, Apple, Microsoft and several others. My conversations lately are about how the markets don't make a lot of sense at these levels which I tend to agree with. Below are my thoughts as it relates to the economy, stock markets and how portfolios should be positioned.
US Economic Impact
The hit to the US economy is incredible as most are forecasting the worst recession since the great depression and a 35% drop in Q2 GDP (and 5-10% drop in 2020 GDP). Unemployment has skyrocketed to 17 million in 4 weeks and is forecasted to move higher. At these levels, it amounts to around 15% unemployment rate with estimates that we'll reach 20%+ in the coming weeks or months. In March, retail sales fell 8.7% although the numbers looked better when you consider the amount of stockpile spending on food and toiletries. Industrial production fell by 5.4% in March and the NAHB housing market index fell by 42pts to 30 in April, well below consensus expectations. While the hard data was in some ways better than feared, non-response bias is distorting the numbers because the hardest hit retailers and factories are relatively less likely to respond to the surveys.
Far-reaching industries and businesses are being hurt and some of them permanently. The obvious ones are restaurants and gig economy workers, but think about dental offices, dermatology offices, the $8.5 billion flower trade, etc. etc.
A lot of people seem to believe that a vaccine is a sure thing but there is no guarantee we will get one. While Gilead's drug Remdesivir is showing promise at treating people who fall ill from COVID-19, that's very different from a vaccine. And the market seems to think that we need a vaccine in order for the market to feel safe again. But we don't have vaccines for SARS or MERS and the question's still out on whether there will be one for COVID-19.
A fear is that if we re-open the economy we will see a spike in cases and will have to go back into lockdown mode again. Japan is seeing a surge in cases as doctors feel the healthcare system is breaking down (https://www.bbc.com/news/world-asia-52336388). In order to re-open, I believe we need capacity at hospitals to handle a potential surge, widespread testing for COVID-19 (and temperature tests) and tracking. Until we have these, we are not going to be data-driven in any way. And until we're data-driven in our response, we won't know if we're doing well or not until it's potentially too late.
Here in TX, Governor Abbott announced some measures to reopen the economy by allowing retailers to reopen with curbside delivery and state parks to open with strict social distancing. While the announcement certainly made headlines, it really doesn't feel like a reopening in a meaningful way. But it's a start and I know a lot of people who will benefit by having their locations partially open. Whether consumers will venture out is TBD though as most of us are cautious and used to ordering online these days.
Even when we reopen, people will be very cautious. I believe there's been a shift in how we will consume, work, travel and conduct business for an undetermined period of time. In conversations with friends and clients, we're realizing how much money we're saving by not eating out and traveling and how we're likely to maintain some or all of these habits for some period of time even after the all-clear is sounded. And these aren't people who are hurting for money but even for them they question whether they're better off keeping this lifestyle as a new normal.
If we look to China which is ahead of the US, industrial activity has picked up but consumer activity is still far from its peak in early January. And while the trend in both industrial activity and consumer activity is promising, it's too early to tell where this activity will peak and settle in. I fully expect Americans to eat out again, travel and spend money like we've done in the past, but I don't believe we'll do so at pre-virus levels for some time. And this decrease will be a drag on the economy, corporate earnings and in business activity.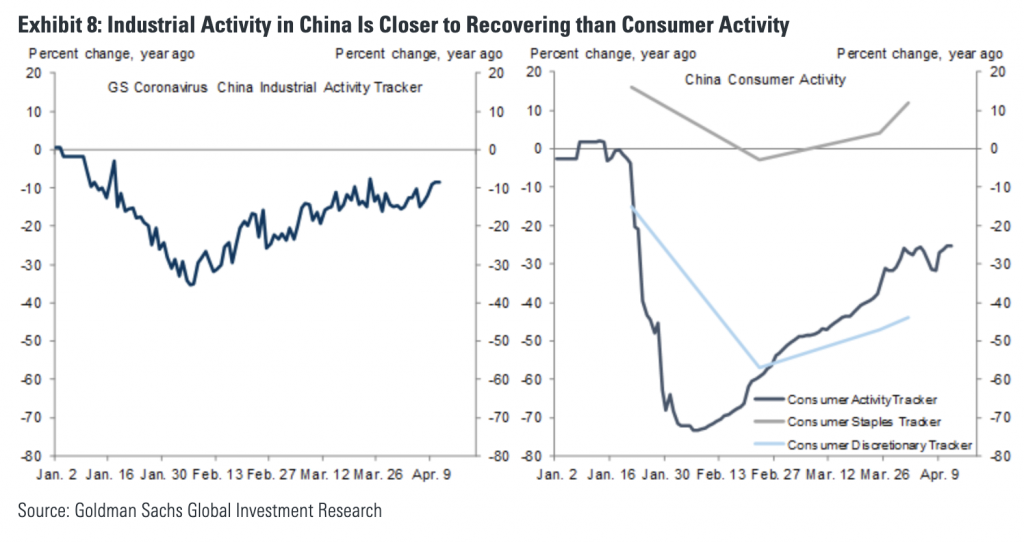 Fallen Angels and the credit markets:
The amount of BBB rated debt is at cycle highs and with corporate balance sheets in tatters, there will likely be a large amount of bonds falling to junk status over the coming months/year. Default forecasts have also surged higher and some estimates are falling between 10-15% by year end. The amount outstanding of newly minted fallen angel bonds has jumped to $149 billion this quarter, a higher amount than the previous peak reached in the second quarter of 2009. The downgrades have been quite concentrated, with three issuers out of seventeen (Occidental Petroleum, Kraft Heinz, and Ford) accounting for roughly three quarters of the overall amount of downgraded bonds.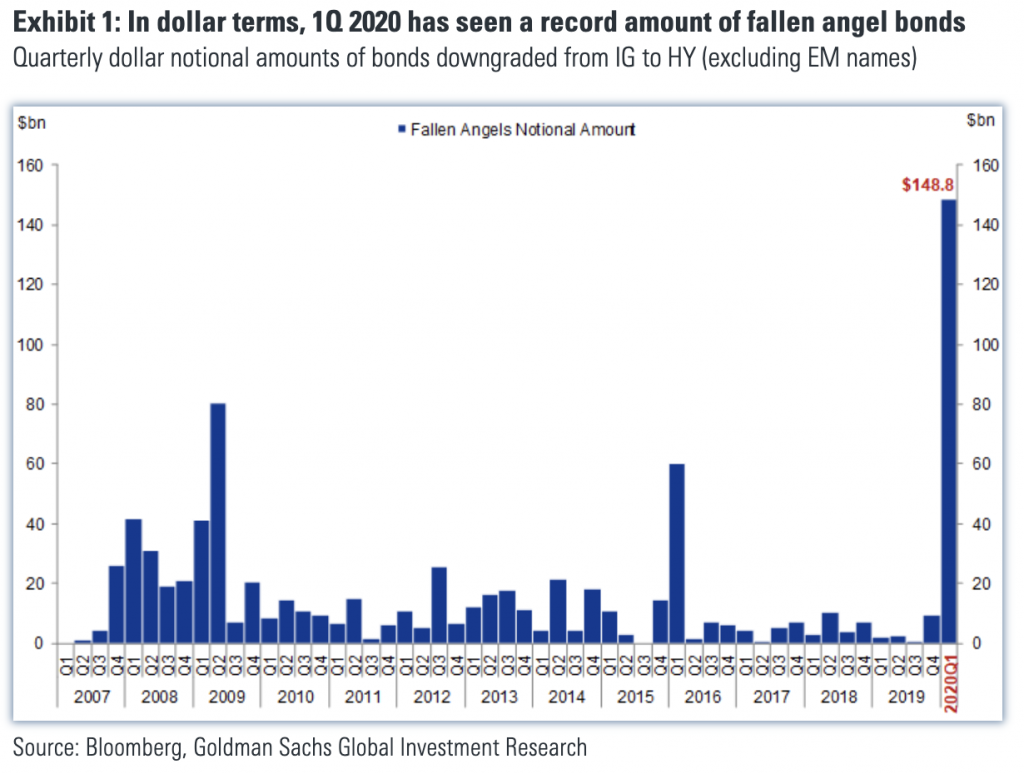 Some aspects of the junk market may have a floor since the Secondary Market Corporate Credit Facility (SMCCF) allows the Fed to purchase fallen angels. But it's unclear how much they'll buy or if they will. But the mere addition of these bonds to their tool chest has put a temporary floor under prices which is what they're likely hoping for.
US Markets:
So far, thirteen S&P 500 companies have reduced or suspended their dividends during the past month. Some firms forecast S&P 500 dividends will be 25% below the level of last year for 2020. And since the start of March, 51 companies accounting for 27% of 2019 total buybacks have suspended their repurchase programs. Reduced demand from the principal buyer of shares during the past decade means wider trading ranges, less downside support, and slower EPS growth. Furthermore, Goldman forecasts S&P 500 cash spending will decline by an annual record 33% during 2020 as firms prioritize liquidity in a worsening economic environment. Capex will decline by 27%, R&D by 9%, and cash acquisition spending by 49%, leading to a 26% plunge in investment for growth.
The markets appear to be shrugging off 2020 EPS and looking to 2021 for a sharp recovery in earnings (V-shape). According to Yardeni Research, analysts expect an 8.5% decline in EPS for 2020 which seems very aggressive compared to Yardeni's estimate of a 26% decrease. At current S&P level of 2,875, this equates to a price to earnings ratio (PER) of 19 (for analysts) and 24 for Yardeni. If we look to 2021 estimates, Yardeni and analysts are expecting S&P earnings of $150 and $177 respectively, which equates to a forward PER of 19 and 16.
If the following chart shows you anything, it's that analysts are overly optimistic. This shows the S&P aggregate earnings expectations plotted on y-axis and months prior (24 – 0) before earnings are realized on the x-axis. While this data suggests slightly different expectations for full year 2020 (~$143), Yardeni's estimates might prove true for 2020 at a 26% decrease. And if their 2021 estimates prove to be rosy and earnings for next year only come in at $140 in aggregate, this points to a forward PER of 20 which is well above the long term average. All of this points to caution as equity investors and to be patient.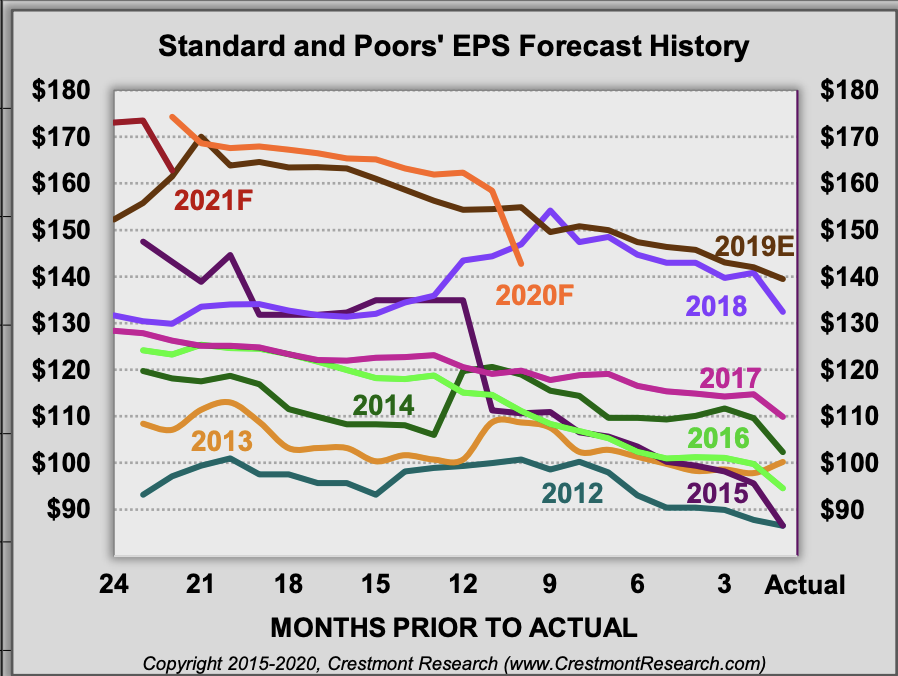 A lot of Wall Street firms have been proclaiming that the worst in the equity markets is behind us and that we've seen the lows. That might be true as the Fed is pumping money into the system to prop up financial assets. It's difficult to really say whether this is true or not, however, the markets at current levels do not make a lot of sense to me given the risks and elevated prices using metrics such as PER, aggregate S&P earnings estimates and many others. Scott Minerd, the chief investment officer of Guggenheim Investments, said "gains in the S&P 500 are unsustainable and the stock benchmark could fall as low as 1,200 when it retreats". At that level in the markets, the S&P PER based on Yardeni's 2020 forecasted EPS is just over 10. However, I don't believe we're going to see the markets at these levels because the Fed would likely announce stock purchases as Japan has done in the past.
If the S&P goes back down the March's lows, using Yardeni's earnings estimates would put the PER at 18.75 for 2020 and a 2021 forward PER of 15 which is much more reasonable vs. today's levels.
I'm thankful for the trust that my clients place in me every day during these highly erratic times. Stay safe out there folks.
Best Regards,
Jared Toren
CEO & Founder
Proper Wealth Management's ("Proper") blog is not an offering for any investment. It represents only the opinions of Jared Toren and Proper . Any views expressed are provided for information purposes only and should not be construed in any way as an offer, an endorsement, or inducement to invest. Jared Toren is the CEO of Proper, a Texas based Registered Investment Advisor. All material presented herein is believed to be reliable but we cannot attest to its accuracy. Opinions expressed in these reports may change without prior notice. Information contained herein is believed to be accurate, but cannot be guaranteed. This material is based on information that is considered to be reliable, but Proper and its related entities make this information available on an "as is" basis and make no warranties, express or implied regarding the accuracy or completeness of the information contained herein, for any particular purpose. Proper will not be liable to you or anyone else for any loss or injury resulting directly or indirectly from the use of the information contained in this newsletter caused in whole or in part by its negligence in compiling, interpreting, reporting or delivering the content in this newsletter. Opinions represented are not intended as an offer or solicitation with respect to the purchase or sale of any security or financial instrument, nor is it advice or a recommendation to enter into any transaction. The material contained herein is subject to change without notice. Statements in this material should not be considered investment advice. Employees and/or clients of Proper may have a position in the securities mentioned. This publication has been prepared without taking into account your objectives, financial situation or needs. Before acting on this information, you should consider its appropriateness having regard to your objectives, financial situation or needs. Proper Wealth Management is not responsible for any errors or omissions or for results obtained from the use of this information. Nothing contained in this material is intended to constitute legal, tax, securities, financial or investment advice, nor an opinion regarding the appropriateness of any investment. The general information contained in this material should not be acted upon without obtaining specific legal, tax or investment advice from a licensed professional.