Monthly Commentary
April was a busy month and the spotlight was firmly on the Fed, earnings growth and North Korea.  Starting with the Fed, they decided to leave rates unchanged and while continuing to signal more increases are coming, and soon.  They see inflation increasing in the near term which is inevitable with oil prices having risen so much.  The way inflation is measured if oil was at $55 and now at $70, that's a 27% year over year increase.  A research report I recently received believes headline inflation will be around 3% by the summer, but core CPI won't nearly be that high.  The yield curve has continued to flatten this year and we're starting to see almost daily reports discussing the possibility of an inverted yield curve (when the yield on short term bonds is higher than long term bonds discussed more below).  As it's been mentioned in previous monthly updates, there have been 14 recessions since the Fed was created.  There have been 11 tightening cycles which coincided with 11 recessions (100% success rate or failure depending on how you look at it) and 3 were unrelated to interest rates.  We'll see where we end up this time around as it's too early to call.
Earnings have been strong for Q1 which wasn't a big surprise since a lot was related to the tax cuts.  All of the numbers aren't out yet and earnings so far appear to be 20% higher.  If this pace continues for the rest of 2018 and markets stay flat, valuations will have dropped by 20% which is a big deal.  The earnings multiple (past and forward looking) was very inflated relative to historical levels.  Even a 20% decrease in valuations still has us above average, but certainly not in the bubble territory we were in.  If we have a few years of earnings growth like we're having along with low single digit equity returns, US index valuations will have move back down to a very reasonable level and even below the long term trend.
There's still a lot of uncertainty geopolitically related to trade wars, although a North Korean summit has taken full stage.  It's difficult to tell whether this is a gambit by Kim Jong Un, but recently met with South Korean President Moon Jae-in and agreed to finally end a seven-decade war this year, and pursue the "complete denuclearization" of the Korean Peninsula.  That's a big deal!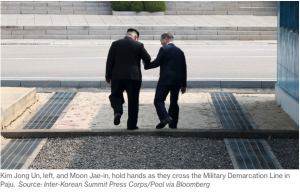 My 2 Cents:
I think it's possible that we see an inverted yield curve late this year/early next year if the Fed raises rates 3-4 times.  If the Fed funds rate increases by .75-1% and the 10 year/30 year treasury bond yields only increase marginally, this would be enough to invert the curve.  The 10/30 year treasury bonds are influenced by longer term growth and inflation expectations and the bond market is currently saying they don't believe we'll have meaningful growth or inflation for the long term. Short term (as referenced above), inflation should increase given the Fed more than enough reasons to continue increasing rates at their current pace.  The 10 year treasury recently touched 3% for the first time since 2014 and the trend of falling 10 year treasury yields since the 80's may  be temporarily over.  If you own bonds in your portfolio, the important factors are: average coupon, duration, maturity and credit quality.  With short term yields having risen, it's hard to justify buying a 30 year treasury bond and earning 3.2% when you could own a money market at 1.8% and not take any risk. Keep in mind if the 30 year bond yield jumps 1%, you've lost around 18%.  Not a great risk/reward.
Do you know what's in your bond portfolio?
 
Charts & 
Commentary
These charts and commentary are rapid fire and in no particular order.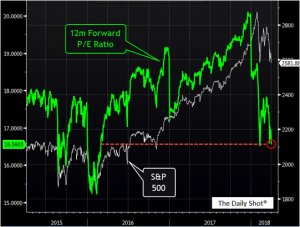 The 12 month forward PE ration moved lower as earnings expectations have been revised higher due to the tax cuts.  Currently, the predictions are forecasting around a 20% growth in earnings which brought the forward PE down from a lofty to 20 to a more reasonable 16.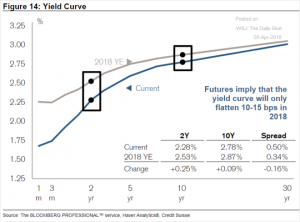 The yield curve will mostly likely continue to flatten as the Fed increases borrowing costs this year.  As explained above, long term bonds are only expected to increase marginally from where they sit currently.  It won't take a lot to make the curve inverted should near term inflation expectations overshoot.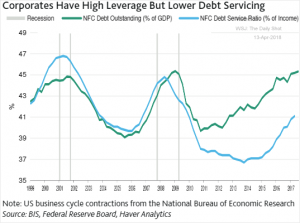 US corporations have levered up their balance sheets and have taken advantage of cheap debt.  As interest rates continue to climb however, corporations will be forced to refinance at a much higher cost.  That is, unless they spent the funds wisely and didn't waste them on executive comp, dividends to shareholders, corporate buy backs, etc.
The probability of a recession has been increasing in the Eurozone since the beginning of the year.  PMI and other data has been decreasing and growth in the EU has been very weak (.5-1.5% depending on the country).  I know the US has been disappointed by low growth, but the EU appears to be on life support when looking at GDP and CPI.  Bridgewater Associates made news in February when they
disclosed a $22 Billion bet
against Europe.  So far, it seems like they've had good timing.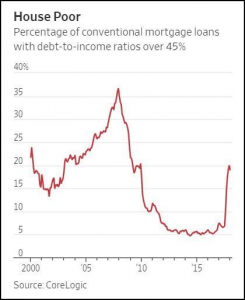 Debt to income ratios for  homeowners have been rising rapidly as homes become more expensive and wages haven't increase enough to offset the cost of living.  20% of conventional mortgages have debt to income ratios above 45%.  That means 45% of every $1 someone earns goes to debt service which is incredibly high.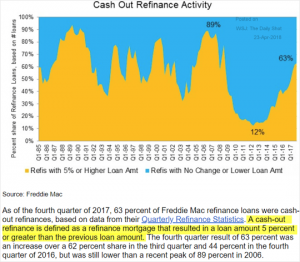 This chart  goes hand in hand with the previous one.  Since home values have increased and are generally back to or above pre-crisis levels in most areas, homeowners are once again pulling equity out of their homes via cash out refinancing.  This partially explains why debt to income levels have been increasing.  We'll see whether increasing borrowing costs will slow this down or affect home values.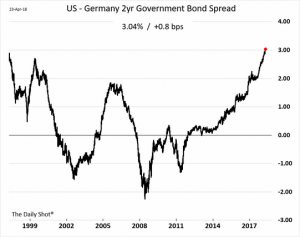 The difference between buying a 2 year US bond and 2 year German bond is over 3%.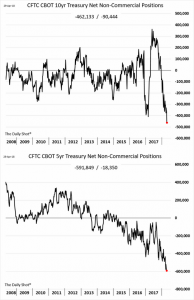 Have you heard of herding before?  Well, it appears everyone is short the 5 year and 10 year treasury bond and imagine traders feel it's a sure bet.  If they're incorrect though, the short covering will put a well needed bid underneath these bonds.
I hope you enjoyed this months financial markets update.  If you have any questions please contact us directly.  If you're interested in a topic that you'd like us to address, please email us so we can include them in future updates.
If you're interested in starting a dialogue and learning how we can help, please click the link below to book a call or meeting with us.
Best Regards,
Jared Toren
CEO & Founder
Proper Wealth Management's ("Proper") blog is not an offering for any investment. It represents only the opinions of Jared Toren and Proper . Any views expressed are provided for information purposes only and should not be construed in any way as an offer, an endorsement, or inducement to invest. Jared Toren is the CEO of Proper, a Texas based Registered Investment Advisor.   All material presented herein is believed to be reliable but we cannot attest to its accuracy. Opinions expressed in these reports may change without prior notice. Information contained herein is believed to be accurate, but cannot be guaranteed. This material is based on information that is considered to be reliable, but Proper and its related entities make this information available on an "as is" basis and make no warranties, express or implied regarding the accuracy or completeness of the information contained herein, for any particular purpose. Proper will not be liable to you or anyone else for any loss or injury resulting directly or indirectly from the use of the information contained in this newsletter caused in whole or in part by its negligence in compiling, interpreting, reporting or delivering the content in this newsletter.  Opinions represented are not intended as an offer or solicitation with respect to the purchase or sale of any security or financial instrument, nor is it advice or a recommendation to enter into any transaction. The material contained herein is subject to change without notice. Statements in this material should not be considered investment advice. Employees and/or clients of Proper may have a position in the securities mentioned. This publication has been prepared without taking into account your objectives, financial situation or needs. Before acting on this information, you should consider its appropriateness having regard to your objectives, financial situation or needs. Proper Wealth Management is not responsible for any errors or omissions or for results obtained from the use of this information. Nothing contained in this material is intended to constitute legal, tax, securities, financial or investment advice, nor an opinion regarding the appropriateness of any investment. The general information contained in this material should not be acted upon without obtaining specific legal, tax or investment advice from a licensed professional.
Jared Toren is CEO and Founder at Proper Wealth Management. Proper was born out of frustration with the inherent conflicts of interest at big brokerage firms influencing advisors to sell products that were not suitable for clients but profitable to the firm along with a consistently mixed message of who's interest was supposed to be put first; the clients', the firms', shareholders or advisors.
At Proper, our clients interests come first. We are compensated the same regardless of which investments we utilize so there's no incentive for us to sell high commission products. Since we focus on a small number of clients, we are able to truly tailor our advice to each person's unique circumstances.