Monthly Recap
Another busy month with GDP surprising to the upside, Uber preparing for an IPO and much more. To recap, here are just some of the noteworthy events and stories from April:
President Trump pressured the Federal Reserve publicly to lower interest rates so the economy can "take off".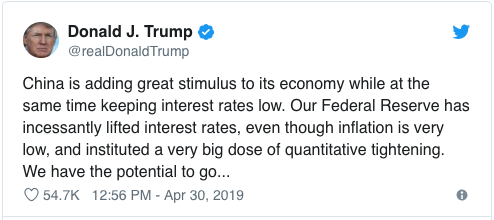 GDP expanded at a 3.2 percent annualized rate in Q1 2019 on a big boost from inventories and trade that offset slowdowns in consumer and business spending. That followed a 2.2 percent advance in the prior three months.
The Fed left rates unchanged when it met during the month. Powell said they view the recent slowdown in inflation as transitory. The Fed doesn't appear to be motivated to move in one direction or another and seems willing to let inflation run hotter, if it picks up.
WeWork and Uber are rushing to the IPO exits with Uber getting very close to having it's day. Uber's last valuation target is between $80-90 Billion. WeWork still has some time before their public and their last valuation by Softbank was for $47 Billion.
Red flags are flying in the credit-card industry after a key gauge of bad debt jumped to the highest level in almost seven years. The charge-off rate — the percentage of loans companies have decided they'll never collect — rose to 3.82 percent in the first three months of 2019, the highest since the second quarter of 2012, according to data compiled by Bloomberg Intelligence. And loans 30 days past due, a harbinger of future write-offs, increased at all seven of the largest U.S. card issuers.
WikiLeaks founder Julian Assange was expelled from his hideout in Ecuador's embassy in London and charged in the U.S. with conspiracy, ending his seven-year standoff with British authorities and launching what could be a protracted battle to bring him to the U.S. for trial.
An offshoot of Alphabet Inc.'s Google has become the first drone operator to receive government approval as an airline, an important step that gives it the legal authority to begin dropping products to actual customers. The subsidiary, Wing Aviation LLC, now has the same certifications that smaller airlines receive from the U.S. Federal Aviation Administration and the Department of Transportation. It plans to begin routine deliveries of small consumer items in two rural communities in Virginia within months.
The Saudi Arabian Oil Co. (Aramco) made history this week by placing $12 billion in bonds in a deal that attracted a massive $100 billion order book. That's a record level of demand for an emerging market issuer and one of the most oversubscribed bond offerings in history according to Bloomberg.
Elon Musk revealed that Tesla plans to roll out autonomous Robo-Taxis by next year. While he acknowledged the massive regulatory hurdles ahead for this project, Musk said that "Next year for sure, we will have over 1 million Robo-Taxis on the road." Once rolled out, Tesla owners will be able to offer their cars onto the 'Tesla Network' via the Tesla mobile App, so that other people can use it in a ridesharing fashion similar to Uber and Lyft. Tesla estimates Tesla owners will be able to earn over $30,000 per year from offering their car as a Tesla Network Robo-Taxi. "The fundamental message that consumers should be taking today is that it is financially insane to buy anything other than a Tesla," he said.
My 2 Cents
For this month's my 2 cents, I'm going to focus on freight with excerpts from the Cass Freight Index Report. In summary, Europe and Asia are cooling while the US volumes are a little reassuring.
With March down -1.0% — the fourth YoY negative month in a row — we are preparing to 'change tack' in our economic outlook. Yes, all of these still relatively small negative percentages are against extremely tough comparisons; yes, the two-year stacked increase was 10.8% for March; and yes, the Cass Shipments Index has gone negative before without being followed by a negative GDP. But, at a minimum, business plans and economic outlooks should be moderated or have contingency plans included or expanded. (…)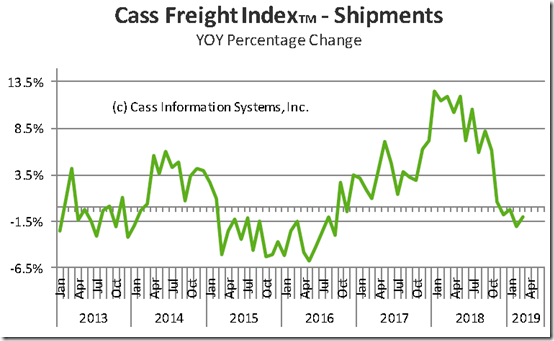 Beyond our concern that the Cass Freight Shipments Index has been negative on a YoY basis for the fourth month in a row,
We are concerned about the severe declines in international airfreight volumes (especially in Asia) and the recent swoon in railroad volumes in auto and building materials;
We are reassured by the sequential increase in the Cass Freight Shipments Index (up 2.0%) and the volumes in U.S. domestic trucking (especially in truckload dry van);
We are closely watching the volumes of chemicals and other shipments via railroad, as they have lost momentum in recent weeks and may give us the first evidence of the global slowdown spreading to the U.S.
(…) Recent airfreight volumes in Europe suggest that the region's economy has cooled. Airfreight volumes in Asia suggest that the region is on the verge of, or is already entering, a recession. As we've highlighted before, when trade tariffs slow the rate of growth for our global trading partners, it poses a real threat to the U.S. rate of economic growth. (…)Asian airfreight volumes were essentially flat from June to October 2018 but have since deteriorated at an accelerating pace (November -3.5%, December -6.1%, January – 5.2%, February -13.6%). If the overall volume wasn't distressing enough, the volumes of the three largest airports (Hong Kong, Shanghai, and Incheon) are experiencing the highest rates of contraction.Even more alarming, the inbound volumes for Shanghai have plummeted. This concerns us since it is the inbound shipment of high value/low density parts and pieces that are assembled into the high-value tech devices that are shipped to the rest of the world. Hence, in markets such as Shanghai, the inbound volumes predict the outbound volumes and the strength of the high-tech manufacturing economy. (…)While we are closely monitoring these trends and looking for signs of contagion, we are not yet finding much materially meaningful evidence of it. We continue to see the current scenario as most analogous to the 1997-1998 Asian currency crisis, but are far more concerned about the potential for recession in both Europe and Asia. (…)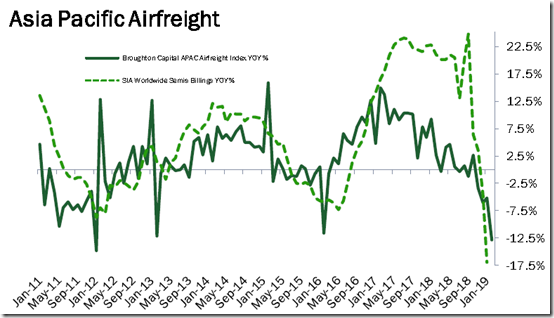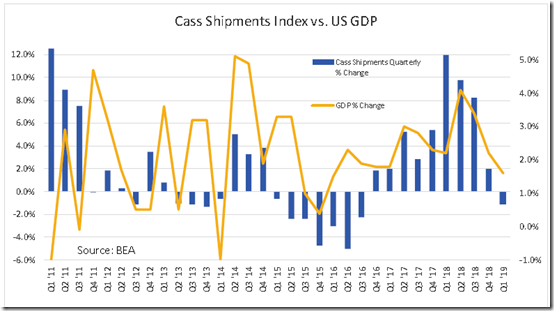 Charts & Commentary
(In no particular order)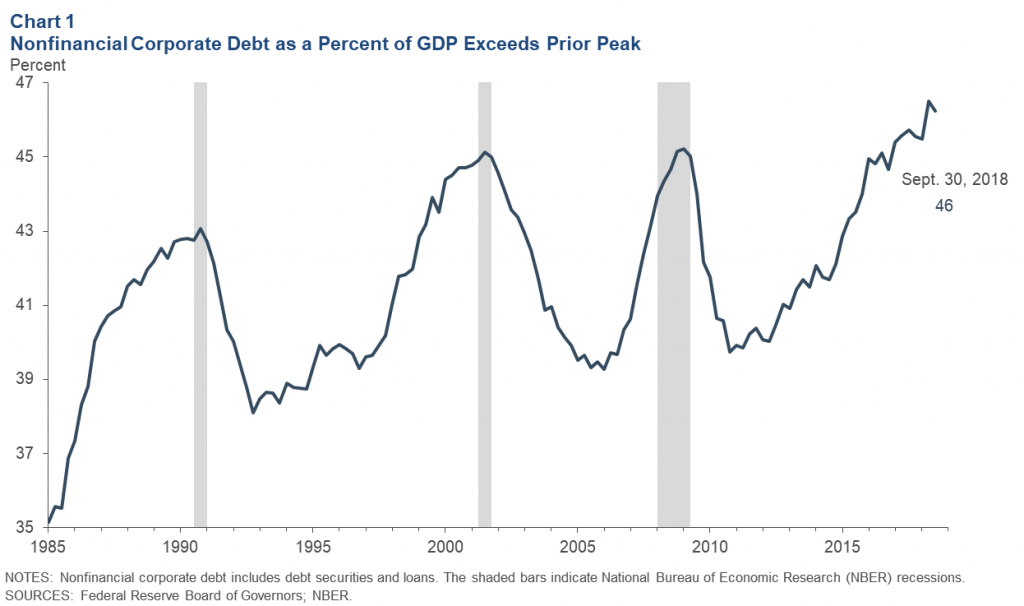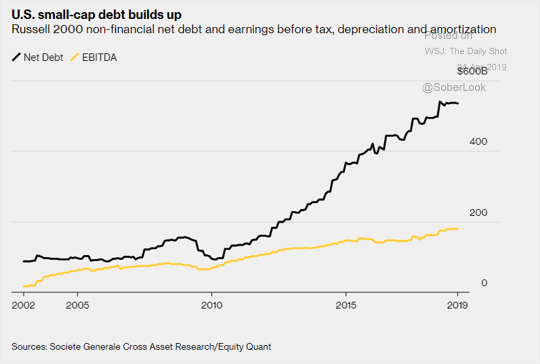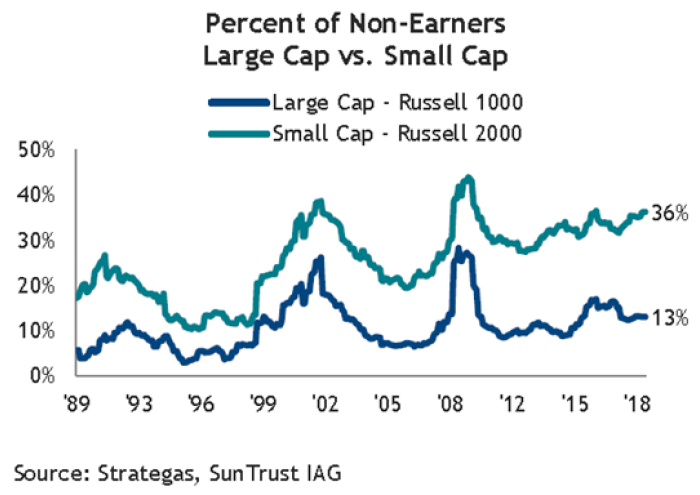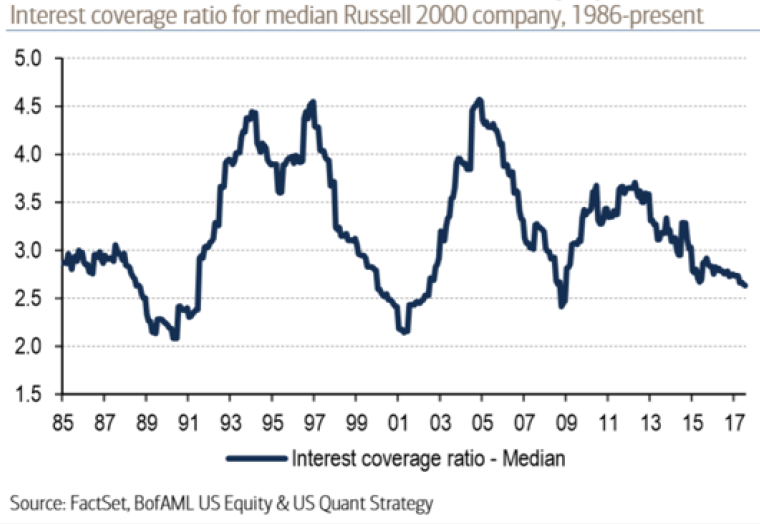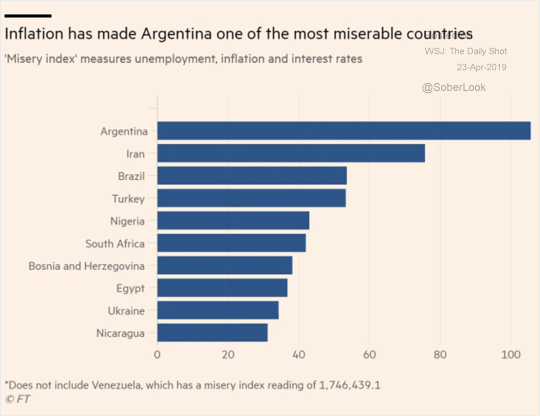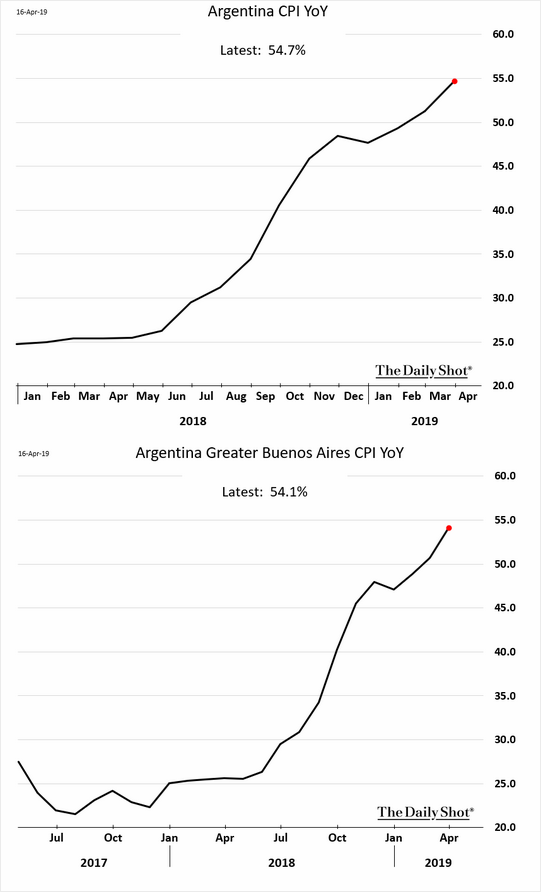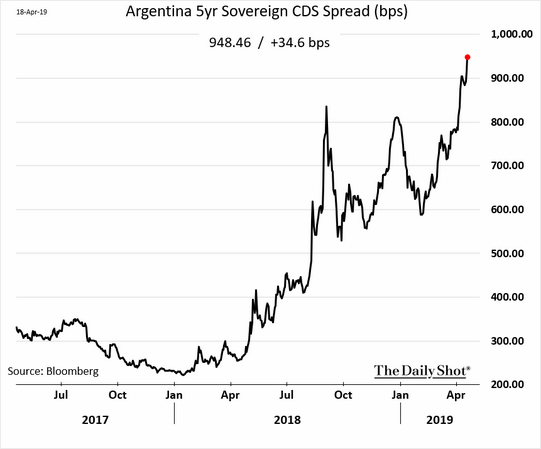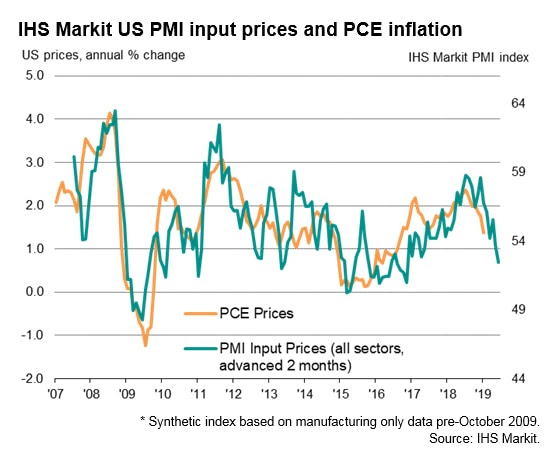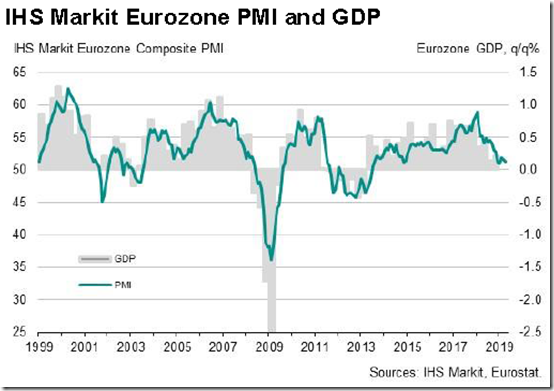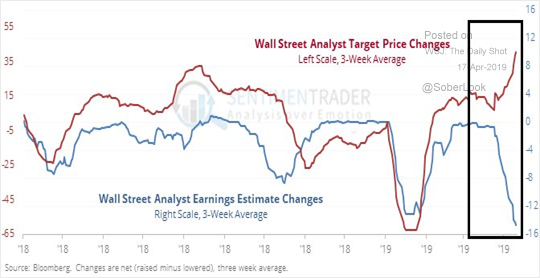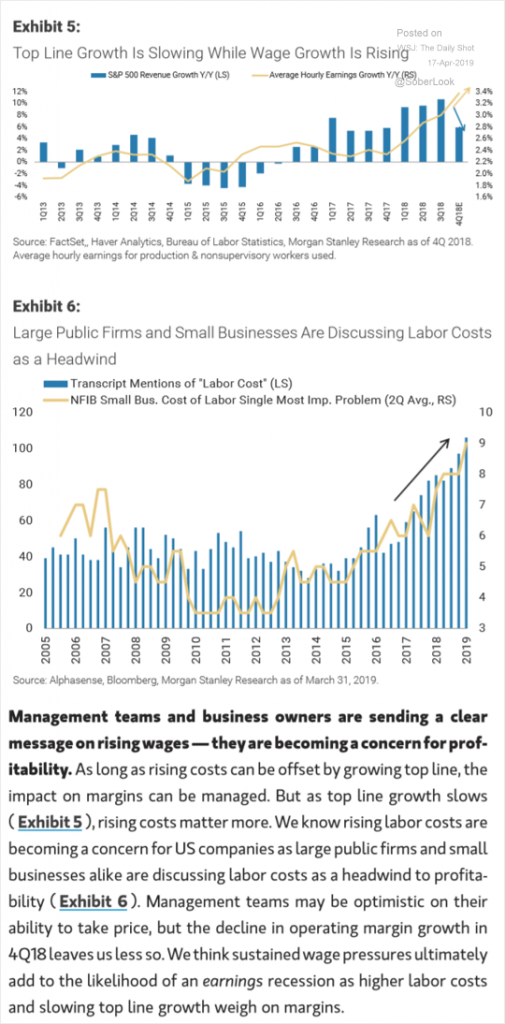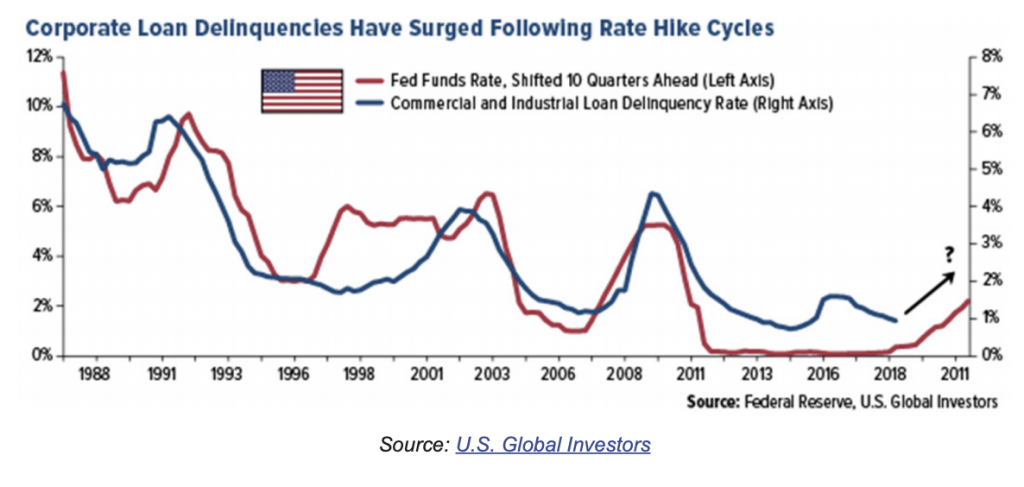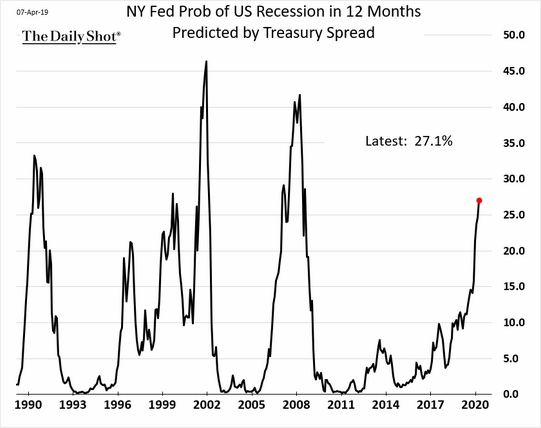 I hope you enjoyed this months financial markets update. If you have any questions please contact us directly. If you're interested in a topic that you'd like us to address, please email us so we can include them in future updates.
If you're interested in starting a dialogue and learning how we can help, please contact us.
Best Regards,
Jared Toren
CEO & Founder
Sources: Edges & Odds, WSJ Daily Shot, 361 Capital
Proper Wealth Management's ("Proper") blog is not an offering for any investment. It represents only the opinions of Jared Toren and Proper . Any views expressed are provided for information purposes only and should not be construed in any way as an offer, an endorsement, or inducement to invest. Jared Toren is the CEO of Proper, a Texas based Registered Investment Advisor. All material presented herein is believed to be reliable but we cannot attest to its accuracy. Opinions expressed in these reports may change without prior notice. Information contained herein is believed to be accurate, but cannot be guaranteed. This material is based on information that is considered to be reliable, but Proper and its related entities make this information available on an "as is" basis and make no warranties, express or implied regarding the accuracy or completeness of the information contained herein, for any particular purpose. Proper will not be liable to you or anyone else for any loss or injury resulting directly or indirectly from the use of the information contained in this newsletter caused in whole or in part by its negligence in compiling, interpreting, reporting or delivering the content in this newsletter. Opinions represented are not intended as an offer or solicitation with respect to the purchase or sale of any security or financial instrument, nor is it advice or a recommendation to enter into any transaction. The material contained herein is subject to change without notice. Statements in this material should not be considered investment advice. Employees and/or clients of Proper may have a position in the securities mentioned. This publication has been prepared without taking into account your objectives, financial situation or needs. Before acting on this information, you should consider its appropriateness having regard to your objectives, financial situation or needs. Proper Wealth Management is not responsible for any errors or omissions or for results obtained from the use of this information. Nothing contained in this material is intended to constitute legal, tax, securities, financial or investment advice, nor an opinion regarding the appropriateness of any investment. The general information contained in this material should not be acted upon without obtaining specific legal, tax or investment advice from a licensed professional.
Jared Toren is CEO and Founder at Proper Wealth Management. Proper was born out of frustration with the inherent conflicts of interest at big brokerage firms influencing advisors to sell products that were not suitable for clients but profitable to the firm along with a consistently mixed message of who's interest was supposed to be put first; the clients', the firms', shareholders or advisors. At Proper, our clients interests come first. We are compensated the same regardless of which investments we utilize so there's no incentive for us to sell high commission products. Since we focus on a small number of clients, we are able to truly tailor our advice to each person's unique circumstances.