Market Scorecard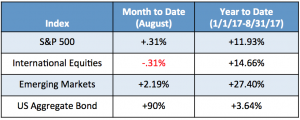 Figures provided above are estimate and for illustration purposes only
Monthly Commentary
First off, my thoughts and prayers are with all of the people affected by Hurricane Harvey.  The death toll from the hurricane is still rising and there are millions affected.  The costs associated with this disaster are still unknown with some projecting the total impact will be over $100 Billion.  With the flood waters still not yet receding, it will be hard to know how this will turn out.  Houston is one of the US's top cities by population and has a GDP of $500 Billion, around the size of the country of Argentina.  Besides this terrible tragedy, President Trump threatened N. Korea, which they then threatened Guam and have since fired a missile over Japan.  With all of this uncertainty in the world, the stocks indices around globe continued to rally posting another month of gains.  Although, there were still stumbles along the way during the month which were to be expected.  Through all of this uncertainty, bitcoin (charts below) continued to climb and even reached $4,700 on 8/31.  Other crypoassets have been increasing in price while new ones (in the form of initial coin offerings) are seemingly being created every day.  The Fed minutes were released during the month and some participants see the likelihood that inflation may remain below 2% longer than they expected while several others believe the risks to inflation are tilted to the downside.  Due to this and other uncertainty, US treasury yields went down during the month (while prices increased) and gold increased in price.
It seems some of the lessons learned from the 2008 financial crisis are going to be re-learned in Miami where there's currently a 31 month supply of luxury condos listed for sale (article here).  This equates to more than 675 condo units for sale with a price tag over $1MM.  According to the article, a balanced market is 6 months of supply.  Turning to corporate america, profits are highest in 13 years and have benefitted from a weakening dollar which fell over 6% during the first 6 months of 2017.
A great quote from Blaine Rollins at 361 Capital:
"Right now, it is all about politics. The POTUS is threatening a shutdown to try and get his agenda some attention, while at the same time attacking Ryan, McConnell and Corker. I must have forgotten this chapter in "The Art of the Deal". "
Noteworthy Research
Howard Marks, There They Go Again from OakTree Capital: One of the best research pieces I've read in a long time and worth the time
Bain's 2017 Private Equity Report
Tech Co IPO's: The universe of public companies is shrinking and this research shows an analysis of VC backed, Buy-out backed and total tech IPO's throughout history.
Charts, Charts & More Charts
These charts are rapid fire and in no particular order.
The ISM non-manufacturing index (services) ticked down to 53.90 vs. the expectation of 56.90.  A number over 50 signals expansion and since the US economy is mostly services based, we're still pointing to expansion.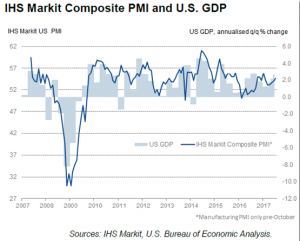 The IHS Markit PMI ticked higher.  GDP and PMI have a high positive correlation.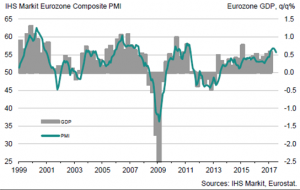 The Markit Eurozone PMI ticked slightly lower which is pointing to a weaker GDP for Q3.

Commercial real estate prices in the US which fell dramatically in the financial crisis are now significantly higher than residential real estate prices.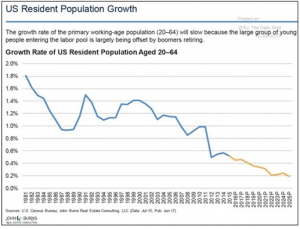 The growth rate of the US population is declining as people have children later or not at all.  Population demographics are an important driver of economic growth which we'll see play out in India, China and Japan (just in very different ways)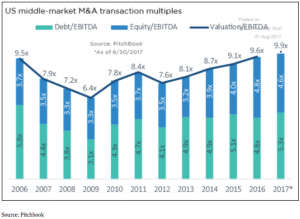 Valuations of M&A middle-market transactions have continued to rise.  There's a lot of private equity dry powder via uncalled capital and newly raised funds.  Will we see valuations continue to climb?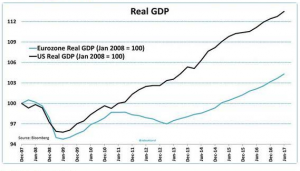 GDP in the Eurozone still hasn't recovered the same way it has in the US.  I've been hearing about Europe being a few years behind us in recovering from
the financial crisis (although I also heard that back in 2011 and 2012).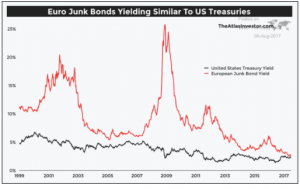 What would you rather own?  A european junk bond or a US treasury bond?  Right now, they're yielding about the same.  Things that make you go hmmmm.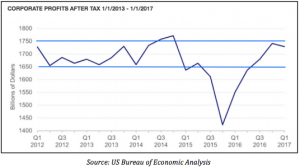 Corporate profits have rebounded, but are still in the same place they've been since 2012.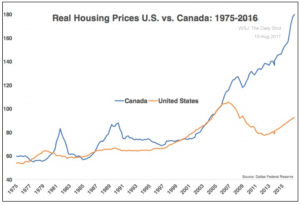 If you thought property prices were lofty in the US, check out what's going on in Canada's housing market.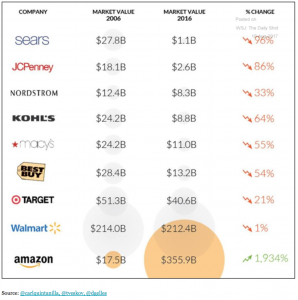 A great look at what Amazon has done to traditional retail in terms of market cap.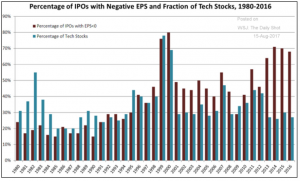 A lot of unprofitable companies are going public lately.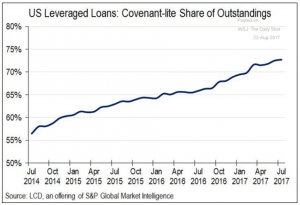 Lenders appear to be falling into old habits as the % of covenant lite loans increase since 2014.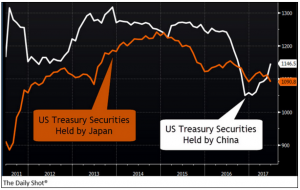 China has now surpassed Japan (again)as the largest foreign holder of US treasuries.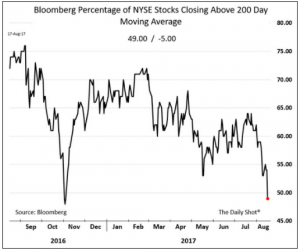 Momentum and breadth in the US stock market is starting to weaken.  Will this be like November 2016 where we see a rebound or will the markets continue to weaken?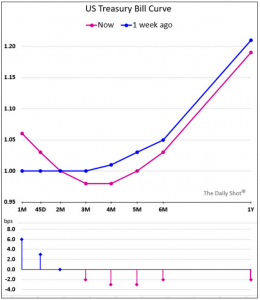 Due to concerns over the debt ceiling, investors are demanding more yield for short term US treasury bills.  This has caused a slightly inverted yield curve which usually signals a future recession.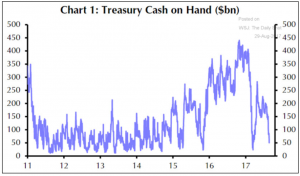 We are slowly running out of cash.  With the President trying to pass large hurricane relief, will that lead to us hitting the debt ceiling sooner?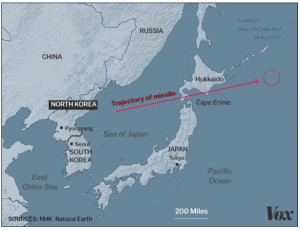 North Korea fired a missile over Japan which fell into the ocean not too far off their coast.  With all of the back and forth rhetoric, it's scary to think what can happen.  Also, N Korea has successfully tested a hydrogen bomb which they claim fits into their ICBM.  Not good.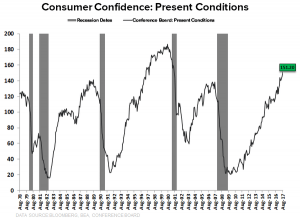 Consumer confidence is above levels reached before the financial crisis.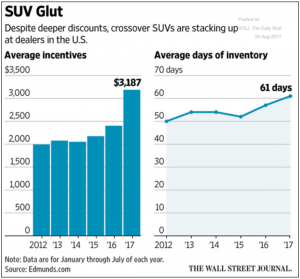 Coming soon to an auto dealer near you; larger incentives to buy that SUV you always wanted.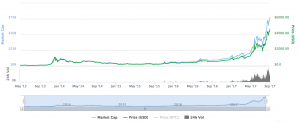 Bitcoin's price and market cap are continuing to surge higher.  The majority of the population that I speak doesn't seem to actually understand blockchain, bitcoin or the underpinning of cryptoassets.  It's possible these assets have much larger room to run if the general population starts to gain a better understanding.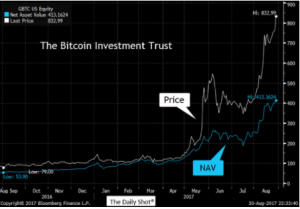 The bitcoin investment trust has greatly diverged from it's underlying value and was trading around 80% above it's net asset value.  There are better ways to buy bitcoin and crypto assets and would stay away from this one.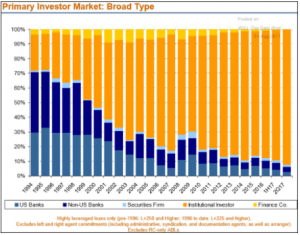 The makeup of debt investors has changed dramatically since the tech boom and since the financial crisis (Dodd-Frank).  An interesting chart.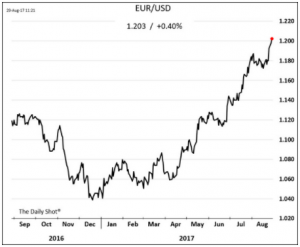 The Euro hit 1.20 vs. USD.  It's been a few years since the Euro has been this strong.  There's a lot of money in this trade and we could see a pullback if GDP comes in below expectations or if the ECB telegraphs asset sales.
Just a funny picture I found online.  Enjoy!
I hope you enjoyed this months financial markets update.  If you have any questions please contact us directly.  If you're interested in a topic that you'd like us to address, please email us so we can include them in future updates.
If you're interested in starting a dialogue and learning how we can help, please click the link below to book a call or meeting with us.
BOOK A MEETING OR CALL WITH ME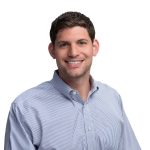 Best Regards,
Jared Toren
CEO & Founder
Proper Wealth Management's ("Proper") blog is not an offering for any investment. It represents only the opinions of Jared Toren and Proper . Any views expressed are provided for information purposes only and should not be construed in any way as an offer, an endorsement, or inducement to invest. Jared Toren is the CEO of Proper, a Texas based Registered Investment Advisor.   All material presented herein is believed to be reliable but we cannot attest to its accuracy. Opinions expressed in these reports may change without prior notice. Information contained herein is believed to be accurate, but cannot be guaranteed. This material is based on information that is considered to be reliable, but Proper and its related entities make this information available on an "as is" basis and make no warranties, express or implied regarding the accuracy or completeness of the information contained herein, for any particular purpose. Proper will not be liable to you or anyone else for any loss or injury resulting directly or indirectly from the use of the information contained in this newsletter caused in whole or in part by its negligence in compiling, interpreting, reporting or delivering the content in this newsletter.  Opinions represented are not intended as an offer or solicitation with respect to the purchase or sale of any security or financial instrument, nor is it advice or a recommendation to enter into any transaction. The material contained herein is subject to change without notice. Statements in this material should not be considered investment advice. Employees and/or clients of Proper may have a position in the securities mentioned. This publication has been prepared without taking into account your objectives, financial situation or needs. Before acting on this information, you should consider its appropriateness having regard to your objectives, financial situation or needs. Proper Wealth Management is not responsible for any errors or omissions or for results obtained from the use of this information. Nothing contained in this material is intended to constitute legal, tax, securities, financial or investment advice, nor an opinion regarding the appropriateness of any investment. The general information contained in this material should not be acted upon without obtaining specific legal, tax or investment advice from a licensed professional.
Jared Toren is CEO and Founder at Proper Wealth Management. Proper was born out of frustration with the inherent conflicts of interest at big brokerage firms influencing advisors to sell products that were not suitable for clients but profitable to the firm along with a consistently mixed message of who's interest was supposed to be put first; the clients', the firms', shareholders or advisors.
At Proper, our clients interests come first. We are compensated the same regardless of which investments we utilize so there's no incentive for us to sell high commission products. Since we focus on a small number of clients, we are able to truly tailor our advice to each person's unique circumstances.