Monthly Recap
Thank goodness August is over with as there was a tremendous amount of noise. Things seemed to reach a fever pitch this past month with the ever evolving US-China trade war, protests in Hong Kong and interest rates which continued to fall globally. The US stock market started off weak and ended up posting only modest losses for the month which was a win in my book due to all the negative headlines that occurred during the month. To recap, here are some of the noteworthy events and stories from August:
China responded to President Donald Trump's tariff threat with another escalation of the trade war, letting the yuan tumble to the weakest level in more than a decade and asking state-owned companies to suspend imports of U.S. agricultural products. The President accused China of being a currency manipulator (and labeled so by the Treasury), something he's repeatedly said. The US and China went back and forth raising tariffs and levying threats against one another. This trade war does not appear anywhere close to a resolution and we should expect this type of relationship and news cycle for the foreseeable future.
Protests and unrest in Hong Kong don't appear to be nearing an end either. The Hong Kong airport has delayed and canceled flights, sometimes for full days in response to the unrest. It's unclear how China plans on "resolving" this situation. Let's hope whatever transpires is done so peacefully and without conflict.
It appears that the mystery surrounding Epstein's death in solitary confinement has been solved and is officially labeled a suicide. There's a lot of suspicion and conspiracy theories around his death and some questions will go unanswered. His victims will hopefully still be able to seek justice and obtain monetary awards.
The world's headlong dash to zero or negative interest rates just passed another milestone: Homebuyers in Denmark effectively are being paid to take out 10-year mortgages. Jyske Bank A/S, Denmark's third-largest lender, announced in early August a mortgage rate of -0.5%, before fees. Nordea Bank Abp, meanwhile, is offering 30-year mortgages at annual interest of 0.5%, and 20-year loans at zero.
Federal Reserve officials viewed their interest-rate cut last month as insurance against too-low inflation and the risk of a deeper slump in business investment stemming from uncertainty over President Donald Trump's trade war. Since July, however, it's unsure whether the Fed will be forced to lower rates further if the trade war escalates and/or if economic data deteriorates further.
The U.K. Parliament will be suspended for almost five weeks ahead of Brexit, as Prime Minister Boris Johnson sets up a showdown with lawmakers who want to block him from taking the U.K. out of the European Union without an agreement. This is another example of uncertainty affecting global markets.
General Electric Co. tumbled the most since 2008 after a prominent financial examiner working with a short seller accused the company of "accounting fraud." GE Chief Executive Officer Larry Culp called the claims "market manipulation — pure and simple." Harry Markopolos, who had raised concerns over investment manager Bernie Madoff before his fraud was exposed, said GE will need to increase its insurance reserves immediately by $18.5 billion in cash — plus an additional non-cash charge of $10.5 billion when new accounting rules take effect. GE is also hiding a loss of more than $9 billion on its holdings in Baker Hughes, an oilfield services company, Markopolos said. GE dismissed the claims as "meritless" without providing a point-by-point rebuttal.
My 2 Cents
The fall in long term interest rates during the month of August was incredibly fast and furious. It seemed to accelerate every single day without ceasing.
Below is a screenshot from Bloomberg on August 13th. A few weeks prior I asked myself if we were going to see the 30 year Treasury bond fall below the 3 month T-Bill (yet another yield curve inversion). The second screenshot below was taken the morning of August 28th, just over 2 weeks after the first one. In that short period of time, the 30 year T-Bond fell 19 basis points and dropped 5 basis points below the 3 month T-Bill. The 10 year T-Bond fell below that of the 2 year T-Bond which is a widely followed spread. Clearly the bond market is signaling something is not right.
JP Morgan thinks the 10 year T-Bond could go to zero as money from overseas flows into our markets "high yield bonds" (see chart below on Germany's bonds all trading at negative yields). As trade tensions escalate, the probability of recession rises. There is also the very real risk that inflation expectations have become unanchored and central banks are gradually becoming powerless. New York Fed president John Williams captured this risk nicely this month by saying that "investors are increasingly viewing these low inflation readings not as an aberration, but rather a new normal". If, as expected, the Fed begins a rate-cutting cycle at the end of this month, money will be shaken out of money-market funds into bond funds in an effort to lock up a higher yield.
All in all, this (along with many other factors) should make any investor incredibly cautious and careful about how they take risk.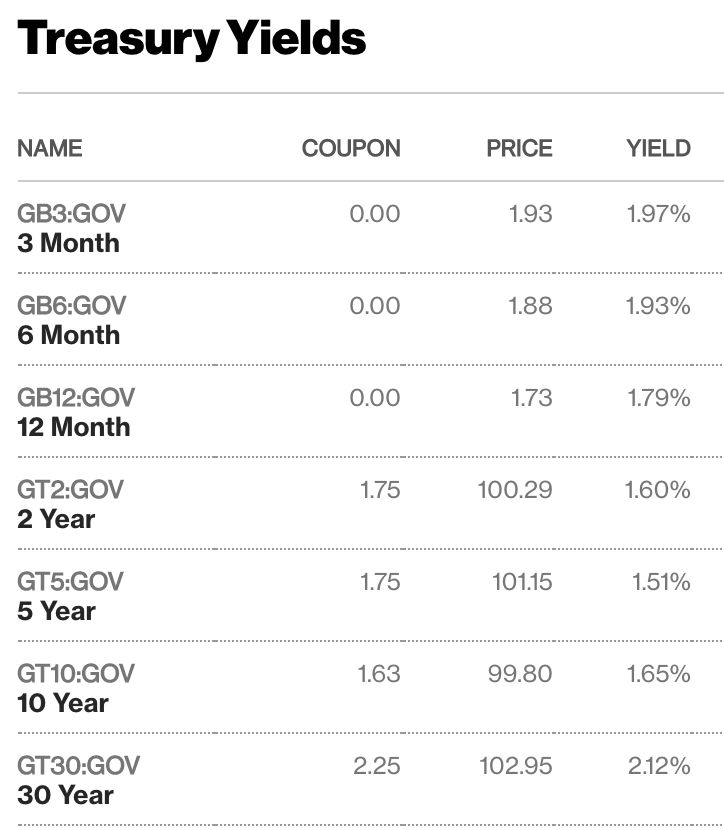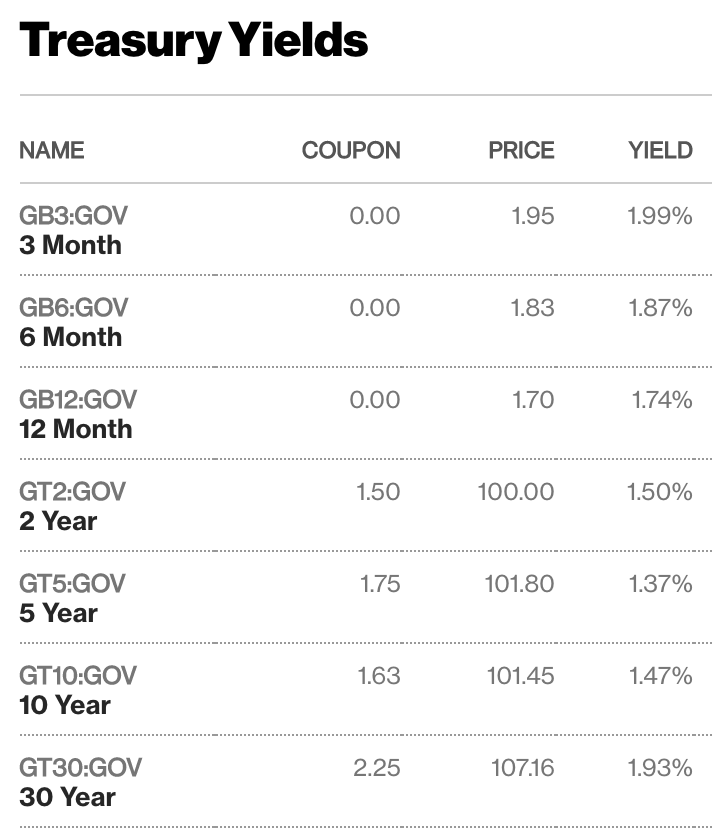 Charts & Commentary
(In no particular order)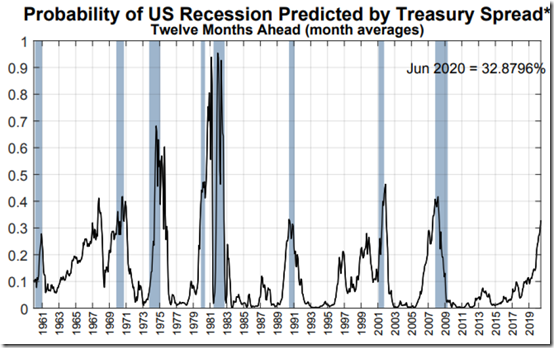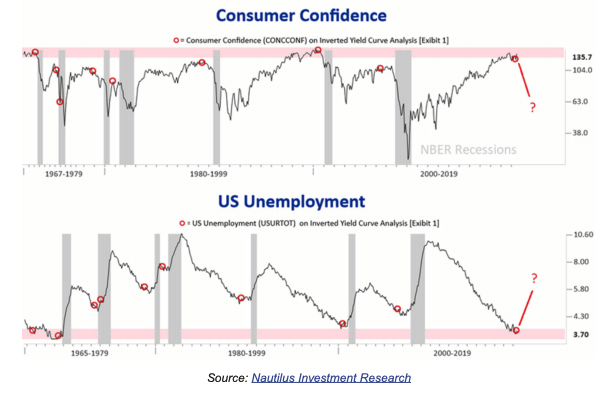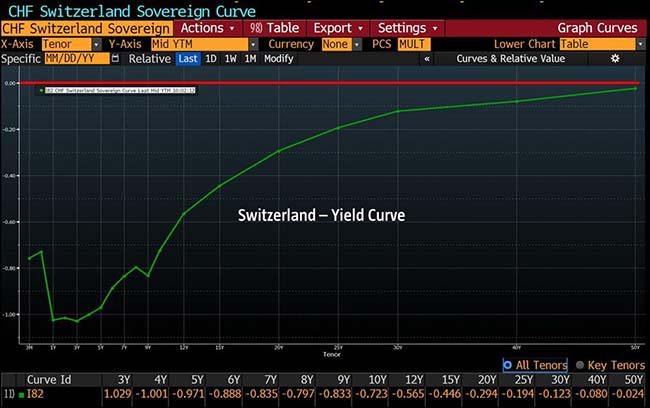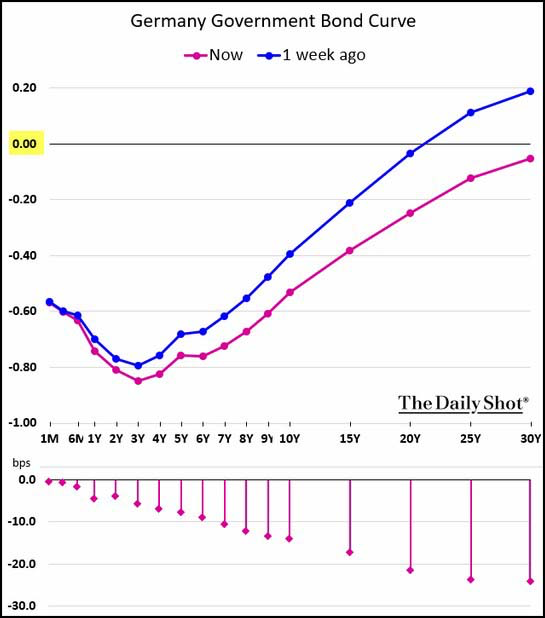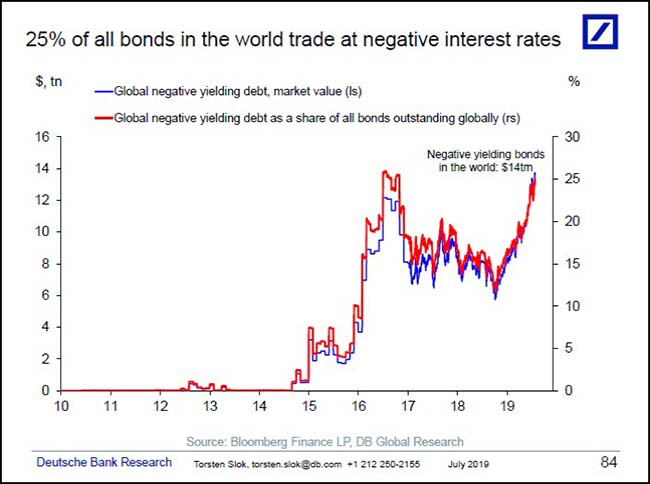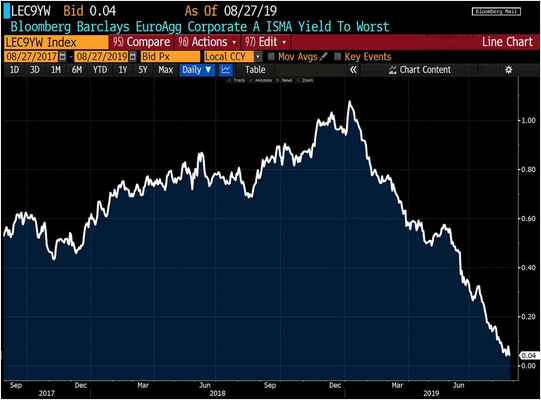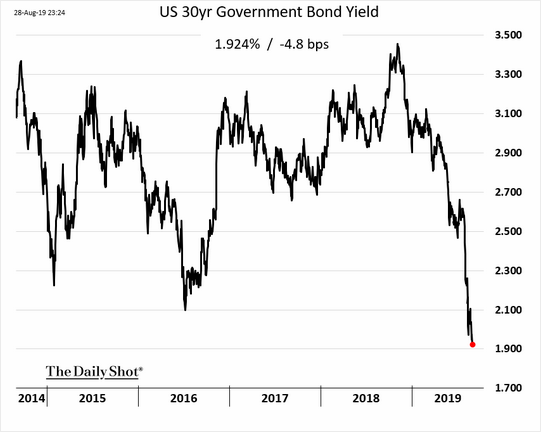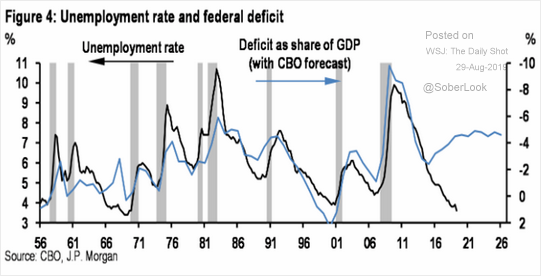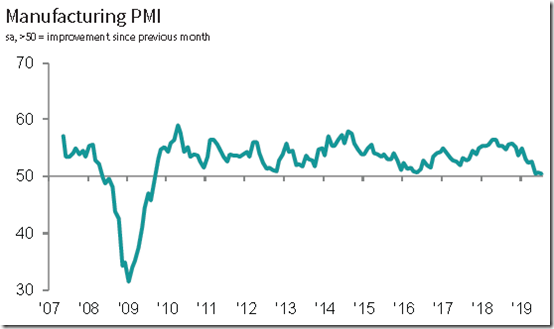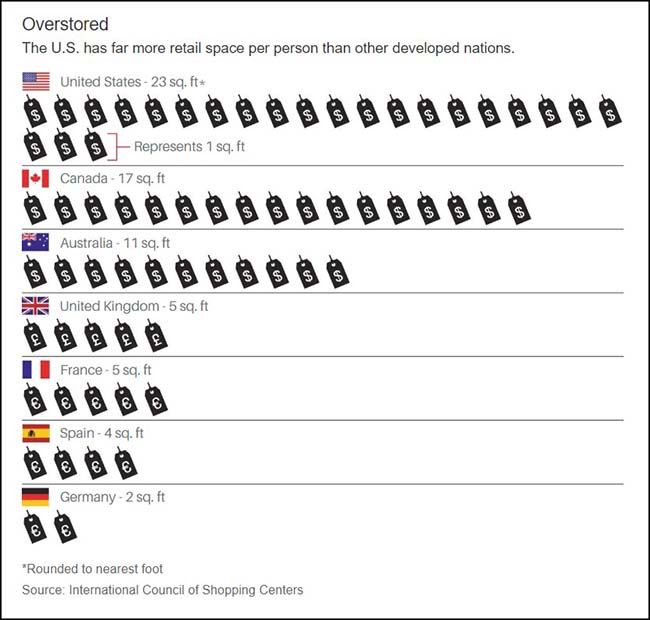 I hope you enjoyed this months financial markets update. If you have any questions please contact us directly. If you're interested in a topic that you'd like us to address, please email us so we can include them in future updates.
If you're interested in starting a dialogue and learning how we can help, please contact us.
Best Regards,
Jared Toren
CEO & Founder
Sources: Edges & Odds, WSJ Daily Shot, 361 Capital, Steve Blumenthal's On My Radar
Proper Wealth Management's ("Proper") blog is not an offering for any investment. It represents only the opinions of Jared Toren and Proper . Any views expressed are provided for information purposes only and should not be construed in any way as an offer, an endorsement, or inducement to invest. Jared Toren is the CEO of Proper, a Texas based Registered Investment Advisor. All material presented herein is believed to be reliable but we cannot attest to its accuracy. Opinions expressed in these reports may change without prior notice. Information contained herein is believed to be accurate, but cannot be guaranteed. This material is based on information that is considered to be reliable, but Proper and its related entities make this information available on an "as is" basis and make no warranties, express or implied regarding the accuracy or completeness of the information contained herein, for any particular purpose. Proper will not be liable to you or anyone else for any loss or injury resulting directly or indirectly from the use of the information contained in this newsletter caused in whole or in part by its negligence in compiling, interpreting, reporting or delivering the content in this newsletter. Opinions represented are not intended as an offer or solicitation with respect to the purchase or sale of any security or financial instrument, nor is it advice or a recommendation to enter into any transaction. The material contained herein is subject to change without notice. Statements in this material should not be considered investment advice. Employees and/or clients of Proper may have a position in the securities mentioned. This publication has been prepared without taking into account your objectives, financial situation or needs. Before acting on this information, you should consider its appropriateness having regard to your objectives, financial situation or needs. Proper Wealth Management is not responsible for any errors or omissions or for results obtained from the use of this information. Nothing contained in this material is intended to constitute legal, tax, securities, financial or investment advice, nor an opinion regarding the appropriateness of any investment. The general information contained in this material should not be acted upon without obtaining specific legal, tax or investment advice from a licensed professional.
Jared Toren is CEO and Founder at Proper Wealth Management. Proper was born out of frustration with the inherent conflicts of interest at big brokerage firms influencing advisors to sell products that were not suitable for clients but profitable to the firm along with a consistently mixed message of who's interest was supposed to be put first; the clients', the firms', shareholders or advisors. At Proper, our clients interests come first. We are compensated the same regardless of which investments we utilize so there's no incentive for us to sell high commission products. Since we focus on a small number of clients, we are able to truly tailor our advice to each person's unique circumstances.