First off, I apologize for not putting a note together until now. I've waited because I continue to read different stats and information on COVID-19 and wanted to wait until all of the information was confirmed. But at this point I think there's enough known about it and it's potential impact on our health and the economy. I apologize in advance for the length and wanted to have my entire perspective in 1 post.
What is COVID 19?
COVID-19 coronavirus is a novel coronavirus that originated in Wuhan, China, and has spread to more than 30 countries in Asia, Europe, the Middle East and now the U.S. The World Health Organization and the United States have declared public health emergencies because of the virus's spread.
Source: Remedy Health
What is a coronavirus?
Coronaviruses have been with us for a long time. They were first discovered back in the 1960s, and frequently cause the common cold. It's very likely that at some point in your life, you have had a coronavirus infection. So, what is different about SARS-CoV-2, the coronavirus causing the COVID-19 infections that started in Wuhan, China, and have spread throughout the world? This particular coronavirus (like SARS and MERS) has some unique characteristics that mean it causes a more serious infection from time to time.
The coating on the outside of a virus dictates the location in the human body to which the virus can attach. A coronavirus with a particular exterior that is predisposed to attach to the lining of the nose will cause a common cold, an upper respiratory tract condition. In the case of COVID-19, the virus has an exterior that can attach to tissues in the lungs. This means that in some patients, COVID-19 can cause pneumonia, which is a lower respiratory tract problem and potentially more serious.
Source: Remedy Health
What are the symptoms of COVID-19 coronavirus?
The first symptoms of COVID-19 coronavirus are very similar to cold and flu, and generally include sore throat and runny nose. In fact, many people who are infected with COVID-19 coronavirus appear experience very mild symptoms or no symptoms at all. (This is what makes the virus so hard to contain. If people don't really know they are sick, they are more likely to infect lots of other people.)
In a small percentage of cases, the virus can cause pneumonia. If that happens, the person infected with COVID-19 coronavirus will have shortness of breath and fever. If these symptoms are present, it means that you are dealing with more than just a common cold, and you should seek medical attention.
Source: Remedy Health
Fatality Rates
In a Goldman Sachs interview with Dr. Barry Bloom, the Joan L. and Julius H. Jacobson Research Professor of Public Health at the Harvard T.H. Chan School of Public Health, he states, "The case-fatality rate estimates, or the percent of infected people who die, doesn't provide any information about how lethal this virus is at this point. That's because those estimates basically reflect the percent of hospitalized people who die from the disease. In the case of SARS, this was around 10% and a relatively accurate reflection of the disease's virulence because virtually everybody infected had severe symptoms. But with this virus, which can be asymptomatic, we don't know the total number of people infected; so the case-fatality rate's denominator is unknown. In these situations, the initial case-fatality figures are almost always frighteningly high, but then come down when the total number of infected people becomes known. For example, rates for H1N1 were terrifying in the beginning, at 4%, but ended up at around 0.07%."
So it's possible and plausible that we'll see overall fatality rates come down over time as more people are brought are diagnosed. And as you can see from a different Goldman Sachs presentation, fatality rates spike in people over 70.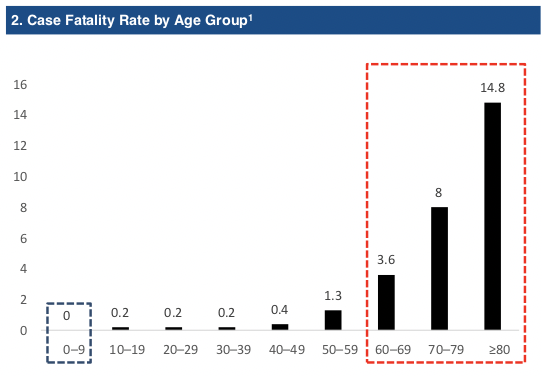 Pandemic Concerns
The World Health Organization declared COVID-19 a global emergency and we've heard the term pandemic circulated a lot. But what is a pandemic, exactly? The classical definition doesn't consider the severity of the disease. It's more about geography, specifically denoting a disease that spreads globally and infects a large number of people. By looking at the map data below, this sure looks to be a pandemic.
https://gisanddata.maps.arcgis.com/apps/opsdashboard/index.html#/bda7594740fd40299423467b48e9ecf6
Economic Impact & Response
The only thing that seems to be true is that COVID-19 will have a big impact economically. What's up for debate imo is how big and long lasting this will be. Will the outbreak slow and pent up demand cause a big surge in growth in Q2 fully offsetting the decline experienced in Q1? Well, it's way too early to tell in my opinion.
We have witnessed China grind to a halt during the initial breakout. Pollution levels are an indication of economic activity, specifically manufacturing. As you can see from the images below during 2/10-2/25, China's levels dropped incredibly. However, things are slowly starting to come back online in China.
"Rising Chinese pollution levels measured from space are showing a gradual but uneven industrial pickup after the economic slowdown caused by the nation's fight to contain the deadly novel coronavirus.
Though the measure of nitrogen dioxide in China's atmosphere has risen nearly 50% from Feb. 17, it's still roughly 20% below the equivalent period last year, according an analysis from the Helsinki-based Centre for Research on Energy and Clean Air, which used satellite data from NASA."
(Source: Bloomberg)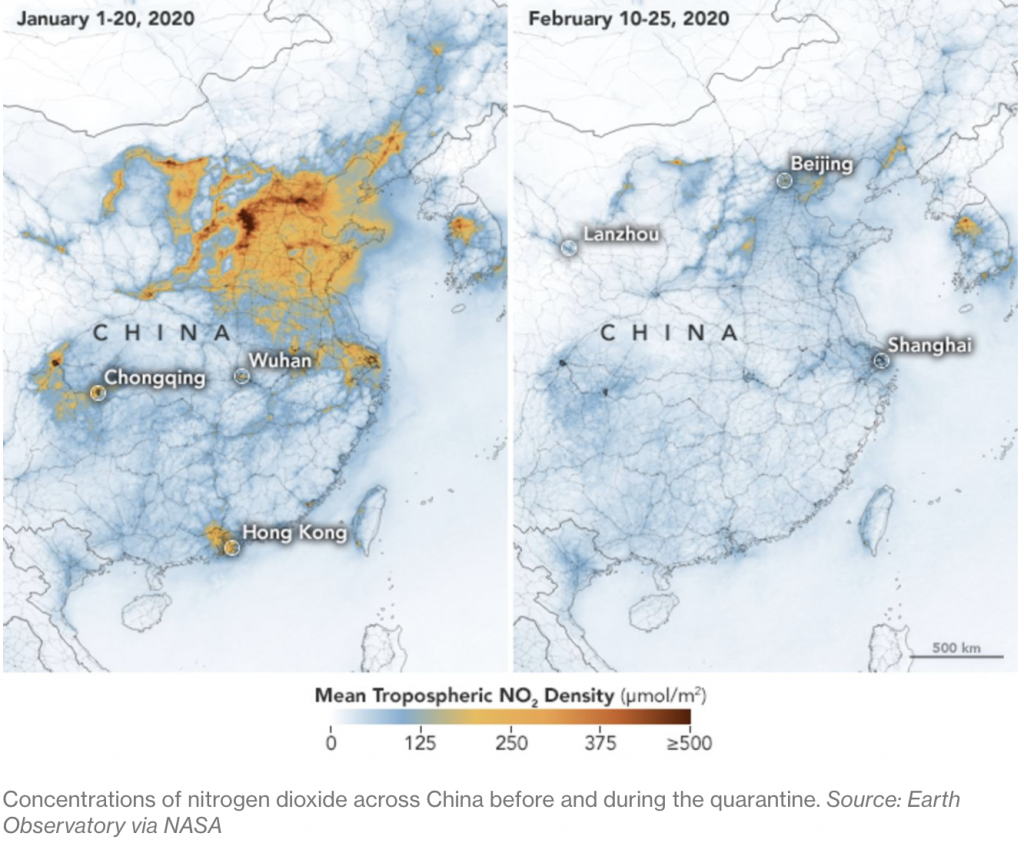 We have seen numerous conferences canceled as well as major corporations banning business travel company-wide and encouraging employees to work remotely. California recently declared a state of emergency as cases continue to be diagnosed.
In response, the Senate voted to overwhelmingly approve a sweeping spending package to direct billions of dollars toward the US government's response to fight the spread of the disease. The agreement provides $7.8 billion in appropriations to address the outbreak of coronavirus as well as an authorization for $500 million in mandatory spending to fund a telehealth program in an effort to expand access to health services for seniors for a total of $8.3 billion in all.
Stocks
Stocks indices globally have fallen and have been incredibly volatile. The S&P continues to bounce around but is in a downward trajectory as questions over revenue and earnings growth are front and center. Energy, air travel, hotels and car rental companies have been hit the hardest. In the last few weeks alone, we've seen American Airlines stock cut in half as investors digest COVID-19's impact on travel. Cruise ship operators have understandably been hit very hard as it's difficult to imagine anybody in the next several months risking taking one and not being allowed off for fear of an outbreak.
While the market just got cheaper, it's still too early to tell if this is another buy the dip opportunity like we've seen the past 10 years. There's real concern this can be the straw that breaks the market's and economy's back.
Bonds
Treasury bonds have rallied incredibly, sending the 10-year and 30-year treasury bonds to lows of 0.66% and 1.25% respectively. That's an incredible move for both bond durations considering the 10-year started the year around 1.88%. It leaves me wondering where safe investors who also require income should be allocating their capital.
Part of why this happened is the Fed held an emergency meeting and lowered the Fed Funds rate to 1%-1.25% or a .50% rate cut. This was the first emergency meeting for the Fed since the global financial crisis in 2008. Other central banks are taking notice and are expected to ease financial conditions. The other reason for the significant drop in yields is that demand for safe haven assets caused a spike in the price of these bonds.
Investing today or continuing to hold a large amount of bonds at these yields is difficult to understand. While the S&P comes with incredibly volatility, its dividend yield is over double that of the 10-year bond's yield. And while the stock market is still over-valued at these levels (imho), the dividend yield combined with the recent drop may bring investors off the sidelines or rotating from bonds back into stocks.
This isn't an endorsement or recommendation to buy into stocks and jettison your bond allocation. Diversification is still important and should not be abandoned. It was difficult to be an asset allocator before COVID-19 with bond yields at all time lows and stocks over-valued based on historical levels. This outbreak hasn't made these decisions any easier.
What Should We Do?
What we should NOT do is panic as it doesn't typically lead to positive outcomes. We have seen some dark days in this country and in the markets and we're resilient. If we're invested in stocks, we're doing so partially risk managed and the other part tactical where we are looking at specific country/regional valuations to determine each client's allocation. We've been active where we need to be and will continue to monitor the outbreak and make all necessary adjustments.
Best Regards,
Jared Toren
CEO & Founder
Proper Wealth Management's ("Proper") blog is not an offering for any investment. It represents only the opinions of Jared Toren and Proper . Any views expressed are provided for information purposes only and should not be construed in any way as an offer, an endorsement, or inducement to invest. Jared Toren is the CEO of Proper, a Texas based Registered Investment Advisor. All material presented herein is believed to be reliable but we cannot attest to its accuracy. Opinions expressed in these reports may change without prior notice. Information contained herein is believed to be accurate, but cannot be guaranteed. This material is based on information that is considered to be reliable, but Proper and its related entities make this information available on an "as is" basis and make no warranties, express or implied regarding the accuracy or completeness of the information contained herein, for any particular purpose. Proper will not be liable to you or anyone else for any loss or injury resulting directly or indirectly from the use of the information contained in this newsletter caused in whole or in part by its negligence in compiling, interpreting, reporting or delivering the content in this newsletter. Opinions represented are not intended as an offer or solicitation with respect to the purchase or sale of any security or financial instrument, nor is it advice or a recommendation to enter into any transaction. The material contained herein is subject to change without notice. Statements in this material should not be considered investment advice. Employees and/or clients of Proper may have a position in the securities mentioned. This publication has been prepared without taking into account your objectives, financial situation or needs. Before acting on this information, you should consider its appropriateness having regard to your objectives, financial situation or needs. Proper Wealth Management is not responsible for any errors or omissions or for results obtained from the use of this information. Nothing contained in this material is intended to constitute legal, tax, securities, financial or investment advice, nor an opinion regarding the appropriateness of any investment. The general information contained in this material should not be acted upon without obtaining specific legal, tax or investment advice from a licensed professional.
Jared Toren is CEO and Founder at Proper Wealth Management. Proper was born out of frustration with the inherent conflicts of interest at big brokerage firms influencing advisors to sell products that were not suitable for clients but profitable to the firm along with a consistently mixed message of who's interest was supposed to be put first; the clients', the firms', shareholders or advisors. At Proper, our clients interests come first. We are compensated the same regardless of which investments we utilize so there's no incentive for us to sell high commission products. Since we focus on a small number of clients, we are able to truly tailor our advice to each person's unique circumstances.