Monthly Commentary
The New Year has been to off to a great start in the markets, even though we're only 1 week in.  December was a busy month and all eyes were on tax reform.  It was a big win for President Trump after not being able to conquer health care.  And as luck would have it, there was a nice provision added at the end that benefits real estate investors.  I've broken out a summary on tax reform which you can read here: Tax Law Changes (Summary).  Recent analysis from LPL shows the tax cuts will add approximately .25-.50% percent to annual GDP the next few years.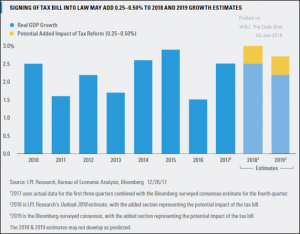 Bitcoin and cryptocurrencies seems to still be grabbing headlines.  Currently, a currency named Ripple has skyrocketed into the #2 position behind Bitcoin.  Here's a snapshot of the top currencies by market cap: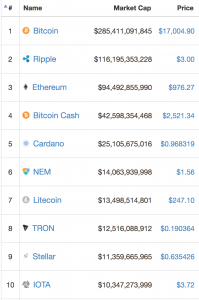 Alabama elected its first Democrat to the Senate in decades after Jones defeated Moore.  The most surprising thing about this (to me) was how close the race was.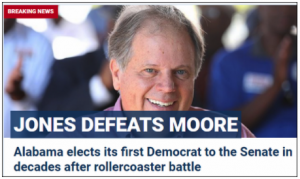 My 2 Cents:
Very little has changed in my opinion since last month (read those here).  Interest rates are increasing at a time at which we're very late stage in the business cycle.  Most indicators appear to be topping out and there's a lot of frightening things out there (Charts That Frighten Me).
Charts & Commentary
These charts and commentary are rapid fire and in no particular order.
From Richard Bernstein Advisors update December 2017 regarding Bitcoin and Cryptocurrencies being a bubble:
From our research, there are five characteristics of a financial bubble: 1. Available liquidity 2. Increased use of leverage 3. Democratization of the market 4. Increased new issues 5. Increased turnover Cyrpto-currencies clearly have all five characteristics of a bubble: 1. Available liquidity – central banks have clearly provided a sea of liquidity. 2. Leverage – the upcoming listing of futures contracts may be just the beginning. 3. Democratization – individuals globally are active participants. 4. New issues – there are over 1,000 crypto-currencies. 5. Turnover – trading volumes have soared.
Bubbles tend to continue until the liquidity needed to speculate dries up. The technology and housing bubbles' peaks were both preceded by an inverted yield curve. Accordingly, it is our guess that the crypto-bubble will continue until the Fed and other central banks remove too much liquidity from the economy, the availability of "greater fools" decreases, and the bubble deflates. We do not see an inverted yield curve anytime soon, so the bubble seems likely to inflate more. One would have thought that investors would have learned their lesson from the deflation of the technology and housing bubbles, but that doesn't appear to be the case. The sad reality is that many more investors will likely get sucked into this bubble too. The key question is whether investors in 2018 will finally regain their confidence in the equity markets. It is ironic that they fear traditional equities, but they do not fear cryptocurrencies. One must remember that risk typically lies in what you're invested in, and not in what you fearfully avoid.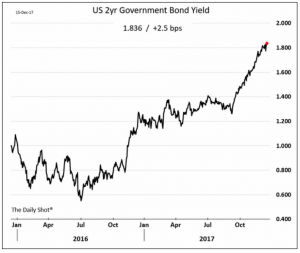 Bond yields in the US continue to grind higher as consensus estimates the Fed will continue to raise rates in 2018.  Higher interest rates are bad for borrowers but benefit savers.  A lot of people have been "pushed" into stocks to earn a higher return since CD's and savings accounts earned almost nothing for so long.  Will they move back to CD's?  Doubtful since the interest rates are still very minimal.  It does have an impact on corporate borrowing and tends to move liquidity out of the markets.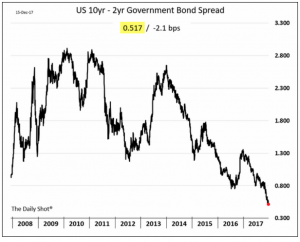 While short term interest rates are going higher, long term yields haven't moved much.  A closely watched indicator is the 10 year yield minus the 2 year yield.  As you can clearly see, the difference between the 2 is drifting lower.  If this turns negative, it's usually a sign of recession.  We still have some room to go before this occurs though.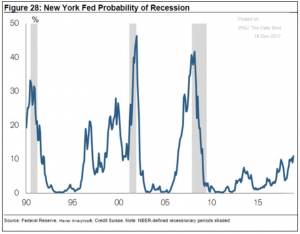 The probability of a recession as measured by the NY Fed has been increasing.  The Fed has a stellar track record of raising rates and helping to push us into a recession.  Will this time be different?
Like most bull market tops, the S&P 500 technical indicators are pointing to the market being "overbought".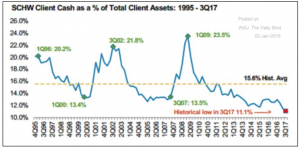 Clients cash at Charles Schwab as a % of total assets is at an all time low of 11.1%.  See note above!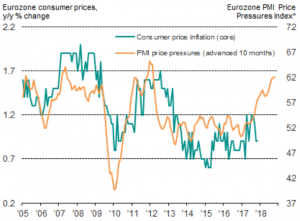 The Eurozone should see solid GDP growth which could be a reason why the Euro is appreciating vs. the dollar.  Also, most people believe the ECB will stop buying bonds causing yields to rise and thus the Euro to increase.
 Nearly 5 Million Americans in Default on Student Loans
The number of Americans severely behind on payments on federal student loans reached 4.6 million in the third quarter, a doubling from four years ago, despite a historically long stretch of U.S. job creation and steady economic growth.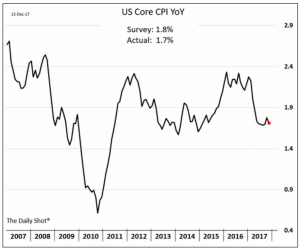 The CPI report was somewhat weaker than expected. For some time now, economists have been saying that low inflation is transient because of price declines in specific sectors (such as the recent discounts on cellular data services). However, as these "transient" factors ebbed, others showed up. For example, the apparel CPI is the latest one to plummet. Moreover, even some of the key drivers of inflation, such as rent, appear to be slowing. Janet Yellen has been saying recently that low inflation may not be transient after all. That's part of the reason for the "dovish" rate hike.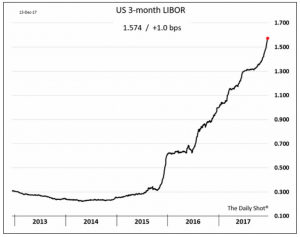 Rates on pledged accounts at wealth management firms are increasing and have substantially in the past 2 years.  These loans are typically tied to 30-day LIBOR (vs. 3 month showed above), but that reference rate has been increasing as well.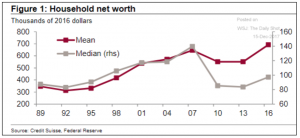 The super wealthy make the household net worth picture better than it really is.  The averages get skewed by the few super wealthy while the average person's net worth is still below 2007/2008 levels.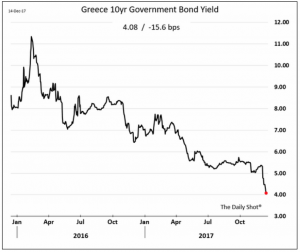 Greece's 10 year government bond yield is sitting just above 4% (as of the time of this chart) after hitting over 11% in early 2016.  Hard to imagine someone wanting to own their bonds at these levels so the question is, who's buying these bonds?  The ECB perhaps?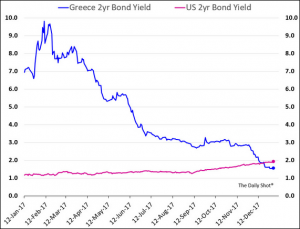 Another thing that makes no sense.  The US 2 year treasury bond yields more than Greece's 2 year government bond!  This is the result of central bank manipulation at it's finest and is bound to have severe repercussions.  The unwind is bound to be ugly.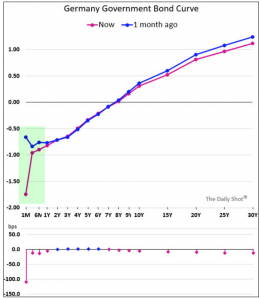 Then again, maybe Greece's bonds look attractive if you're looking at Germany's.  Their short term yields crashed to almost negative 2%!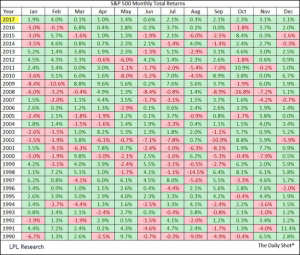 In 2017 the S&P 500 did not have a single monthly decline and has now risen for 14 months in a row. This has never happened before. Then again, records are meant to be broken and this doesn't prove or disprove a thing.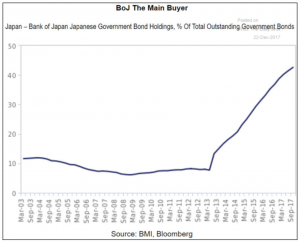 Like the ECB, Japan's central bank is gobbling up Japanese government bonds and is approaching owning half of the entire market.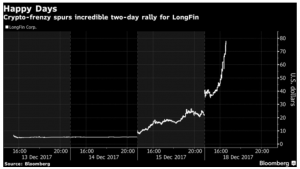 A small fintech stock jumped 2,400% after saying it's a "crypto company".
I hope you enjoyed this months financial markets update.  If you have any questions please contact us directly.  If you're interested in a topic that you'd like us to address, please email us so we can include them in future updates.
If you're interested in starting a dialogue and learning how we can help, please click the link below to book a call or meeting with us.
BOOK A MEETING OR CALL WITH ME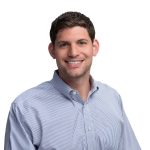 Best Regards,
Jared Toren
CEO & Founder
Proper Wealth Management's ("Proper") blog is not an offering for any investment. It represents only the opinions of Jared Toren and Proper . Any views expressed are provided for information purposes only and should not be construed in any way as an offer, an endorsement, or inducement to invest. Jared Toren is the CEO of Proper, a Texas based Registered Investment Advisor.   All material presented herein is believed to be reliable but we cannot attest to its accuracy. Opinions expressed in these reports may change without prior notice. Information contained herein is believed to be accurate, but cannot be guaranteed. This material is based on information that is considered to be reliable, but Proper and its related entities make this information available on an "as is" basis and make no warranties, express or implied regarding the accuracy or completeness of the information contained herein, for any particular purpose. Proper will not be liable to you or anyone else for any loss or injury resulting directly or indirectly from the use of the information contained in this newsletter caused in whole or in part by its negligence in compiling, interpreting, reporting or delivering the content in this newsletter.  Opinions represented are not intended as an offer or solicitation with respect to the purchase or sale of any security or financial instrument, nor is it advice or a recommendation to enter into any transaction. The material contained herein is subject to change without notice. Statements in this material should not be considered investment advice. Employees and/or clients of Proper may have a position in the securities mentioned. This publication has been prepared without taking into account your objectives, financial situation or needs. Before acting on this information, you should consider its appropriateness having regard to your objectives, financial situation or needs. Proper Wealth Management is not responsible for any errors or omissions or for results obtained from the use of this information. Nothing contained in this material is intended to constitute legal, tax, securities, financial or investment advice, nor an opinion regarding the appropriateness of any investment. The general information contained in this material should not be acted upon without obtaining specific legal, tax or investment advice from a licensed professional.
Jared Toren is CEO and Founder at Proper Wealth Management. Proper was born out of frustration with the inherent conflicts of interest at big brokerage firms influencing advisors to sell products that were not suitable for clients but profitable to the firm along with a consistently mixed message of who's interest was supposed to be put first; the clients', the firms', shareholders or advisors.
At Proper, our clients interests come first. We are compensated the same regardless of which investments we utilize so there's no incentive for us to sell high commission products. Since we focus on a small number of clients, we are able to truly tailor our advice to each person's unique circumstances.