Market Scorecard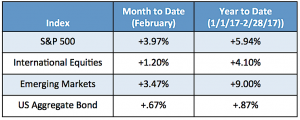 Monthly Commentary
February has come and gone and global stock markets have continued their strong performance with the S&P 500 leading the charge up almost 4%.  This month, President Trump addressed Congress for the first time.  In that speech, he outlined his plan to spend $1 Trillion on infrastructure, called for replacing Obamacare, building a wall along the Mexican border and announced a new office called VICE (Victims of Immigration Crime Engagement).  Much of what the President outlined was known and are campaign promises he's looking to fulfill.  While we weren't surprised by the content, we were surprised by the tone which was much less divisive and more focused on agenda and trying to bridge the gap between parties.  The stock markets "liked" the speech and surged approx. 1.5% the following day.  We are eagerly awaiting to hear the proposed tax plan which Gary Cohn is supposedly hard at work on.  Based on the current tax rate analysis below, small cap companies should be the biggest beneficiaries of a lower corporate tax rate, excluding for a potential border tax adjustment.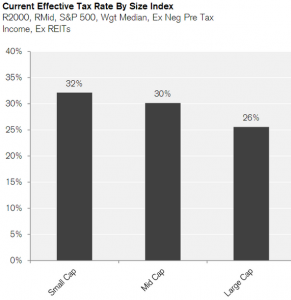 As we move into the month of March, the Fed seems to be setting the stage for several rate increases, beginning with the next meeting.  As we highlighted in January's recap, inflation is picking up globally and February's data continued to sing that tune in the US and abroad.  Although, energy appears to be the main culprit for higher than expected inflation data.  With the potential for a large fiscal stimulus package and a border adjustment tax, the Fed may be trying to get ahead of higher inflation.  Recently, Janet Yellen was quoted saying, "We realize that waiting too long to scale back some of our support could potentially require us to raise rates rapidly sometime down the road, which in turn could risk disrupting financial markets and pushing the economy into recession."  While short term maturities in the bond market have been preparing for higher rates, longer term rates (10 years plus) haven't been moving up in yield as much as you'd expect.  This could mean a variety of things and in our opinion, is caused by the view that inflation over the longer return is expected to remain low.  A widely viewed metric is the difference between the 10 year and 2 year treasury bond.  The spread jumped after the election and has been since moving back lower, even though expectations for higher Fed Funds rate has increased..
We've also been noticing a difference between the "hard" and "soft" data.  Hard Data is defined as data in the form of numbers or graphs, as opposed to soft data which we get in the form of surveys (qualitative information).  Many economists argue that the apparent strengthening of the U.S. economy during the last few months is really only observed in "soft data" such as the PMI surveys and that hard, real world data, are not confirming like currently on manufacturing data.  See the chart below which plots the hard and soft data along with the difference along the bottom.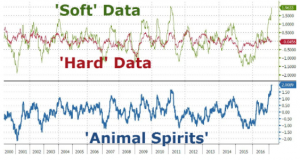 A research firm we follow, Variant Perception, recently put out a note on this topic as well:
"For the past few months, we have noted in our Leading Indicator Watch publications that financial market inputs to our leading indicators were running far ahead of actual hard economic data. The same is true for survey data vs real economic data. While we have seen some modest improvement in economic data like industrial production, sentiment surveys like consumer confidence and the small business NFIB surveys are positively euphoric. Whenever soft data runs so far ahead of hard data, it is a sign investors have got ahead of themselves and normally it leads to markets trading sideways to down.
On the left chart, you can see the difference between soft versus hard data is at the highest levels recorded. We have extracted a signal, as you can see from the chart on the right. The market has not always gone down, but it is worth noting that, when previous signals have activated, eg in 2003 the market declined for the next ten months, it peaked in 2007, it had the "Flash Crash" in May 2010, it traded sideways and then fell 20% in 2011. We're not forecasting a crash, but investors should beware that given euphoric sentiment surveys, the good news is arguably priced in. The economy has a lot to deliver for stock prices to be justified."

Here are a series of random charts/data that we've also collected during February and are noteworthy: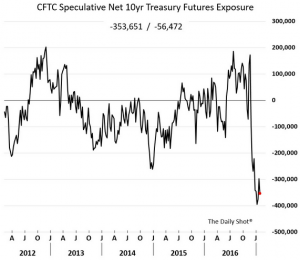 Everyone seems to be short the 10 year treasury bond (betting yields will rise).  This appears to be one of the most crowded trades out there.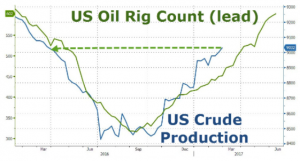 Crude production is following the increase in the US rig count.  The reduction in OPEC/non-OPEC members seems to have benefited US shale producers who are not bound to the quota.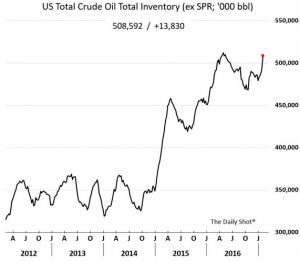 US crude inventory is approaching the high we saw in 2016.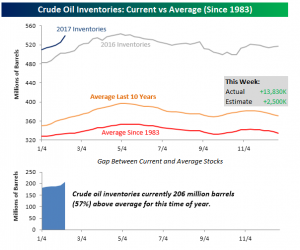 Crude oil inventories in 2017 compared to 2016, the last 10 years and the average in 1983.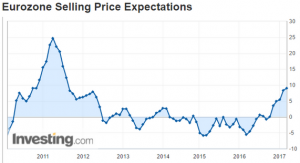 Selling expectation within the Eurozone are one the rise.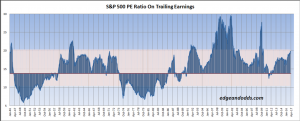 Whether you look at trailing earnings or forward earnings, the S&P 500 is expensive.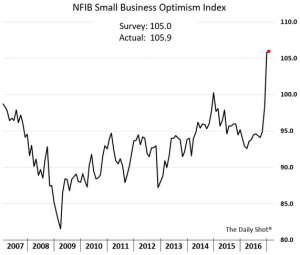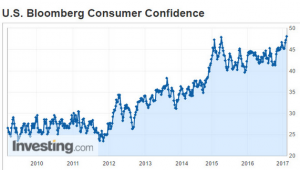 US businesses and consumers are also very confident.
And lastly, I'll leave you with a piece from Alhambra Investment Partners recent update which I feel is timely regarding passive investments and hedge funds:
"…The WSJ had an article the other day about Paul Tudor Jones reducing his fees – again. Active managers, especially hedge fund managers, those former masters of the universe, have had a tough time of it lately. The most interesting part of the article though was the comment section. The overwhelming opinion was that Jones was just another Wall Street hack sucking fees out of customers and he's only reducing them because he's desperate to keep them and their fees. This is a man whose fund has averaged over 17% per annum after fees for over 30 years. With one down year – 2008 – of 4% over the entire span. In his spare time he founded and helped fund the Robin Hood Foundation. And he's a billionaire; he isn't desperate about anything. This guy did not start dumb and he hasn't gotten any dumber because he's underperformed the stock market the last couple of years. The comments are a perfect reflection of the hubris that is born in a bull market.
This idea that investing is easy, that it only requires a superficial knowledge, that anyone can do it, is one that develops in every bull market – remember those stories in the late 90s about people quitting real jobs to day-trade? I will not defend hedge fund fees here as I too think most of them are not deserved. A few good managers such as Jones can and do deserve every penny they earn. But this idea that hedge funds or actively managed mutual funds are not earning their keep because they aren't keeping up with the S&P 500 is ridiculous. Alpha, earning a risk-adjusted return in excess of a benchmark, is not something that is earned in a runaway bull market and it surely isn't only in relation to the S&P 500 or some other equity index. Expecting a hedge fund to keep up with the market on the way up while also hedging the downside – they are called hedge funds for a reason – is wildly unrealistic. The reason to hold non-correlated or low correlation assets is for what they do when stocks aren't ripping higher on a daily basis. Alpha is earned in bear markets so if you have recently embraced the passive movement because no one has earned any the last 8 years or so, well you've just bought a fallacy." 
If you have any questions please contact us directly.  If you're interested in a topic that you'd like us to address, please email us so we can include them in future updates.
Best Regards,
Jared Toren
CEO & Founder
Proper Wealth Management's ("Proper") blog is not an offering for any investment. It represents only the opinions of Jared Toren and Proper . Any views expressed are provided for information purposes only and should not be construed in any way as an offer, an endorsement, or inducement to invest. Jared Toren is the CEO of Proper, a Texas based Registered Investment Advisor.   All material presented herein is believed to be reliable but we cannot attest to its accuracy. Opinions expressed in these reports may change without prior notice. Information contained herein is believed to be accurate, but cannot be guaranteed. This material is based on information that is considered to be reliable, but Proper and its related entities make this information available on an "as is" basis and make no warranties, express or implied regarding the accuracy or completeness of the information contained herein, for any particular purpose. Proper will not be liable to you or anyone else for any loss or injury resulting directly or indirectly from the use of the information contained in this newsletter caused in whole or in part by its negligence in compiling, interpreting, reporting or delivering the content in this newsletter.  Opinions represented are not intended as an offer or solicitation with respect to the purchase or sale of any security or financial instrument, nor is it advice or a recommendation to enter into any transaction. The material contained herein is subject to change without notice. Statements in this material should not be considered investment advice. Employees and/or clients of Proper may have a position in the securities mentioned. This publication has been prepared without taking into account your objectives, financial situation or needs. Before acting on this information, you should consider its appropriateness having regard to your objectives, financial situation or needs. Proper Wealth Management is not responsible for any errors or omissions or for results obtained from the use of this information. Nothing contained in this material is intended to constitute legal, tax, securities, financial or investment advice, nor an opinion regarding the appropriateness of any investment. The general information contained in this material should not be acted upon without obtaining specific legal, tax or investment advice from a licensed professional.
Jared Toren is CEO and Founder at Proper Wealth Management. Proper was born out of frustration with the inherent conflicts of interest at big brokerage firms influencing advisors to sell products that were not suitable for clients but profitable to the firm along with a consistently mixed message of who's interest was supposed to be put first; the clients', the firms', shareholders or advisors.
At Proper, our clients interests come first. We are compensated the same regardless of which investments we utilize so there's no incentive for us to sell high commission products. Since we focus on a small number of clients, we are able to truly tailor our advice to each person's unique circumstances.