Monthly Commentary
Another month, another unfortunate tragedy this time claiming many lives at a school in Parkland FL.  Since I started these monthly updates, there's only been a few times I haven't had to address a senseless tragedy.  I truly hope this trend stops soon.
February started out on a rough note with volatility rearing it's head for the first time in a few years.  The S&P promptly fell 12% in one week which is a fast and furious move.  This was one of the quickest markets drops I've seen since I've been in wealth management.  We are still 5% off the highs as the market has recovered a little over half of the drop.  As frightening as this drop was, we are well beyond it and all eyes now on tariffs, trade wars and Gary Cohn resigning just the other day.  What's hard to believe is the market's reaction is relatively muted and isn't down all that much considering the potential for protectionism which hasn't ever been good.  Trump recently proposed tariffs — a tax of 25 percent on imported steel and 10 percent on imported aluminum.  Below is a breakdown of who'll be hurt the most by industry by the proposed tariffs.  Treasury Secretary Mnuchin proclamation that the tariffs won't affect their projections for US GDP to reach 3% seems like wishful thinking.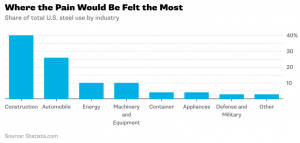 North Korea was back in the news about they hinted at suspending their nuclear weapons program and engaging in real negotiations.  North Korea has certainly earned skepticism in through decades of failed peace deals. It's possible they're looking to buy time just as the sanctions are beginning to bite and they are very worried about all the talk of a military strike.  Still too early to know what will happen here but seems like positive momentum.
My 2 Cents:
I felt last month's drop was a buying opportunity and way to add slightly if you were on the sidelines for some time.  Still, there's incredible amounts of uncertainty in the world and valuations are not cheap.  As always, risk management and sticking to your process is paramount.  The Fed is going to be raising rates 3-4 times this year which will have an impact in the near future on borrowing costs.  There's been 11 rate tightening cycles since the Fed was created and 11 recessions followed.  They weren't the cause of recessions but  they played a role along with many other factors.  Goldman says stocks may dive 25% if the 10 year yield hits 4.5 and Jim Rogers says the next bear market will be the worst in his lifetime.  All the more reason to stick to your process and follow prudent risk management protocols.  Stay safe out there my friends.
Charts & Commentary
These charts and commentary are rapid fire and in no particular order.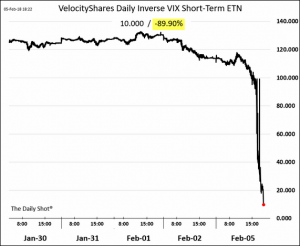 The ETF's that track the inverse of volatility fell sharply on 2/5 and lost almost 90% of their value.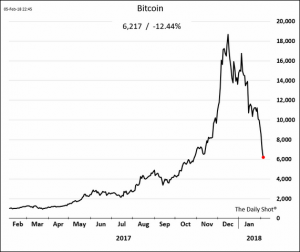 Bitcoin fell along with other cryptocurrencies as there was no safe place to hide.  As of the time I'm writing this, the SEC says Bitcoin exchanges must be regulated putting further pressure on it and other cryptocurrencies.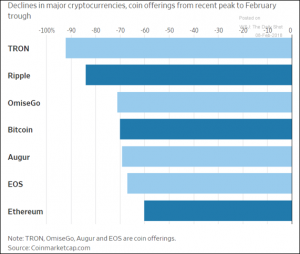 This chart shows just how far from their peak the cryptocurrencies have fallen.  Ripple was down just over 80% from it's recent peak.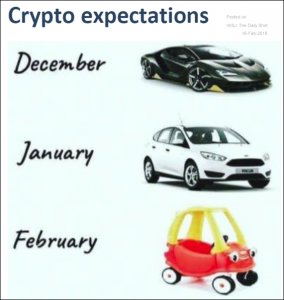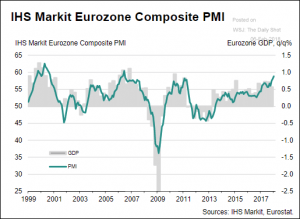 Stronger growth is expected out of the Eurozone which makes you wonder if the ECB will stop it's bond buying program early.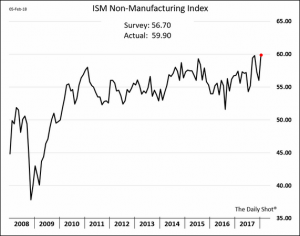 ISM services report came in stronger than expected after a pullback the month prior.  The current reading is the strongest since before the financial crisis.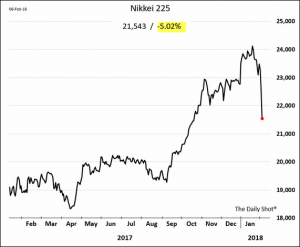 Global stocks were affected during the February selloff in US stocks with the Japanese Nikkei dropping over 5% in one day.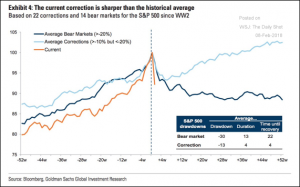 This chart puts the February pullback in context with past corrections and bear markets.  The magnitude of the pullback within the average but the timeframe is occurred was incredibly quick.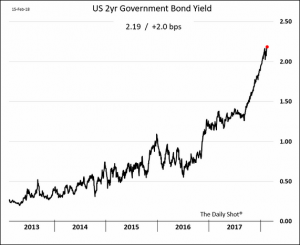 With the Fed expected to raise rates 3-4 times this year, the 2 year treasury bond keeps moving higher.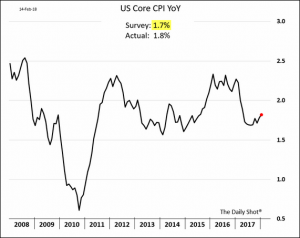 US Core CPI came in slightly higher than expected.  This can give the Fed ammunition to continue raising rates for fear that inflation may get out of control.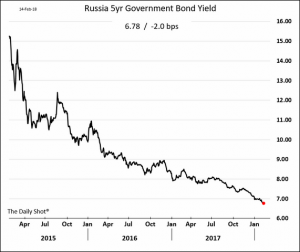 Interested in a 6.75% yield?  You can buy Russian paper if you're willing to take the risk.  A lot of people are chasing yields in this low yield world.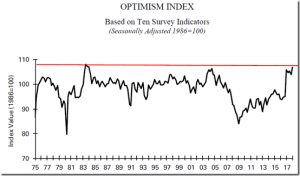 The Index of Small Business Optimism gained 2.0 points in January, rising to 106.9, again one of the strongest readings in the 45-year history of the NFIB surveys.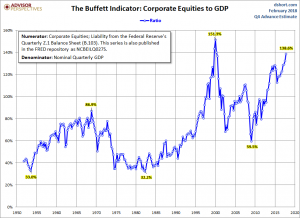 The Buffett indicator is approaching it's highs last seen in 2000 when valuations were silly.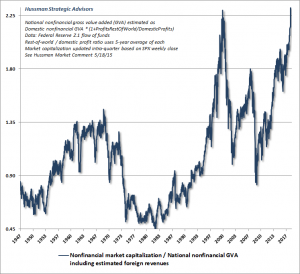 Recently, the U.S. equity market climbed to the steepest valuation level in history, based on the valuation measures most highly correlated with actual subsequent S&P 500 10-12 year total returns, across a century of market cycles. These measures include the S&P 500 price/revenue ratio, the Margin-Adjusted CAPE (our more reliable variant of Robert Shiller's cyclically-adjusted P/E), and MarketCap/GVA – the ratio of non-financial market capitalization to corporate gross value-added, including estimated foreign revenues.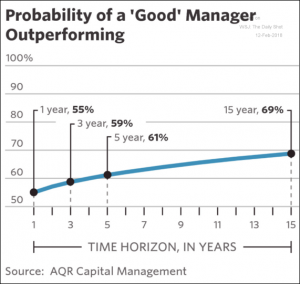 According to AQR, the probability of a good manager outperforming increases over time which intuitively makes sense to me.  For my strategy, the longer the timeframe, the better the strategy should perform relative to the market.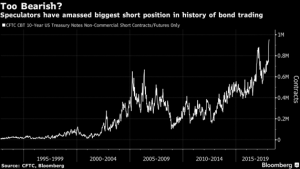 The subtitle says it all.  Speculators have amassed the biggest short position in the history of bond trading!  Talk about herding!!  Everyone is betting that long term bond yields will go higher.  If for some reason they don't or there's a flight to safety, we'll see a big over-correction (long term yields falling) due to short covering.
I hope you enjoyed this months financial markets update.  If you have any questions please contact us directly.  If you're interested in a topic that you'd like us to address, please email us so we can include them in future updates.
If you're interested in starting a dialogue and learning how we can help, please click the link below to book a call or meeting with us.
Best Regards,
Jared Toren
CEO & Founder
Proper Wealth Management's ("Proper") blog is not an offering for any investment. It represents only the opinions of Jared Toren and Proper . Any views expressed are provided for information purposes only and should not be construed in any way as an offer, an endorsement, or inducement to invest. Jared Toren is the CEO of Proper, a Texas based Registered Investment Advisor.   All material presented herein is believed to be reliable but we cannot attest to its accuracy. Opinions expressed in these reports may change without prior notice. Information contained herein is believed to be accurate, but cannot be guaranteed. This material is based on information that is considered to be reliable, but Proper and its related entities make this information available on an "as is" basis and make no warranties, express or implied regarding the accuracy or completeness of the information contained herein, for any particular purpose. Proper will not be liable to you or anyone else for any loss or injury resulting directly or indirectly from the use of the information contained in this newsletter caused in whole or in part by its negligence in compiling, interpreting, reporting or delivering the content in this newsletter.  Opinions represented are not intended as an offer or solicitation with respect to the purchase or sale of any security or financial instrument, nor is it advice or a recommendation to enter into any transaction. The material contained herein is subject to change without notice. Statements in this material should not be considered investment advice. Employees and/or clients of Proper may have a position in the securities mentioned. This publication has been prepared without taking into account your objectives, financial situation or needs. Before acting on this information, you should consider its appropriateness having regard to your objectives, financial situation or needs. Proper Wealth Management is not responsible for any errors or omissions or for results obtained from the use of this information. Nothing contained in this material is intended to constitute legal, tax, securities, financial or investment advice, nor an opinion regarding the appropriateness of any investment. The general information contained in this material should not be acted upon without obtaining specific legal, tax or investment advice from a licensed professional.
Jared Toren is CEO and Founder at Proper Wealth Management. Proper was born out of frustration with the inherent conflicts of interest at big brokerage firms influencing advisors to sell products that were not suitable for clients but profitable to the firm along with a consistently mixed message of who's interest was supposed to be put first; the clients', the firms', shareholders or advisors.
At Proper, our clients interests come first. We are compensated the same regardless of which investments we utilize so there's no incentive for us to sell high commission products. Since we focus on a small number of clients, we are able to truly tailor our advice to each person's unique circumstances.