Slide #4
The current forward P/E of the market is 17.1, which is higher than in 2007, although not close to the bubble high in 2000 of 27.2.  The thing with forward earnings estimates is that analysts and companies are notoriously optimistic.  I don't think any analysts forecasted in 2011 that today's earnings would be the same level, but they are.  And yet the market has continued to climb higher even though the estimates have missed the mark.  Check out Figure 3 of a prior Insights Blog here to see how analysts forecasts start overly optimistic 24 months out and then decreases until the earnings are actually released.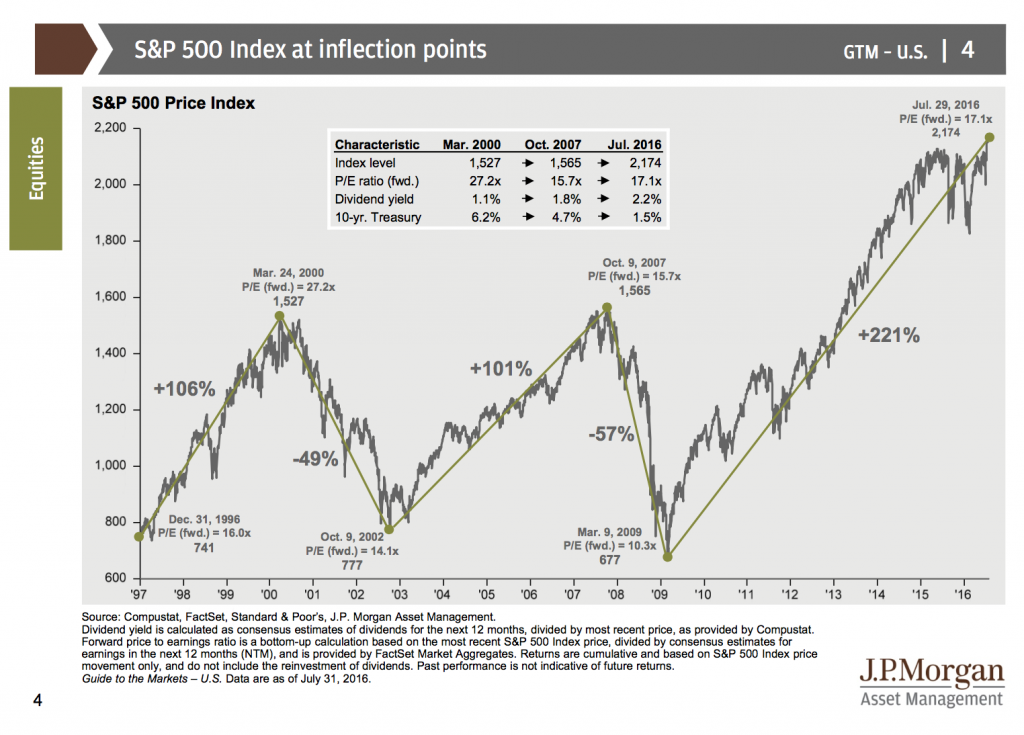 Slide #7
As I mentioned above, corporate profits are where they were at in 2011.  Do you see that asterisk for 2Q16, which says it's an estimate.  Most of the companies in the S&P have reported and earnings fell about 4% YoY as of the most recent quarter.  Look for JP Morgan's next update to show the green bar much lower.  See previous comments about analysts expectations being overly aggressive.  How do you think the next 3 green bars (future earnings vs. actual earnings) will actually unfold?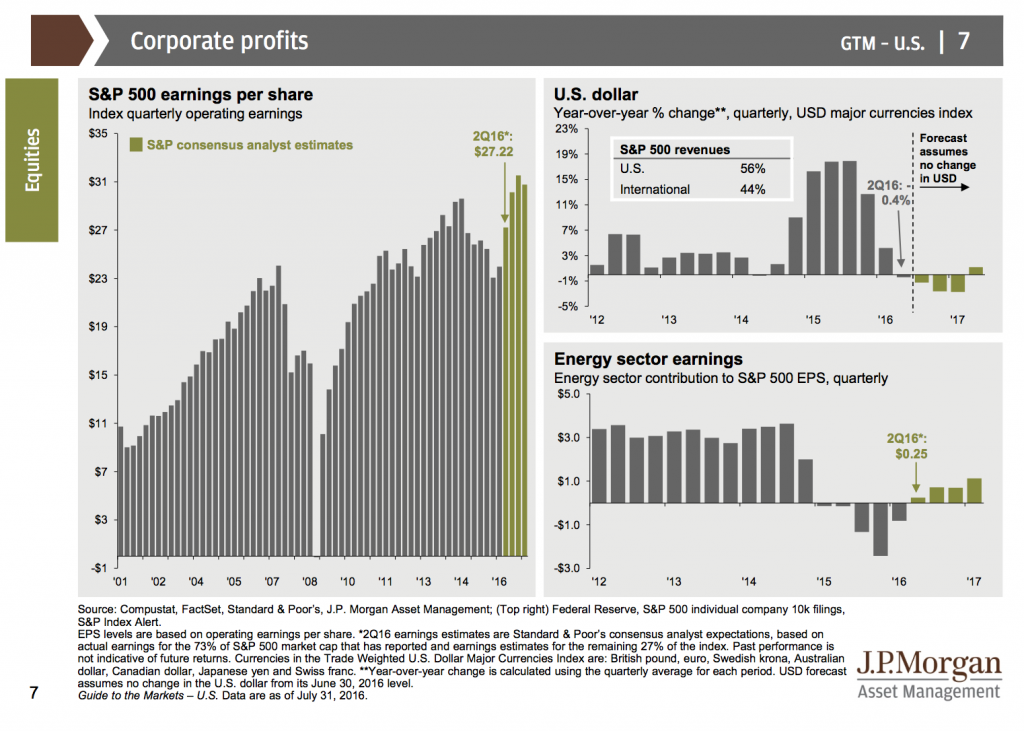 Slide #8
As we discussed in our quarterly macro walk through, wage increases that we've been seeing reported alongside of non-farm payroll release data is not a good thing.  As you can see, profit margins are falling while labor is increasing which can lead to layoffs.  If you're the CEO of a company and your earnings have been steadily declining what would you do?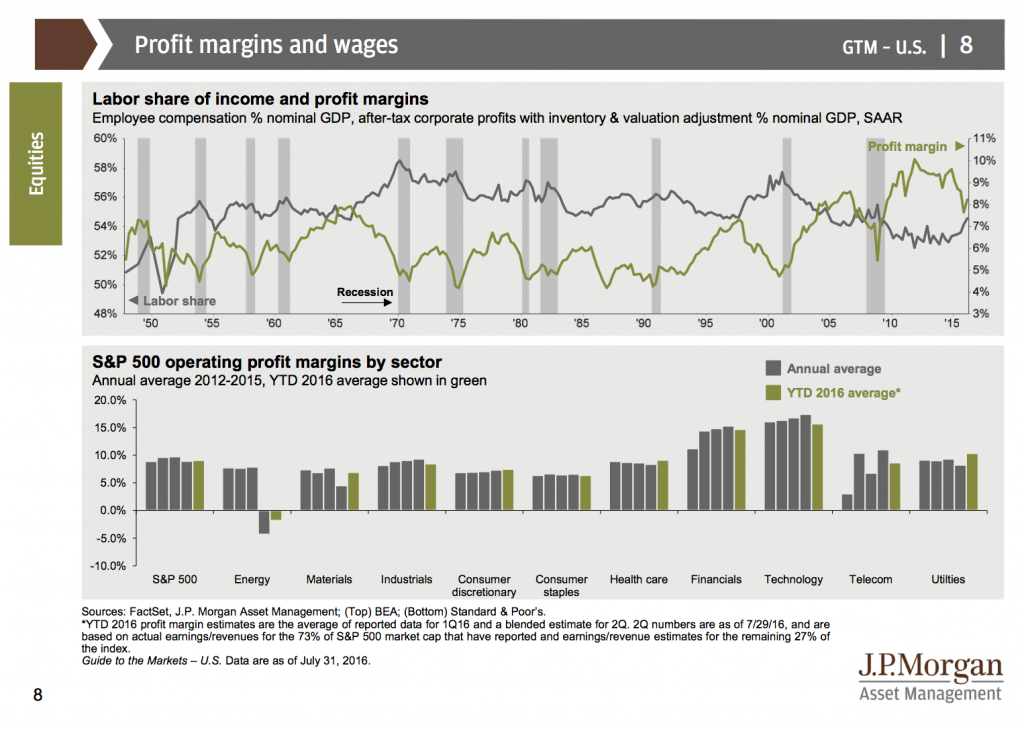 Slide #13
I do not believe the VIX is an indicator of future volatility, although you could look at the term structure across futures contracts to give you an indication of future expected volatility, but I don't believe those bets are always accurate.  The VIX, in my experience, is a coincidental indicator.  Meaning, when markets are falling, VIX is rising.  We are getting close the lows that we usually see in the VIX before we've had drops in the market, although to reiterate, it's not a forecasting tool.  You don't need a big drop in the market to cause a spike in the VIX index as we saw on June 24, 2013.  As a trader, the phrase I'd hear often is when the VIX is high it's time to buy (stocks) and when the VIX is low, it's time to go (sell stocks).  VIX is really low right now.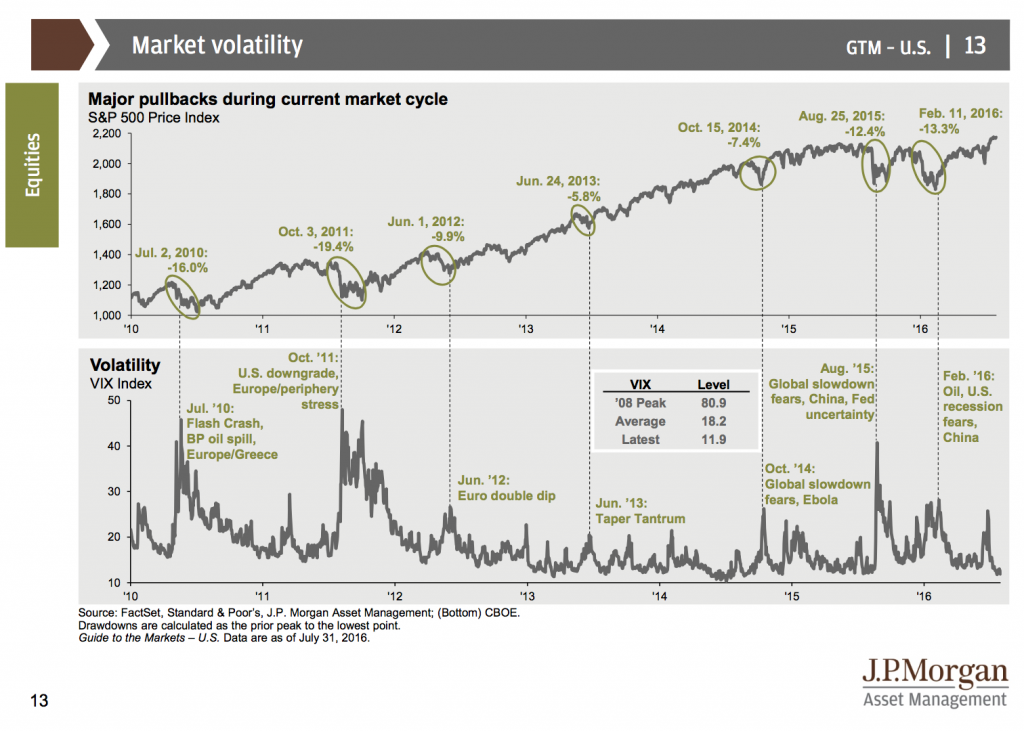 Slide #15
What you see below is that this is the second longest bull market following a severe bear market at 90 months.  We are hearing a lot of chatter about the bull market being long in the teeth and this chart shows why.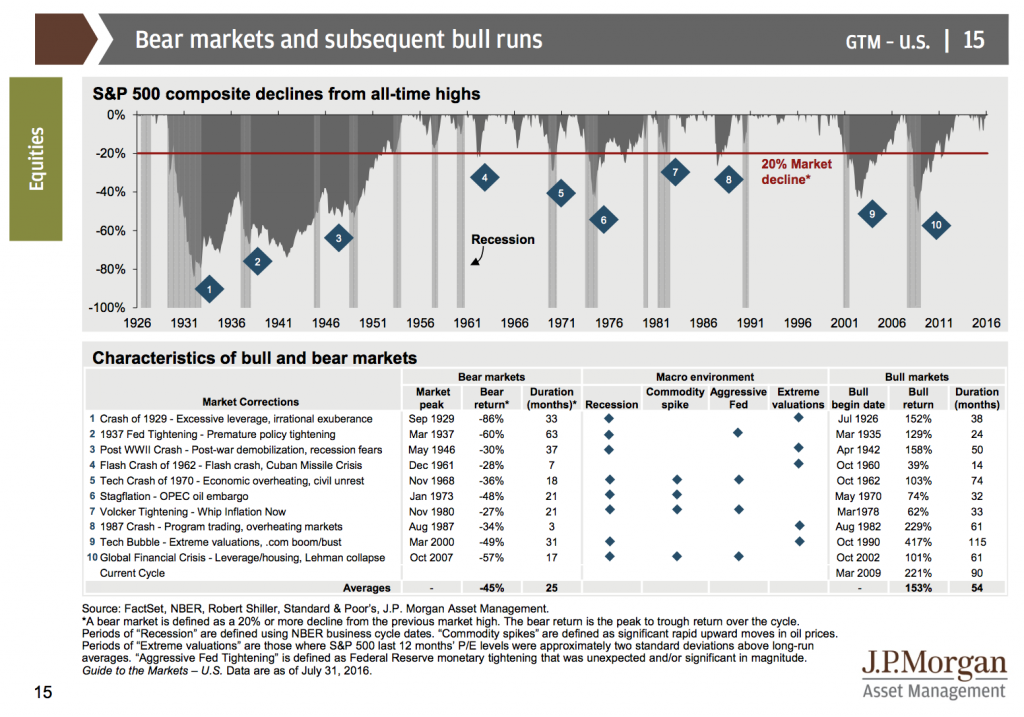 Slide #17
Going back to 1900, this is the 4th longest recovery at 85 months versus the average of 46 months.  As measured by cumulative GDP of expansions (as you can see on the right side in light blue), this is the weakest recovery period in history.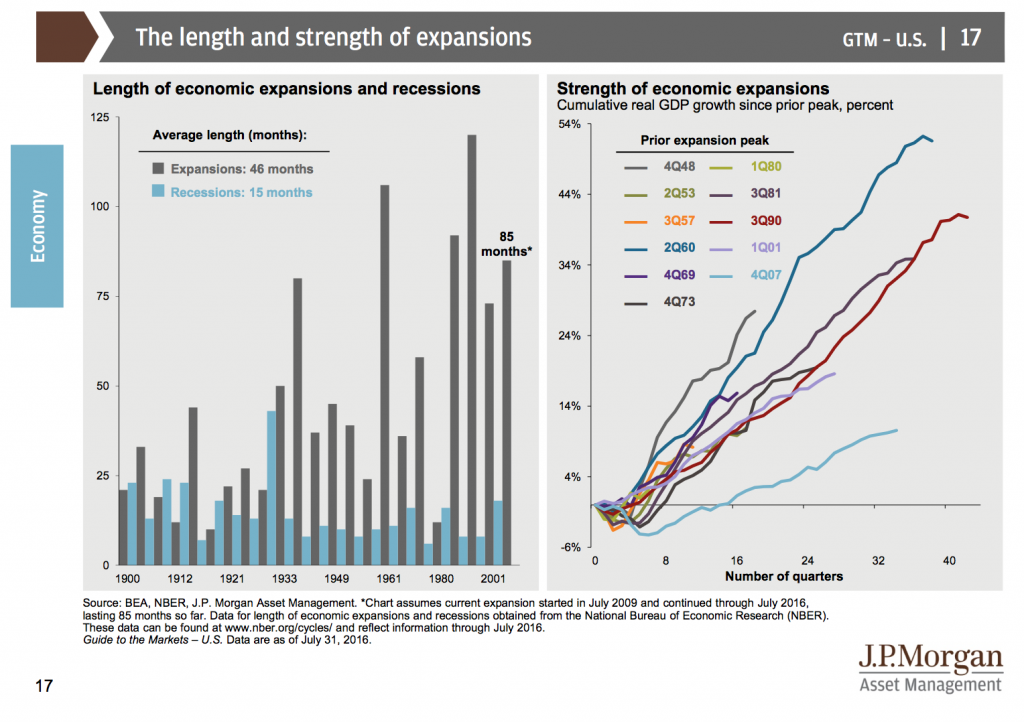 Slide 18#
Said another way, GDP has averaged 2.8% since 1965 and the current expansion we're averaging 2.1%.  This years data has been significantly underwhelming and we're expecting another very poor print for Q3 GDP.  Contact us directly for more thoughts on why we believe this.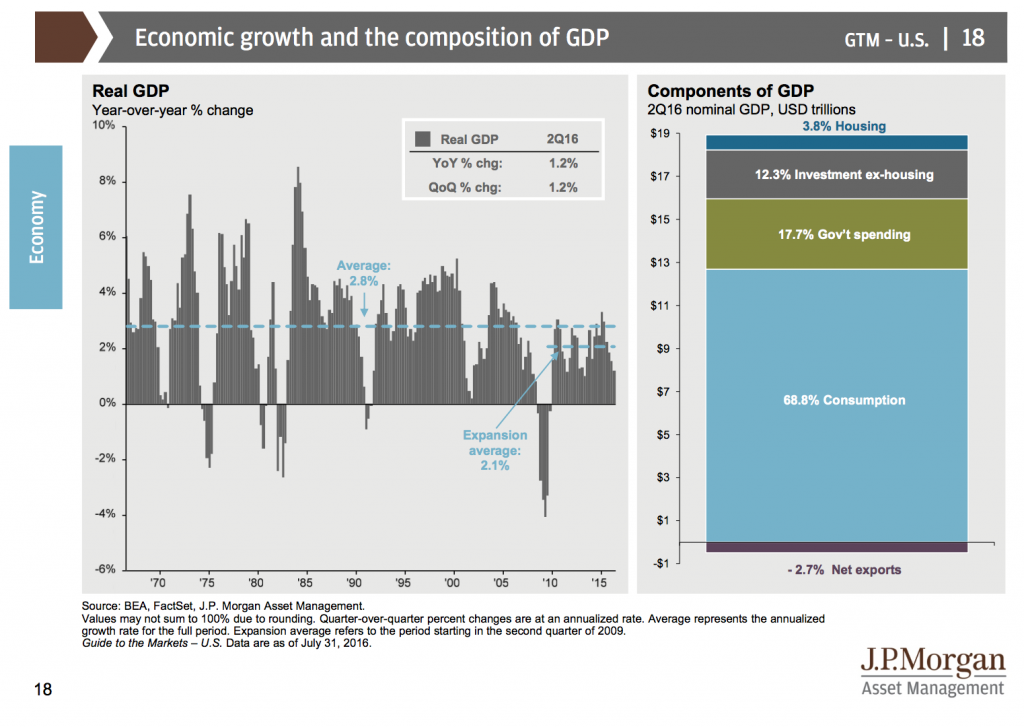 Slide #22
The expected growth in working age population is expected to be lower in the coming 10 years than there's been over the past 60 years.  In population demographic terms, baby boomers are aging and leaving the workforce.  Millennials though are a larger population than the baby boomers and should hopefully drive growth higher in future years.  We think of this as an analogy.  Imagine a track relay where the runner holding the baton has to slow down to match the speed of the the next relay runner and make the handoff.  Then, the runner who received the baton picks up speed  until they hit their stride.  We believe the same thing is occurring as baby boomers continue to retire while millennials progress into the labor force.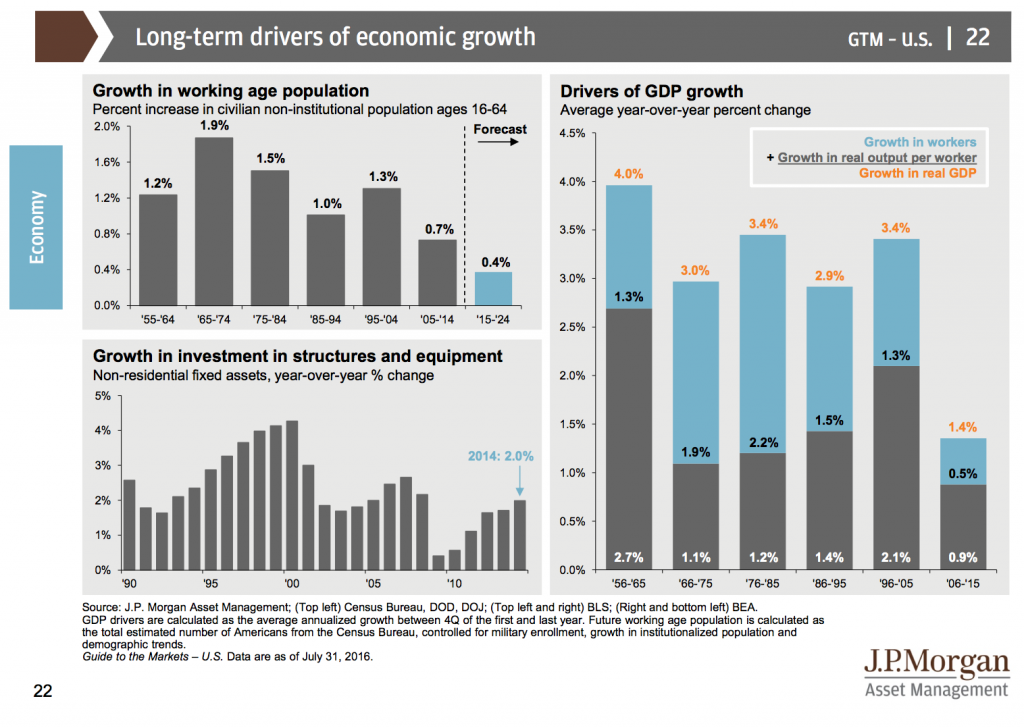 Slide #32
Since September 30, 1981 when the 10 year treasury yield peaked at 15.84%, yields have been trending lower.  We don't see a reason for the trend to break and until it does, we wouldn't bet against it.  Current and projected inflation measures appear very weak, although we'll most likely see a transitory spike from the bounce in energy prices in recent months.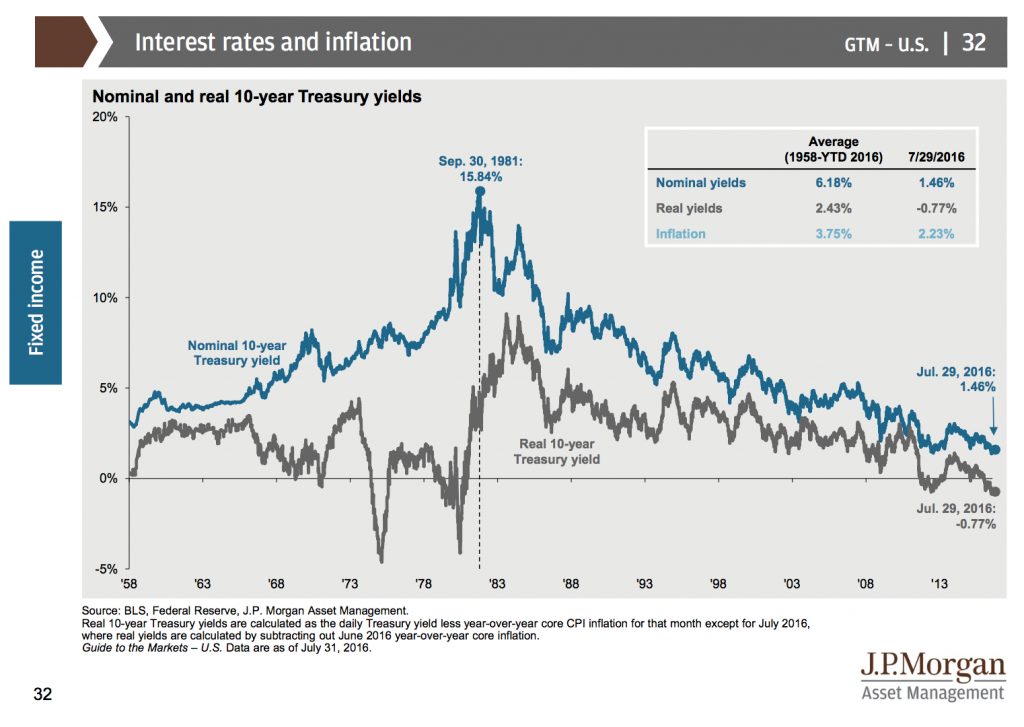 Slide #34
The yield curve has been flattening (difference between long term and short term yields) over the past few years since the financial crisis.  As the Fed continues to hold down the front end of the curve and as long as inflation and growth remain muted, we believe this flattening will continue.  Furthermore, as foreign bonds yields remain negative, demand for treasuries will continue in our view further holding down yields.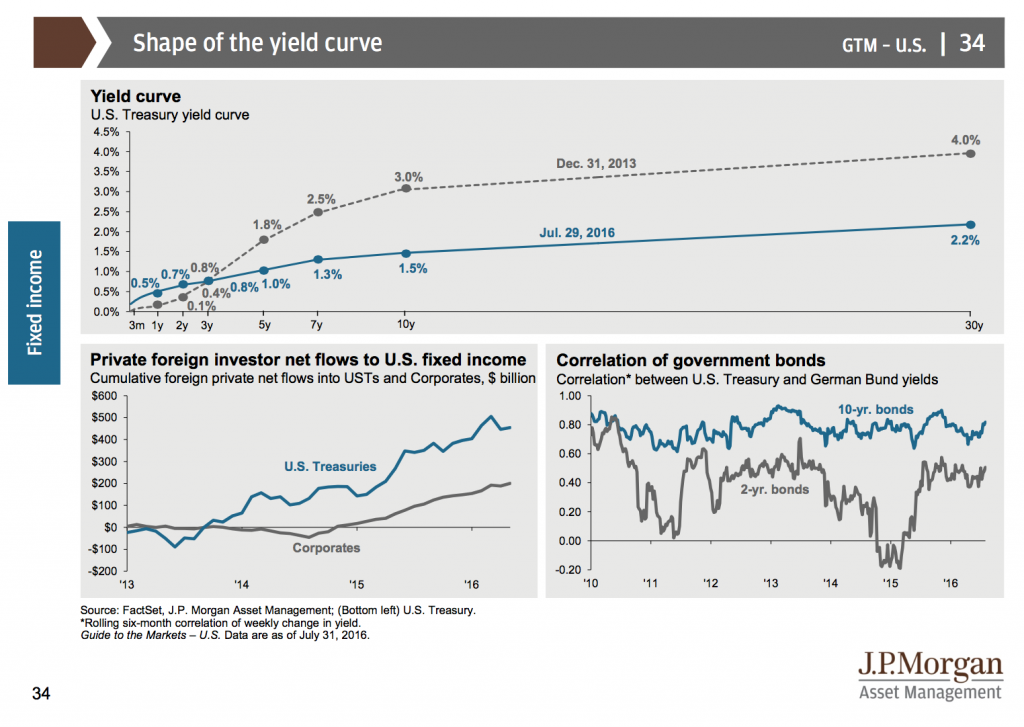 Slide #67
There is a big difference between asset allocation in corporate defined benefit plans (pensions) and endowments which tend to invest more in alternative investments as illustrated below.  Currently, pension fund return assumptions are in the 6-7% range and have a large allocation to stocks.  If you look at GMO's 7 year return forecast here, it might be a bit optimistic.  The consequences of the shortfalls could be big cuts to pension benefits in the future which would have a devastating effect on pensioners who derive a significant portion of their income from them.  Every year that they miss their return targets puts them further from the target they need to hit.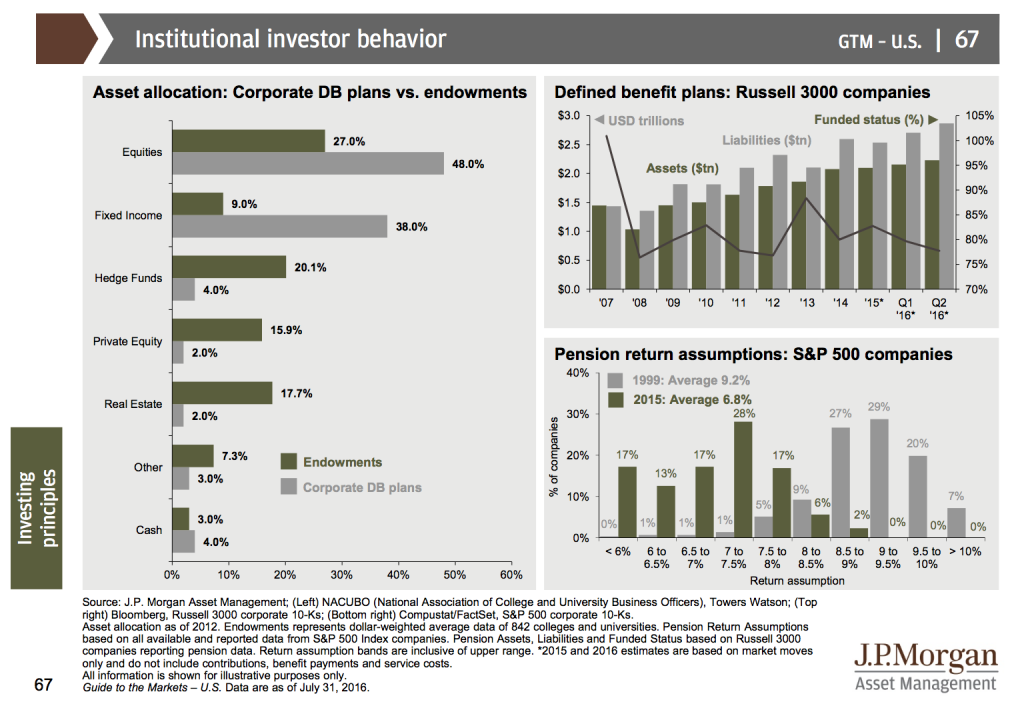 If you have questions on any other slides in the deck or anything at all, please contact us since it's our mission to provide as much value as possible to our clients and contacts.
To read the entire Guide To The Markets, click below.
Click Here to View and Download the Full PDF
Best Regards,
Jared Toren
CEO & Founder, Proper Wealth Management
Proper Wealth Management's ("Proper") blog is not an offering for any investment. It represents only the opinions of Jared Toren and Proper . Any views expressed are provided for information purposes only and should not be construed in any way as an offer, an endorsement, or inducement to invest. Jared Toren is the CEO of Proper, a Texas based Registered Investment Advisor.   All material presented herein is believed to be reliable but we cannot attest to its accuracy. Opinions expressed in these reports may change without prior notice. Information contained herein is believed to be accurate, but cannot be guaranteed. This material is based on information that is considered to be reliable, but Proper and its related entities make this information available on an "as is" basis and make no warranties, express or implied regarding the accuracy or completeness of the information contained herein, for any particular purpose. Proper will not be liable to you or anyone else for any loss or injury resulting directly or indirectly from the use of the information contained in this newsletter caused in whole or in part by its negligence in compiling, interpreting, reporting or delivering the content in this newsletter.  Opinions represented are not intended as an offer or solicitation with respect to the purchase or sale of any security or financial instrument, nor is it advice or a recommendation to enter into any transaction. The material contained herein is subject to change without notice. Statements in this material should not be considered investment advice. Employees and/or clients of Proper may have a position in the securities mentioned. This publication has been prepared without taking into account your objectives, financial situation or needs. Before acting on this information, you should consider its appropriateness having regard to your objectives, financial situation or needs. Proper Wealth Management is not responsible for any errors or omissions or for results obtained from the use of this information. Nothing contained in this material is intended to constitute legal, tax, securities, financial or investment advice, nor an opinion regarding the appropriateness of any investment. The general information contained in this material should not be acted upon without obtaining specific legal, tax or investment advice from a licensed professional.
Each quarter, JP Morgan Asset Management updates it's Guide to the Markets report which is filled with charts and statistics.  In this post, we isolate 11 out of the 71 pages of information in the guide and provide some context.  I tend to do this every year as new information is added and as things change materially.