Market Scorecard
Monthly Commentary
January was a generally strong month in stock and bond markets with the S&P, international and emerging market stocks rallying.  The Federal Reserve maintained it's current target while offering very little hints on it's future moves.  It's still unclear what is going to happen with Obamacare, corporate and personal tax rates, Dodd-Frank reform, amongst other promises made on the campaign trail.  The Mexican border wall seems to be a focus although families who own land along border might not be happy with imminent domain claims.  Obamacare rhetoric went from repeal and replace to let's fix what's currently wrong with it.  A recent article by Bloomberg suggests we are at least a year off before a replacement is approved (Bloomberg Article).  There is a lot of political uncertainty (globally) and a lot of potential destabilizing events (AKA black swans).  Protectionism appears to be gaining ground in the US and abroad and we may soon be in a trade war with Mexico and China (and who knows else).  In France, the presidential election is really heating up and Marine de la Pen has a plan (if elected) to leave the Euro and make France great again (Her Plan Here).  Sound familiar?  Brexit, Trump and France are trends that are not going away anytime soon.  But let's assume that the large fiscal stimulus package produces the kind of growth President Trump is calling for, it's unlikely it will generate large stock market returns.  In this higher growth, fiscal stimulus example, it seems likely that it will lead to tighter monetary policy due to rising inflation.  How much of this potential tighter monetary policy will offset fiscal stimulus/pro-growth measures is yet to be seen.
Since NAFTA, goods and services flow freely between Mexico and the US a multitude of times before being ready for US (and other) consumers.  Again, how import tariffs and other measures will impact us is still too soon to know.  The law of unintended consequences makes the 2nd, 3rd and 4th magnitude effects very difficult to forecast, but I believe protectionism and tariffs will lead to high prices on goods in the US.
The US has a bigger trade deficit with Germany than with Mexico.  Should the Germans be worried?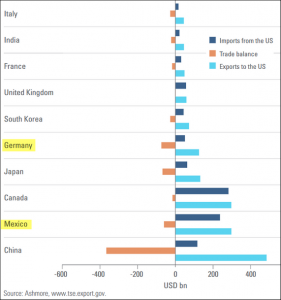 You can see what the US and Mexico trade the most.  Could automobile costs in the US surge by $17,000 (Bloomberg Article on potential cost)?  What would that to do Ford and GM?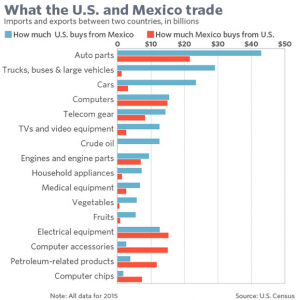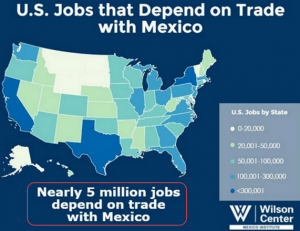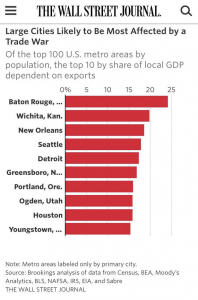 Payrolls in the US rose more than expected by 227,000 for the month of January, although wage growth disappointed.  Treasury bond yields fells as a result since the bond market believes without wage growth, inflation will remain subdued.  There's a massive short position on 10 year treasury futures; even bigger than in 2013 when we had the taper tantrum.  If we see weak data in the coming weeks/months, you could see a big drop in 10 year treasury bond prices due to short covering.
76 months of job growth is the longest ever on record.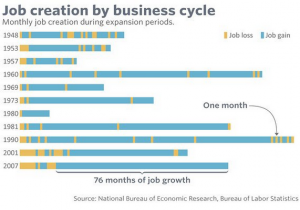 The Change in labor market conditions index appears to be weakening again.  Another reason the Fed may have held off on rising rates and providing guidance.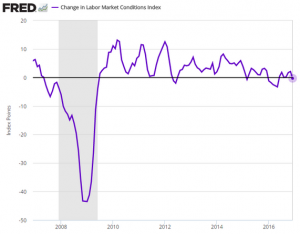 Big short position in 10 year treasury yields.  Traders betting big on an increase in yields.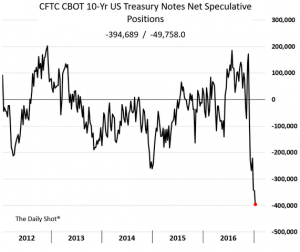 Optimism is high across all surveys (CFO Survey, consumers, small businesses, etc.) and inflation appears to be picking up steam globally when looking at ISM, PPI, PMI and CPI statistics.  This is another reason why you've seen bond yields rising across the globe.  Many people believe the ECB is way behind the curve since they announced no changes in their bond buying program even though inflation data is starting to trend higher.  Germany's 10 year government bond now yields .38% from al almost -.20% back in July 2016.  Take a look at the rapid fire charts on ISM, PPI, PMI and CPI across most major economies and you see where the trend has been heading.  Will it continue?
ISM Data (Institute for Supply Management)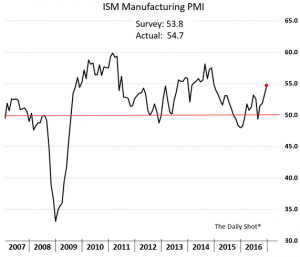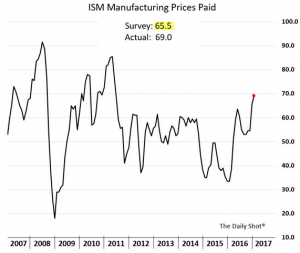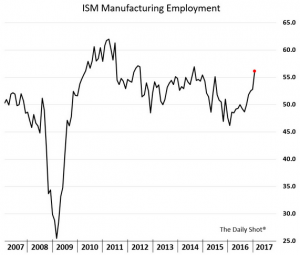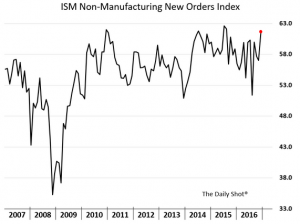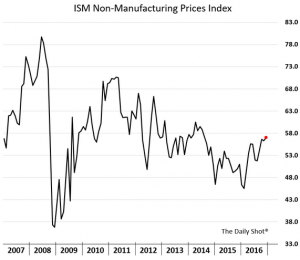 PPI Data (Produce Price Index)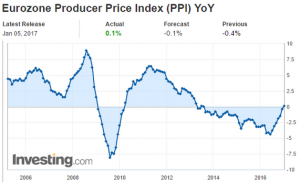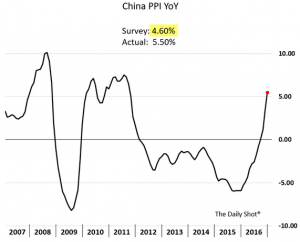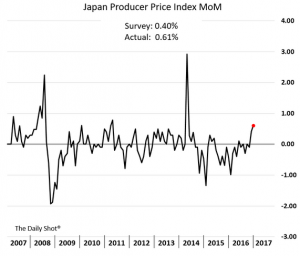 PMI Data (Purchasing Managers Index)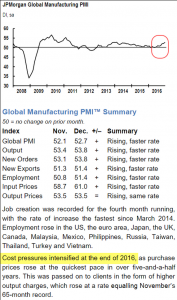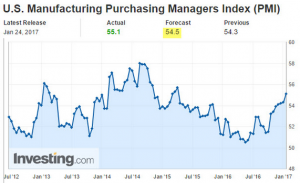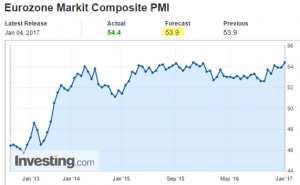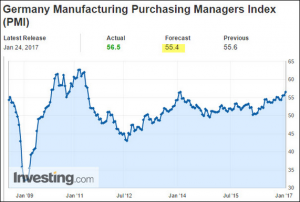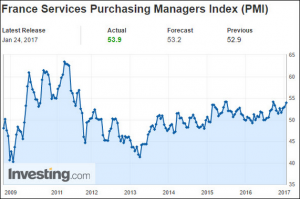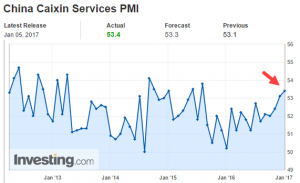 CPI Data (Consumer Price Index)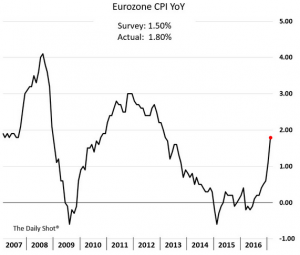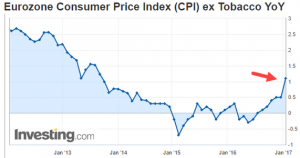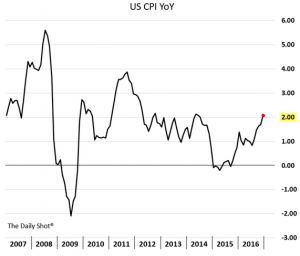 When you strip out commodities, we've seen a big increase in the cost of medical care, prescriptions and rent.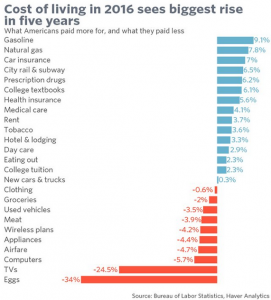 Commodity inflation is on the rise again.  With the latest announced cuts by OPEC and non-OPEC members, US drillers are expected to do very well since they can increase production quickly.  See the recent pickup in crude production in the US since Q4.  How long will OPEC and Russia wait before ramping up production?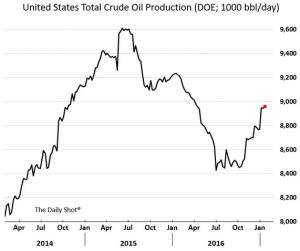 US Market Valuation
Valuation is never a catalyst, but I'm finding it hard to see any data point which shows the US stock market isn't over valued by historical standards.  It's a bit surprising that US markets are right at all-time highs given the large amount of uncertainty.  Here are a few examples.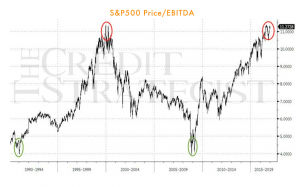 A new 20% corporate income tax rate will increase corporate profits by 4%. Using a 20 multiple and you get a 100 point increase in the S&P 500 which is about how much the market has increased since the election.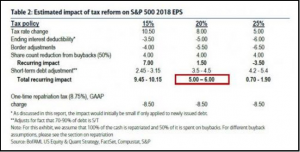 Smaller companies would have a greater benefit on net income since they tend to have most or all of their sales within the US.  Larger organizations have set up entities in foreign jurisdictions with lower tax rates such as Ireland and the UK.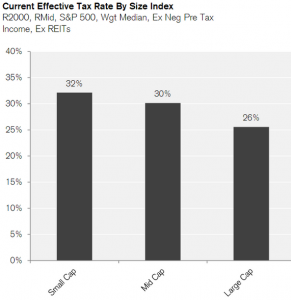 Analysts are notoriously optimistic as you can see.  There was only 1 year when EPS beat expectations and that was coming out of the financial crisis.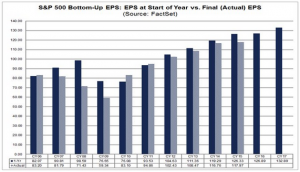 Big expectations for earnings growth in 2017 and 2018.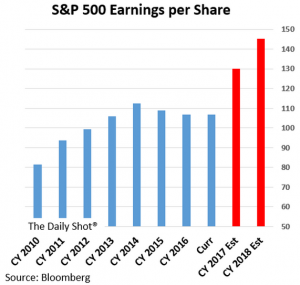 If you have any questions please contact us directly.  If you're interested in a topic that you'd like us to address, please email us so we can include them in future updates.
Best Regards,
Jared Toren
CEO & Founder
Proper Wealth Management's ("Proper") blog is not an offering for any investment. It represents only the opinions of Jared Toren and Proper . Any views expressed are provided for information purposes only and should not be construed in any way as an offer, an endorsement, or inducement to invest. Jared Toren is the CEO of Proper, a Texas based Registered Investment Advisor.   All material presented herein is believed to be reliable but we cannot attest to its accuracy. Opinions expressed in these reports may change without prior notice. Information contained herein is believed to be accurate, but cannot be guaranteed. This material is based on information that is considered to be reliable, but Proper and its related entities make this information available on an "as is" basis and make no warranties, express or implied regarding the accuracy or completeness of the information contained herein, for any particular purpose. Proper will not be liable to you or anyone else for any loss or injury resulting directly or indirectly from the use of the information contained in this newsletter caused in whole or in part by its negligence in compiling, interpreting, reporting or delivering the content in this newsletter.  Opinions represented are not intended as an offer or solicitation with respect to the purchase or sale of any security or financial instrument, nor is it advice or a recommendation to enter into any transaction. The material contained herein is subject to change without notice. Statements in this material should not be considered investment advice. Employees and/or clients of Proper may have a position in the securities mentioned. This publication has been prepared without taking into account your objectives, financial situation or needs. Before acting on this information, you should consider its appropriateness having regard to your objectives, financial situation or needs. Proper Wealth Management is not responsible for any errors or omissions or for results obtained from the use of this information. Nothing contained in this material is intended to constitute legal, tax, securities, financial or investment advice, nor an opinion regarding the appropriateness of any investment. The general information contained in this material should not be acted upon without obtaining specific legal, tax or investment advice from a licensed professional.
Jared Toren is CEO and Founder at Proper Wealth Management. Proper was born out of frustration with the inherent conflicts of interest at big brokerage firms influencing advisors to sell products that were not suitable for clients but profitable to the firm along with a consistently mixed message of who's interest was supposed to be put first; the clients', the firms', shareholders or advisors.
At Proper, our clients interests come first. We are compensated the same regardless of which investments we utilize so there's no incentive for us to sell high commission products. Since we focus on a small number of clients, we are able to truly tailor our advice to each person's unique circumstances.