Market Scorecard

The markets continued to trek higher following the Brexit bounce in late June. All of the major indices posted solid gains during the month, with the S&P posting a 3.52% positive gain.  US Q2 GDP was released at month-end and posted a meager +1.20%.  We were very surprised since we actually expected a strong GDP report powered by consumer spending which makes up roughly 70% of the economy.  While consumption was strong, investment fell -1.20% and government expenditures fell for the first time since Q4 2014.  The biggest surprise was the GDP deflator which went from +.50% to +2.20% (a delta of +1.70%) which caused GDP to fall to 1.20% instead of being 2.90%.  The GDP deflator is what the Fed believes inflation is during a quarter so they can show true gains in the economy.  If the Fed used 2.20% in Q1, we would have had a negative GDP for the first time in a long time.  It's quite possible the Fed is playing games.  Lets face it, if GDP printed +2.90%, they would have felt pressure to raise rates which I would argue is a very bad thing right now.  By increasing the deflator to 2.20% (which is probably accurate although last quarter should have been higher also) and GDP being at +1.20% for Q2, they are in a position to continue their dovish rhetoric.  In case you weren't counting, the Fed has changed their tone 5 times since December when they raised rates.  They've gone from hawkish (December starting point) to dovish to hawkish to dovish to hawkish and now back to dovish!
Also released around the same time as GDP, durable goods declined -4.60% MoM and -6.40% YoY.  Durable goods are goods not used for immediate consumption (appliances, cars, boats, etc.).  Capital goods did increase to +.20% MoM but registered a -3.70% YoY decline, extending its epic run of negative growth to 17 of the last 18 months.  Capital goods are goods used in producing other goods.  Needless to say, these are not strong numbers and indicate growth slowing.  Luxury goods consumption has also been falling dramatically since since beginning of the year.  It's important since estimates on the impact of the wealthy on consumer spending put the share of consumer outlays by the top quintile at greater than 40%.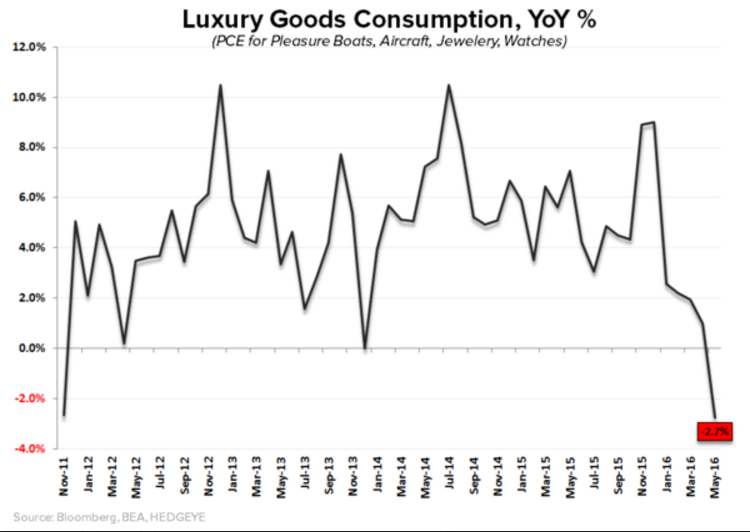 There has been a few folks who've stated central banks are not allowing stock markets to correct, which in turn creates bigger problems.  Check out this chart which shows direct and indirect interventions through mid-July by global bankers.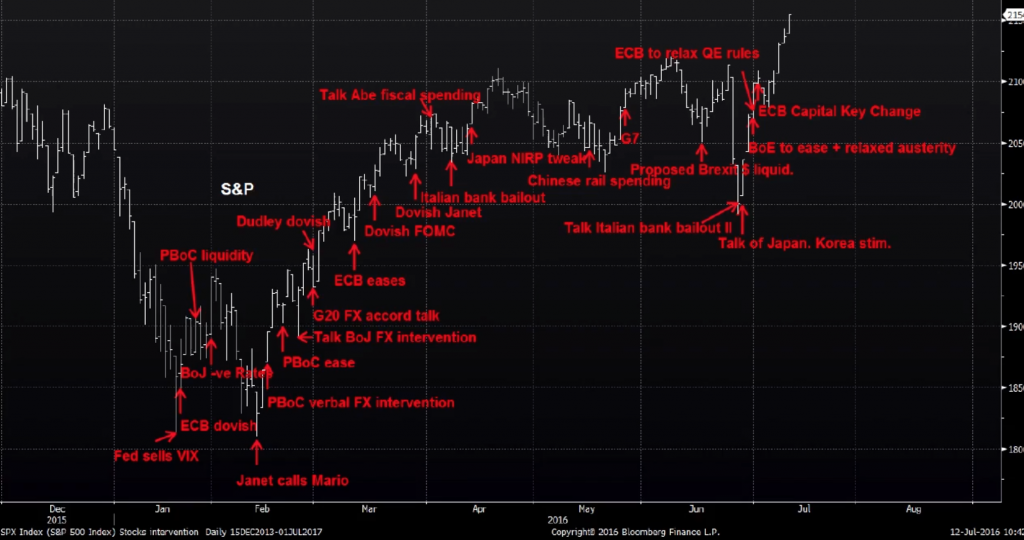 GMO released its 7 year asset class real return forecasts and it doesn't bode well.  As  you can see, there aren't many asset classes that they're forecasting to have a positive real return.  For US pension funds and pensioners, they are crossing their fingers that GMO is wrong.  According to a recent study, pension funds are estimating their returns going forward will be high single digits.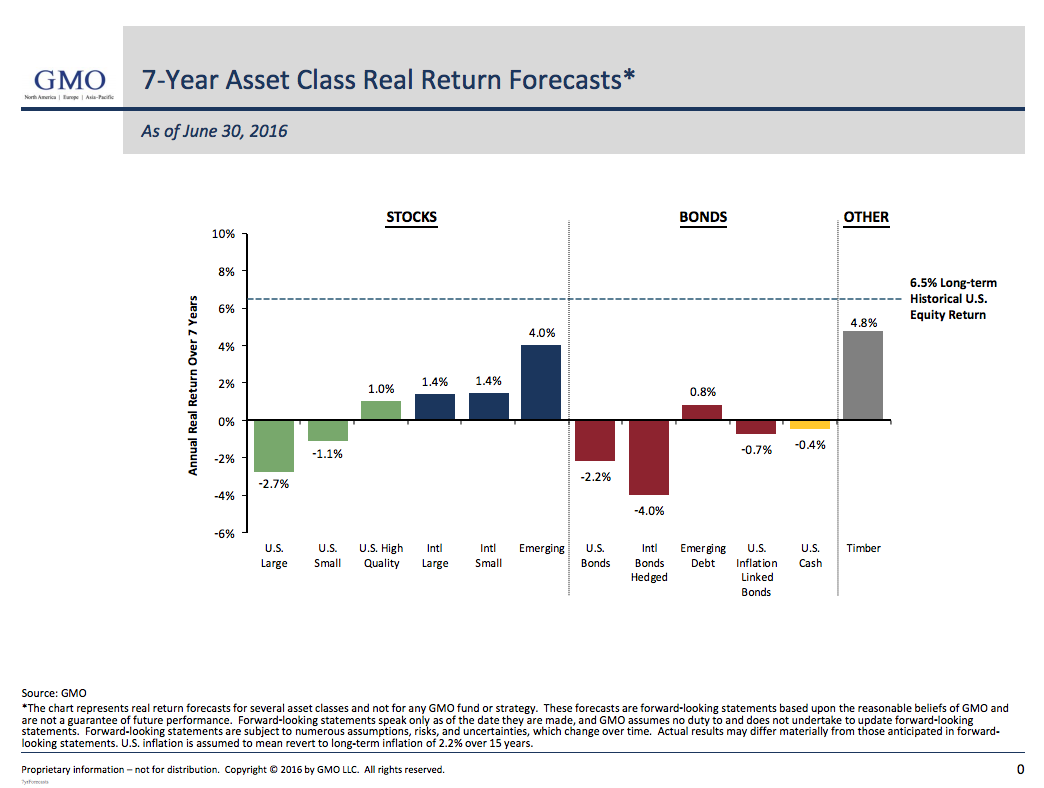 Internationally, there's been a lot of attention on Italian banks since a large % of the loans on their balance sheets are non-performing (more details about Italian banks in this blog post).  The troubled Italian bank Monte dei Paschi di Siena ("MPS") arranged a last-minute sale of its bad loans just as the ECB stress test results were released.  However, while MPS's shares were up, other Italian/Eurozone banks, such as UniCredit, tumbled.  MPS's deal puts a public price on a very large pool of bad loans that will be hard for others to ignore.  Officially, the price is 33% of face value or €9.2 billion for a portfolio of €27.7 billion of bad loans.  In reality the way the deal was structured, the price was closer to 27% which means more losses and write-downs to come.  Check out the chart below  which shows banks non-performing loans as a % to total loans.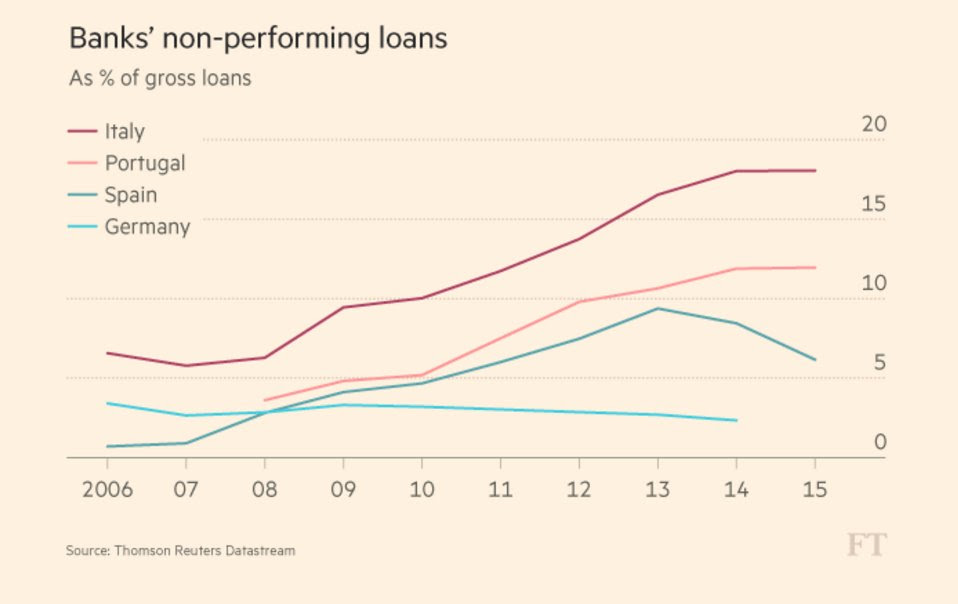 And lastly, please enjoy this Star Wars intro parody, The Fed Awakens.
As always, please contact us if you have any questions.
Regards,
Jared Toren
CEO & Founder, Proper Wealth Management
Proper Wealth Management's ("Proper") blog is not an offering for any investment. It represents only the opinions of Jared Toren and Proper . Any views expressed are provided for information purposes only and should not be construed in any way as an offer, an endorsement, or inducement to invest. Jared Toren is the CEO of Proper, a Texas based Registered Investment Advisor.   All material presented herein is believed to be reliable but we cannot attest to its accuracy. Opinions expressed in these reports may change without prior notice. Information contained herein is believed to be accurate, but cannot be guaranteed. This material is based on information that is considered to be reliable, but Proper and its related entities make this information available on an "as is" basis and make no warranties, express or implied regarding the accuracy or completeness of the information contained herein, for any particular purpose. Proper will not be liable to you or anyone else for any loss or injury resulting directly or indirectly from the use of the information contained in this newsletter caused in whole or in part by its negligence in compiling, interpreting, reporting or delivering the content in this newsletter.  Opinions represented are not intended as an offer or solicitation with respect to the purchase or sale of any security or financial instrument, nor is it advice or a recommendation to enter into any transaction. The material contained herein is subject to change without notice. Statements in this material should not be considered investment advice. Employees and/or clients of Proper may have a position in the securities mentioned. This publication has been prepared without taking into account your objectives, financial situation or needs. Before acting on this information, you should consider its appropriateness having regard to your objectives, financial situation or needs. Proper Wealth Management is not responsible for any errors or omissions or for results obtained from the use of this information. Nothing contained in this material is intended to constitute legal, tax, securities, financial or investment advice, nor an opinion regarding the appropriateness of any investment. The general information contained in this material should not be acted upon without obtaining specific legal, tax or investment advice from a licensed professional.