Monthly Recap
It was another busy month indeed with GDP reported, continued trade wars/rhetoric and the first $1 Trillion company in history.  To recap, below are bullet points of the important and noteworthy events that occurred in July.
Apple became the first company in history to reach a $1 Trillion valuation.
US Q2 GDP is reported with 4.1% growth, the highest quarterly growth since 2014.  Michael Feroli, the chief U.S. economist at JPMorgan Chase & Co said "It'll be hard to repeat this performance on a sustained basis."
The US-China trade war rhetoric keeps going back and forth.  Trump announced a plan to increase tariffs on an additional $200B of Chinese goods (although Trump also hinted at putting tariffs on $500B worth of goods).  Furthermore, his advisers are debating measures that might bring Chinese negotiators to the table. Some are pushing the president to apply tariffs as high as 25% on $200 billion of Chinese imports, up from an original proposal for 10%.
Another high profile CEO (Les Moonves) was accused of sexual misconduct.  This probably won't end well for Les as we've seen for other high profile executives.
The Federal Reserve left interest rates unchanged, although the markets are pricing in another 2 increases before year end.  The risk of an inverted yield curve rises each time there's a rate increase.
The founder of Papa John's resigned from the company as Chairman after using a racial slur during a training session.
My 2 Cents
I thought I would spend some time to focus on bonds and why everyone (in my opinion) needs to understand what they own and the risks.  What's happened over the past few years is the yield curve has flattened since the Fed has raised interest rates.  As of the time of my writing this update, the yields on US government treasury bonds are: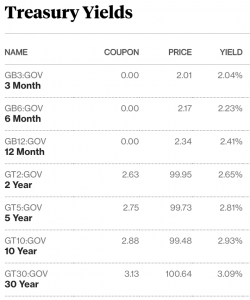 As you can see the difference in yield between a 5 year government bond and a 30 year government bond is very small (.28%).  You can buy a 5 year bond and earn 2.81% or hold for 25 years longer for just .28% more per year.  And while the .28% per year might be meaningful to some, the risk you take to earn that small difference is very large.  For instance, if interest rates on both of these bonds go up 1%, the 5 year bond would be flat (+ or -) while the 30 year bond lost 18% (+ or -) in value.  That's a big difference!  It would take you 6 years earning 3.09% to make that 18% decline in value back.
I am seeing a lot of money flow into private credit funds (middle market lending to be specific) and business development companies (BDC's).   These funds were very attractive in 2014-2016 and since then I'm seeing a flurry of funds launch and seem to get emails weekly about new ones coming to market.  Because of the competition for yield, the returns have fallen even though the risks haven't changed.  Meaning, at some point in the next few years the economy will most likely hit a rough patch (AKA a recession) and companies who've taken some of these loans will default leaving investors holding the bag.  My commentary feels like a broken record at times and I keep saying that I believe we're very late stage in the business cycle and a time you don't want to add significant exposure to asset classes who's expected returns are low while risks are increasing.  That is literally the inverse of what you want to do as an investor.
Thats why in this environment it's hard to recommend taking a lot of risk in your bond portfolio.  Know what you own!
Charts & Commentary
(In no particular order)
The WSJ has a long and detailed piece on how tariffs are disrupting several industries. This is my attempt at summarizing this excellent article:
Manufacturers: "U.S. manufacturers say they will face tough decisions in coming months over whether to raise prices to cover the higher costs [Domestic steel prices are up more than 30% this year]. (…) Some U.S. manufacturers said they may hold off on investing more in more domestic production capacity as long as the trade disagreement unfolds."
Autos: China's imposition Friday of a 40% tariff on all auto imports from the U.S. is likely to hurt Ford Motor Co., Tesla, BMW and Daimler which all ship to China from the U.S.. In turn, Mr. Trump's proposed 25% tariff could slow the current industry's momentum, threatening to increase the average price of an imported vehicle by $5,800.
Auto Parts: "A proposed 25% tariff on imported auto parts would raise the cost of making a car in the U.S. by about $2,000 (…). All told, current and proposed tariffs on auto parts, on materials like aluminum and steel and on imported vehicles could raise the cost of the average car or light truck brought into the U.S. by nearly $6,000, according to the AAPC, and cost the auto industry more than $90 billion a year."
Shipping: Friday's tariffs affect 6% of container capacity moving between the U.S. and China. But that number will grow if more tariffs are imposed on commodities, further impacting an industry fighting over capacity and low freight rates.
Semiconductors: "Chinese companies won't be the only ones feeling pinched by the new tariffs. Because of the complex global supply chain for semiconductor manufacturing, some companies in the U.S. have to cope with the new costs, too."
Device Parts: The tariff list includes printed circuit assemblies, a component used to make remote controls and automated-teller machines. And many of the pieces used on circuit boards, such as resistors and capacitors, face tariffs as well.
Movies: "If China decides to use movies to punish the U.S., it could start filling its theaters with imports from Australia, India or other countries instead of from Hollywood."
Soybean Farmers: Soybean prices have dropped 18% since the beginning of June to the lowest level in a decade and farmers are reducing their spending. "Soybean tariffs could encourage China to invest further in infrastructure projects in Brazil to help get Brazilian crops to port and beyond more quickly." On the other hand, "some foreign buyers who typically source soybeans from Brazil at this time of year have turned to the U.S (…)"
Dairy and Cheese: Double whammy as sales and prices dwindle while equipment costs rise due to tariffs on steel and alu.
Pipeline Builders: "The tariff's impact on pipeline companies hinges on whether and how the Commerce Department grants exclusions (…)"
Medical Devices: Nothing material, so far.
Distillers: U.S. export prices will rise some 10% in Europe.
Newspapers: 32% tariffs on Canadian paper benefit a small Washington State co. recently acquired by a PE firm but hurt all newspaper organizations.
Railroads: "Rising consumer prices could reduce demand and drive down rail volumes. Tariffs on goods coming to the U.S. from China could especially hurt West Coast rail lines (…)"
Source: Edge & Odds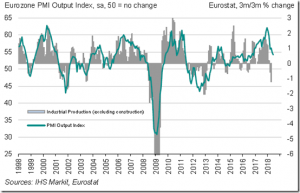 The Eurozone PMI reports have been falling in 2018 as well as the expectations for GDP.  The Eurozone as a whole is still growing very slowly and still seems to be stuck in neutral.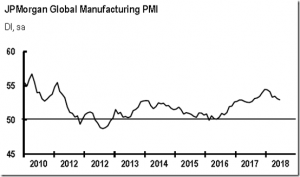 Looking at global PMI, it's been falling and pointing to lower global growth this year.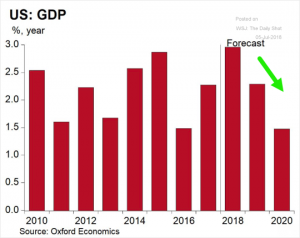 GDP was very strong in Q2 this year and the expectations are for around 3% growth for 2018 as a whole.  Going forward, expectations are for GDP to fall below 1.5% in 2020.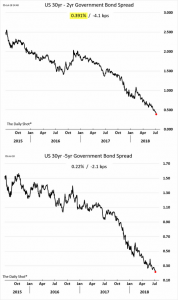 As I stated in my 2 cents above, the difference between short term and long term bond yields is very low.  It's possible we see the yield curve invert sometime in early 2019 as the Fed continues to raise interest rates.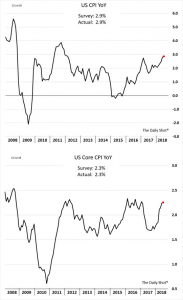 Inflation has been on the rise with core CPI slightly above the Fed's target.  Since the financial crisis, it's been hard for inflation to remain at this level for a sustained period of time.  Perhaps the Phillips Curve (explained below) will kick in at some point.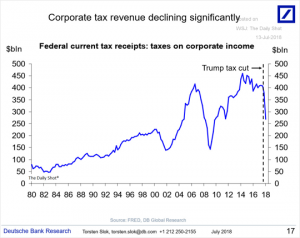 Following the recent tax cuts, corporate tax revenue has been declining significantly.  It's no wonder the projected deficits are set to widen dramatically.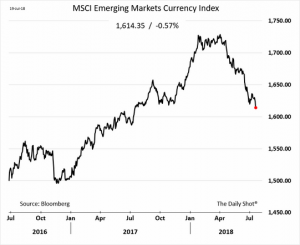 Emerging market currencies continue to weaken.  Specifically, Argentina, Turkey, India, China, and Brazil seem to be most affected.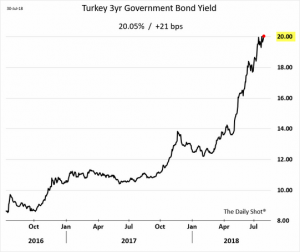 As Turkey's currency weakens, it's bond yields are surging.  If you can stomach the risk and volatility, you could earn 20% on a 3 year bond (not counting currency fluctuations)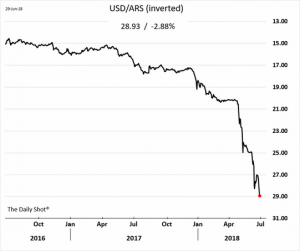 Here's a chart showing Argentina's currency problems.  Since mid July 2017, the currency has fallen by 50% from around 15 to 29.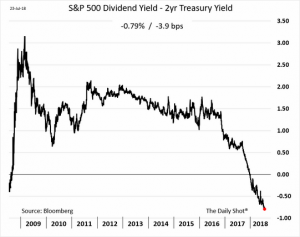 The old argument for owning the S&P 500 and earning a higher yield than short term bonds is firmly over.  You can now own a 2 year government bond and earn .79% more than the S&P 500 dividend yield without taking a lot of risk.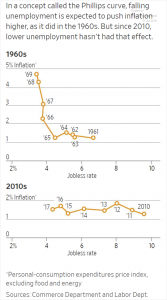 As referenced above, the Phillips Curve has not been a factor in this cycle.  Typically, low unemployment pushes wage inflation higher as competition for labor increases.  If the unemployment rate continues to fall (currently 3.9%), it's possible inflation will be a bigger factor.
A lot of speculators are betting that interest rates are going higher across the curve.  This continues to be a crowded trade and would expect a lot of short covering if the Fed somehow telegraphs plans to stop raising rates (which it hasn't yet done).
I hope you enjoyed this months financial markets update.  If you have any questions please contact us directly.  If you're interested in a topic that you'd like us to address, please email us so we can include them in future updates.
If you're interested in starting a dialogue and learning how we can help, please click the link below to book a call or meeting with us.
Best Regards,
Jared Toren
CEO & Founder
Sources: Edges & Odds, WSJ Daily Shot
Proper Wealth Management's ("Proper") blog is not an offering for any investment. It represents only the opinions of Jared Toren and Proper . Any views expressed are provided for information purposes only and should not be construed in any way as an offer, an endorsement, or inducement to invest. Jared Toren is the CEO of Proper, a Texas based Registered Investment Advisor.   All material presented herein is believed to be reliable but we cannot attest to its accuracy. Opinions expressed in these reports may change without prior notice. Information contained herein is believed to be accurate, but cannot be guaranteed. This material is based on information that is considered to be reliable, but Proper and its related entities make this information available on an "as is" basis and make no warranties, express or implied regarding the accuracy or completeness of the information contained herein, for any particular purpose. Proper will not be liable to you or anyone else for any loss or injury resulting directly or indirectly from the use of the information contained in this newsletter caused in whole or in part by its negligence in compiling, interpreting, reporting or delivering the content in this newsletter.  Opinions represented are not intended as an offer or solicitation with respect to the purchase or sale of any security or financial instrument, nor is it advice or a recommendation to enter into any transaction. The material contained herein is subject to change without notice. Statements in this material should not be considered investment advice. Employees and/or clients of Proper may have a position in the securities mentioned. This publication has been prepared without taking into account your objectives, financial situation or needs. Before acting on this information, you should consider its appropriateness having regard to your objectives, financial situation or needs. Proper Wealth Management is not responsible for any errors or omissions or for results obtained from the use of this information. Nothing contained in this material is intended to constitute legal, tax, securities, financial or investment advice, nor an opinion regarding the appropriateness of any investment. The general information contained in this material should not be acted upon without obtaining specific legal, tax or investment advice from a licensed professional.
Jared Toren is CEO and Founder at Proper Wealth Management. Proper was born out of frustration with the inherent conflicts of interest at big brokerage firms influencing advisors to sell products that were not suitable for clients but profitable to the firm along with a consistently mixed message of who's interest was supposed to be put first; the clients', the firms', shareholders or advisors.
At Proper, our clients interests come first. We are compensated the same regardless of which investments we utilize so there's no incentive for us to sell high commission products. Since we focus on a small number of clients, we are able to truly tailor our advice to each person's unique circumstances.