June was an exciting month in the markets with all eyes on Europe and Britain's vote to remain or leave the EU.  In looking at the market decline, it is clear that the investment community was surprised at the outcome of the referendum in the U.K. What is most surprising is that they were surprised. Going into the referendum, polls showed remain vs. leave were about even with 10% or so undecided.  The money bets seemed to be significantly in favor of staying which could be a reason why the selloff was so severe from institutions reversing positions.
Brexit
Breaking up is hard to do, especially when it involves relationships among key players in the global economy. After a referendum on June 23, Great Britain became the first country in the European Union's (EU) 60-year history to leave the EU bloc of nations—a momentous decision with enormous consequences for financial markets, the economy, politics, and business. The vote—which is not legally binding until Great Britain invokes Article 50 (which represents formal notification of leaving the union) of the Lisbon treaty—has sparked concerns about the impact of Brexit on global economic growth, and spawned volatility across financial markets worldwide.
After the Brexit bombshell, we have seen flight-to-quality buying of government securities and other so-called "ultra-safe" assets like gold.  Stock markets around the world fell the days following the historic announcement and have since rallied on additional stimulus bets.  The pound fell the most ever intraday following the vote and  now sits at levels last seen since the 80's.  Benefiting from the rout in the pound were the U.S. dollar and Japanese yen, two of several so-called "safe haven" currencies that attract investors when uncertainty arises. Perhaps not surprisingly, the euro, which had obtained somewhat of a safe-haven status among currencies in recent years, lost that status, and fell 4.7% against the U.S. dollar on June 24.
The British public's decision to leave the EU has heightened concerns over the stability of Italy's banking system, with the government in Rome reportedly exploring plans for injecting $44 billion into vulnerable banks.The Italian government has struggled to effectively address the problem of non-performing loans, while economic growth remains sluggish.  The impact can be seen in the performance of Italy's two largest banks. UniCredit, the country's biggest bank, lost about 70 percent of its stock value since the beginning of the year, while Italy's second largest bank, Intesa Sanpaolo, lost about half its stock value.
Italy is the eurozone's third largest economy, and its financial woes will have implications across the bloc. The Italian leadership will try to use the Brexit vote and the weakening of Brussels to elicit more concessions on banking and fiscal policy from the EU. Nevertheless, Italy's economic problems will not go away any time soon. Faced with 360 billion euros' ($396 billion) worth of non-performing loans, high unemployment and an increasingly popular anti-establishment movement, Italy will likely be a growing source of instability for the EU.
New Stimulus Measures
Earlier in the month the European Central Bank launched a new stimulus tactic: outright purchases of corporate bonds. This buy will be in addition to the 800+ billion euros of government bonds it has bought since March 2015.  The ECB wants to create inflation by making borrowers an offer they can't refuse. European public companies have been issuing new debt at a record pace this year. I can see why, too: interest rates were at record lows. The ECB intends to drive them even lower and possibly negative.
If you are the board of a Eurozone company and your central bank offers you free or better-than-free cash, of course you take it. Japan already proved that this can work back in January, when it first bought corporate bonds at a below-zero interest rate. And this new tactic of the ECB is going to affect more than just corporate bonds in Europe. US multinationals with European subsidiaries (and most have them) are going to be lining up to take advantage of a central bank that will buy up to 70% of anything the corporations issue, at rates that can't be matched in the US. At least for now. You think that's not going to bring European-style central banking to the United States?
If you're a corporation in Europe, the harder question is what to do with your free cash. The ECB wants you to buy stuff and drive up prices. That would leave you owning stuff, which isn't rational if you think deflation will continue. So the ECB has a chicken-egg problem. They can't have inflation unless businesses and individuals spend their cash, but everyone will hoard their cash until they're convinced inflation is back.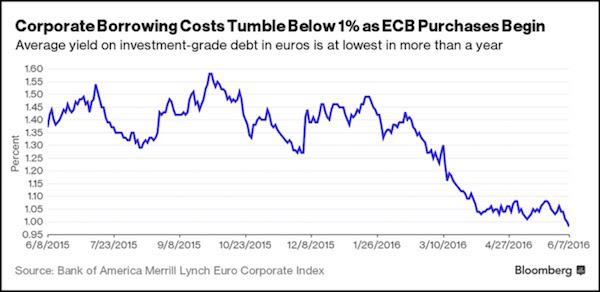 Global Bond Rates
Heading into the Brexit vote, bond yields were rising as wagers were being placed across the globe that Britain would vote to remain in the EU.  In the days following the vote, bond yields precipitously in the US and abroad.  The Swiss 10 year bond yield reached -.65% which is astounding.  As of the time of me writing this, Japan's 30 year bond yields .09%!!  The world seems to betting that Japan will not have growth and most likely continued deflation for a considerable period of time.  Take a look at the matrix below to see where bond yields are across major economies.  As yourself this question, why are US bond yields so high?  US government bonds have become high yield bonds even though we are arguably the safest place to stash wealth in the world.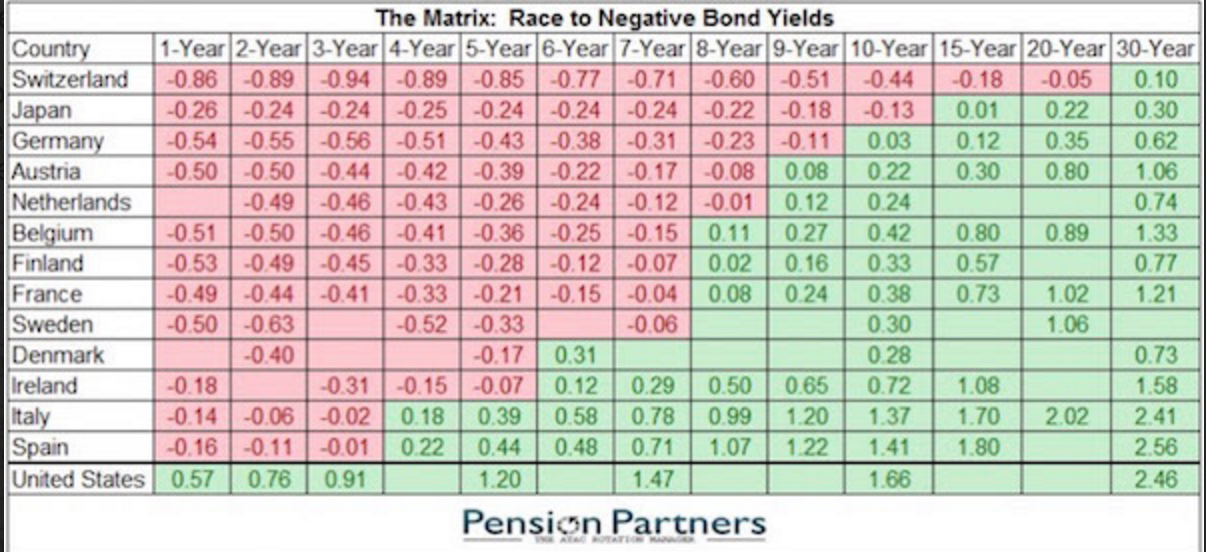 As always, if you have any questions, please contact us directly.
Best Regards,
Jared Toren
CEO & Founder
Proper Wealth Management's ("Proper") blog is not an offering for any investment. It represents only the opinions of Jared Toren and Proper . Any views expressed are provided for information purposes only and should not be construed in any way as an offer, an endorsement, or inducement to invest. Jared Toren is the CEO of Proper, a Texas based Registered Investment Advisor.   All material presented herein is believed to be reliable but we cannot attest to its accuracy. Opinions expressed in these reports may change without prior notice. Information contained herein is believed to be accurate, but cannot be guaranteed. This material is based on information that is considered to be reliable, but Proper and its related entities make this information available on an "as is" basis and make no warranties, express or implied regarding the accuracy or completeness of the information contained herein, for any particular purpose. Proper will not be liable to you or anyone else for any loss or injury resulting directly or indirectly from the use of the information contained in this newsletter caused in whole or in part by its negligence in compiling, interpreting, reporting or delivering the content in this newsletter.  Opinions represented are not intended as an offer or solicitation with respect to the purchase or sale of any security or financial instrument, nor is it advice or a recommendation to enter into any transaction. The material contained herein is subject to change without notice. Statements in this material should not be considered investment advice. Employees and/or clients of Proper may have a position in the securities mentioned. This publication has been prepared without taking into account your objectives, financial situation or needs. Before acting on this information, you should consider its appropriateness having regard to your objectives, financial situation or needs. Proper Wealth Management is not responsible for any errors or omissions or for results obtained from the use of this information. Nothing contained in this material is intended to constitute legal, tax, securities, financial or investment advice, nor an opinion regarding the appropriateness of any investment. The general information contained in this material should not be acted upon without obtaining specific legal, tax or investment advice from a licensed professional.