Monthly Recap
June produced solid returns in the stock and bond markets as US interest rate cut rhetoric was front and center. We had some close calls with an air strike on Iran being called off at the last minute. To recap, here are just some of the noteworthy events and stories from June:
President Trump ordered a military strike on Iran and then called it off at the last minute. According to Trump, he called off retaliatory strikes on three Iranian sites following the downing of a U.S. Navy drone because the action wouldn't have been "proportionate." That was a close call!
There was a break in the US-China trade war (not to be confused with the US-Europe, US-NAFTA trade wars or the potentially new US-Vietnam trade war) as President Donald Trump agreed to ease a ban on American companies supplying Chinese tech giant Huawei.
The Fed and Trump disagree on whether or not Powell can be replaced by the President. The Fed is not supposed to be politically influenced by a president or politics, but Trump has his own views of legality as we've seen.
The Federal Reserve signaled it was ready to lower interest rates for the first time since 2008, citing "uncertainties" that have increased the case for a cut as officials seek to prolong the near-record U.S. economic expansion. The bond market has been signaling this well before this announcement.
Facebook Inc. unveiled plans for a new, global financial system with a broad group of partners from Visa Inc. to Uber Technologies Inc. on board to create a cryptocurrency it expects will one day trade much like the U.S. dollar and inject a new source of revenue. Called Libra, the new currency will launch as soon as next year and be what's known as a stablecoin–a digital currency that's supported by established government-backed currencies and securities. The goal is to avoid massive fluctuations in value so Libra can be used for everyday transactions across Facebook in a way that more volatile cryptocurrencies, like Bitcoin, haven't been.
A proposed extradition law in Hong Kong has resulted in some of the largest protests seen in Hong Kong. In a city of only 7 or 8 million people, approximately 1 million of them have hit the streets protesting.
Google parent Alphabet Inc., Facebook Inc. and Apple Inc.tumbled as the companies appear set to undergo U.S. antitrust probes after the Justice Department and the Federal Trade Commission agreed to split up oversight of technology giants. The DOJ's preparations to investigate Google mark the Trump administration's first concrete step to scrutinize the potentially anti-competitive conduct of a large technology firm. A person familiar with the matter said the FTC will oversee antitrust scrutiny into whether Facebook's practices harm competition in the digital market. Lots of impact potential here.
Charts & Commentary
(In no particular order)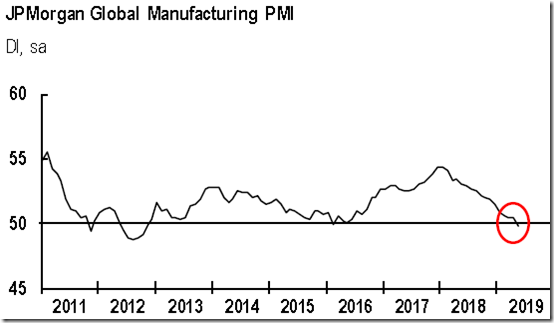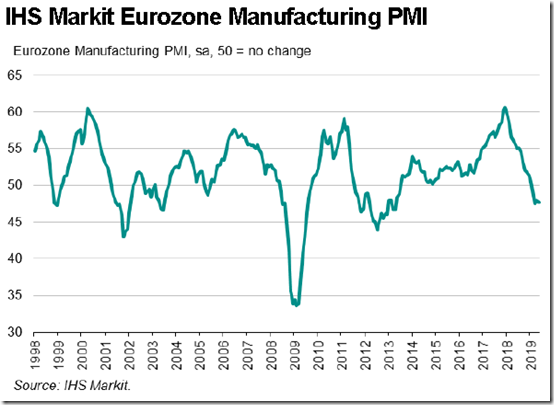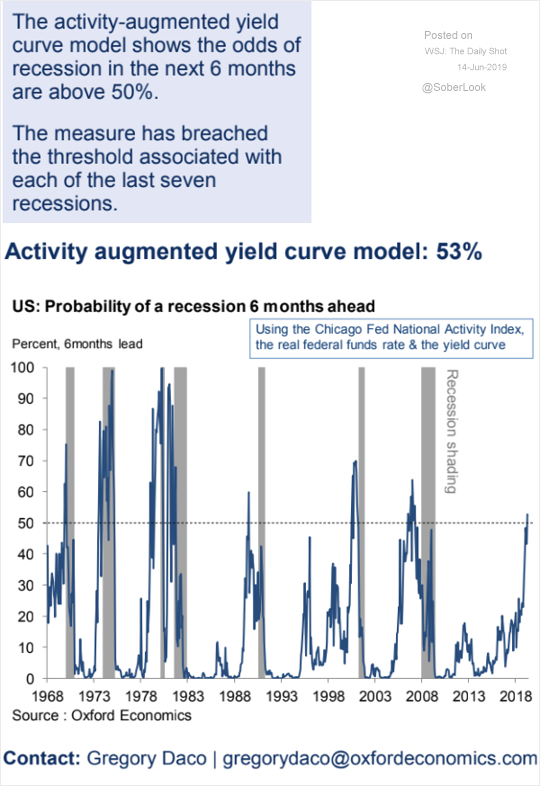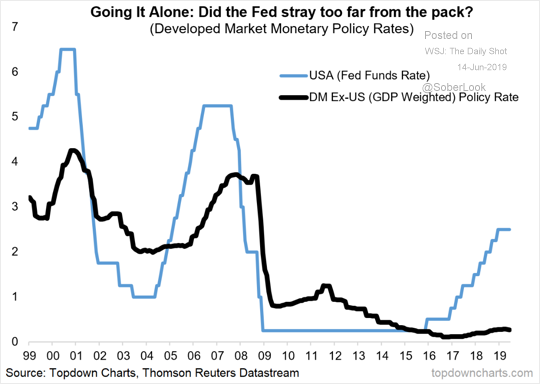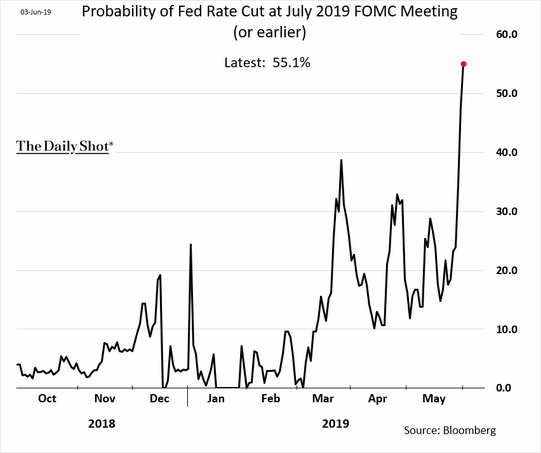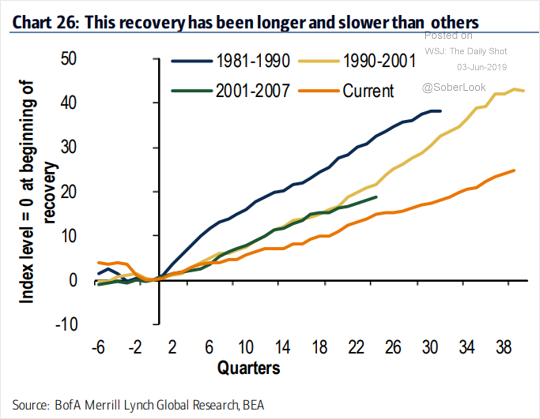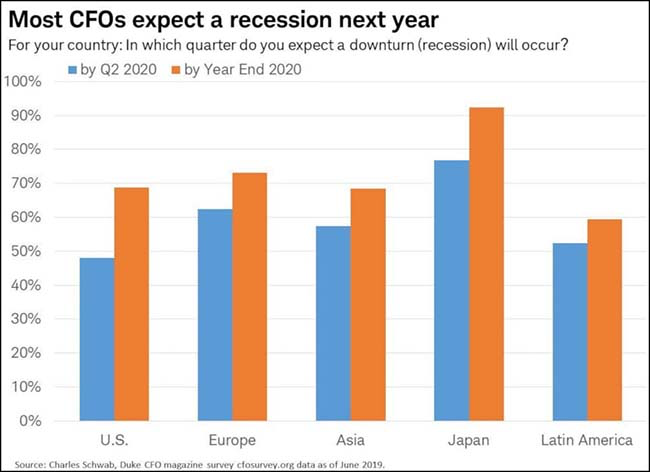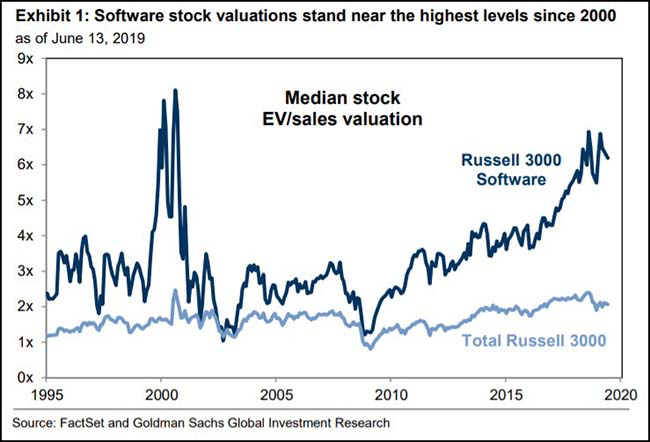 I hope you enjoyed this months financial markets update. If you have any questions please contact us directly. If you're interested in a topic that you'd like us to address, please email us so we can include them in future updates.
If you're interested in starting a dialogue and learning how we can help, please contact us.
Best Regards,
Jared Toren
CEO & Founder
Sources: Edges & Odds, WSJ Daily Shot, 361 Capital, Steve Blumenthal's On My Radar
Proper Wealth Management's ("Proper") blog is not an offering for any investment. It represents only the opinions of Jared Toren and Proper . Any views expressed are provided for information purposes only and should not be construed in any way as an offer, an endorsement, or inducement to invest. Jared Toren is the CEO of Proper, a Texas based Registered Investment Advisor. All material presented herein is believed to be reliable but we cannot attest to its accuracy. Opinions expressed in these reports may change without prior notice. Information contained herein is believed to be accurate, but cannot be guaranteed. This material is based on information that is considered to be reliable, but Proper and its related entities make this information available on an "as is" basis and make no warranties, express or implied regarding the accuracy or completeness of the information contained herein, for any particular purpose. Proper will not be liable to you or anyone else for any loss or injury resulting directly or indirectly from the use of the information contained in this newsletter caused in whole or in part by its negligence in compiling, interpreting, reporting or delivering the content in this newsletter. Opinions represented are not intended as an offer or solicitation with respect to the purchase or sale of any security or financial instrument, nor is it advice or a recommendation to enter into any transaction. The material contained herein is subject to change without notice. Statements in this material should not be considered investment advice. Employees and/or clients of Proper may have a position in the securities mentioned. This publication has been prepared without taking into account your objectives, financial situation or needs. Before acting on this information, you should consider its appropriateness having regard to your objectives, financial situation or needs. Proper Wealth Management is not responsible for any errors or omissions or for results obtained from the use of this information. Nothing contained in this material is intended to constitute legal, tax, securities, financial or investment advice, nor an opinion regarding the appropriateness of any investment. The general information contained in this material should not be acted upon without obtaining specific legal, tax or investment advice from a licensed professional.
Jared Toren is CEO and Founder at Proper Wealth Management. Proper was born out of frustration with the inherent conflicts of interest at big brokerage firms influencing advisors to sell products that were not suitable for clients but profitable to the firm along with a consistently mixed message of who's interest was supposed to be put first; the clients', the firms', shareholders or advisors. At Proper, our clients interests come first. We are compensated the same regardless of which investments we utilize so there's no incentive for us to sell high commission products. Since we focus on a small number of clients, we are able to truly tailor our advice to each person's unique circumstances.