Market Scorecard

Monthly Commentary
The month of March was another strong month in stock markets, especially for international and emerging markets which were up 2.28% and 2.50% respectively.  We received a lot of data points in the US and abroad along with a lot of political action/commentary.  Some of the things that occurred during the month:
Strong February jobs report was released in early March which showed business optimism rolled over into hiring
A revised travel ban was again defeated in Hawaii courts.  Laptop ban currently in effect.
The Obamacare repeal and replace effort was thwarted with Republicans pulling the bill 30 minutes prior to the vote.  The White House is now turning it's focus to tax reform which may be just as difficult to get a deal done.  The market seems to be finally coming to grips with the reality that their may be little changes occurring over the next 4 years and the promises that were made may be just that…promises.
The FOMC raised interest rates by .25% but the tone of their message was subdued.  Even though the Fed raised rates, long term bond prices rose and yields fell compressing the yield curve (see charts below).  This is not good for banks which do better in a steep curve environment.  As such, banks stocks have been under pressure although they've rallied incredibly after Trump was elected on the basis of lower regulation and a repeal of Dodd-Frank.  The market expectation for the rest of 2017 is 2-3 more rate hikes.  Inflation is rising, but mostly due to rising energy costs.  Last year, the Fed was worried about deflation but the numbers were very weak due to year over year (YOY) drop in energy prices.  Since early 2016 when oil hit around $30/barrel, oil has rallied and has been in the $47-$52 range.  As time goes by and if oil stays in this range or falls, the YOY change in the price of oil will be flat to negative, putting downward pressure on CPI.  We believe we've seen the peak in CPI and you'll start to see it trend back down to the 1% range.  This will put pressure on the FOMC to continue to keep rates low.  With the Fed looking like their going to raise rates several more times this year, we believe the tightening of monetary policy will be adversarial to fiscal stimulus and growth.
President Trump released his proposed budget which had a lot of surprises and clear winners and losers.
It's been 2 years almost to the day since I left UBS to start Proper Wealth Management and since that day, it's been a very tough market.  If you only owned the S&P 500, congratulations since it was the best performing index.  If you diversified with bonds, international or emerging market stocks, the returns were dragged down a lot since these indices were all negative.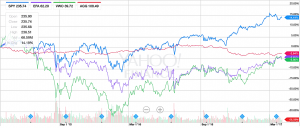 Corporate profits rose +9.3% YOY, after 5 consecutive quarters of negative YOY growth.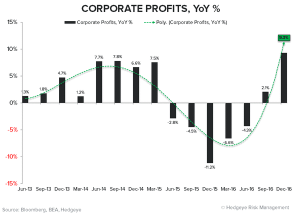 The ECB left policy unchanged, continuing with its massive securities purchase program.

Draghi said that he is ignoring the headline inflation jump because he sees it as "transient" – driven by food and energy. Core inflation remains "tepid."
He continues to criticize member states for "sluggish" labor reform progress.
Mario Draghi also defended Germany in response to the criticism from the White House. He pointed out that the nation is not a "currency manipulator" because the euro is "independently" driven by the ECB's policies.
He also said that there's no longer a "sense of urgency" in the monetary policy. This was a hint that the central bank has no plans to ease further.
And lastly, PM May officially triggered Article 50 and Brexit is on the way.  It's a complicated so here's a chart with shows what actions have to occur before Brexit moves forward: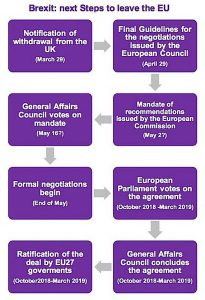 Charts, Charts & More Charts
The NY and Atlanta Fed had widely diverging estimates for Q1 GDP.  The Federal Reserve Bank of New York's model, which gives more weight to the soft data, is currently projecting a 2.9% gross domestic product "print" in the first quarter. By contrast, the Federal Reserve Bank of Atlanta's model, which incorporates soft data but to a lesser degree, is projecting only a 1% print. Morgan Stanley, too, expects 1% GDP when the Commerce Department releases its initial first-quarter reading on April 28.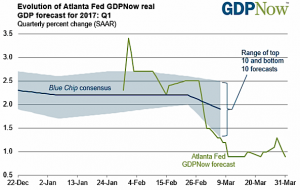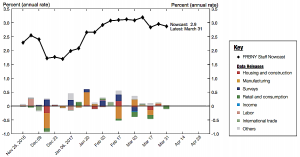 We highlighted the difference between hard and soft data in our February Update.  The accompanying chart strips out the survey data subcomponent of the Bloomberg Economic Surprise Index, creating a hard economic data surprise index, which remains close to neutral. At the same time, the survey based data index, which has surged since November, is showing signs of peaking.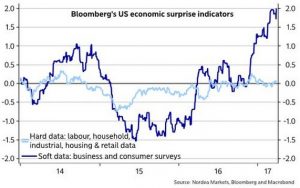 "There is little doubt that since the election both investor and consumer confidence has soared. In fact, confidence (soft data) has become extremely detached from the actual activity (hard data) within the economy. Historically, this deviation has not lasted long, and it has always been 'hope' giving up ground to the underlying 'reality.' But nonetheless, it is 'hope,' which is more commonly known as 'animal spirits,' which drives markets higher in late stage market advances." – Lance Roberts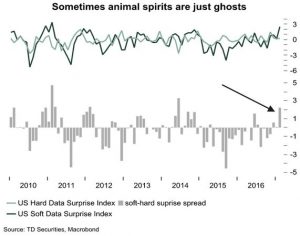 Since the FOMC raised interest rates, the yield curve has been flattening.  The intermediate and longer term bonds don't seem to believe that growth and/or inflation will arrive.  If the FOMC raises rates to 2%, we could see a complete flat or negative sloping curve in the next 6-18 months which would signal a recession is near.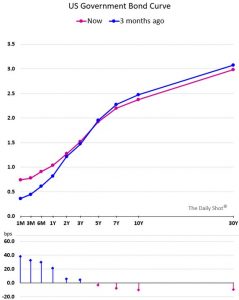 CFTC speculative futures positioning changed dramatically as the largest short position ever recorded on the 10 year treasury reversed following the FOMC's comments.  We highlighted this in January's and  February's update.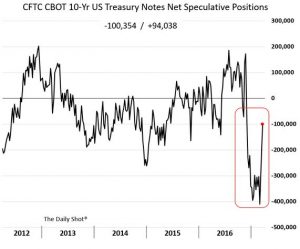 Another crowded trade that we highlighted in recent months has been the speculative long positions in crude oil.  The unwind, along with a strong dollar could propel WTI back into the low $40's putting further downward pressure on CPI.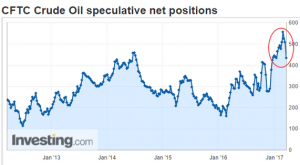 US firms especially have lowered costs dramatically in this environment.  Breakeven prices in the Bakken in North Dakota now average around $30/barrel.  Falling oil prices to the low $40's may not have an adverse effect on production and we've seen production, inventory and rig counts increase sizably recently.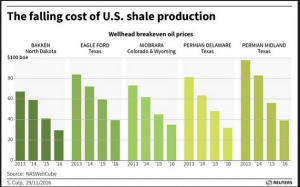 NYSE margin debt hit a new high recently, which seems to be a coincidental indicator of S&P 500 stock performance.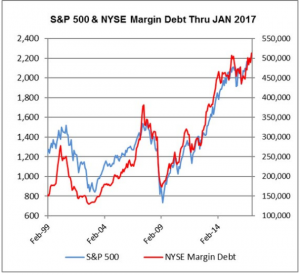 There's been a lot of commentary and data suggesting the S&P is overvalued.  Below is a chart which highlights this when looking at Enterprise value to EBITDA and Price to Sales.  It appears we're approaching dot-com bubble highs on these metrics.  Keep in mind that valuation is not a catalyst and markets can become more expensive become they get cheap.  We'll be putting out a blog to all subscribers highlighting our preferred strategy to take advantage of rising stock markets while providing downside protection.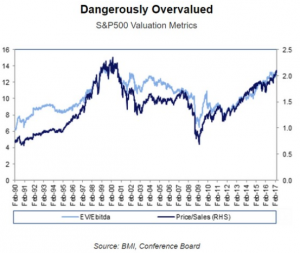 While consumer confidence in the US is hitting all time highs, real consumer spending has been falling.  This could explain some of the reason for the big difference between the hard and soft data that we're seeing.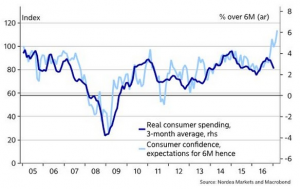 It's hard to keep track of all the announced retail store closures.  Here's a chart which shows how online sales are affecting tradition brick and mortar.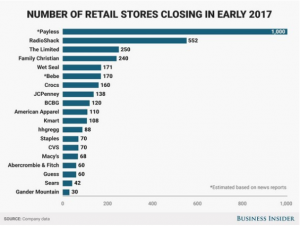 The Bank of Japan's balance sheet now stands at 92% of GDP.  As a % of the bond market, they now hold more than 42%.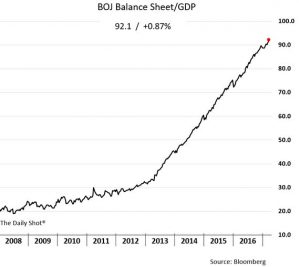 There's been a big shift from active investment management to passive strategies.  Steve Blumental had some great thoughts on the risks associated with the buildup of passive investments the past few years:
 …"The first, and I have to admit I was surprised when I saw the research, is the incredible shrinking universe of stocks.  Think corporate share buybacks, mergers and acquisitions and fewer companies going public.  The second is the popularity of index investment products available via mutual funds, ETFs and in large managed accounts (e.g., pension plans simply allocate to index exposure whether it may be large cap, small cap, smart beta, etc.).
So here is what is concerning me.  Less supply of available stocks and more and more money in index-based products whose mandate is to buy all the stocks in its index.  No fundamental research required.  The good are bought along with the less well-run companies.  When the flows are positive, they all go up.
A good friend asked me to do some digging, so I had my investment team take a look at the total amount of money in small cap ETFs and mutual funds.  I was surprised again; approximately 30% of the total money in small caps is in index-based fund products and that doesn't include the large institutions.  That's a wow.
The popular thinking is that owning a diversified index is better than picking individual stocks, and that's been the case the last few years.  If you ask active managers, they'll tell you they are feeling the squeeze and it is sure showing up in the flows — out of active MFs… into ETFs.
So, with fewer stocks outstanding and the passive index investing popularity of today, I can't help but wonder if we shouldn't have our antennas up.  
With the smaller inventory of available stocks and positive capital flows to index-based products, the supply/demand dynamics are quite favorable.  The stock market goes up.  And this may continue for a few more years.  The problem comes on the other side of this trade – when there are more sellers than buyers. With so much concentration in index products and fewer shares outstanding, a rush to the exits will result in a downside that will likely be more pronounced."
Some great reads if you have the time from the month are:
Ray Dalio and Populism

Quote from this piece: "Populism is not well understood because, over the past several decades, it has been infrequent in emerging countries (e.g., Chávez's Venezuela, Duterte's Philippines, etc.) and virtually nonexistent in developed countries. It is one of those phenomena that comes along in a big way about once a lifetime—like pandemics, depressions, or wars. The last time that it existed as a major force in the world was in the 1930s, when most countries became populist. Over the last year, it has again emerged as a major force. To help get a sense of how the level of populist support today compares to populism in the past, we created an index of the share of votes received by populist/anti-establishment parties or candidates in national elections, for all the major developed countries (covering the US, UK, Japan, Germany, France, Italy, and Spain) all the way back to 1900, weighting the countries by their population shares. We sought to identify parties/candidates who made attacking the political/corporate establishment their key political cause. Obviously, the exercise is inherently rough, so don't squint too much at particular wiggles. But the broad trends are clear. Populism has surged in recent years and is currently at its highest level since the late 1930s (though the ideology of the populists today is much less extreme compared to the 1930s)."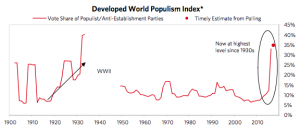 If you have any questions please contact us directly.  If you're interested in a topic that you'd like us to address, please email us so we can include them in future updates.
Best Regards,
Jared Toren
CEO & Founder
Proper Wealth Management's ("Proper") blog is not an offering for any investment. It represents only the opinions of Jared Toren and Proper . Any views expressed are provided for information purposes only and should not be construed in any way as an offer, an endorsement, or inducement to invest. Jared Toren is the CEO of Proper, a Texas based Registered Investment Advisor.   All material presented herein is believed to be reliable but we cannot attest to its accuracy. Opinions expressed in these reports may change without prior notice. Information contained herein is believed to be accurate, but cannot be guaranteed. This material is based on information that is considered to be reliable, but Proper and its related entities make this information available on an "as is" basis and make no warranties, express or implied regarding the accuracy or completeness of the information contained herein, for any particular purpose. Proper will not be liable to you or anyone else for any loss or injury resulting directly or indirectly from the use of the information contained in this newsletter caused in whole or in part by its negligence in compiling, interpreting, reporting or delivering the content in this newsletter.  Opinions represented are not intended as an offer or solicitation with respect to the purchase or sale of any security or financial instrument, nor is it advice or a recommendation to enter into any transaction. The material contained herein is subject to change without notice. Statements in this material should not be considered investment advice. Employees and/or clients of Proper may have a position in the securities mentioned. This publication has been prepared without taking into account your objectives, financial situation or needs. Before acting on this information, you should consider its appropriateness having regard to your objectives, financial situation or needs. Proper Wealth Management is not responsible for any errors or omissions or for results obtained from the use of this information. Nothing contained in this material is intended to constitute legal, tax, securities, financial or investment advice, nor an opinion regarding the appropriateness of any investment. The general information contained in this material should not be acted upon without obtaining specific legal, tax or investment advice from a licensed professional.
Jared Toren is CEO and Founder at Proper Wealth Management. Proper was born out of frustration with the inherent conflicts of interest at big brokerage firms influencing advisors to sell products that were not suitable for clients but profitable to the firm along with a consistently mixed message of who's interest was supposed to be put first; the clients', the firms', shareholders or advisors.
At Proper, our clients interests come first. We are compensated the same regardless of which investments we utilize so there's no incentive for us to sell high commission products. Since we focus on a small number of clients, we are able to truly tailor our advice to each person's unique circumstances.