Monthly Commentary
March was another busy month in the markets and in politics as we saw continued volatility in the markets.  Most of the volatility seems to be explained by the threatening and enactment of tariffs against China and more recently Amazon.  Also, Rex Tillerson, the US Secretary of State was ousted from the White House in what appears to be a revolving door.  It also appears Larry Kudlow will replace Gary Kohn but I'm unsure what this will actually mean and what outcome this may bring.  The FTC announced an investigation into Facebook over how the personal data of 50 million users was obtained by a data analytics firm that helped elect President Donald Trump.  This prompted everyone to look into their privacy settings (including me) and block as many apps and other things from obtaining access to my personal information.  Facebook stock took a 15% drop and dealt the FAANG a blow, along with the aforementioned drop in Amazon.
The biggest news was tariffs against China and the Fed raising interest rates.  First China.  President Trump announced tariffs on $50B worth of Chinese goods. China then unveiled tariffs on $3 billion of U.S. imports in response to steel and aluminum duties. The White House then declared a temporary exemption for the European Union and other nations on those levies, making the focus on China clear.  China also threatened possibly scaling back purchases of US Treasuries since they are America's biggest foreign creditor and owns $1.17 trillion in Treasuries as of January, or about 19 percent of all foreign holdings of U.S. government securities.
Federal Reserve officials, meeting for the first time under Chairman Jerome Powell, raised the benchmark lending rate .25% and forecast a steeper path of hikes in 2019 and 2020. Policy makers continued to project a total of three increases this year.  Financial conditions have tightened since late January as investors look for signs that the central bank might raise rates at a faster pace, while forecasters predict stronger U.S. growth and tight labor markets.  Also contributing to tighter conditions is Libor which has been rising at a rapid pace.  The three-month London interbank offered rate climbed to 2.29%, its highest since November 2008. Libor measures the cost for banks to lend to one another and is used to set interest rates on roughly $200 trillion in dollar-based financial contracts globally, from corporate loans to home mortgages.
My 2 Cents:
There are a lot of forces at play right now in the markets which is causing a push-pull effect.  On a positive note, US corporations tax bills were slashed paving the way for increased profits.  A one time and modest repatriation tax will help bring more cash back to the US that was trapped abroad.  Also, private equity funds are flush with cash and US companies are more willing to make acquisitions since certain provisions of the new tax bill actually make it cheaper.  This is all good.  The bad is that valuations are very high, the Fed is tightening (along with Libor increasing steadily), and the political situation seems to be a mess.  Most people including myself believe we are in the late stages of this recovery so waiting for the fat pitch is more important than ever.
Charts & 
Commentary
These charts and commentary are rapid fire and in no particular order.
Sales of all condos and co-ops fell 25 percent in the first quarter from a year earlier to 2,180, according to a report Tuesday by appraiser Miller Samuel Inc. and brokerage Douglas Elliman Real Estate. It was the biggest annual decline since the second quarter of 2009, when Manhattan's property market froze in the wake of Lehman Brothers Holdings Inc.'s bankruptcy filing and the global financial crisis that followed.

The drop in sales spanned from the highest reaches of the luxury market to workaday studios and one-bedrooms. Buyers, who have noticed that home prices are no longer climbing as sharply as they have been, are realizing they can afford to be picky. Rising borrowing costs and new federal limits on tax deductions for mortgage interest and state and local levies also are making homeownership more expensive, giving shoppers even more reasons to push back on a listing's price — or walk away.

Source: Daily Edge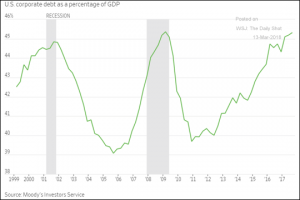 Another metric which shows things have become stretched.  This is a chart of US corporate debt as a % of GDP.  I'm sensing a pattern.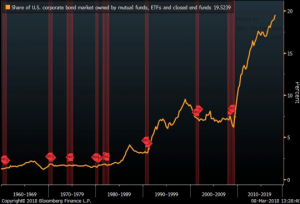 Dodd Frank caused a big shift in how bonds are owned.  In the past, investment banks held significant positions.  Now, investment funds (ETF's and Mutual Funds) own a much larger majority.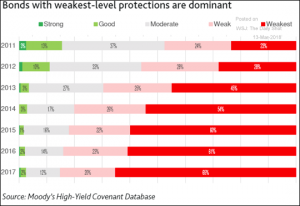 The percentage of weak protections in bonds has grown again since the financial crisis.  Another late stage signal.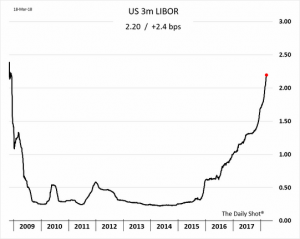 As discussed above, the 3 month LIBOR rate has increased dramatically over the preceding 6 months as the market prepares for the Fed to raise rates 2-3 more times this year.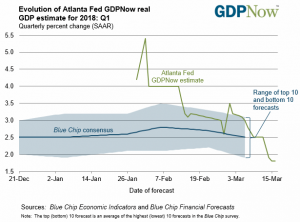 The Atlanta Fed's GDP forecast started off strong and was almost 5.5% at one point.  Now it stands at 1.80% as the data hasn't been as rosy as predicted.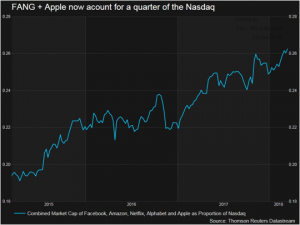 Who needs diversification anyway!  The FAANG now represent almost 25% of the Nasdaq.  Whatever happens in these stocks will end up determining the Nasdaq's return.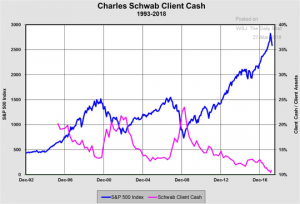 We've seen this before from other brokerage firms and this is from Schwab.  Most brokerage clients have very low levels of cash which has correlated in the past to market tops.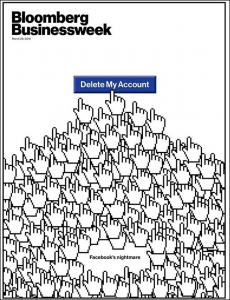 Facebooks privacy concerns are causing users to delete their accounts.  Elon Musk ended up deleted their SpaceX and Tesla Facebook accounts after a user tweeted them about  it.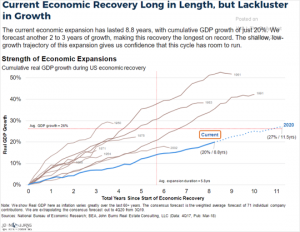 While the economic recover has been long, the total real GDP growth has been below expectations and previous recoveries.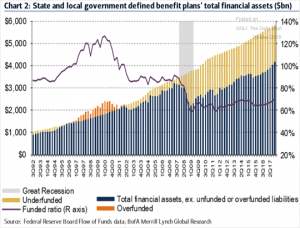 This is another big problem that won't go away.  We have a tremendous amount of unfunded pension liabilities which keeps growing.  The financial crisis exacerbated the gap and it has continued to grow.  Another financial crisis or market downturn will compound this problem.
I hope you enjoyed this months financial markets update.  If you have any questions please contact us directly.  If you're interested in a topic that you'd like us to address, please email us so we can include them in future updates.
If you're interested in starting a dialogue and learning how we can help, please click the link below to book a call or meeting with us.
Best Regards,
Jared Toren
CEO & Founder
Proper Wealth Management's ("Proper") blog is not an offering for any investment. It represents only the opinions of Jared Toren and Proper . Any views expressed are provided for information purposes only and should not be construed in any way as an offer, an endorsement, or inducement to invest. Jared Toren is the CEO of Proper, a Texas based Registered Investment Advisor.   All material presented herein is believed to be reliable but we cannot attest to its accuracy. Opinions expressed in these reports may change without prior notice. Information contained herein is believed to be accurate, but cannot be guaranteed. This material is based on information that is considered to be reliable, but Proper and its related entities make this information available on an "as is" basis and make no warranties, express or implied regarding the accuracy or completeness of the information contained herein, for any particular purpose. Proper will not be liable to you or anyone else for any loss or injury resulting directly or indirectly from the use of the information contained in this newsletter caused in whole or in part by its negligence in compiling, interpreting, reporting or delivering the content in this newsletter.  Opinions represented are not intended as an offer or solicitation with respect to the purchase or sale of any security or financial instrument, nor is it advice or a recommendation to enter into any transaction. The material contained herein is subject to change without notice. Statements in this material should not be considered investment advice. Employees and/or clients of Proper may have a position in the securities mentioned. This publication has been prepared without taking into account your objectives, financial situation or needs. Before acting on this information, you should consider its appropriateness having regard to your objectives, financial situation or needs. Proper Wealth Management is not responsible for any errors or omissions or for results obtained from the use of this information. Nothing contained in this material is intended to constitute legal, tax, securities, financial or investment advice, nor an opinion regarding the appropriateness of any investment. The general information contained in this material should not be acted upon without obtaining specific legal, tax or investment advice from a licensed professional.
Jared Toren is CEO and Founder at Proper Wealth Management. Proper was born out of frustration with the inherent conflicts of interest at big brokerage firms influencing advisors to sell products that were not suitable for clients but profitable to the firm along with a consistently mixed message of who's interest was supposed to be put first; the clients', the firms', shareholders or advisors.
At Proper, our clients interests come first. We are compensated the same regardless of which investments we utilize so there's no incentive for us to sell high commission products. Since we focus on a small number of clients, we are able to truly tailor our advice to each person's unique circumstances.