Dear clients, potential clients and valued contacts,
May turned out to be a fairly boring month.  While we speculated there would be sell in May and go-away, things didn't quite play out in that fashion.  The Fed has gone from dovish to hawkish back to dovish and then back again to hawkish since December of 2015.  As as result, the US dollar (and as a result commodities and stocks) have gotten whipsawed.  The Fed claims to be data dependent, but I'm not sure what data they are looking at.  While new home starts jumped in April half  of the strength in the report came from the  Northeast.  In April 2015, the Northeast built 1,000 homes.  This April, they built 5,000 homes which helped the number look great.  The irony is that if they raise rates, housing purchases, housing appreciation and housing stocks will most likely go down.  Furthermore, the April jobs number was a gain of 160,000 which was well below expectations.  (UPDATE: even though it occurred on 6/3, May jobs report showed we added only 38,000 jobs and April was revised down to 123,000).  Headline durable goods orders jumped +3.4% month-over-month (MoM) and improved to +1.9% year-over-year (YoY).  But, the bulk of the gain in the MoM increase was in commercial aircraft and parts, which is small and highly volatile.  Durables ex-defense, which is most aligned with what households purchase rose +.60% MoM but remains down -.40% YoY.  Take a look at the chart below which shows change in labor market conditions index which is one of Janet Yellen's favorite data points.  Also, take a look at the chart by Deutsche Bank which shows employee tax withholdings which shows receipts falling which is not a good indication of a strong labor market.  Please understand that if the Fed raises rates in June or July, it would be the first time they have ever raised rates into a slowing economy.  Ever.  Perhaps that is why the 10 year treasury has barely budged since the Fed has been talking about a June rate increase being very possible.  Short term rates are driven by Fed policy while the 10 year treasury is driven by inflation expectations and mostly growth.  What the curve is "saying" is that the 10 year yield doesn't believe growth will be increasing anytime soon.  As of the time of writing this, the market is wagering a 24% probability of a rate increase in June and a 59% probability of an increase in July.

Earnings for the S&P 500 are yet again down sequentially.  Out of the companies that have reported, sales growth is down
-2.3%
while earnings are negative
-8.5%
.  6 out of the 10 sectors in the S&P have reported negative sales and earnings growth.  It's not just energy.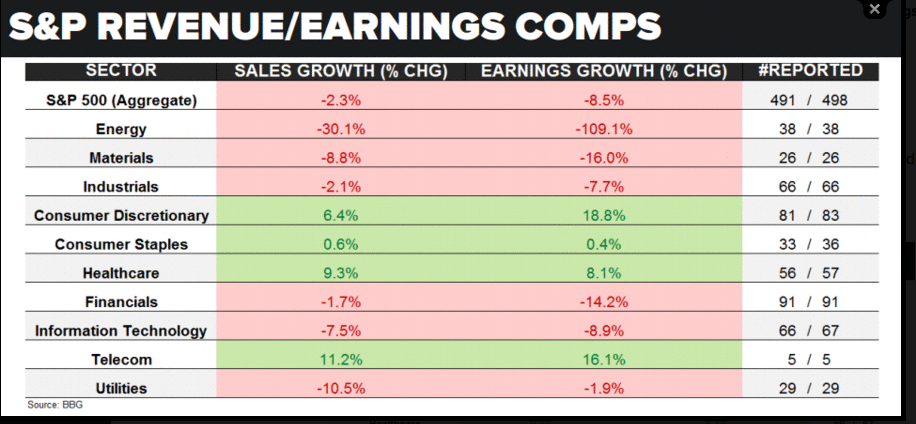 Turning the attention internationally, Euro-area consumer prices failed to increase for a fourth consecutive month, highlighting policy makers' struggle to stoke inflation despite multiple rounds of stimulus.  Prices fell -0.1% percent in May from a year earlier and follows a drop of -0.2% in April.  And now on to China.  Chinese debt investors are turning bearish at just the wrong time for the nation's corporate borrowers, which face a record 3.7 trillion yuan ($571 billion) of local bond maturities through year-end.  With this year's biggest note payments concentrated in some of the country's most-cash strapped industries, China needs buoyant markets to help its companies refinance. Instead, yields in April rose at the fastest pace in more than a year and issuance tumbled 43% as borrowers canceled 143 billion yuan of planned debt sales.  Non-performing loans in China have been on the rise as has loans in general.  An article posted in the People's Daily in China by an unnamed individual and written in an imperial tone, discusses China's debt binge.  China's debt is approaching $30 trillion. The fresh credit alone created since 2007 is greater than the outstanding liabilities of the US, Japanese, German, and Indian commercial banking systems combined.   According to one analyst, China's non-governmental debt has gone from $4 Trillion to $26 Trillion from 2008 to 2016 which is the largest increase ever in the history of the world!  China grew credit $1 Trillion in the first quarter which helped the reflation trade in stocks and commodities.  For more details on China, click here to read a great article about what's happening.

And now for a totally random thought about college tuition and student loan debt.  If you looking at the most recent housing crisis, mortgages were given away to anyone with a pulse without income verification since they were immediately packaged and sold to large institutional buyers which drove up home prices.  Student loans were handled in the same way.  If you're a high school graduate who wants to go to college, there are plenty of ways to obtain student loans to pay for your studies.  Because of easy access to loans over the past 20 or so years, tuition has increased at an astonishing rate.  The difference with student loans and mortgages is that you cannot extinguish student loan debt via bankruptcy.  We've handicapped so many kids with unsustainable debt burdens.  Most people that played a part in the housing crisis were adults who were then able to claim bankruptcy.  These kids were taken advantage of and racked up $100,000 – $300,000 in debt in some cases only to earn minimal amounts post earning a degree.  It's a shame that a college degree is getting further and further out of reach for the majority of children.
Best Regards,
Jared Toren
CEO & Founder
Proper Wealth Management's (

"

Proper

"

) blog is not an offering for any investment. It represents only the opinions of Jared Toren and Proper . Any views expressed are provided for information purposes only and should not be construed in any way as an offer, an endorsement, or inducement to invest. Jared Toren is the CEO of Proper, a Texas based Registered Investment Advisor.   All material presented herein is believed to be reliable but we cannot attest to its accuracy. Opinions expressed in these reports may change without prior notice. 

Information contained herein is believed to be accurate, but cannot be guaranteed. This material is based on information that is considered to be reliable, but Proper and its related entities make this information available on an "as is" basis and make no warranties, express or implied regarding the accuracy or completeness of the information contained herein, for any particular purpose. Proper will not be liable to you or anyone else for any loss or injury resulting directly or indirectly from the use of the information contained in this newsletter caused in whole or in part by its negligence in compiling, interpreting, reporting or delivering the content in this newsletter.  Opinions represented are not intended as an offer or solicitation with respect to the purchase or sale of any security or financial instrument, nor is it advice or a recommendation to enter into any transaction. The material contained herein is subject to change without notice. Statements in this material should not be considered investment advice. Employees and/or clients of Proper may have a position in the securities mentioned. This publication has been prepared without taking into account your objectives, financial situation or needs. Before acting on this information, you should consider its appropriateness having regard to your objectives, financial situation or needs. Proper Wealth Management is not responsible for any errors or omissions or for results obtained from the use of this information. Nothing contained in this material is intended to constitute legal, tax, securities, financial or investment advice, nor an opinion regarding the appropriateness of any investment. The general information contained in this material should not be acted upon without obtaining specific legal, tax or investment advice from a licensed professional.
Jared Toren is CEO and Founder at Proper Wealth Management. Proper was born out of frustration with the inherent conflicts of interest at big brokerage firms influencing advisors to sell products that were not suitable for clients but profitable to the firm along with a consistently mixed message of who's interest was supposed to be put first; the clients', the firms', shareholders or advisors.
At Proper, our clients interests come first. We are compensated the same regardless of which investments we utilize so there's no incentive for us to sell high commission products. Since we focus on a small number of clients, we are able to truly tailor our advice to each person's unique circumstances.