Market Scorecard

Monthly Commentary
First and foremost, my most heartfelt condolences to everyone that's been affected by the acts of terror in London.  My thoughts and prayers are with England and hope they'll be able to bring those responsible to swift justice.
Switching the focus back to the markets, global stocks keep trekking higher while bonds yields in the U.S. moved lower during the month as the Fed held off raising rates.  The financial markets continued to absorb major news events with surprising ease last week. Be it the tragedies in the U.K., the withdrawal from the Paris climate agreement, or the weakness in Friday's employment data, the stock and bond markets both continued to edge higher.  Investors seem to have become conditioned toward individual isolated disappointments all while the bigger picture is toward one of global economic growth and relative stability.  For all of the political, economic and other uncertainty, the markets haven't been volatile.  The measure of stock market volatility (AKA the VIX) touched a level never seen before since the index was created.  I am still hoping the best with the current administration since none of the promises to stimulate our economy have yet to materialize.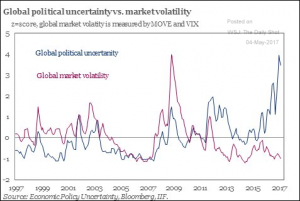 Rapid Fire & Noteworthy News:
Lots of uncertainty, but volatility in the markets is extremely low.
The Fed leaves rates unchanged and sees slow Q1 growth and lower inflation as transitory.  They have another meeting coming up in June and odds are there's going to be another rate hike.
Trump fires FBI Director Comey unexpectedly and supposedly asked him not to investigate Flynn regarding Russia ties.
Emmanuel Macron wins French presidency as expected.  As a result, the Euro rallies and is now at its highest level in  year.
The new Brazilian president Temer is now ensnared in the infamous carwashing scandal. On that day, the stock exchange dropped 10% while the Brazilian Real was under a lot of pressure.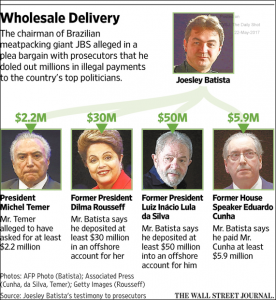 Trump pulls out of the Paris Climate Accord and maintains it's a bad deal for the US and that he believes in climate change.  I didn't hear one CEO or individual backing President Trump from pulling out.
SELL IN MAY…In the last 20 years, a $100 investment in the S&P from November through April would have become $343 while a $100 investment in May through October in the same years would have slipped to $98.5, according to Bespoke Investment Group.  From 1928 to 2017 the $100 would have become $4,270 from November through April but would only be worth $257 from investing from May through October, according to Bespoke.
CBO's Health-Law Report Sets Up Fight Among Senate GOP: The health-overhaul bill approved by House Republicans would leave 23 million more people uninsured while reducing the cumulative federal deficit by $119 billion in the next decade compared with current law, according to an estimate from the Congressional Budget Office.
Moody's Cuts China Rating on Worries of Economic Growth: Moody's Investors Service cut China's sovereign credit rating, citing expectations that the country's financial strength will deteriorate in coming years as debt keeps rising and the economy slows.
Noteworthy Research
Charts, Charts & More Charts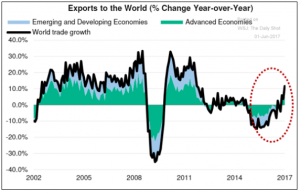 Global exports have rebounded off their 2015 lows and are on their way up.  This could follow through into higher global GDP.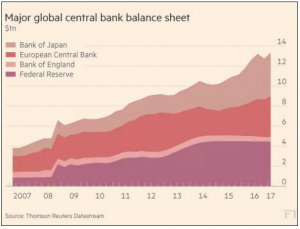 Global central bank balance sheets are still increasing, although the US Federal reserve's balance sheet has flatlined since the end of QE3.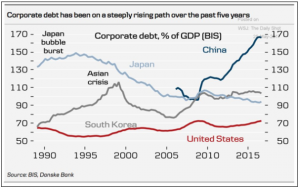 Corporate debt levels in China have surged in recent years and are about 2.5 times higher than in the US.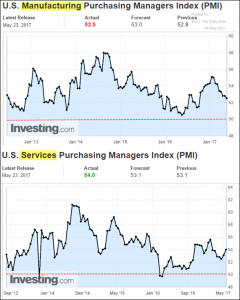 US Services PMI is trending upward while manufacturing PMI has been falling since the beginning of 2017.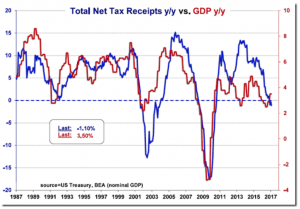 Tax receipts and GDP are highly correlated which should make sense intuitively.  As you can see, tax receipts in the US have been falling while Q2 projections for GDP are still in the 3-4% range.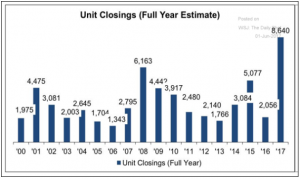 A quick update on announced and realized brick and mortar store closings in the US.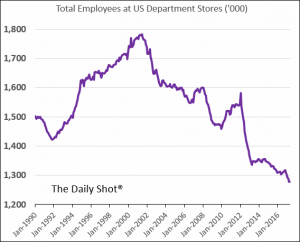 Not a surprise that employees and US department stores has been on a steady decline which looks to be accelerating.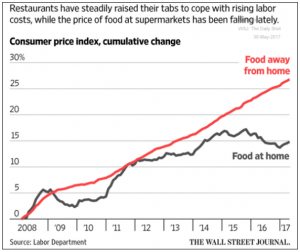 Restaurants are also in trouble as the cost to eat out has diverged from the cost to eat at home.  Food prices has fallen while employee and other related costs have risen causing the gap to widen dramatically.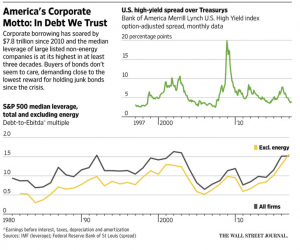 Total corporate debt in the US has been increasing steadily since the last recession while the extra yield an investor earns on junk bonds has fallen dramatically.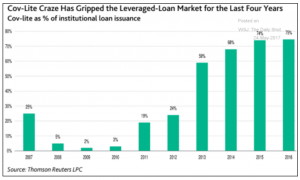 The % of covenant light leveraged loans has increased substantially in recent years.
The Slow, Leaking Poison of the Bond Market:  At 5.7%, high-yield bonds just don't offer a high yield.  Strip out the boom-to-bust energy sector and median corporate leverage is the highest since at least 1980.  But the signs that the credit markets may be starting to get carried away are more in the structure of the deals than in the total amount lent. Not only are companies able to sell debt with very low yields, they are dictating the terms. Companies have extended the maturities of their bonds and loans, adding to their riskiness, even as the yields come down. Investors are willing to lend against looser and looser definitions of operating profits, and lend more. Protective covenants have all but disappeared from the loan market, removing what was once regarded as a vital protection for investors.
Treasury bond speculators went from betting yields will spike to betting they will now fall.  This is a large move in positioning in such a short period of time.  What has actually changed in the elections?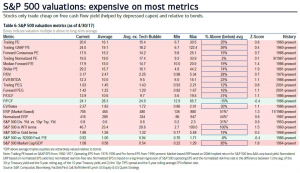 By almost all metrics, the S&P 500 is overvalued relative to it's long term average.  Not news to most people who've been looking at the fundamentals.
Europe seems to be turning a corner and GDP is expected to follow PMI higher.
I hope you enjoyed this months financial markets update.  If you have any questions please contact us directly.  If you're interested in a topic that you'd like us to address, please email us so we can include them in future updates.
If you're interested in starting a dialogue and learning how we can help, please click the link below to book a call or meeting with us.
BOOK A MEETING OR CALL WITH ME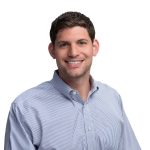 Best Regards,
Jared Toren
CEO & Founder
Proper Wealth Management's ("Proper") blog is not an offering for any investment. It represents only the opinions of Jared Toren and Proper . Any views expressed are provided for information purposes only and should not be construed in any way as an offer, an endorsement, or inducement to invest. Jared Toren is the CEO of Proper, a Texas based Registered Investment Advisor.   All material presented herein is believed to be reliable but we cannot attest to its accuracy. Opinions expressed in these reports may change without prior notice. Information contained herein is believed to be accurate, but cannot be guaranteed. This material is based on information that is considered to be reliable, but Proper and its related entities make this information available on an "as is" basis and make no warranties, express or implied regarding the accuracy or completeness of the information contained herein, for any particular purpose. Proper will not be liable to you or anyone else for any loss or injury resulting directly or indirectly from the use of the information contained in this newsletter caused in whole or in part by its negligence in compiling, interpreting, reporting or delivering the content in this newsletter.  Opinions represented are not intended as an offer or solicitation with respect to the purchase or sale of any security or financial instrument, nor is it advice or a recommendation to enter into any transaction. The material contained herein is subject to change without notice. Statements in this material should not be considered investment advice. Employees and/or clients of Proper may have a position in the securities mentioned. This publication has been prepared without taking into account your objectives, financial situation or needs. Before acting on this information, you should consider its appropriateness having regard to your objectives, financial situation or needs. Proper Wealth Management is not responsible for any errors or omissions or for results obtained from the use of this information. Nothing contained in this material is intended to constitute legal, tax, securities, financial or investment advice, nor an opinion regarding the appropriateness of any investment. The general information contained in this material should not be acted upon without obtaining specific legal, tax or investment advice from a licensed professional.
Jared Toren is CEO and Founder at Proper Wealth Management. Proper was born out of frustration with the inherent conflicts of interest at big brokerage firms influencing advisors to sell products that were not suitable for clients but profitable to the firm along with a consistently mixed message of who's interest was supposed to be put first; the clients', the firms', shareholders or advisors.
At Proper, our clients interests come first. We are compensated the same regardless of which investments we utilize so there's no incentive for us to sell high commission products. Since we focus on a small number of clients, we are able to truly tailor our advice to each person's unique circumstances.