Monthly Commentary
May was an incredibly busy month and another signal that volatility (geopolitical and market driven) is here to stay.  Turkey, Argentina and Brazil appear to be heading for a currency crisis as their currencies tumbled this month relative to the dollar and other major currencies.  Italian bond yields surged as Italian PM Conte gives up bid for government.  This caused the 10 year Italian bond yield to spike from 1.90% to 3% in a matter of days, whipsawing bond investors.  The trade war against China was halted while Trump started another trade war with Europe.  On top of all this, the North Korean summit was (temporarily) canceled.  All of these factors caused the 10 year treasury bond to fall from 3.1% to 2.72% at one point.  Shockingly, with all of the volatility and uncertainty in the world, the S&P generated a gain for the month of May.
My 2 Cents:
We are starting to see a decoupling which hasn't happened for some time.  Some economies are doing well while others are doing poorly.  The US is deleveraging while others are still increasing leverage.  For the first time in many years, your allocation to different parts of the equity markets matter.  In years past, if you had more of one country vs another (for the most part), it meant you may have made a little more or a little less.  Now, we're seeing certain parts  of the equity markets producing negative returns while others are positive so what you own and in what percentage is more important than ever.  I'm concerned today with potential currency crises that seem to be hitting emerging markets (which I'll highlight below in some charts) and how this can cause big ripples throughout the world economy.  I am also starting to shift client assets outside of public markets and into private investments where the risk/reward is significantly greater.  As I say frequently for public market investing, risk management is the most important factor.  Knowing when to invest and when not to invest is more than just having a feeling but instead having a tried and true process to guide you.  Would you really want to wait 14 – 29 years before breaking even as the chart below suggest happens in bear markets?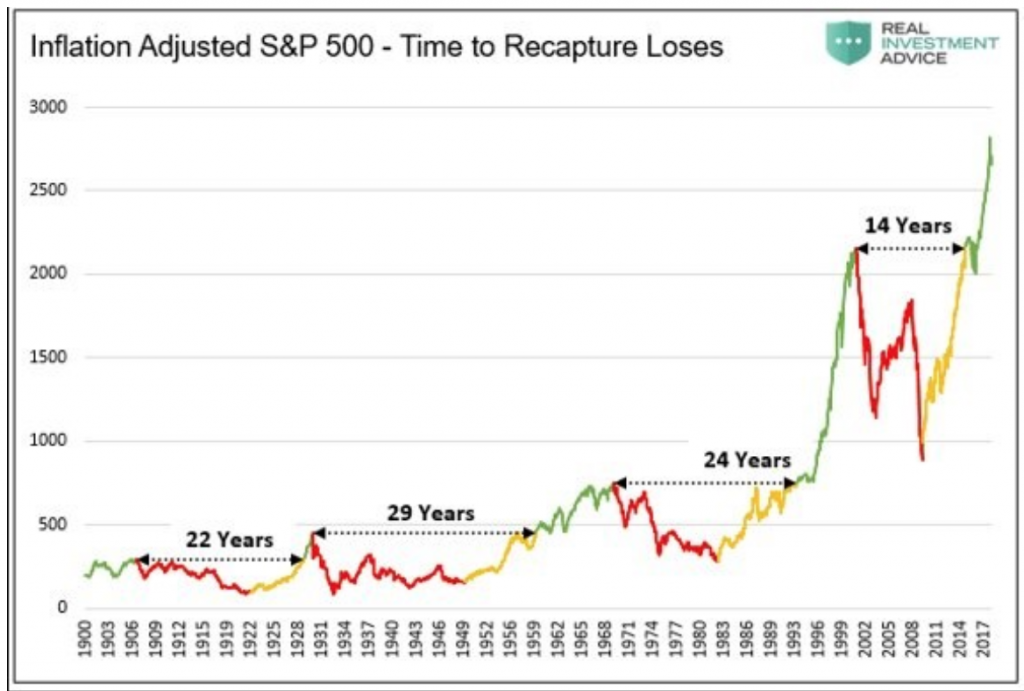 Charts & Commentary
These charts and commentary are rapid fire and in no particular order.
U.S. Births at a 30-Year Low American women are having children at the lowest rate on record, with the number of babies born in the U.S. last year dropping to a 30-year low.
Global Debt Is Heading Toward Dangerous Levels, Again

(…) According to the Bank for International Settlements, total nonfinancial private and public debt amounts to almost 245% of global gross domestic product, up from 210% before the financial crisis and about 190% at the end of 2001.General government borrowing in the U.S. might reach 5% of GDP this year, pushing total public debt to about 108% of GDP. In the euro zone, public debt totals about 85% of GDP; in Japan, the debt-to-GDP ratio is close to an eye-popping 240%. Globally, private nonfinancial debt is growing faster than nominal GDP. (…)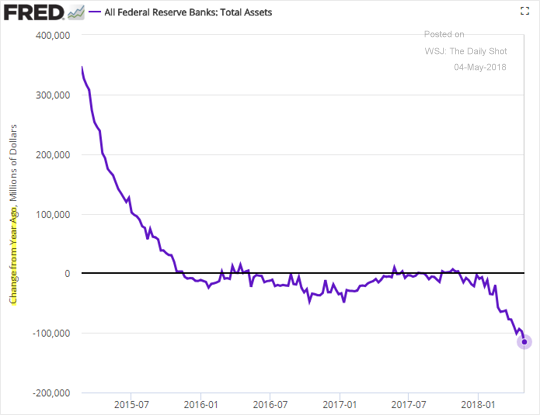 The Federal Reserve is continuing to unwind their balance sheet and reduce holdings each month.  It's too soon to tell if this is causing any problems in emerging market currencies, dollar strength, etc.  Most eyes are on interest rates rising and few people are looking and the unwind and the schedule for how it accelerates.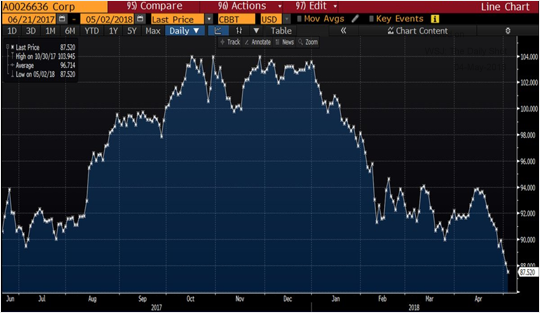 Those who purchased Argentina's 100 year bonds are questioning that decision.  They fell recently as their currency has been dropping significantly.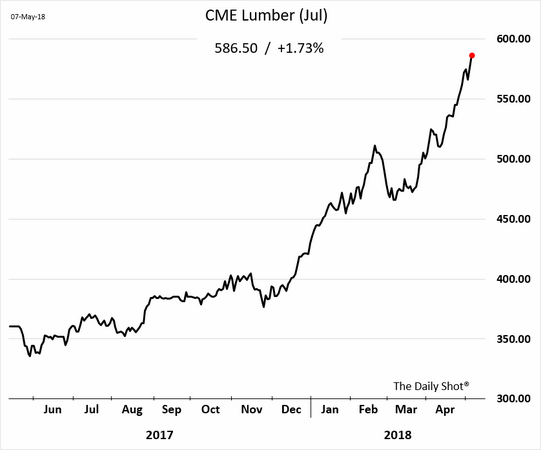 Have you looked into building a house recently?  Several clients of mine have and the price is going up because of labor and lumber, both of which represent a large % of the cost!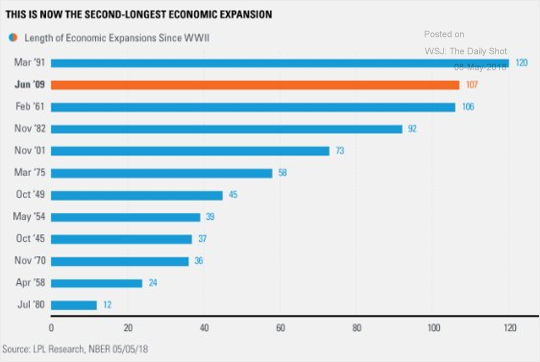 We are now in the second largest expansion ever in the history of the US.  Odds are that we'll probably surpass #1 in a few years if things keep going the way they have been.  But as a real estate investor once told me, trees don't grow to the moon.  At some point, the party is going to end.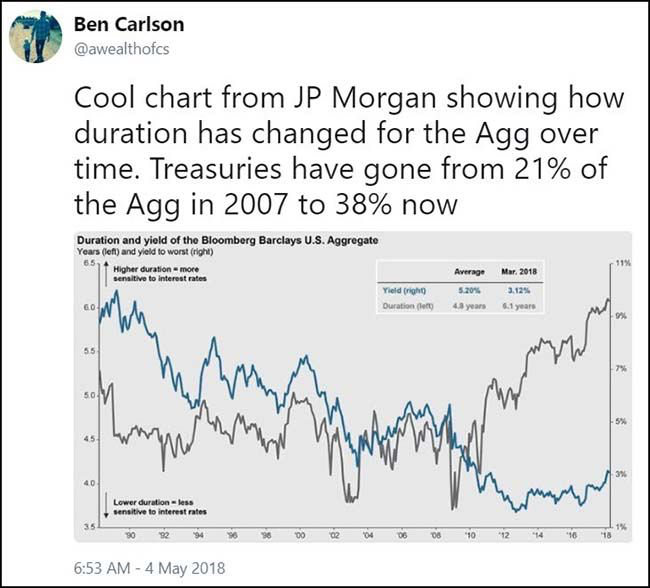 As I said last month, know what bonds you own!  The most widely followed and tracked bond benchmark is riskier and lower yielding today than any time over the past 28 years.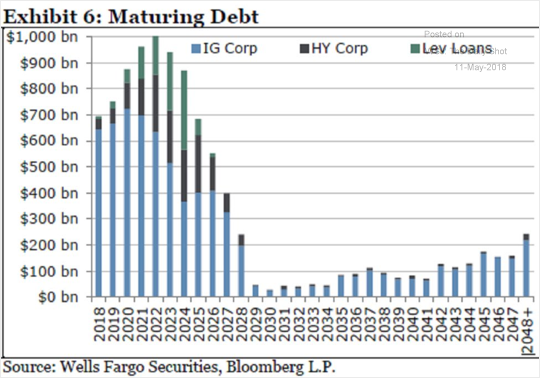 There appears to be a very large maturity wall approaching in the bond markets over the next 5 years.  The interest rates companies are able to refinance their debt at might be higher than they were expecting.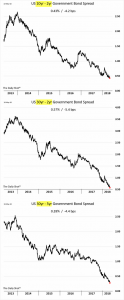 If you read any financial news, you would have seen countless reports over the past several months over the flattening of the yield curve.  You'll also read about inverted yield curves which signal recessions.  Although they don't usually say that it could take 2 years from initial inversion before the recession appears.  It's not unthinkable that we'd get an inverted curve if the Fed keeps raising rates and the bond markets continue to signal (via yields on longer term bonds) that they don't believe growth and/or inflation is going to be high long term.  On the other hand, short term inflation and/or growth could lead the Fed to continue down the path of raising rates and inverting the curve.  It's too early tell and we have time.  But keep your eye on yields across all maturities in the US.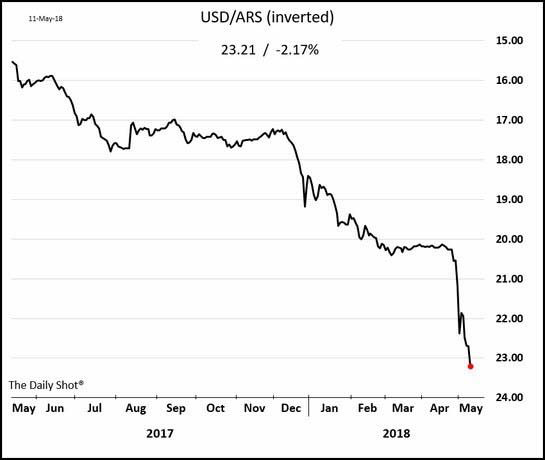 The Argentine Peso has bee dropping like a stone since late April sparking fears.  The IMF recently announced the largest loan ever to Argentina so they can stop the bleed.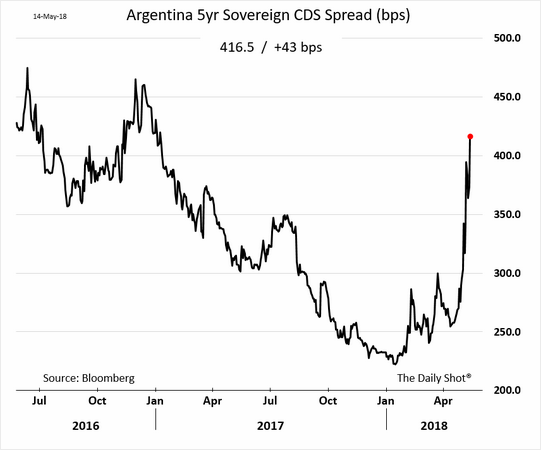 Default insurance for 5 years on Argentina spiked back to levels last seen in 2016 as investors worry about the potential for another default.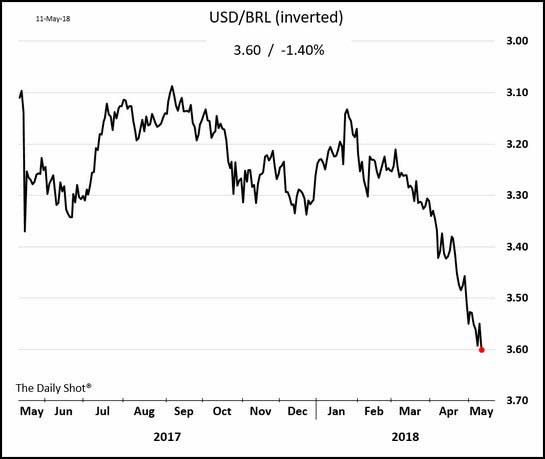 The Brazilian Real has also been affected by the rise in the dollar and has seen their currency fall.  Bond yields in Brazil have also risen from 9% to over 11% recently as investors worry.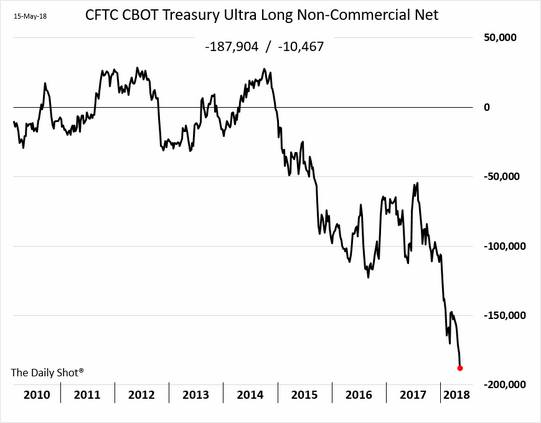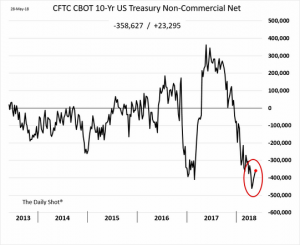 There's a consensus trade in long term and 10 year treasury bonds.  Everyone appears to be short them!  Talk about a crowded trade.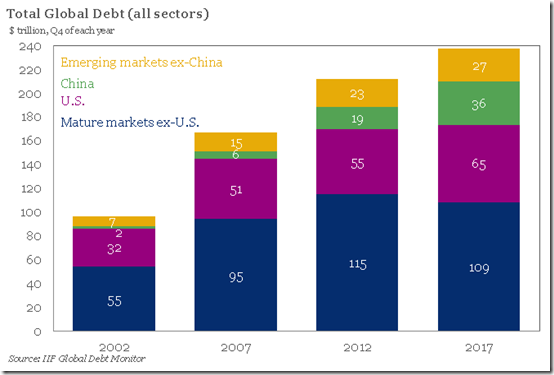 Data from the Institute of International Finance show that EM ex-China debt has almost doubled to $27T since 2007 while China's has been multiplied 6 times to $36T.
U.S. interest rates are now going in the wrong way for these unprepared borrowers. The Fed has set the path straight up for short term rates, from nearly zero in 2015 to their current 1.75% on their way to 2.9% at the end of 2019 per the most recent Fed dot plot. Longer term rates are feeling the upward pressure while also lifted by rising inflation and inflation expectations. Ten-year Treasury yields bottomed in 2016 at 1.4% and have since gone up 170 bps even though still offering a historically low 0.6% real yield.
With more than $3T in EM debt maturing between now and the end of 2019, refinancing will necessarily cost between 300 and 500 bps more on fixed rate debt alone, a whopping $120 billion jump in annual interest costs on fixed rate debt. Some 50% will be absorbed by the non-financial corporate sector.
This, without taking into account the damage inflicted by the rising USD.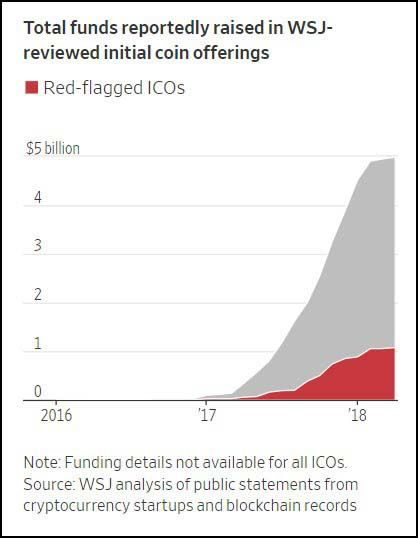 Hundreds of technology firms raising money in the fevered market for cryptocurrencies are using deceptive or even fraudulent tactics to lure investors.
In a review of documents produced for 1,450 digital coin offerings, The Wall Street Journal has found 271 with red flags that include plagiarized investor documents, promises of guaranteed returns and missing or fake executive teams.
"Jeremy Boker" is listed as a co-founder of Denaro, an online-payment project. In investor documents for a public offering in March, which claimed to have raised $8.3 million, Mr. Boker boasted of his cryptocurrency startup's "powerhouse" team. In his biography, he noted a "respectable history of happy clients" in consulting before he launched Denaro.
In fact, Mr. Boker's bio image was a stock photo, there is no evidence he exists and the rest of his team appears to be fictional, except for two freelancers who said they were paid by people unknown to them to market the project, the Journal found.
(WSJ)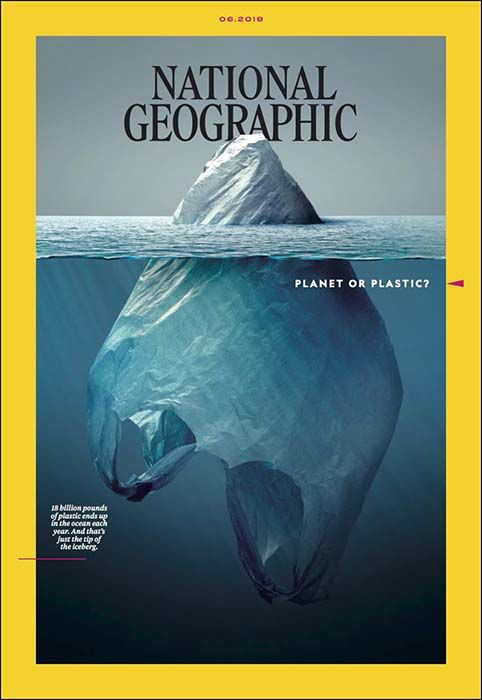 There's nothing financial about this National Geographic cover.  Plastic in our oceans is a big problem and something that will affect us all!  Lets find a solution soon!!!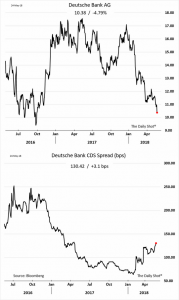 Deutsche Bank is in trouble and it's share price tells the story.  They are in the process of identifying 10% of their workforce to cut to save costs.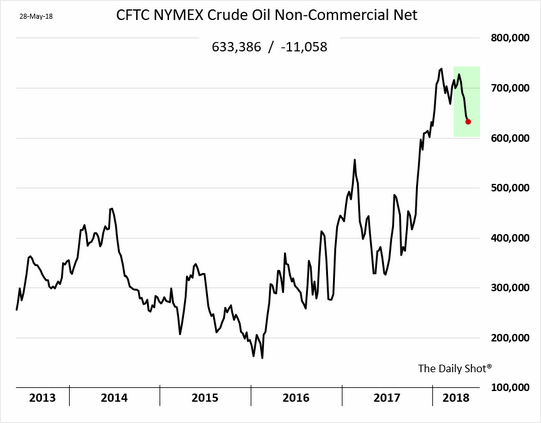 Another crowded trade is in oil where there's a significant crowding on the long side (people expecting the price to go up).  Recent comments by OPEC would lead you to believe that production will rise and prices to fall.  This could be the reason why we've seen a small pullback in the net long positions.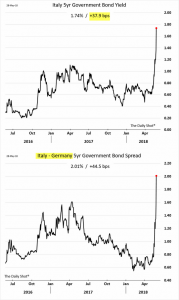 As mentioned in my commentary, Italy's bond prices spiked and the difference in yields between German and Italian 5 year bonds blew out.  The market is worried that Italy will join the chorus of countries wanting to leave the euro.
I hope you enjoyed this months financial markets update.  If you have any questions please contact us directly.  If you're interested in a topic that you'd like us to address, please email us so we can include them in future updates.
If you're interested in starting a dialogue and learning how we can help, please click the link below to book a call or meeting with us.
Best Regards,
Jared Toren
CEO & Founder
Proper Wealth Management's ("Proper") blog is not an offering for any investment. It represents only the opinions of Jared Toren and Proper . Any views expressed are provided for information purposes only and should not be construed in any way as an offer, an endorsement, or inducement to invest. Jared Toren is the CEO of Proper, a Texas based Registered Investment Advisor.   All material presented herein is believed to be reliable but we cannot attest to its accuracy. Opinions expressed in these reports may change without prior notice. Information contained herein is believed to be accurate, but cannot be guaranteed. This material is based on information that is considered to be reliable, but Proper and its related entities make this information available on an "as is" basis and make no warranties, express or implied regarding the accuracy or completeness of the information contained herein, for any particular purpose. Proper will not be liable to you or anyone else for any loss or injury resulting directly or indirectly from the use of the information contained in this newsletter caused in whole or in part by its negligence in compiling, interpreting, reporting or delivering the content in this newsletter.  Opinions represented are not intended as an offer or solicitation with respect to the purchase or sale of any security or financial instrument, nor is it advice or a recommendation to enter into any transaction. The material contained herein is subject to change without notice. Statements in this material should not be considered investment advice. Employees and/or clients of Proper may have a position in the securities mentioned. This publication has been prepared without taking into account your objectives, financial situation or needs. Before acting on this information, you should consider its appropriateness having regard to your objectives, financial situation or needs. Proper Wealth Management is not responsible for any errors or omissions or for results obtained from the use of this information. Nothing contained in this material is intended to constitute legal, tax, securities, financial or investment advice, nor an opinion regarding the appropriateness of any investment. The general information contained in this material should not be acted upon without obtaining specific legal, tax or investment advice from a licensed professional.