Market Scorecard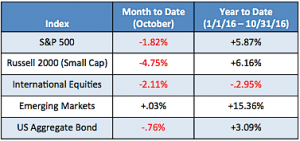 Monthly Commentary
The month of October turned out to be a busy month and not particularly good for stocks, bonds and commodities.  I think we'll all be glad when the election is over on November 8th.  I have been asked a lot about how the results could impact the markets.  Anytime there's a strong consensus, the risk is that it's incorrect.  Since Clinton is projected to win, the risk to the markets is that she doesn't which creates more uncertainty since a lot of people view Trump as a wildcard.  Although, since Wikileaks has been leaking emails and a new FBI investigation into Clinton's email related to Anthony Weiner, the likelihood of a Trump win has grown.  At the same time, the stock market has pulled back.  Correlation does not equal causation, but we do think that the pullback in the markets is partially related to this.
Q3 GDP was released during the month and the headline read; US Economy Grows at 2.9%.  While this is true, it's only part of the picture.  Those stats are compared to Q2 2016.  We believe the correct way to view Q3 2016 is against Q3 2015 which only shows a 1.5% growth.  The contributions to GDP are highlighted  here: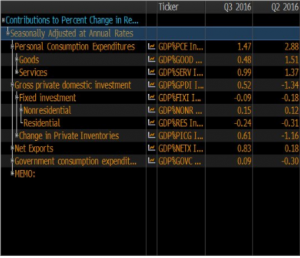 Real GDP came in at +2.9% QoQ for Q3 on a seasonally adjusted annualized basis which was an acceleration from 1.4% in Q2
On a Y/Y basis GDP +1.5% YoY which was a slight acceleration from the Q2 number of +1.3%
Consumption growth slowed as we expected, contributing +2.1% QoQ after contributing +4.3% in Q2. It contributed +1.47% to the overall +2.9% GDP number.
Moreover, a big portion of US exports growth came from soybeans sales to China – an event that is unlikely to be repeated going forward. The chart below shows the spike in US soy exports.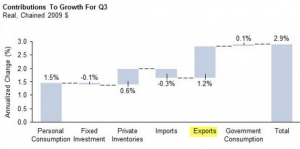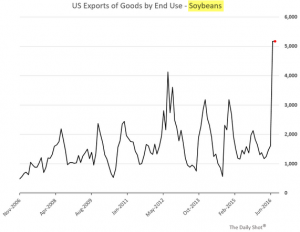 Industrial production, capital goods orders, and factory orders continue to look recessionary. Specifically, all three series have experienced negative growth for the longest period ever without a recession.  Core Capital Goods, posted the 11th consecutive month of negative growth and the 20th month of negative growth in the last 21.   The Capex and Industrial recession remains very much alive.  US Industrial Production for September was down -1.0% year-over-year, which is the 13th straight month with negative year-over-year growth.  That represents the longest non-recession losing streak ever.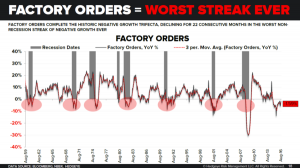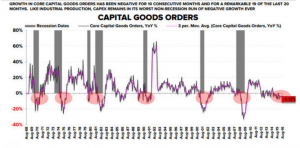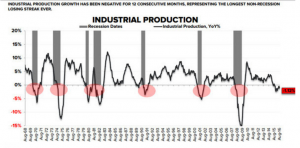 An alarm is sounding over the state of corporate America's balance sheet. Company spending exceeds cash flow by a near-record amount—a fundamentally unsustainable situation—as net debt continues to increase at a rapid pace.  In many cases, companies have used debt to repurchase their own stock, flattering their bottom-line financial performance.  To be fair, servicing this debt load isn't as onerous as it might appear, because of low interest rates. And despite the recent steepening of corporations' yield curve, companies have continued to extend duration, which offers them more certainty about what their interest payments will be over the long term.  But over the long haul, the performance of stock markets will be primarily driven by earnings increases—and the level of corporate indebtedness implies that any latitude to boost earnings per share by shrinking the denominator is limited.  Corporate profits in the U.S., meanwhile, have declined for five consecutive quarters.  The combination of near-record corporate debt-to-GDP, record low return on equity, ever-higher labor costs, and subdued pricing power doesn't paint an inspiring picture for growth.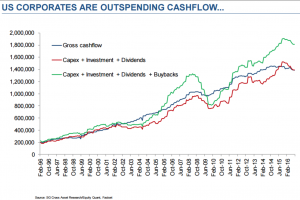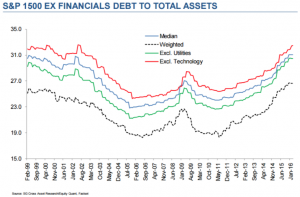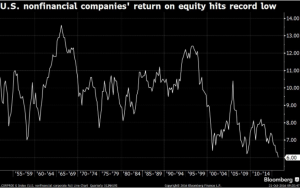 Did you know that there are 46 million Americans on Food Stamps?  That's an incredibly high amount when you figure there's around $350 Million citizens.  Since the financial crisis, the wealth gap has grown.  The monetary policy the Fed engaged in reflated asset prices which now surpass levels reached before the financial crisis.  If you were living close to the poverty line in 2007, your most likely well under that level today.  The poor don't typically own their home or stocks so they didn't participate in the rally since March 2009.  What they have participated in is higher housing costs via rent and healthcare costs combined with very low wage growth (until recently).  These people are getting squeezed and it's why so many Americans today are living in poverty.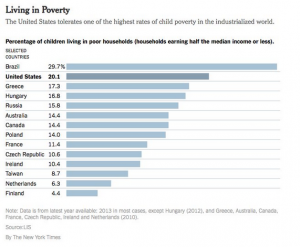 Moving overseas, check out this chart on China's real estate market.  The property market rally is looking unsustainable.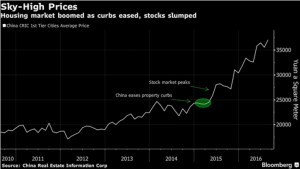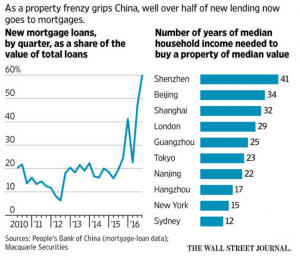 If you have any questions please contact us directly.  If you're interested in a topic that you'd like us to address, please email us so we can include them in future updates.
Best Regards,
Jared Toren
CEO & Founder
Proper Wealth Management's ("Proper") blog is not an offering for any investment. It represents only the opinions of Jared Toren and Proper . Any views expressed are provided for information purposes only and should not be construed in any way as an offer, an endorsement, or inducement to invest. Jared Toren is the CEO of Proper, a Texas based Registered Investment Advisor.   All material presented herein is believed to be reliable but we cannot attest to its accuracy. Opinions expressed in these reports may change without prior notice. Information contained herein is believed to be accurate, but cannot be guaranteed. This material is based on information that is considered to be reliable, but Proper and its related entities make this information available on an "as is" basis and make no warranties, express or implied regarding the accuracy or completeness of the information contained herein, for any particular purpose. Proper will not be liable to you or anyone else for any loss or injury resulting directly or indirectly from the use of the information contained in this newsletter caused in whole or in part by its negligence in compiling, interpreting, reporting or delivering the content in this newsletter.  Opinions represented are not intended as an offer or solicitation with respect to the purchase or sale of any security or financial instrument, nor is it advice or a recommendation to enter into any transaction. The material contained herein is subject to change without notice. Statements in this material should not be considered investment advice. Employees and/or clients of Proper may have a position in the securities mentioned. This publication has been prepared without taking into account your objectives, financial situation or needs. Before acting on this information, you should consider its appropriateness having regard to your objectives, financial situation or needs. Proper Wealth Management is not responsible for any errors or omissions or for results obtained from the use of this information. Nothing contained in this material is intended to constitute legal, tax, securities, financial or investment advice, nor an opinion regarding the appropriateness of any investment. The general information contained in this material should not be acted upon without obtaining specific legal, tax or investment advice from a licensed professional.
Jared Toren is CEO and Founder at Proper Wealth Management. Proper was born out of frustration with the inherent conflicts of interest at big brokerage firms influencing advisors to sell products that were not suitable for clients but profitable to the firm along with a consistently mixed message of who's interest was supposed to be put first; the clients', the firms', shareholders or advisors.
At Proper, our clients interests come first. We are compensated the same regardless of which investments we utilize so there's no incentive for us to sell high commission products. Since we focus on a small number of clients, we are able to truly tailor our advice to each person's unique circumstances.