Market Scorecard

Figures provided above are estimate and for illustration purposes only
Monthly Commentary
I can't believe that another month this commentary is starting out this way but my thoughts and prayers are with all of those affected by the massacre in Sutherland TX.  Another month, another tragedy.  The shock for me certainly isn't subsiding and no amount of tragedies such as this will ever be "normal".  A good friend of mine passed along a quote from the Dalai Lama when he was asked what surprised him most about humanity.  He said:
"Man. Because he sacrifices his health in order to make money. Then he sacrifices money to recuperate his health.  And then he is so anxious about the future that he does not enjoy the present; the result being that he does not live in the present or the future;  he lives as if he is never going to die, and then dies having never really lived."
Be kind whenever possible. It is always possible.  This is my simple religion. There is no need for temples; no need for complicated philosophy. Our own brain, our own heart is our temple; the philosophy is kindness.  Our prime purpose in this life is to help others. And if you can't help them, at least don't hurt them.  Sometimes one creates a dynamic impression by saying something, and sometimes one creates as significant an impression by remaining silent.  We can live without religion and meditation, but we cannot survive without human affection.  With realization of one's own potential and self-confidence in one's ability, one can build a better world."
Turning to the markets, October was a strong month all around, especially for equities.  The S&P, international and emerging market stocks all registered new year to date highs.  Most broad based stock indices have registered double digit gains for the year even though there's quite a bit of political and policy uncertainty across the globe.  President Trump signed an executive order halting some Obamacare subsidies potentially increasing the price for plans.  In Texas, Blue Cross Blue Shield is currently the only carrier covering every county in the state.  In some places, it's the only choice and premiums have increased while coverage has decreased.  President Trump selected Jerome Powell to lead the Fed once Yellen's term ends.  Powell is expected to gradually increase interest rates and is seen as hawkish.  Speaking of interest rates, bets are that the Fed will increase rates by another .25% at their December meeting next  month as is showed from the chart below.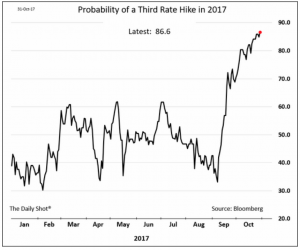 Q3 GDP surprised to the upside with 3% growth and showing limited impact from the hurricanes and flooding.  With the recent data releases being better than expected, the Atlanta Fed is forecasting Q4 GDP at almost 4.5%.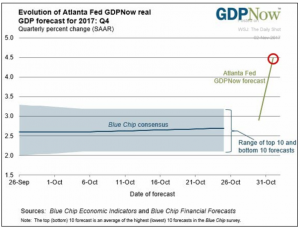 The biggest news (in my opinion) is related to the Mueller investigation.  Paul Manafort and Rick Gates were charged with money laundering (amongst other things).  George Papadopoulos apparently pleaded guilty earlier in the month which was a surprise and one I find particularly interesting.  How close was Papadopoulos to Gates, Manafort and the White House?  What is unclear is how long ago did they really start pressuring him and did he flip.  And if he flipped, the FBI has undoubtedly been recording his interactions for many months.  In fact, the settlement agreement states the defendant (Papadopoulos) cooperated with the government and have included a snapshot below.  If you wish to read the entire settlement, you can do so here.  I don't think Mueller is done and anyone who's spoken with Papadopoulos within the past 6 months is surely biting their nails.

My 2 Cents:
Not a lot has changed since last month in terms of my "signals".  We trimmed back our REIT exposure for most clients since a sell signal was generated in one of my models (DMAPS).   Besides that, no other signals were generated.  As with last month, one needs to be careful owning long term treasury bonds if rates rise.  Although, rates did come down on the long end of the curve in October even though most believe interest rates will rise.  Besides potential war with North Korea, the biggest risk to the markets are high level indictments from Mueller.  To freak out the markets, it would have to be very senior official(s) in the White House, namely, President Trump.  Even then, I'm not sure if the markets would sell off the way we'd expect.  The markets want to keep going higher and because of that, I believe they will.  It's shrugging off a lot of geopolitical uncertainty already and it seems to recover in days.  Multifamily real estate looks to be appealing if you could find high quality funds offering 7-8% cash on cash distributions while keeping leverage below 75%.  Either way you cut it, markets seem fully or over-priced and proceed with caution.
Noteworthy Research
Morgan Stanley predicts space industry will triple in size: Here's how to invest
Charts, Charts & More Charts
These charts are rapid fire and in no particular order.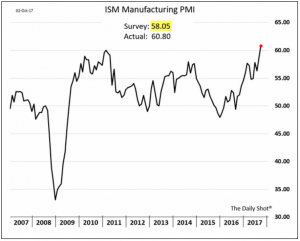 The ISM statistics point to improving manufacturing numbers and higher growth in the US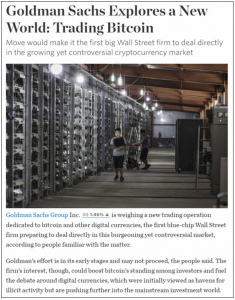 Goldman is now exploring Bitcoin trading.  It's hard to ignore with the meteoric rise in crypto assets and imagine pressure from clients to get involved.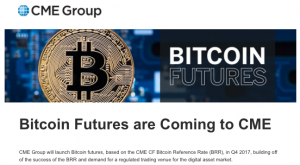 The Chicago Mercantile Exchange (CME) announced Bitcoin futures are on the way.  The result?  Bitcoin surges past $7,000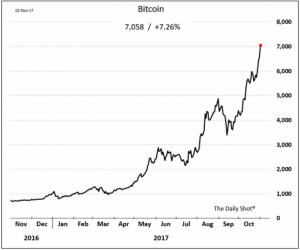 Bitcoin surged past $7,000 and hit almost $7,600 before pulling back to around $7,000.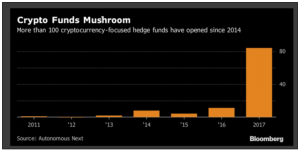 It should no surprise that the number of crypto hedge funds have surged this year.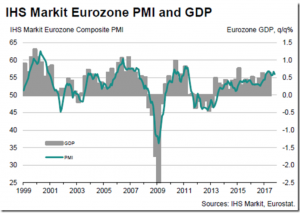 Eurozone PMI and GDP are highly correlated.  Recent statistics continue to point to strength in the Euro area.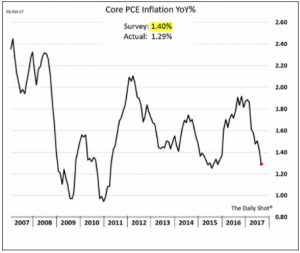 Core PCE inflation has been declining in 2017, well below the Fed's target.  This is part of the conundrum the Fed has as it looks to raise rates again in December.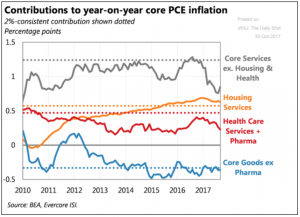 Contributions to core PCE have been declining as noted above.  Health care services have declined a lot as well as core services (ex housing).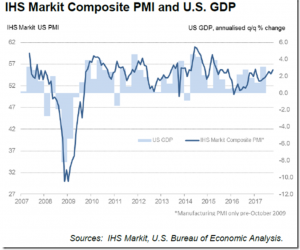 As with the Eurozone, PMI and GDP are correlated in the US as well.  PMI continues to trend higher which is why GDP expectations for Q4 2017 are being adjusted higher.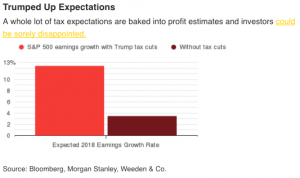 There are a lot of tax benefits baked into the market.  The earnings growth rate almost triples if the tax cuts are implemented.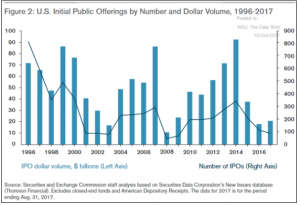 IPO volume in the US has declined in recent years which in the past was correlated with slowdowns in the economy.  Will deal volume pick up as private equity exits companies at record valuations?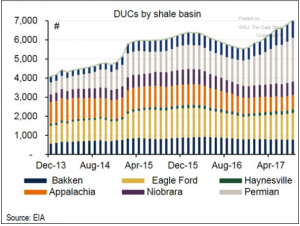 The number of drilled but untapped wells in shale formations in the US continues to climb.  If crude continues to climb into the mid 50's, we could see oil companies hedge and extract.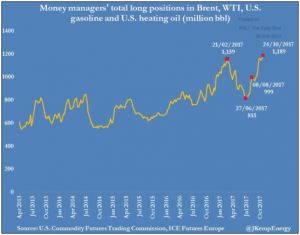 No surprise that money managers are betting on oil prices to continue to rebound.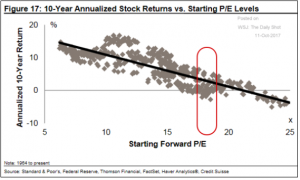 I've touched upon this many times in the past.  High forward PE ratios correlated highly with lower future returns.  Based on the analysis above, we're looking at low single digit returns over the next 10 years, before inflation.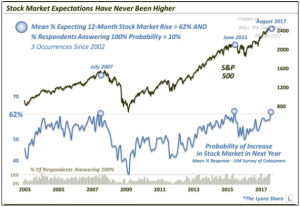 For the 3rd time since 2003, stock market expectations have reached 62%.  Not many people believe the market will go down over the next 12 months.  Beware the herd.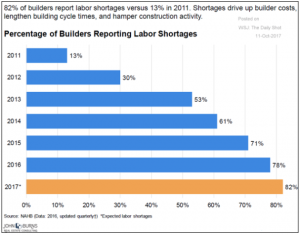 Over 80% of homebuilders are reporting labor shortages.  After the financial crisis, a lot of the constructions jobs and employees that filled them left or were retrained in other industries.  This is now causing labor shortages and inflation to build new homes.  Maybe we should rethink immigration?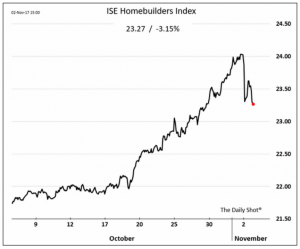 The homebuilders index dropped off the proposed $500K mortgage interest deduction limit in the tax proposal.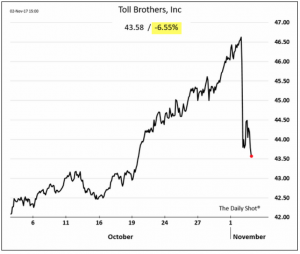 Toll Brothers stock took a big hit on the new proposal.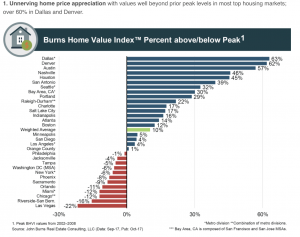 Here's a chart of home prices today in certain metros relative to the peak in 07.  Dallas is 63% more expensive, but Texas didn't have the surge like the rest of the country did.
This chart shows the intrinsic value of homes if mortgage rates hit 6%.  There are a lot of overpriced areas if interest rates continue to rise.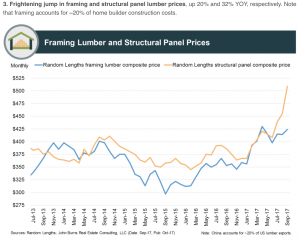 Another factor for rising costs when building a home are rising lumber prices which have been caused by Trump's ban on Canadian imports.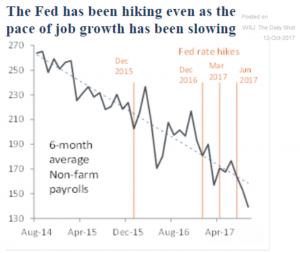 Job growth is slowing, PCE inflation is weak and the Fed is raising rates.
Yields on junk bonds in the US seem to be too low.  Keep in mind that you can lose 100% of your money if a bond defaults and you're upside is merely the coupon.  Risk/reward doesn't appear favorable right now in the sector.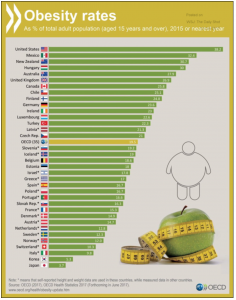 While we aren't #1 in education, we are #1 in obesity rates.   : |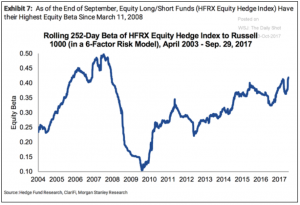 Long/Short hedge funds are becoming more correlated with the market.  This is a sign that managers have been increasing their net long exposure and reducing hedges and short positions.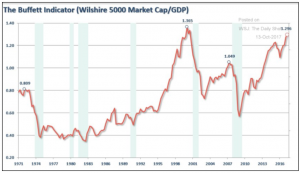 The Buffet indicator (Wilshire 5000 divided by GDP) is closing in on the level last seen in the tech bubble.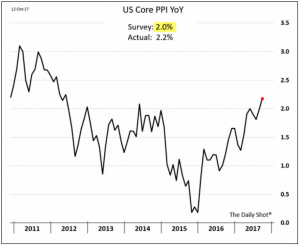 Core PPI (producer price index) has been increasing but doesn't seem to be making it's way into consumer inflation.  This could mean lower margins as companies aren't able to pass along the price increases.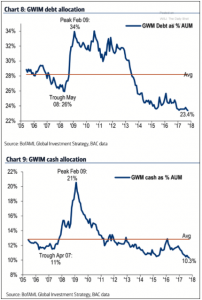 Cash allocations are nearing record lows while bond allocations are the lowest they've been since 2005 in Merrill Lynch client portfolios.  Again, beware the herding.
An intriguing snippet from a recent John Mauldin update:
I was particularly struck with his observation about the massive – and it truly is massive – short position in the VIX and VIX futures. Look at this chart:
Now, as my friend and fellow Mauldin Economics writer Jared Dillian notes, prior to 2006 it was not possible for retail investors to trade the VIX. Then an ETF was created, and options and futures became available. Prior to that time it was just professionals who could create the effect of the VIX with futures and options trade positioning on the S&P. You almost had to be a pit trader to be able to do it.
Understand, the VIX is a totally artificial construct. It is a derivative of a derivative. In the beginning, around 1993, the VIX basically measured the implied volatility of eight S&P 100 at-the-money put and call options.
Except that now there are so many people on that side of the boat that when the boat starts to turn over, the rush to get the other side is going to rock that boat hard, possibly to the point of swamping it. Doug warns that a 2% or 3% move down in the markets could cause short covering in the VIX that could quickly spiral out of control. Not unlike the "portfolio protection" trade that brought about the 1987 crash.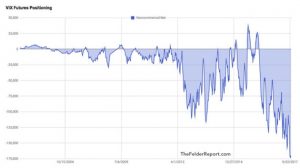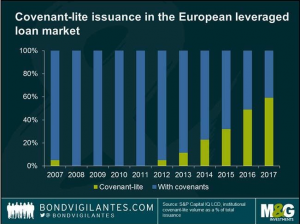 The cove-lite craze is now spreading to Europe.  Over 60% of bonds issued in 2017 are categorized as covenant lite.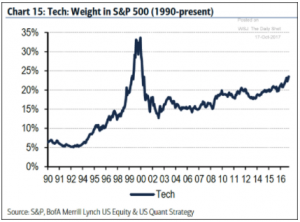 With technology shares continuing to rise, the % of tech stocks in the S&P is growing as well.  We aren't at the tech boom levels but are rapidly approaching 25%.  The average since the tech bust has been around 17%.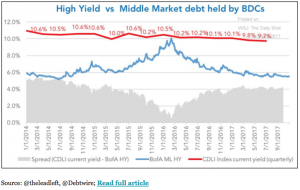 You can earn a meaningful pickup in yield by owning middle market debt than vs. high yield bonds.  The most common method to access these are through publicly traded vehicles called BDC's, but my preferred method is through private BDC's and other private vehicles.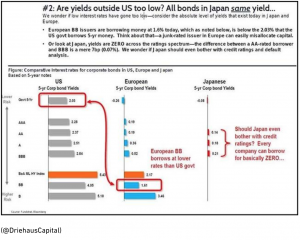 Are yields too low in the US relative to Europe and Japan?  Yes they are.  BB rated European bonds (junk) yield less than US Government bonds.  This doesn't make a whole lot of sense unless you live in Bizarro world.  Furthermore, every Japanese bond yields basically the same from AA through BBB.  Why would anyone buy a lower rated Japanese bond to earn the same (negative) yield as a AA bond???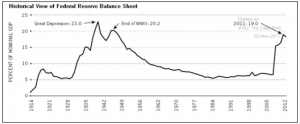 What might surprise some people is the central banks assets relative to GDP was higher post great depression and at the end of world war II than it is today.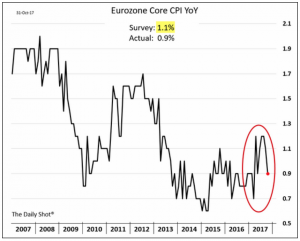 The US isn't the only place struggling with low inflation.  Europe has been battling with low inflation as well.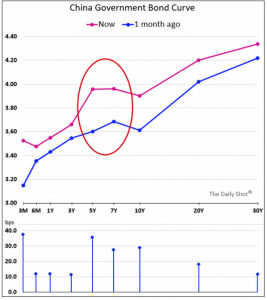 China's government bonds have increased a lot over the past month and has an interesting pattern occurring between 5 and 10 years.  You get more yield on their 5 year bonds than the 10 year one.  Curious…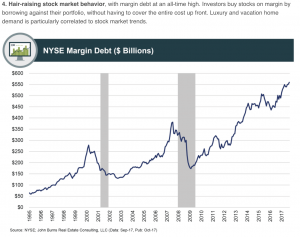 Margin debt in the US keeps surging while stocks continue to climb higher.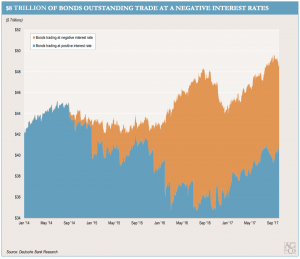 This is a chart I look at quite regularly to see if we're still in trend for US bonds that was established in the early 80's.  We appear to be at an inflection point.  If the 10 year bond moves above 2.5% and holds that level, this could be the end of the bond bull market in which case a bond investor needs to be very careful.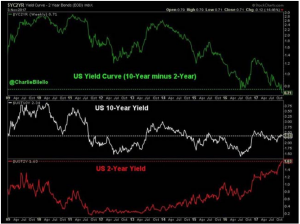 The yield curve is flattening.  What this means is the difference between short term (2 year) and long term (10/30 year) bonds is shrinking.  While the Fed is going to raise rates, long term rates are responding and increasing or increasing by a lower amount.  This causes the difference between long and short maturity bonds to decrease.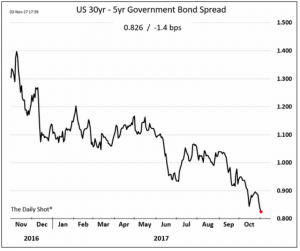 Piggybacking on the previous chart, shows the difference between the 30 year and 5 year bond yields.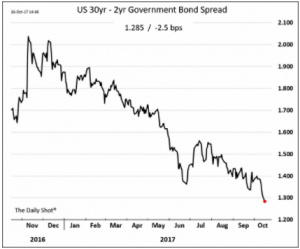 This shows the difference between the 30 year and 2 year bond yields.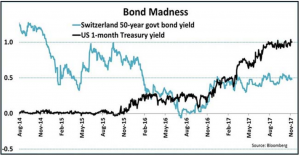 Another chart which makes no sense.  1 month Treasury bill yields are double the Swiss 50 year bond yield!!!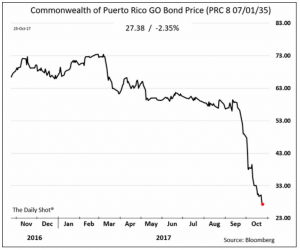 The general obligation municipal bond prices in Puerto Rico continue to decline and are almost at 20 cents on the dollar.  Was it worth the 5% coupon to be down 80%?
I hope you enjoyed this months financial markets update.  If you have any questions please contact us directly.  If you're interested in a topic that you'd like us to address, please email us so we can include them in future updates.
If you're interested in starting a dialogue and learning how we can help, please click the link below to book a call or meeting with us.
BOOK A MEETING OR CALL WITH ME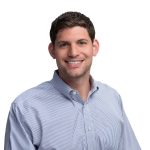 Best Regards,
Jared Toren
CEO & Founder
Proper Wealth Management's ("Proper") blog is not an offering for any investment. It represents only the opinions of Jared Toren and Proper . Any views expressed are provided for information purposes only and should not be construed in any way as an offer, an endorsement, or inducement to invest. Jared Toren is the CEO of Proper, a Texas based Registered Investment Advisor.   All material presented herein is believed to be reliable but we cannot attest to its accuracy. Opinions expressed in these reports may change without prior notice. Information contained herein is believed to be accurate, but cannot be guaranteed. This material is based on information that is considered to be reliable, but Proper and its related entities make this information available on an "as is" basis and make no warranties, express or implied regarding the accuracy or completeness of the information contained herein, for any particular purpose. Proper will not be liable to you or anyone else for any loss or injury resulting directly or indirectly from the use of the information contained in this newsletter caused in whole or in part by its negligence in compiling, interpreting, reporting or delivering the content in this newsletter.  Opinions represented are not intended as an offer or solicitation with respect to the purchase or sale of any security or financial instrument, nor is it advice or a recommendation to enter into any transaction. The material contained herein is subject to change without notice. Statements in this material should not be considered investment advice. Employees and/or clients of Proper may have a position in the securities mentioned. This publication has been prepared without taking into account your objectives, financial situation or needs. Before acting on this information, you should consider its appropriateness having regard to your objectives, financial situation or needs. Proper Wealth Management is not responsible for any errors or omissions or for results obtained from the use of this information. Nothing contained in this material is intended to constitute legal, tax, securities, financial or investment advice, nor an opinion regarding the appropriateness of any investment. The general information contained in this material should not be acted upon without obtaining specific legal, tax or investment advice from a licensed professional.
Jared Toren is CEO and Founder at Proper Wealth Management. Proper was born out of frustration with the inherent conflicts of interest at big brokerage firms influencing advisors to sell products that were not suitable for clients but profitable to the firm along with a consistently mixed message of who's interest was supposed to be put first; the clients', the firms', shareholders or advisors.
At Proper, our clients interests come first. We are compensated the same regardless of which investments we utilize so there's no incentive for us to sell high commission products. Since we focus on a small number of clients, we are able to truly tailor our advice to each person's unique circumstances.