Monthly Recap
October brought with it a return to volatility in the markets with the S&P dropping 10% at one point before closing the month down approximately 7%.  To recap, here are just some of the noteworthy events and stories from October:
US treasury bonds slid to a multi-year high as the 10 year bond hit 3.20%, a level not seen since 2011
President Trump's first annual budget deficit climbs to a 6 year high.  As a result, the U.S. Treasury Department estimates it will issue more than $1 trillion in debt this year.
The U.S. economy expanded at a 3.5 percent pace in the third quarter.  Consumer spending, which accounts for about 70 percent of the economy, unexpectedly accelerated to a 4 percent increase — the best since 2014 — while the 0.8 percent gain in nonresidential business investment was the weakest in almost two years.
The U.S. economy has a greater than 50-50 chance of tipping into a recession in the next two years, according to a model tracked by JPMorgan Chase & Co.  As I highlighted in last month's update, we're starting to see recession probabilities increase.
After years of feeding Sears a lifeline, Eddie Lambert's long term holding finally filed for bankruptcy.  Mall owners, who have been grappling with the retailer's store closings and diminished ability to attract shoppers for years, must now contend with the possibility of a full liquidation, which would mean a glut of retail real estate in an already oversupplied market.
Shares of Chinese tech companies tumbled earlier in the month as it was discovered that there were spying devices inserted into Super Micro Computers products which are used in the US.
The Fed minutes point to continued, gradual interest rate hikes.  In the Fed minutes, they said  "A few participants expected that policy would need to become modestly restrictive for a time," the Fed said in minutes of the Sept. 25-26 meeting released Wednesday. "A couple of participants indicated that they would not favor adopting a restrictive policy stance in the absence of clear signs of an overheating economy and rising inflation." 
The IMF warns of a possible emerging market crisis, which is something I've been saying for months considering the devaluations in currencies that has occurred (notably Brazil, Turkey and Argentina).
The IMF also lowered growth forecasts for 2018 and 2019 citing rising trade protectionism and instability in emerging markets.  They cut the outlook to 3.7% from 3.9% in global growth this year.
My 2 Cents
Not a lot has changed and my comments probably start to sound like a broken record.  Things tend to move slowly in the markets and then at times it will be all of a sudden.  What I believe to be true is that we're late in the business cycle and investments need to be aligned with that thesis.  For my clients, that means a risk managed equity strategy and ensuring any new investments we're allocating to weather economic downturns.
Charts & Commentary
(In no particular order)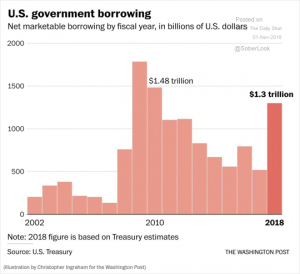 The US deficit hit over $1 Trillion in 2018, which is highly unusual.  The times we typically see the deficit spike is during recessions.  If we end up in a recession in the next 24 months, I'd expect record deficits as tax receipts fall compounded by the recent tax cuts.
Consumer confidence is on its way to levels not seen since the internet bubble.  If we haven't hit peak optimism, it looks like we're very close.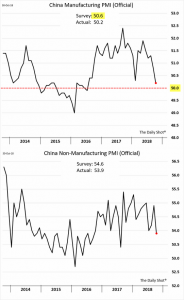 The official purchasing managers index, a gauge of activity in the critical manufacturing sector, dropped in October to its lowest in more than two years. Subindexes measuring new orders, including for exports, and factory output fell precipitously as well, signs that economists said point to more weakness ahead.  The domestic economy is facing increased downward pressure and policy measures aimed at stabilizing it need time to take effect.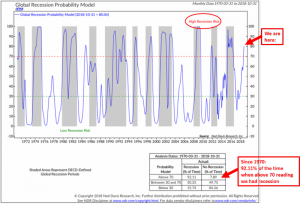 Ned Davis Research via Steve Blumenthal:
"The most pressing economic challenges currently reside outside of the U.S. With generous permission from my friends at Ned Davis Research, I shared the following chart last week. It contains a wide range of economic indicators such as money supply, yield curve, building permits, consumer and business sentiment, share prices, and manufacturing production. There are usually five to 10 indicators, which vary by type and weight, depending on the country, and are selected based on economic significance, cyclical behavior and quality.  
Bottom line: The world is in slowdown and the probability for a global recession is now over 80%. When the reading is this high, a recession has occurred 92% of the time. I suspect recession has started."
It still surprises me to see the interest you could earn on a 10 year US treasury bond and a 10 year Chinese government bond to be so similar when risks are so different.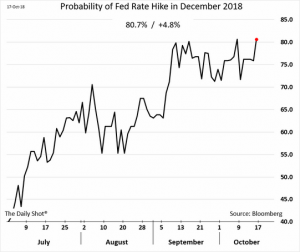 The markets are pricing in another 25 basis point interest rate at the next Fed meeting in December.  Some forecasters expect the difference between long term and short term bonds to fall further as rates rise in a signal that the market doesn't believe the economy will grow a lot in the long term.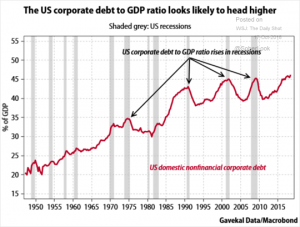 US corporate debt to GDP has risen above 2007 levels as low interest rates over the past 8 years nudged corporations into borrowing more and more.  Few companies ever pay off their debt and instead choose to roll it over into new bonds.  Now, they'll be rolling over their debt into higher interest rate loans and spending more on interest payments.  This all assumes that when the corporations need to roll over maturing debt that the "credit window" is open.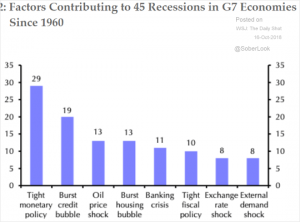 Tight monetary policy is the leading contributing factor to recessions.  Guess what phase we're entering now?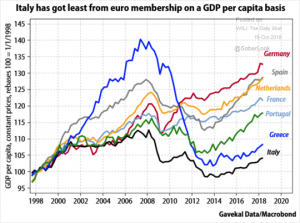 There's an incredible dispersion between GDP on a per capita basis since the Euro came together.  Germany has benefited the most while Italy has benefited the least.  Greece's fall from the top has been spectacular.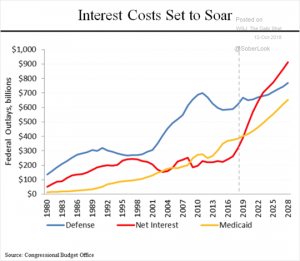 The federal government's interest expense is climbing rapidly and will accelerate over the next few years. The government already pays $1.5 billion in interest per day.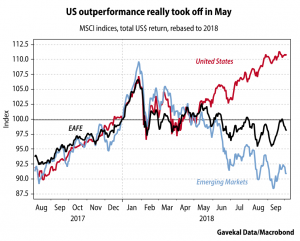 The US stock market diverged from international and emerging markets around May of this year.  Some of that outperformance narrowed with October's drop but it still remains the place to invest for 2018.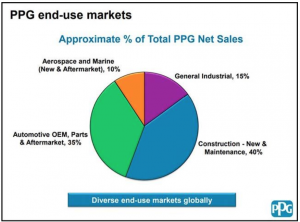 The top paint maker is raising prices 10% across all markets…
PPG can't keep up with its costs which are rising in all areas and geographies. So the price of your new home, remodel, car, boat, airline ticket, etc. will be moving on up.
"While PPG remains aggressive in its efforts to control expenses, we have experienced continued and unprecedented cost pressures in raw materials, freight, distribution and labor, across every region," said Rebecca Liebert, PPG senior vice president, automotive coatings. "In addition, as we collaborate with our automotive manufacturers to prepare for new autonomous driving and vehicle electrification technologies, our customers demand additional functionality from our coatings products. This price increase is vital to sustaining our history of innovating these next-generation solutions and enhancing our ability to continue to meet demand."
I hope you enjoyed this months financial markets update.  If you have any questions please contact us directly.  If you're interested in a topic that you'd like us to address, please email us so we can include them in future updates.
If you're interested in starting a dialogue and learning how we can help, please click the link below to book a call or meeting with us.
Best Regards,
Jared Toren
CEO & Founder
Sources: Edges & Odds, WSJ Daily Shot
Proper Wealth Management's ("Proper") blog is not an offering for any investment. It represents only the opinions of Jared Toren and Proper . Any views expressed are provided for information purposes only and should not be construed in any way as an offer, an endorsement, or inducement to invest. Jared Toren is the CEO of Proper, a Texas based Registered Investment Advisor.   All material presented herein is believed to be reliable but we cannot attest to its accuracy. Opinions expressed in these reports may change without prior notice. Information contained herein is believed to be accurate, but cannot be guaranteed. This material is based on information that is considered to be reliable, but Proper and its related entities make this information available on an "as is" basis and make no warranties, express or implied regarding the accuracy or completeness of the information contained herein, for any particular purpose. Proper will not be liable to you or anyone else for any loss or injury resulting directly or indirectly from the use of the information contained in this newsletter caused in whole or in part by its negligence in compiling, interpreting, reporting or delivering the content in this newsletter.  Opinions represented are not intended as an offer or solicitation with respect to the purchase or sale of any security or financial instrument, nor is it advice or a recommendation to enter into any transaction. The material contained herein is subject to change without notice. Statements in this material should not be considered investment advice. Employees and/or clients of Proper may have a position in the securities mentioned. This publication has been prepared without taking into account your objectives, financial situation or needs. Before acting on this information, you should consider its appropriateness having regard to your objectives, financial situation or needs. Proper Wealth Management is not responsible for any errors or omissions or for results obtained from the use of this information. Nothing contained in this material is intended to constitute legal, tax, securities, financial or investment advice, nor an opinion regarding the appropriateness of any investment. The general information contained in this material should not be acted upon without obtaining specific legal, tax or investment advice from a licensed professional.
Jared Toren is CEO and Founder at Proper Wealth Management. Proper was born out of frustration with the inherent conflicts of interest at big brokerage firms influencing advisors to sell products that were not suitable for clients but profitable to the firm along with a consistently mixed message of who's interest was supposed to be put first; the clients', the firms', shareholders or advisors.
At Proper, our clients interests come first. We are compensated the same regardless of which investments we utilize so there's no incentive for us to sell high commission products. Since we focus on a small number of clients, we are able to truly tailor our advice to each person's unique circumstances.