Monthly Recap
After September's noisy month of being dominated by WeWork and a potential impeachment of President Trump, October was equally as busy with a Fed rate cut, continued impeachment discussions, a bailout of WeWork by Softbank and much much more. The markets continued their march higher as the economic expansion continues to break records with each passing month. But one must wonder how much longer can things continue on this path. Negative rates does not make much sense and is a very big experiment most of the developed world is engaged in. My hypothesis is it's not going to end well. A wise man once said that we often meet our destiny on the path we take to avoid it.
As always, below is a recap of October's noteworthy events.
Political:
It seems as if something is amiss with Rudy Giuliani and his involvement in the Ukraine scandal which triggered the impeachment inquiry. It's also been reported that he unluckily butt dialed a reporter and left various messages without his knowledge. It's still unclear of what his involvement but it's clear things don't look good for the former NYC mayor. I recall Mayor Giuliani being viewed as a hero following 9/11 and it's sad how far he's fallen since then.
The impeachment inquiry reached a new phase that signals the public soon will get a look at the witnesses and evidence being assembled to build a case against the president. Amid Republican complaints that the investigation is illegitimate, Pelosi announced that the full House would vote on the next steps for the existing inquiry being run by three committees.
Economic:
A measure of U.S. manufacturing unexpectedly fell deeper into contraction, posting the weakest reading since the end of the last recession as a global slowdown and the U.S.-China trade war increasingly weigh on the sector. The Institute for Supply Management's factory index slipped to 47.8 in September, the lowest since June 2009
The Institute for Supply Management's non-manufacturing index dropped 3.8 points to 52.6 in September, the lowest since August 2016 and well below the most pessimistic forecast in a Bloomberg survey. Services makes up a large percentage of GDP so seeing a deterioration has increased forward looking recession odds.
SoftBank has struck a $9.5 billion deal to take control of WeWork, capping a tumultuous run that saw the workshare company pull its IPO, see its valuation plummet and usher its unorthodox founder out the door with a massive payout. It will provide WeWork with $5 billion in new financing as well as accelerate a $1.5 billion commitment. It also will commit as much as $3 billion to a tender offer for existing shareholders. The agreement gives SoftBank an 80 percent stake in WeWork.
Federal Reserve officials reduced interest rates by a quarter-percentage point for the third time this year and signaled a pause in further cuts unless the economic outlook changes materially. As with the September statement, the FOMC cited the implications of global developments in deciding to lower the target range for the central bank's benchmark rate to 1.5% to 1.75%. Powell also noted in the press conference that the risks associated with trade tensions and Brexit show signs of improving.
The United Auto Workers struck a tentative labor deal with General Motors, a critical step in ending a monthlong strike that has brought more than 30 GM factories in the U.S. to a standstill. Union and company bargainers have been working for months to settle on a new labor contract for more than 46,000 UAW-represented factory workers at dozens of GM plants and facilities across the country.
Saudi Arabia is pulling out all the stops to ensure the success of Aramco's initial public offering after Crown Prince Mohammed bin Salman finally decided to offer shares in the world's largest oil producer. The kingdom cut taxes on the company for a third time, revealed incentives for investors not to sell and is considering boosting dividends further. Yet the Saudi government has already conceded the company probably isn't worth the $2 trillion valuation Prince Mohammed has long advocated.
Boris Johnson's latest attempt to trigger an early general election was defeated in Parliament and he immediately said he will try again. Earlier he had accepted the European Union's offer of a three-month Brexit delay to Jan. 31. Johnson said he has given up getting his withdrawal agreement bill passed by this Parliament and a general election would be the only way to resolve the deadlock that has stopped the U.K. ratifying his divorce deal with Brussels.
China continued its grind to more moderate growth in the third quarter as investment slowed, providing little upside for a global economy flirting with its first recession since 2009. GDP rose 6% in the July-September period from a year ago, the slowest pace since the early 1990s and weaker than the consensus forecast of 6.1%. On the upside, factory output improved and retail sales held up, but slowing investment growth remained a concern. Policy makers appear to be allowing the world's second-largest economy to drift lower as they seek to clean up the financial system and curb excessive credit growth while they fight a confidence-sapping trade war with the U.S.
The bright star in the US economy (consumer and retail sales) lost it shimmer last month. Retail sales decreased a seasonally adjusted 0.3% in September from a month earlier, the first monthly decline since February. One month doesn't make a trend but it's worth watching closely.
Charts, Commentary & Investment Perspectives
(In no particular order)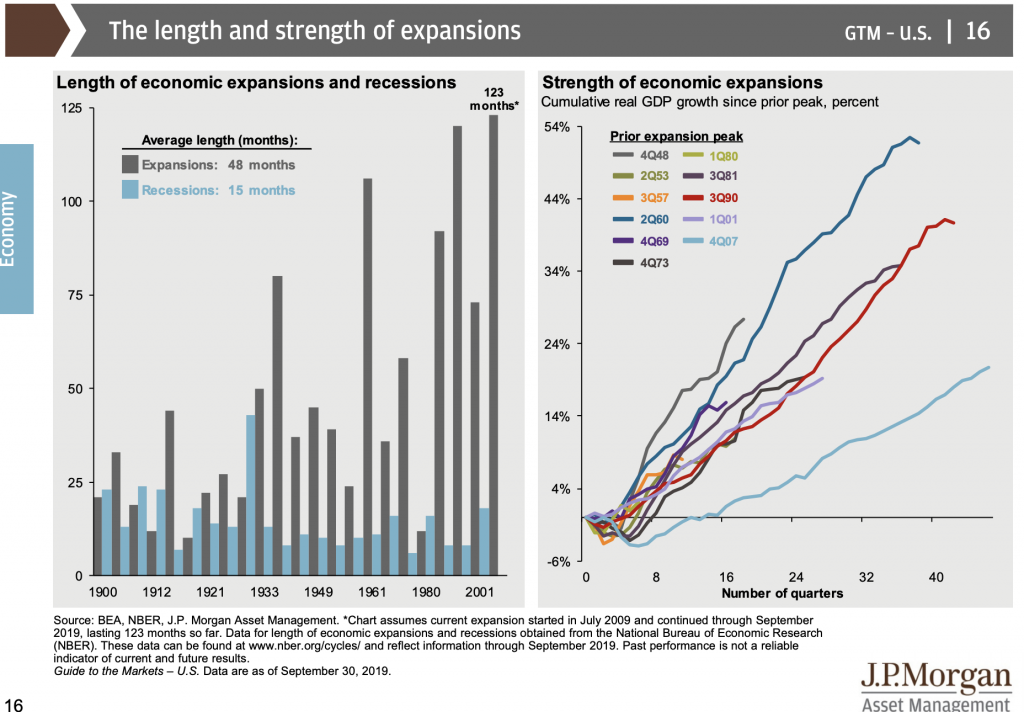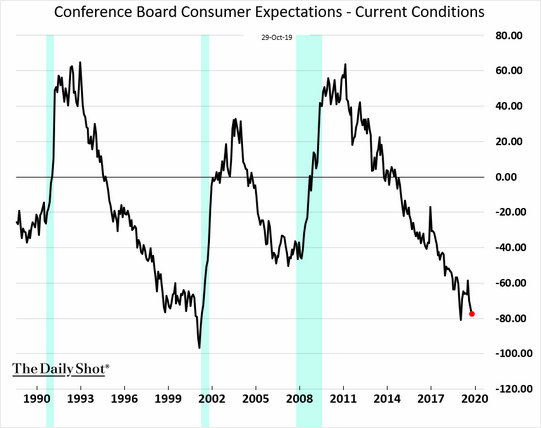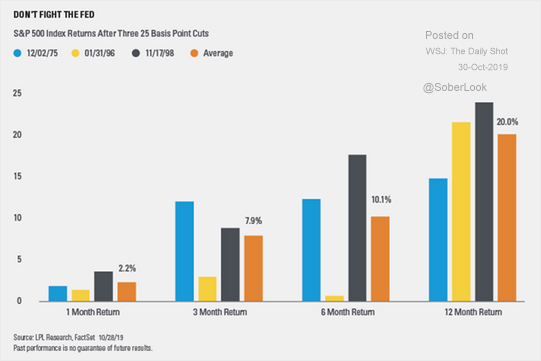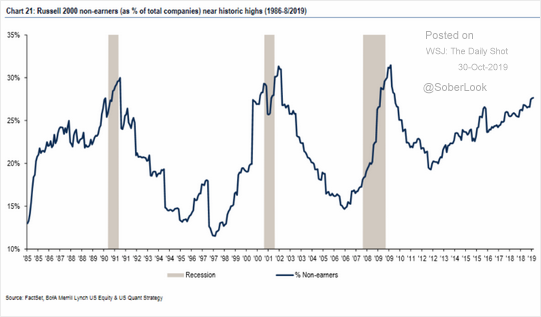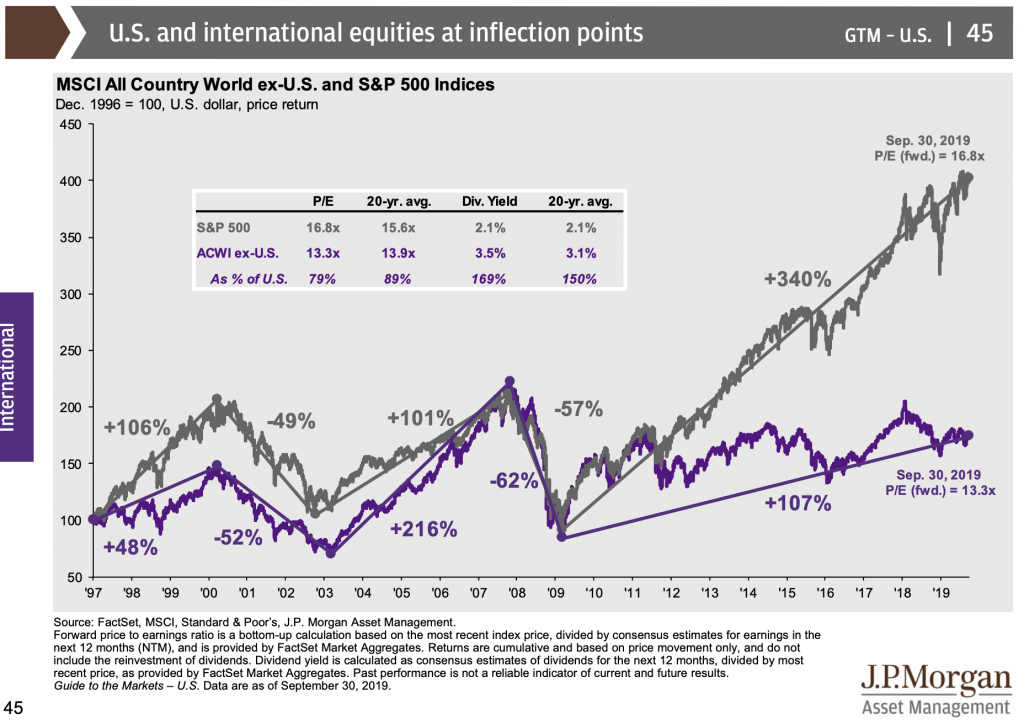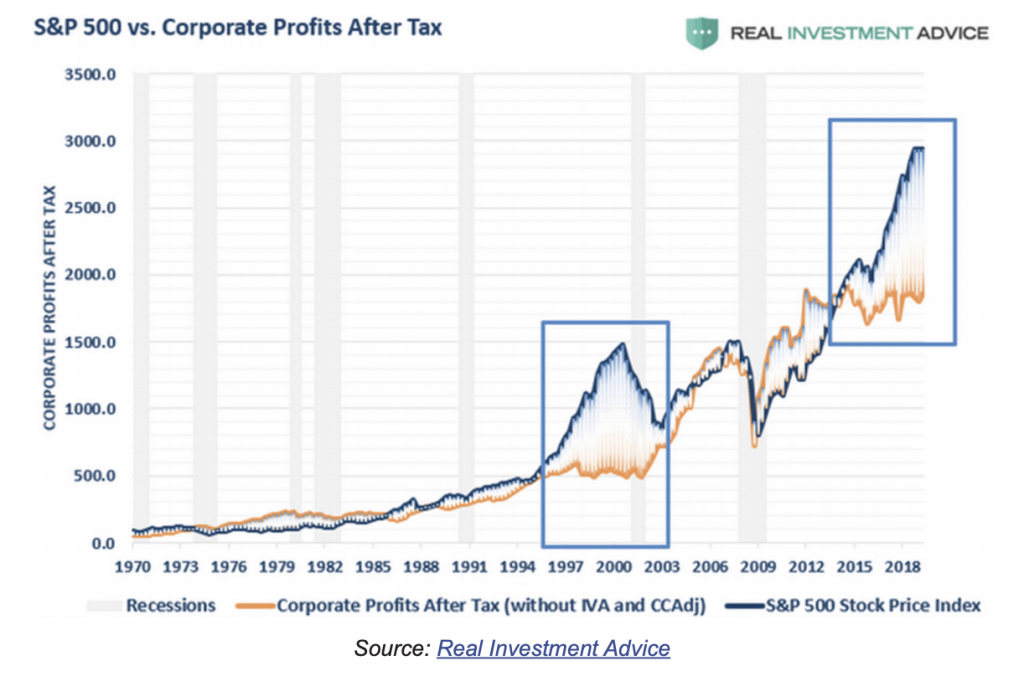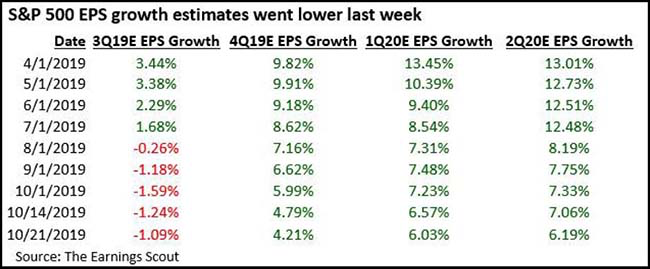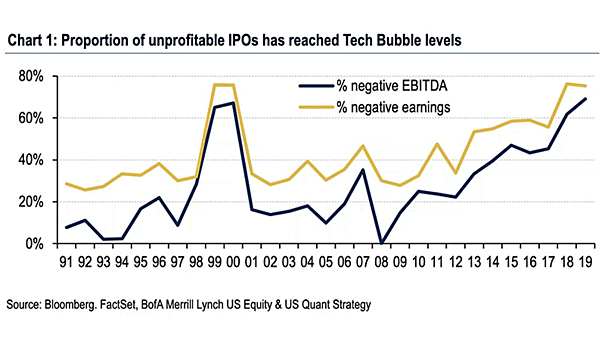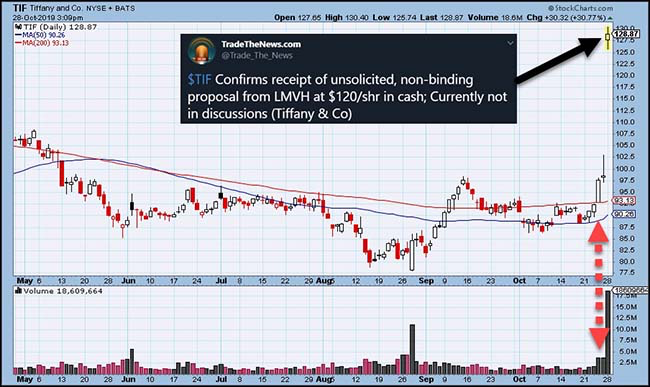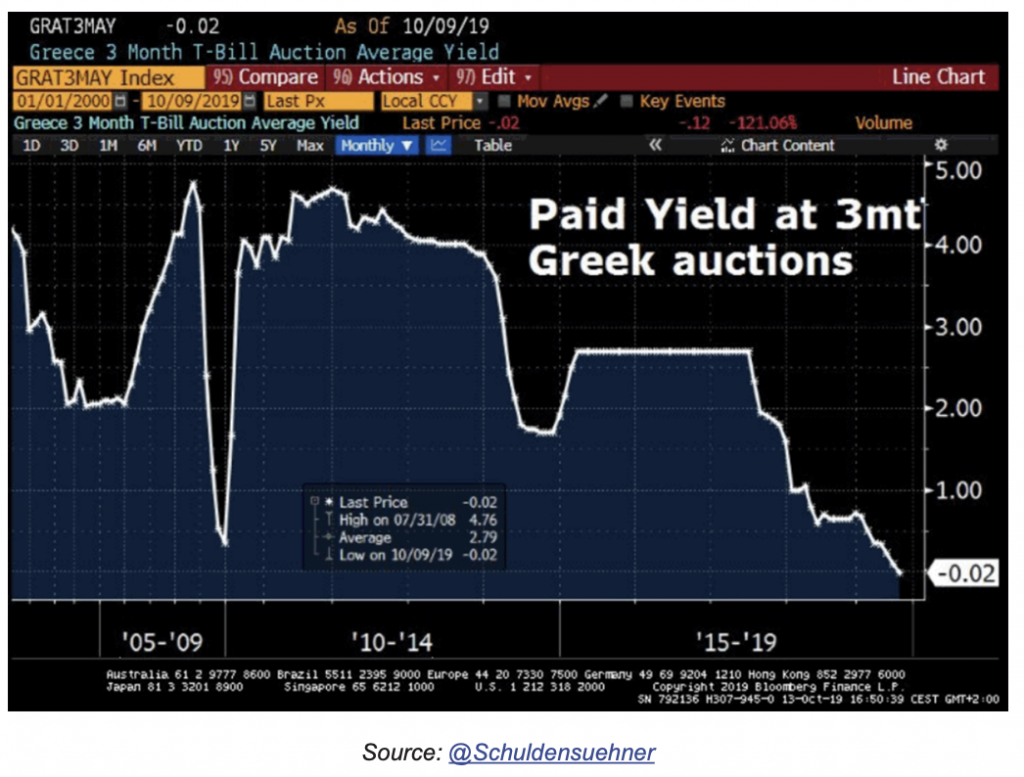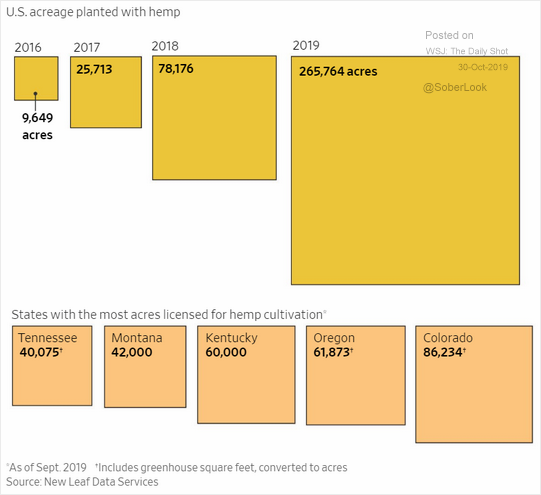 Below are a series of tweets worth reading over the month: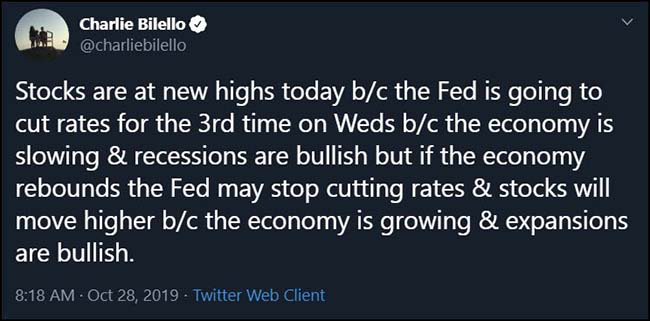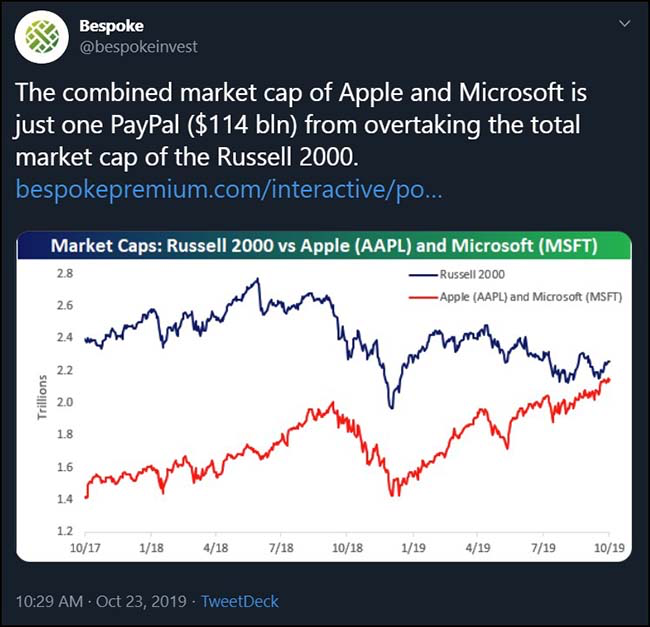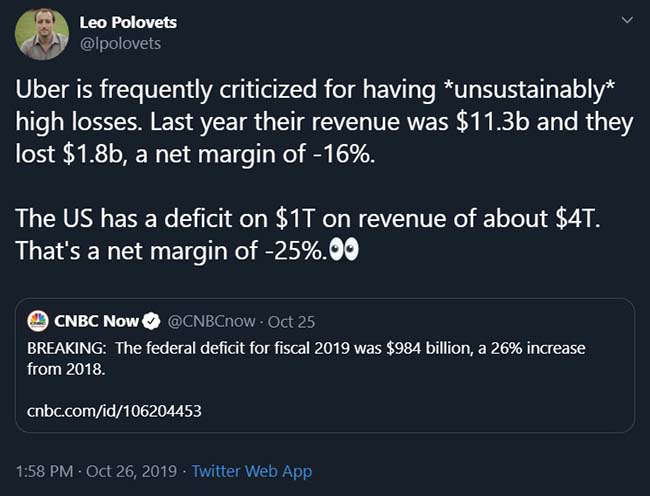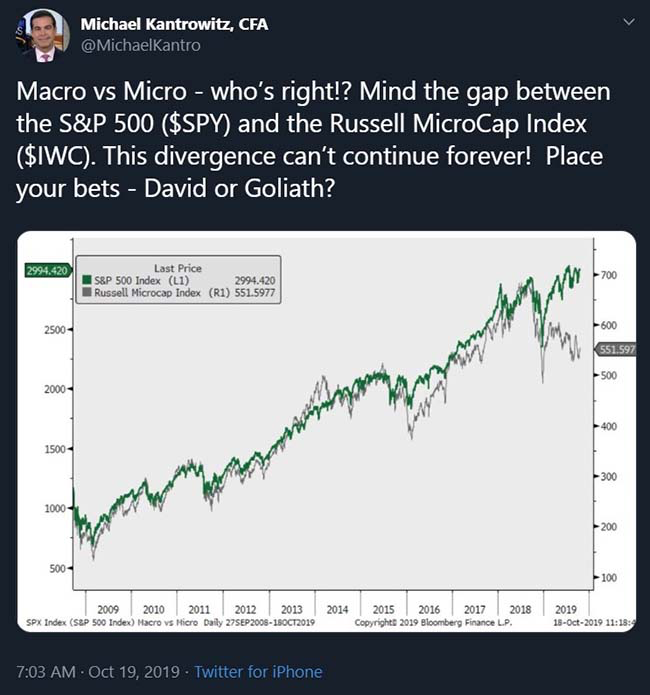 I hope you enjoyed this months financial markets update. If you have any questions please contact us directly. If you're interested in a topic that you'd like us to address, please email us so we can include them in future updates.
If you're interested in starting a dialogue and learning how we can help, please contact us.
Best Regards,
Jared Toren
CEO & Founder
Sources: Edges & Odds, WSJ Daily Shot, 361 Capital, Steve Blumenthal's On My Radar
Proper Wealth Management's ("Proper") blog is not an offering for any investment. It represents only the opinions of Jared Toren and Proper . Any views expressed are provided for information purposes only and should not be construed in any way as an offer, an endorsement, or inducement to invest. Jared Toren is the CEO of Proper, a Texas based Registered Investment Advisor. All material presented herein is believed to be reliable but we cannot attest to its accuracy. Opinions expressed in these reports may change without prior notice. Information contained herein is believed to be accurate, but cannot be guaranteed. This material is based on information that is considered to be reliable, but Proper and its related entities make this information available on an "as is" basis and make no warranties, express or implied regarding the accuracy or completeness of the information contained herein, for any particular purpose. Proper will not be liable to you or anyone else for any loss or injury resulting directly or indirectly from the use of the information contained in this newsletter caused in whole or in part by its negligence in compiling, interpreting, reporting or delivering the content in this newsletter. Opinions represented are not intended as an offer or solicitation with respect to the purchase or sale of any security or financial instrument, nor is it advice or a recommendation to enter into any transaction. The material contained herein is subject to change without notice. Statements in this material should not be considered investment advice. Employees and/or clients of Proper may have a position in the securities mentioned. This publication has been prepared without taking into account your objectives, financial situation or needs. Before acting on this information, you should consider its appropriateness having regard to your objectives, financial situation or needs. Proper Wealth Management is not responsible for any errors or omissions or for results obtained from the use of this information. Nothing contained in this material is intended to constitute legal, tax, securities, financial or investment advice, nor an opinion regarding the appropriateness of any investment. The general information contained in this material should not be acted upon without obtaining specific legal, tax or investment advice from a licensed professional.
Jared Toren is CEO and Founder at Proper Wealth Management. Proper was born out of frustration with the inherent conflicts of interest at big brokerage firms influencing advisors to sell products that were not suitable for clients but profitable to the firm along with a consistently mixed message of who's interest was supposed to be put first; the clients', the firms', shareholders or advisors. At Proper, our clients interests come first. We are compensated the same regardless of which investments we utilize so there's no incentive for us to sell high commission products. Since we focus on a small number of clients, we are able to truly tailor our advice to each person's unique circumstances.