Clients & Friends
Another quarter is behind us and with it has brought us Spring and more vaccine supply. As of the time of my writing this update, I am still not yet vaccinated and have had difficulty getting an appointment. I am thankfully booked in the coming days but we have to drive 3 hours away to get it. There's light at the end of the tunnel as it looks like 90% of the US will be vaccinated by the end of the summer which will lead to a lot of people coming out of hibernation en masse. I do wonder how many folks will feel comfortable if venues, restaurants and other gatherings go back to 100% capacity and do away with mask rules. Has this experience left us scarred?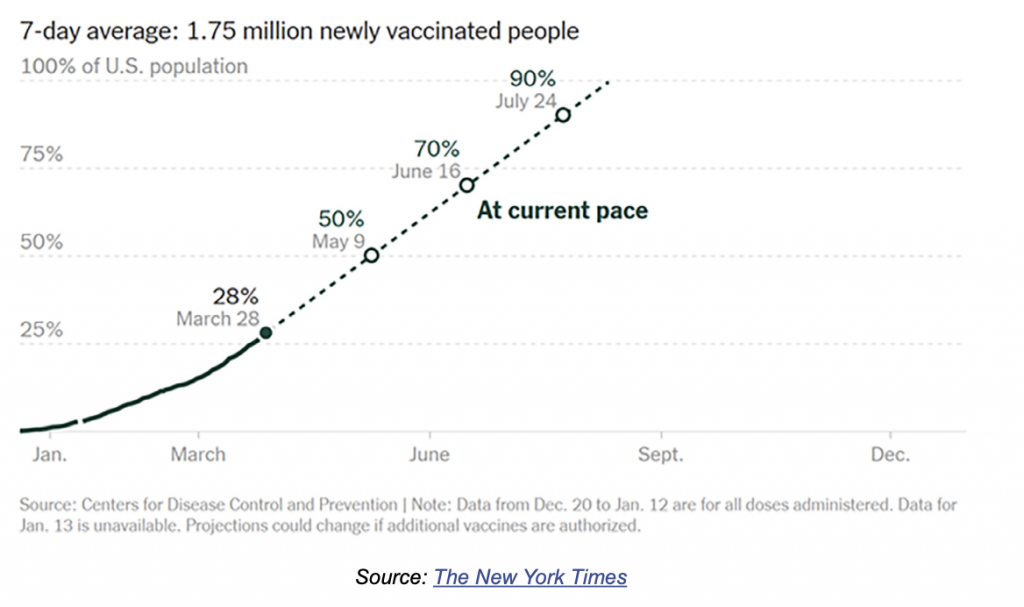 This quarter was volatile in some ways although it didn't truly make it's way into the broader market. Meaning, we saw pockets of volatility in various parts of the market and with some individual stocks but we didn't see broad based selling and volatility. The Gamestop (amongst others) surge, drop and surge again almost took down a multi-billion dollar hedge fund as retail traders rose up against "the establishment". Diamond and paper hands made its way into the mainstream vocabulary along with my personal favorite, tendies. More recently, a family office (Archegos) ran by a former hedge fund manager lost $8 Billion in a manner of days and inflicted losses at countless Wall Street firms, the extent of which is currently unknown. NFT's have been the flavor of the month as we saw Beeple sell a collage for $69MM, a record by far for a single NFT. NFT's are still very young and like crypto are going to be very volatile in my opinion. However, the factor I'd point to for the Gamestock and Archegos saga relates to leverage (and possibly the NFT boom). How else could hedge funds and other groups be short 130% of a stocks available shares for Gamestop. It's unclear how much leverage Archegos utilized but from initial accounts I am hearing 7x. The biggest question I ask myself is "are they (Archegos) the canary in the coal mine and the first shoe to drop or is this an anomaly?"
As I wrote to clients and friends last month, inflation has taken hold and is everywhere I look. Several months ago I wrote that the way the Fed measures inflation (Core PCE) dramatically underscores true inflation and that's certainly been the case. See the core PCE data below which shows everything is just fine.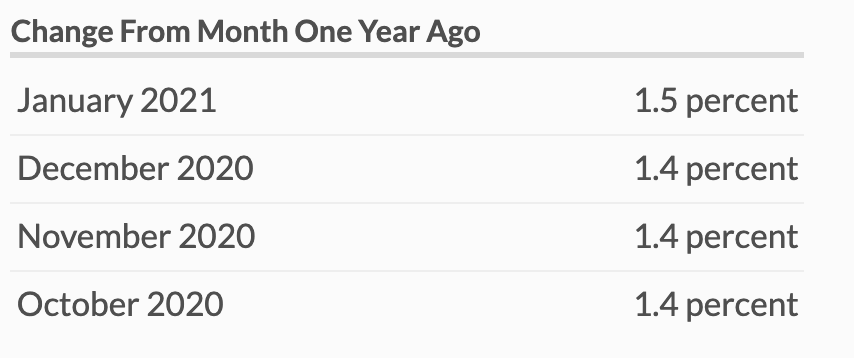 BUT…have you tried buying a house recently? I have and it was no picnic. We were dragging our feet into late Q4 and then all of a sudden prices hit escape velocity and seemed to surge 30% in a month. If you look into what's happening, the inventory of homes to purchase is incredibly low, especially here in Austin. In the past as prices rose, perhaps you'd sell your house and move to a bigger/nicer one. But now, there's so little inventory that people are not moving so the inventory levels are dropping rapidly. And here locally, people are moving to town at a frenzied pace from CA, NYC and other places with more restrictive COVID policies. We were lucky to have outbid 17 other people who put in offers within 2 days of the house going on the market. And I don't see this changing anytime in the near future. New supply would have to increase rapidly for it to absorb the current pace of demand.
The KB Homes CEO summed it up recently:
"As to overall market conditions, supply remains tight with existing home inventory down nearly 30% year-over-year. Resale home availability is sitting at record low levels, representing two-month supply and further below that level in many of our markets. This, combined with the underproduction of new homes over the last decade has resulted in supply being virtually nonexistent."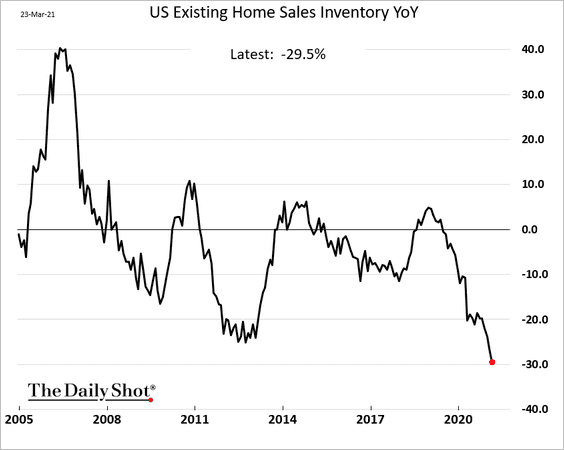 As inventories decline, prices have surged.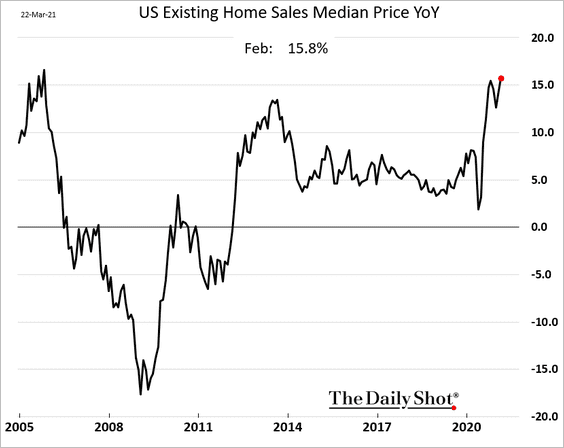 We all know what's happened in the stock market since COVID…it's gone up. I believe the reason this has happened is due to Fed intervention, fiscal initiatives and the significant increase in call option buying which causes dealers to delta hedge thus pushing up stock prices. We have 1 more stimulus round which is hitting folks bank account and a potentially large infrastructure bill coming, so expect the market to react favorably whenever that's announced. Alternatively, if this does not matriculate, we could see risk assets fall as they're expecting another boost,.
Stock market valuations are very extreme compared to historical levels and I've shown countless data points on this. As we've seen in the past, high starting valuations tend to lead to bad future returns.
Here's a great chart from Schwab on S&P index valuations which are still crazy high on almost every metric.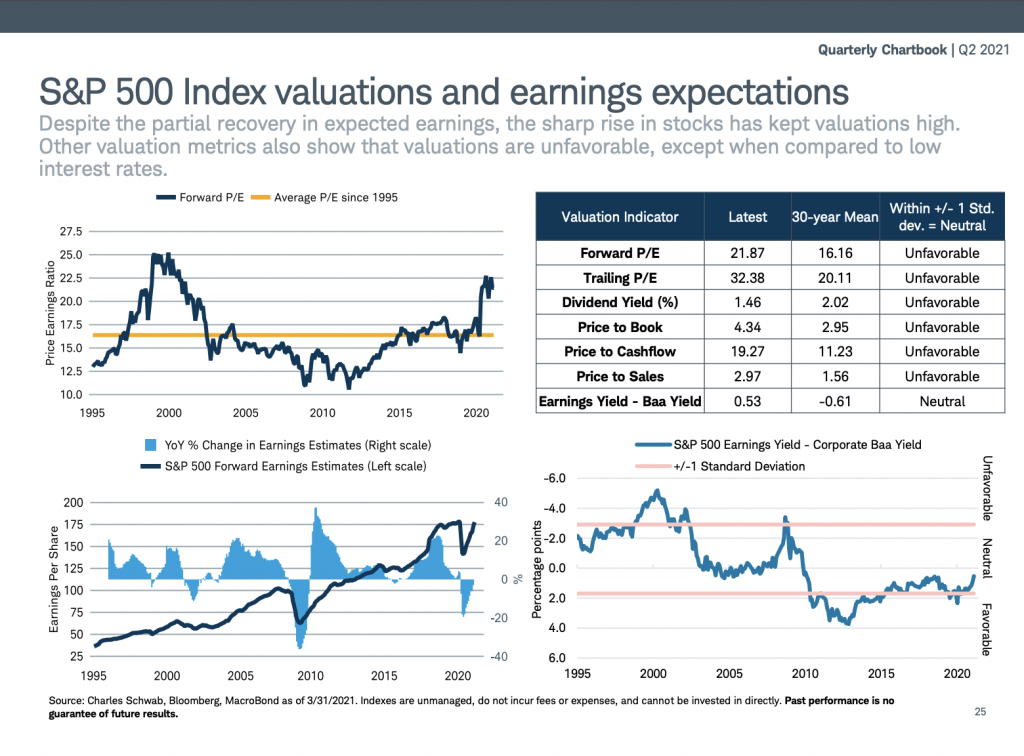 Crypto is on ?. Unless you've been purposefully not paying attention, Bitcoin and other crypto assets have exploded in value. DeFi and NFT's are the latest and greatest within the space and worth understanding. There's still vigorous debate happening every day as to whether this is a bubble or the next evolution in finance. And it's entirely possible it's both just as the internet brought a tech revolution and speculative excess.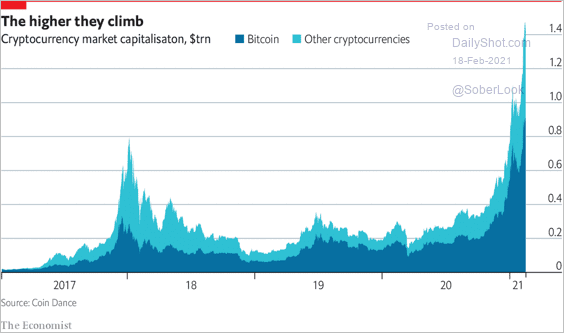 Commodity prices are rising fast with some calling it the beginning of a new commodity super cycle.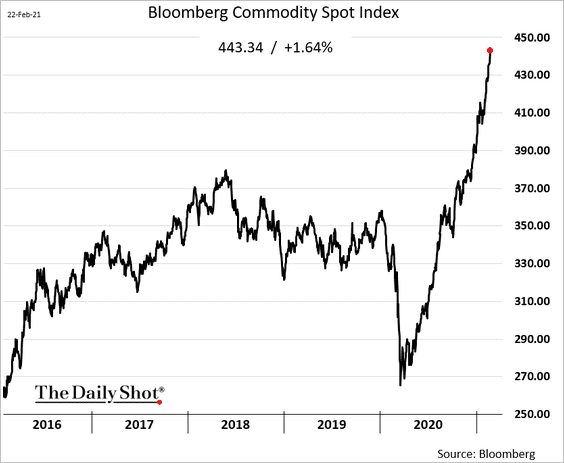 Food prices are also surging and are up 27% alone in the past 9 months.
And because of the rise in everything (the everything bubble?), long term interest rates are starting to break out here in the US and abroad. The market is not going to wait for the Fed to raise short term interest rates as we can clearly see. I believe this is the reason why we saw a recent pullback in the equities markets over the past few weeks as high valuations require low interest rates as justification.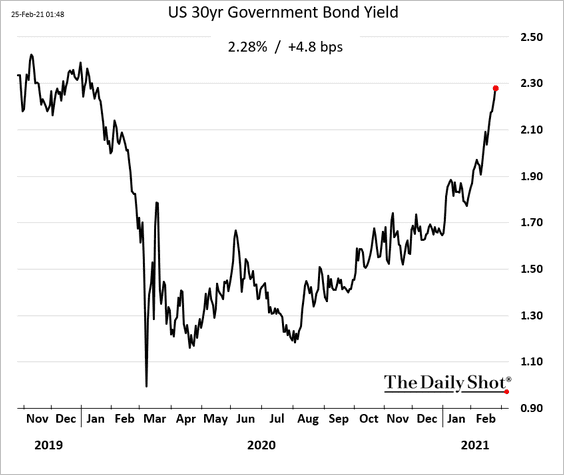 The consumer is back! Chase's card volumes are surging and consumers are spending more and more.
The Atlanta Fed is predicting 6% Q1 GDP growth (down from 9%+ due to the winter storms) which is huge considering this is quarter over quarter and includes holiday shopping consumption data.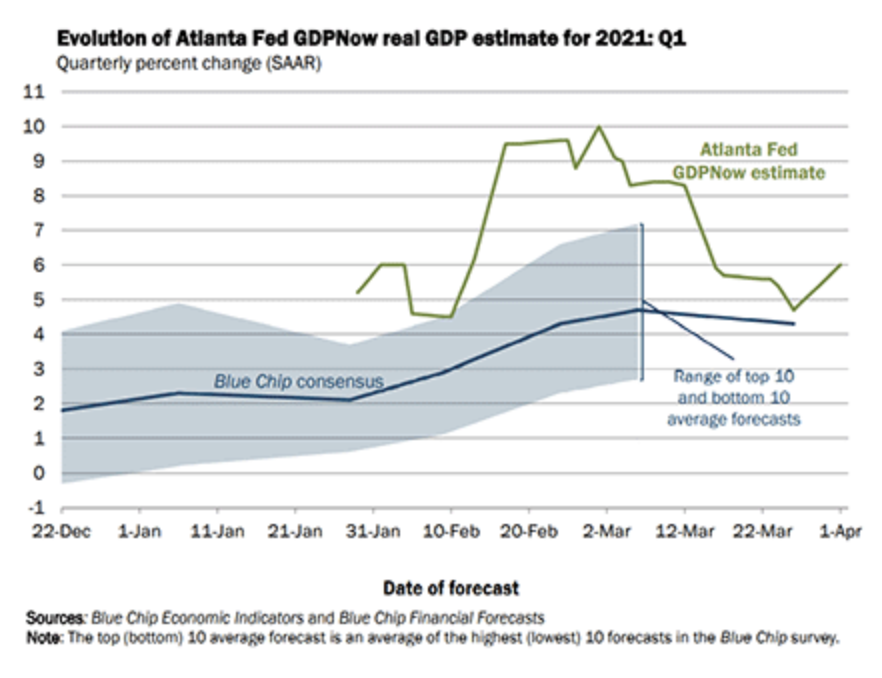 So what is the Fed going to do about this? Well, they switched from targeting 2% inflation to average inflation targeting which allows the Fed room to let inflation run hot (which appears to be the case today). For those that are not aware, the Fed has dual mandates which are 1. ensure price stability and 2. maximize employment. I believe that in this market environment these mandates are incongruent with one another. At some point, the Fed will have to channel the spirit of Paul Volker and raise interest rates to potentially painful levels. The longer they wait, the more painful this will be for everyone. Powell appears to be more of a lame duck Fed president so I don't believe he will do what's needed since it is unpopular and will be painful. And by waiting for employment to improve and allowing inflation to overshoot will eventually lead the Fed to raise rates and hurt employment. Seems like a catch 22 if you ask me and it's obvious which path they prefer…
I hope you enjoyed this quarters financial markets update. If you have any questions please contact us directly. If you're interested in a topic that you'd like us to address, please email us so we can include them in future updates.
If you're interested in starting a dialogue and learning how we can help, please contact us.
Best Regards,
Jared Toren
CEO & Founder
Sources: Edges & Odds, WSJ Daily Shot, 361 Capital, Steve Blumenthal's On My Radar
Proper Wealth Management's ("Proper") blog is not an offering for any investment. It represents only the opinions of Jared Toren and Proper . Any views expressed are provided for information purposes only and should not be construed in any way as an offer, an endorsement, or inducement to invest. Jared Toren is the CEO of Proper, and is a registered representative of Apollon Wealth Management, an SEC registered investment advisor. All material presented herein is believed to be reliable but we cannot attest to its accuracy. Opinions expressed in these reports may change without prior notice. Information contained herein is believed to be accurate, but cannot be guaranteed. This material is based on information that is considered to be reliable, but Proper and its related entities make this information available on an "as is" basis and make no warranties, express or implied regarding the accuracy or completeness of the information contained herein, for any particular purpose. Proper will not be liable to you or anyone else for any loss or injury resulting directly or indirectly from the use of the information contained in this newsletter caused in whole or in part by its negligence in compiling, interpreting, reporting or delivering the content in this newsletter. Opinions represented are not intended as an offer or solicitation with respect to the purchase or sale of any security or financial instrument, nor is it advice or a recommendation to enter into any transaction. The material contained herein is subject to change without notice. Statements in this material should not be considered investment advice. Employees and/or clients of Proper may have a position in the securities mentioned. This publication has been prepared without taking into account your objectives, financial situation or needs. Before acting on this information, you should consider its appropriateness having regard to your objectives, financial situation or needs. Proper Wealth Management is not responsible for any errors or omissions or for results obtained from the use of this information. Nothing contained in this material is intended to constitute legal, tax, securities, financial or investment advice, nor an opinion regarding the appropriateness of any investment. The general information contained in this material should not be acted upon without obtaining specific legal, tax or investment advice from a licensed professional.
Jared Toren is CEO and Founder at Proper Wealth Management. Proper was born out of frustration with the inherent conflicts of interest at big brokerage firms influencing advisors to sell products that were not suitable for clients but profitable to the firm along with a consistently mixed message of who's interest was supposed to be put first; the clients', the firms', shareholders or advisors. At Proper, our clients interests come first. We are compensated the same regardless of which investments we utilize so there's no incentive for us to sell high commission products. Since we focus on a small number of clients, we are able to truly tailor our advice to each person's unique circumstances.