Market Scorecard
Although stock and bond returns were fairly boring, a lot happened during the month of September.  Data continued to deteriorate, the Federal Reserve left rates unchanged (and lowered growth forecasts), OPEC agreed to a freeze in production (or did they), Japan is targeting a 0% 10 year bond yield and Deutsche Bank brought the Europe to a Lehman moment.
Beginning with the Fed, they left rates unchanged while speaking hawkishly after their decision.  They are projecting to the market that they're going to raise rates in December since the economy "feels" like it's getting better.  Only the unemployment appears to be doing what they want, although Japan's unemployment is at 3% and they aren't close to growth or inflation.  It's very single factor.  The Fed has been whipsawing the US Dollar which in turn has been making gold, bonds and stocks erratic.  Good economic data raises the possibility of a rate hike which causes stocks, bonds and commodities to fall and the US dollar to rally against the Yen, Euro and Pound.  As of late, the expectations has been rising for a December rate hike so these investments have not been fairing as well.
From the last Fed statement, "The Committee judges that the case for an increase in the federal funds rate has strengthened but decided, for the time being, to wait for further evidence of continued progress toward its objectives."  However, a look under the hood at the committee's "summary economic projections" shows us what they really think.
The Fed's dot plot was taken down at all durations into the future
2016: revised to +0.625% from 0.875%
2017: 1.125% from 1.625%
2018: 1.875% from 2.875%
The median forecast for the Fed Funds Rate in the "long run" was revised down to 2.875% from 3% prior
2016 GDP forecast: revised to +1.7%-1.9% from 1.9%-2.0% prior
2016 PCE Price Index: revised to +1.2-1.4% from +1.3-1.7% prio
It doesn't "feel" like things are getting much better.
On top of the Fed's projections, here are other data points released during the past 3 months:
TTM GDP, YoY:  Dec 15 = +2.6%, Current = +1.7%, chg = -0.90%
NFP Absolute, TTM:  Dec '15 = 230K/mo, Current = 200K/mo , chg = -30K
NFP growth, YoY:  Dec '15 = 1.95%, Current = 1.72%, chg = -0.23%
Labor Market Conditions Index (6-mo avg): Dec '15 = +2.2, Current = -1.5, chg = -3.7 pts
Aggregate Income Growth, YoY: Dec '15 = +5.8%, Current = +4.3%, chg = -1.5%
Consumer Credit Growth, YoY TTM: Dec '15 = 7%, Current = 6.5%, chg = -0.5%
Pending Home Sales, YoY TTM:  Dec '15 = +7.6%, Current = +2.4%, chg = -5.2%
Housing Starts: Dec '15 = 1160K, Current = 1142K, chg = -1.6%
Auto Sales: Dec '15 = 17.4M, Current = 16.9M, chg = -3%
ISM Services: Dec '15 = 55.8, Current = 51.4, chg = -4.4 pts
ISM Mfg: Dec '15 = 48, Current = 49.4, chg = +1.4 pts
SPX Margins: Dec '15 = 12.25%, Current = 11.9%, chg = -0.35%
Capex Orders: Dec '15 = 2 consecutive months of negative YoY growth, Current = 9 consecutive months of negative YoY growth with negative growth in 18 of the last 19 months
Industrial Production: Dec '15 = 4 consecutive months of negative YoY growth, Current = 12 consecutive months of negative YoY growth
Productivity Growth, YoY: Dec '15 = +0.4%, Current = -0.4% and in the midst of the worst streak of productivity growth in 4 decades.
Here are a few charts from the month: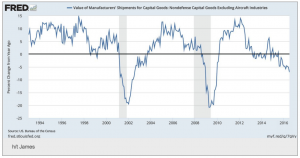 The value of manufacturers shipments has been falling and is now severely negative.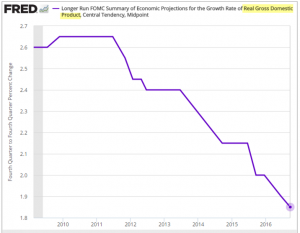 The FOMC projections for growth has been falling steadily each year since the financial crisis of 2008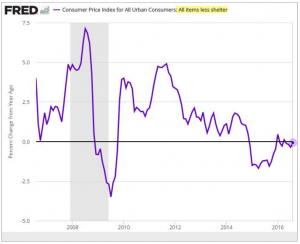 Headline inflation has been running close to the Fed's target.  But when you strip out shelter, we are slightly deflationary.  If you then strip out healthcare costs, we are severely negative.  We are seeing inflation in the wrong places.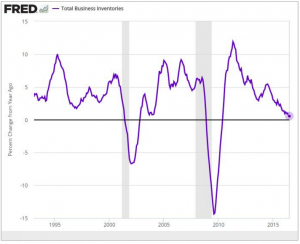 Business inventories has been steadily declining since 2011 and may go negative very soon.
OPEC
For the first time in a long time, OPEC announced cuts to their production quotas.  Keep in mind, this agreement has not yet been finalized.  Saudi Arabia needs this more than others since they are burning cash.  Saudi Arabia has unveiled pay cuts for government employees for the first time, as it attempts to further rein in spending at a time of low oil prices.  A royal decree said ministers' salaries would be reduced by 20%, and housing and car allowances for members of the advisory Shura Council cut by 15%.  Lower-ranking civil servants will see wage increases suspended, and overtime payments and annual leave capped.  About two-thirds of working Saudis are employed in the public sector.  Their salaries and allowances accounted for 45% of government spending in 2015, or $128bn (£99bn), and contributed to a record budget deficit of $98bn.
There's still a lot of details to iron out before the November 30th meeting.
JAPAN
Japan is now going to peg the 10 year bond at zero or will do their best to do so.  Their goal is to steepen the yield curve so longer dated bonds yield more than shorter dated bonds.  They are effectively attempting to turn that bond into a cash equivalent.  If will make more sense to own the 10 year bond (the new cash standard) since shorter term bonds are negatively yielding.  The unintended consequence of doing this is you may see a completely flat curve (instead of a steep one).  You can see an environment where buyers of bonds will have no choice but to buy 20,30 and 40 year bonds to earn a positive yield thereby pushing down yields across the term structure.  This will of course flatten the curve and the BOJ will never get the steepening they were hoping for.
DEUTSCHE BANK
Its share price fell to an all-time low this week amid concerns that the bank may lack the capital to service litigation costs and meet stricter regulatory standards.  Keep in mind that at the time the DOJ fine was announced at $12 Billion, DB's market cap was only $15 Billion.  It has the weakest balance sheet of the major financial institutions as seen in the chart below and the cost of insuring against a default has increased dramatically.  DB is a problem and it hasn't gone away just yet and expect to continue to get more shocks as a result.  They are heavily intertwined with the global financial system and a default could be worse than Lehman Brothers.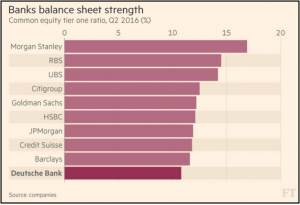 Best Regards,
Jared Toren
CEO & Founder
Proper Wealth Management's ("Proper") blog is not an offering for any investment. It represents only the opinions of Jared Toren and Proper . Any views expressed are provided for information purposes only and should not be construed in any way as an offer, an endorsement, or inducement to invest. Jared Toren is the CEO of Proper, a Texas based Registered Investment Advisor.   All material presented herein is believed to be reliable but we cannot attest to its accuracy. Opinions expressed in these reports may change without prior notice. Information contained herein is believed to be accurate, but cannot be guaranteed. This material is based on information that is considered to be reliable, but Proper and its related entities make this information available on an "as is" basis and make no warranties, express or implied regarding the accuracy or completeness of the information contained herein, for any particular purpose. Proper will not be liable to you or anyone else for any loss or injury resulting directly or indirectly from the use of the information contained in this newsletter caused in whole or in part by its negligence in compiling, interpreting, reporting or delivering the content in this newsletter.  Opinions represented are not intended as an offer or solicitation with respect to the purchase or sale of any security or financial instrument, nor is it advice or a recommendation to enter into any transaction. The material contained herein is subject to change without notice. Statements in this material should not be considered investment advice. Employees and/or clients of Proper may have a position in the securities mentioned. This publication has been prepared without taking into account your objectives, financial situation or needs. Before acting on this information, you should consider its appropriateness having regard to your objectives, financial situation or needs. Proper Wealth Management is not responsible for any errors or omissions or for results obtained from the use of this information. Nothing contained in this material is intended to constitute legal, tax, securities, financial or investment advice, nor an opinion regarding the appropriateness of any investment. The general information contained in this material should not be acted upon without obtaining specific legal, tax or investment advice from a licensed professional.
Jared Toren is CEO and Founder at Proper Wealth Management. Proper was born out of frustration with the inherent conflicts of interest at big brokerage firms influencing advisors to sell products that were not suitable for clients but profitable to the firm along with a consistently mixed message of who's interest was supposed to be put first; the clients', the firms', shareholders or advisors.
At Proper, our clients interests come first. We are compensated the same regardless of which investments we utilize so there's no incentive for us to sell high commission products. Since we focus on a small number of clients, we are able to truly tailor our advice to each person's unique circumstances.