Market Scorecard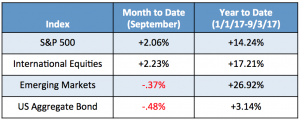 Figures provided above are estimate and for illustration purposes only
Monthly Commentary
Before we begin, let me start off by sending my thoughts and prayers to everyone affected by the attack in Las Vegas, the hurricane in Puerto Rico and earthquakes in Mexico.  This is the 3rd time out of the my last 4 monthly updates that I've sent my thoughts and prayers (Hurricane Harvey, London attack victims) to victims of attacks and weather related disasters.  Is this the new normal?  Between natural disasters, horrible attacks and the potential for war with North Korea, it certainly feels like volatile times.  It's odd that the measure of stock market volatility (the VIX index) doesn't seem to be budging at all and the markets keep going higher.  There appear to be a level of complacency that's setting in in the markets and society.  Are disaster becoming societal norms?  I certainly hope not.
The US and international developed markets continued higher with both registering over 2% gains for September.  Emerging markets, which are up over 20% YTD took a pause along with most bonds.  Yields increased globally and in the US when Yellen suggested they'll  starting trimming their  bond buying via reinvestment starting in October and that another rate increase before year end is likely.  She indicated that she doesn't want to wait and prefers to act, which I strongly disagree with.  Bets for a 3rd interest rate increase rose rapidly following her remarks as you can see from the chart below.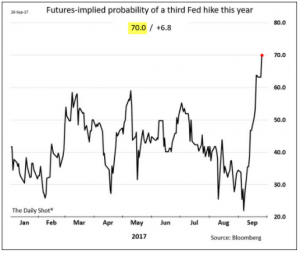 Here is an excerpt from a recent Steve Blumenthal update:
The US Federal Reserve and fellow central banks can be forgiven for telling us a white lie: nothing would be gained from admitting that they do not know how to extricate the world safely from their extreme monetary experiment.  Fed chair Janet Yellen has finally pulled one major trigger after countless retreats. The long-awaited reversal of quantitative easing will kick off in October.  Deutsche Bank calls it the start of the 'Great Central Bank Unwind,' candidate 'Number One' for the world's next financial crisis.  The puzzle is why the Yellen Fed – usually so cautious – has chosen to enter these treacherous waters when there is no strict need to do so and before it has raised interest rates to minimum safe levels. This tightening sequence makes no sense.
President Trump has unveiled a tax plan to decrease the number of tax brackets to 3, decrease taxes for corporations and flow through entities such as S Corps and LLCs, remove the death tax and several other points.  It's unclear at this stage what will pass since it appears to increase the budget deficit when it's already high and growing.  According to a recent Bloomberg article, the tax cuts appear to be in the hands of a few GOP Senators (The Fate of Trump's Tax Cut Is in the Hands of These Six Key GOP Senators)
According to Larry Summer's blog, logic points to a larger government in the future and tax cuts at this time would aggrevate the problem.  His points are:
First, the population is ageing and the federal government disproportionately takes responsibility for the aged.
Second, inequality has increased substantially. If one of the functions of the federal government is ameliorate inequality, it will experience pressure to expand to even partially offset rising inequality.
Third, the relative price of what the government buys has soared (…) with health and education costs rising faster than GDP.
Fourth, presumably our defence spending needs to be calibrated to some extent to the defence spending of our potential adversaries.
Bridgewater, the world's largest hedge fund, thinks raising rates is not a good policy move.  Bob Prince, Co-CIO, goes on to state:
"There is not nearly enough inflation and overheating risk to make concerns about inflation and overheating of paramount importance."
"Risks are asymmetric on the downside (i.e., it's tougher to reverse an economic and market decline with an easing than it is to reverse an economic or market acceleration with a tightening because of the proximity of interest rates to 0% and because easing with QE is now less effective.)"
"Tightening at rates that are faster than are built into the yield curve is likely to trigger negative wealth effects because the effective durations of assets are now very long."
"Economic sensitivities to interest rate changes are greater than normal because the level of global indebtedness and non-debt obligations (especially pensions and healthcare) in dollars and other currencies is high …"
"A downturn in the economy would be intolerable to those with lower incomes and wealth, and would make social and political tensions dangerous."
Source:  https://finance.yahoo.com/news/worlds-largest-hedge-fund-told-164654161.html
My 2 Cents:
During a client meeting, they asked if I could add a personal spin to news/events and markets.   I cannot make specific recommendations to everyone without a deeper understanding of their unique circumstances, but will attempt to provide some high level thoughts.  My indicators for stocks are still showing buy signals, although you need to be nimble and imperative to have a risk management process.  Our main strategy for clients is called DMAPS (Dynamic Moving Average Portfolio Strategy) and uses certain indicators to determine what we should own or not own.  Currently, those indicators are saying to be fully invested in the 7 asset classes it tracks (S&P 500, Large Value, Mid Value, International, Emerging Markets, Gold and REITS).  Regarding bonds, owning long term treasury bonds comes with high risk if interest rates rise.  If the 30 year bond yield increases 1%, prices will drop around 18%.  If they currently yield 3%, it would take 6 years worth of coupons to break-even.  Not a great risk/reward in my opinion.  I still like municipal bonds for high income earners since there are still bonds available with a 3.75-4% tax free yield (5.75%-6.5% taxable equivalent yield).  Alternative investments seem to be grabbing a larger share of client portfolios, particularly private debt, distressed debt, hedge funds and real estate.  Private equity from top tier sponsors should do well, but prices are high and they've raised record amounts of money.  I wouldn't be allocating a lot of buyout/growth PE firms due to this.  Instead, I think it makes sense to focus on certain niches which aren't overly exploited.  Overall, the economy is in the late stages of the business cycle and I don't believe it's prudent to be taking an usual amount of risk.  I've included some charts towards the bottom which illustrates this point.  Stay careful my friends.

The above chart shows the impact to a variety of fixed income securities from a 1% increase in interest rates.  As you can see, 30 year UST is the hardest hit.

Equally important is the duration when looking at bond investments.  The higher the duration, the larger the price swings from movements in interest rates.  The barclays US aggregate bond index is one of the most widely followed and benchmarked bond indices and the duration has been increasing steadily leaving investors running for cover if interest rates jump.
Noteworthy Research
 This was sent to me by a client and is worth the time, even though its a long video.  Tony Seba, explains how quickly we're going to see disruption via clean energy and how it will impact us
Charts, Charts & More Charts
These charts are rapid fire and in no particular order.
the chart below is blurry.  click on it to open into a new window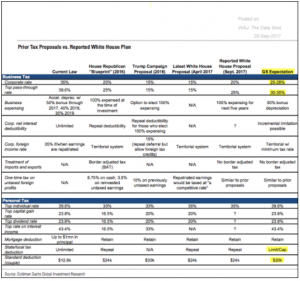 It might be hard to read, but this Goldman chart shows the breakdown of proposals including the most recent one as well as their expectations for what will get passed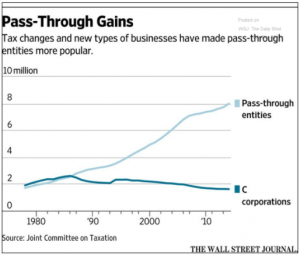 Since the early 80's, pass through entities such as LLC's and S Corps have increased while C Corps have been in a slow decline.  This is most likely due to the fact that C Corps are double taxed while pass through entities have only one layer of  taxation.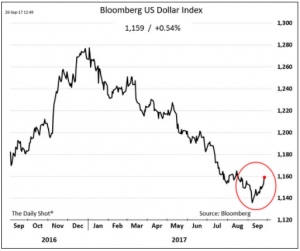 With the potential for another interest rate increase by the Fed this year and several more next  year, the US Dollar caught a bid after being on the decline for entire 2017.  A complete pause by the ECB bond buying program could halt the rally.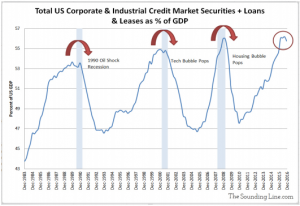 It's a single factor, but looking at total loans would give you cause for concern.  Again, it's single factor and need to take a lot of other economic data points to say the economy is about to rollover.  Something to keep your eye on though.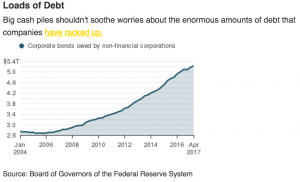 It shouldn't be a surprise that US corporations have accumulated a lot of low interest rate debt over the past 5 years.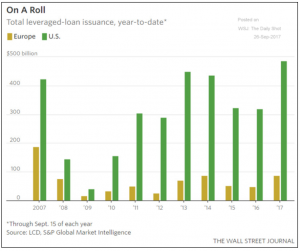 A lot of debt is in the leverage loan market which looks to issue a record amount of loans this year.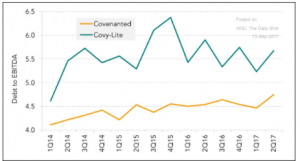 Debt to EBITDA ratios for leverage loans have creeped slightly higher.  Covy-Lite seems to be in a range.  It's interesting to see that loans with stronger covenants are starting to see their leverage ratio break out and head towards 5x.  I've touched upon this in prior updates but it's important to keep a close watch on this.
Again, Moody's covenant quality index (CQI) is almost at it's lowest levels.  Lots of money chasing the same deals leads to lower interest rates and weaker covenants.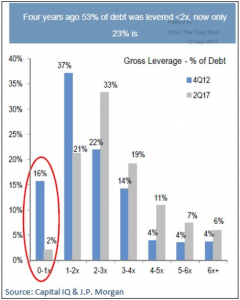 Leverage ratios are climbing with US companies.  Not many companies are levered less than 2x and we've seen a large increase in the leverage ratios.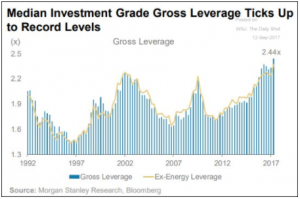 Another chart which shows the same thing in a different way.  Leverage ratios are going up and it doesn't usually end well.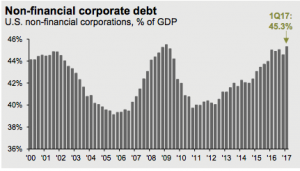 Again, same thing said another way.  Debt is going up and up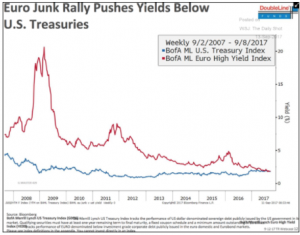 Why would you invest in a European junk bond when you could own a 10 year UST bond?  That seems to be the question for anyone looking to buy junk bonds in Europe.  I guess 2% is better than negative yields, but the snap back is going to be ugly and cut many people.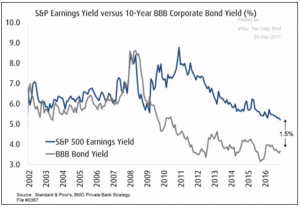 Some market pundits point to the S&P earnings yield as a reason for why you should own more stocks than bonds.  It's very single factor and I believe an investor needs to look at a variety of data points before anointing an asset class cheap vs. another.  Whether stocks or bonds, none appear to be cheap at this point and why having a risk management process is critical (as we do!).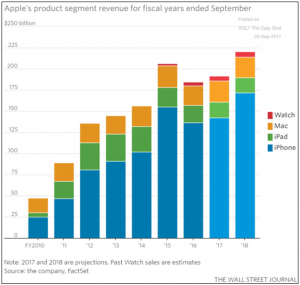 The largest company in the world seems very tethered to their iPhone sales.  A weakness in sales of new phones would hit Apple very hard.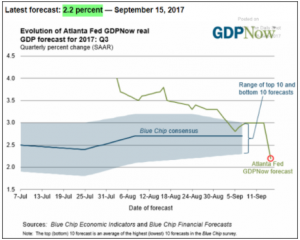 The Atlanta Fed is forecasting 2.2% growth for Q3 GDP.  Another reason the Fed may be ahead of themselves in raising rates.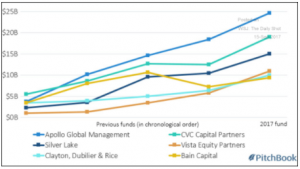 Successful private equity managers have been raising the size of their funds in recent years.  Not surprising that valuations have been steadily increasing and a sign they'll  continue to as well.  It's why I'm avoiding most buyout private equity and focusing on particular niches which weather downturns reasonably well.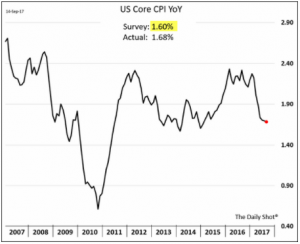 The Fed is waiting for core CPI to hit the 2% target they sent several years ago.  We may see headline CPI increase as Harvey disrupted energy markets and gasoline prices increased.  Food prices may see a dip since Whole Foods was acquired by Amazon and dropped prices at stores.  It hasn't made its way to my receipts since I still spend way too much when shopping at their locations.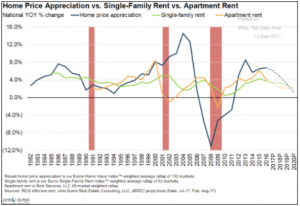 While headline CPI may see a bump as noted above, core CPI maybe under pressure over the coming quarters as rents come down.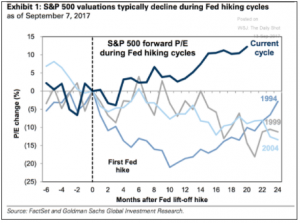 Again, it's single factor, but the S&P 500 forward P/E ratio appears elevated compared to other tightening cycles.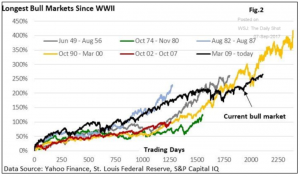 We're approaching the second longest bull market in history which some believe started in 2009.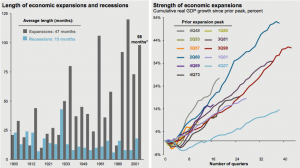 We're also approaching the 2nd longest expansion as measured by GDP, although it's the worth ever from a growth perspective.  We're still looking for that elusive 3-4% growth that we typically see following a recession.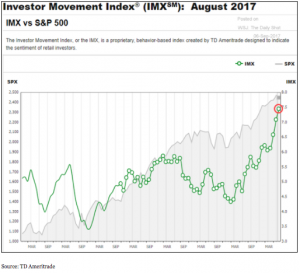 Retail investors seem to have bad timing, especially if you look at TD Ameritrade's investor momentum index (IMX).  Retail investors appear to be heavily invested in stocks currently and imagine most is via passive funds.
I hope you enjoyed this months financial markets update.  If you have any questions please contact us directly.  If you're interested in a topic that you'd like us to address, please email us so we can include them in future updates.
If you're interested in starting a dialogue and learning how we can help, please click the link below to book a call or meeting with us.
BOOK A MEETING OR CALL WITH ME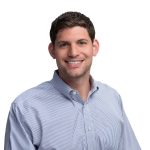 Best Regards,
Jared Toren
CEO & Founder
Proper Wealth Management's ("Proper") blog is not an offering for any investment. It represents only the opinions of Jared Toren and Proper . Any views expressed are provided for information purposes only and should not be construed in any way as an offer, an endorsement, or inducement to invest. Jared Toren is the CEO of Proper, a Texas based Registered Investment Advisor.   All material presented herein is believed to be reliable but we cannot attest to its accuracy. Opinions expressed in these reports may change without prior notice. Information contained herein is believed to be accurate, but cannot be guaranteed. This material is based on information that is considered to be reliable, but Proper and its related entities make this information available on an "as is" basis and make no warranties, express or implied regarding the accuracy or completeness of the information contained herein, for any particular purpose. Proper will not be liable to you or anyone else for any loss or injury resulting directly or indirectly from the use of the information contained in this newsletter caused in whole or in part by its negligence in compiling, interpreting, reporting or delivering the content in this newsletter.  Opinions represented are not intended as an offer or solicitation with respect to the purchase or sale of any security or financial instrument, nor is it advice or a recommendation to enter into any transaction. The material contained herein is subject to change without notice. Statements in this material should not be considered investment advice. Employees and/or clients of Proper may have a position in the securities mentioned. This publication has been prepared without taking into account your objectives, financial situation or needs. Before acting on this information, you should consider its appropriateness having regard to your objectives, financial situation or needs. Proper Wealth Management is not responsible for any errors or omissions or for results obtained from the use of this information. Nothing contained in this material is intended to constitute legal, tax, securities, financial or investment advice, nor an opinion regarding the appropriateness of any investment. The general information contained in this material should not be acted upon without obtaining specific legal, tax or investment advice from a licensed professional.
Jared Toren is CEO and Founder at Proper Wealth Management. Proper was born out of frustration with the inherent conflicts of interest at big brokerage firms influencing advisors to sell products that were not suitable for clients but profitable to the firm along with a consistently mixed message of who's interest was supposed to be put first; the clients', the firms', shareholders or advisors.
At Proper, our clients interests come first. We are compensated the same regardless of which investments we utilize so there's no incentive for us to sell high commission products. Since we focus on a small number of clients, we are able to truly tailor our advice to each person's unique circumstances.