Monthly Recap
It was a very busy month, although it was overshadowed with sexual assault claims and hearing on Judge Kavanaugh and whether or not he should serve a lifetime appointment on the Supreme Court. To recap, here are just some of the noteworthy events and stories from September:
The Federal reserve raised interest rates to between 2 – 2.25% and is expected to raise them again when they meet in December.
Although, Fed President Bullard thinks the Fed shouldn't raise rates right now.
Meanwhile, Turkey rises interest rates to 24% in a dramatic bid to control rocketing inflation and prevent a currency crisis.
Goodbye, NAFTA. Hello, 'USMCA.' The deal has a new name, new rules for cars and trucks, and labor and IP protections:
After more than a year of intense negotiations, the United States, Canada and Mexico reached an agreement to update the North American Free Trade Agreement, the 1994 pact that governs more than $1.2 trillion worth of trade among the three nations.
The new deal won't go into effect right away. Most of the key provisions don't start until 2020 because leaders from the three countries have to sign it and then Congress and the legislatures in Canada and Mexico have to approve it, a process that is expected to take months.
Elon Musk is sued by the SEC and then settles with them
after tweeting recently that he secured funding to take Tesla private, Elon Musk was sued by the SEC and subsequently settled a short period thereafter.  A few days later, he was mocking the SEC and railed against short selling claiming it should be illegal.  Not sure what's going on with Elon, but sure does make you question his behavior.  The Ambien defense only works for so long.
 Bytedance Ltd., a news aggregation app powered by artificial intelligence, is on its way to a more than $75 billion valuation — a price tag that surpasses Uber Technologies Inc. to top the world, according to CB Insights.
General Electric replaces CEO Flannery after only 14 months on the job.
When a $100 billion company in crisis fires a CEO who's been on the job for just over a year, investors are sure to have lots of questions. General Electric Co. isn't giving many answers though. The industrial giant dropped a shocking press release announcing that Chief Executive Officer John Flannery was being replaced by board member Larry Culp. And oh, profit this year will miss forecasts. After that, nothing. No press conference or briefing to give the new boss a chance to lay out his vision to analysts. No television interviews.
Judge Brett Kavanaugh survived 3 separate claims of sexual assault including a very emotionally charged hearing to be nominated to the Supreme Court
Amazon raises minimum wage in U.S., U.K. to $15/hour
10 US treasury bond yields increase during the month from approx. 2.85% to 3.07%.  Since October started though, yields hit a high of 3.25% which is the highest level in 7 years.
The only thing I know is that their predictions are not going to be correct.  This is arguably one of the most difficult things to predict so take these predictions (and anyones like it) with a grain of salt.
My 2 Cents
Recently, Howard Marks (cofounder at Oaktree Capital), was a guest on a Tim Ferriss podcast and discussed a wide range of topics.  Oaktree Capital Management is a leading global alternative investment management firm with expertise in credit strategies which manages over $120 Billion.  While Oaktree specializes in in debt/credit, they completely missed subprime and what was happening in that corner of the market.  As you listen, he does state that they knew things weren't making sense though and that it was not a time for risk taking.  This is what makes them a great manager.
I am reading a lot of predictions about when the next recession will occur and what will cause it (see list below).  The take away from all of this is it's almost impossible to predict what will cause the next recession and downturn and when.  What I do know is we are late in the business cycle and in what most (including myself) believe to be a low return environment where you don't want to take more risk than "makes sense".  As I preach often, risk management is key at this stage.  Have a process and stick to it!
"History doesn't repeat itself but it often rhymes"
-Mark Twain
Recent recession predictions:
Charts & Commentary
(In no particular order)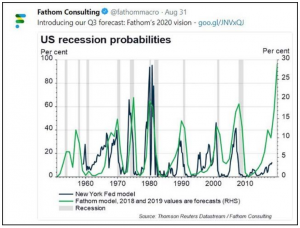 Another recession prediction by Fathom Consulting which shows the likelihood of a recession is growing.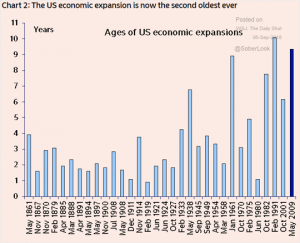 The recession predictions shouldn't come at a huge surprise since we're approaching the longest expansion on record.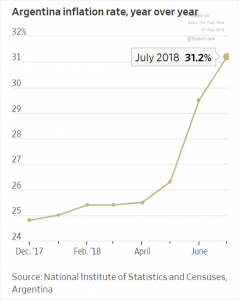 Inflation is running away in Argentina and no surprise the currency has been falling this year.  Inflation hit over 30% last month.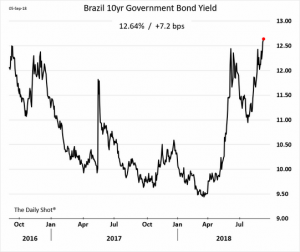 As emerging market currencies continue to fall, so do their bonds yields.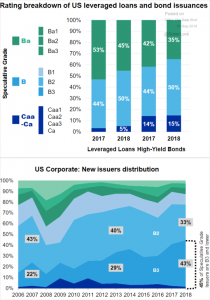 Bond quality is deteriorating in the US bond and leveraged loan market.  Possible canary in the coal mine and not to be ignored.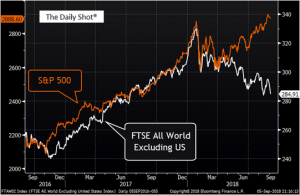 The S&P 500 and international stocks are diverging as the prospects in the US are shining brighter.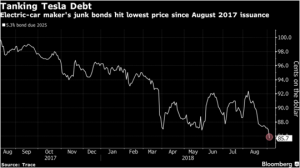 No surprise that Teslas bonds have been selling off since the SEC investigation was announced and Musks erradic tweets.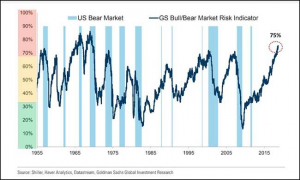 A gauge of bullish and bearish momentum in the U.S. stock market is ringing alarms for strategists at Goldman Sachs.  The investment bank's so-called bull-bear indicator, which examines five market factors, indicates that the likelihood of a bear market occurring is at its highest point since around the mid-1970s (see chart below).  Goldman analysts led by Peter Oppenheimer, chief global equities strategist, said an unusual period for Wall Street, characterized by loose monetary policy and a recent spate of fiscal stimulus has resulted in an uncannily bullish cycle for markets  that is likely to come to a screeching halt.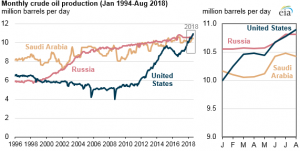 The US is now the largest producer of oil on a monthly basis just narrowly surpassing Russia.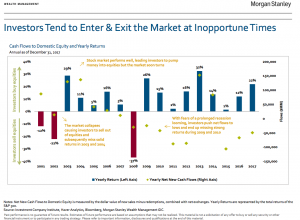 Research by Morgan Stanley shows how investors tend to enter and exit markets at the wrong times.  If you listen to the Howard Marks podcast, he discusses how hard it is to buy when everyone around you is selling.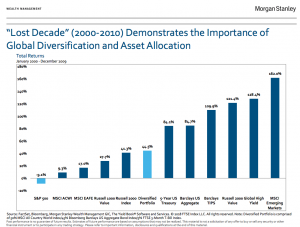 Another great chart by Morgan Stanley shows how important diversification can be.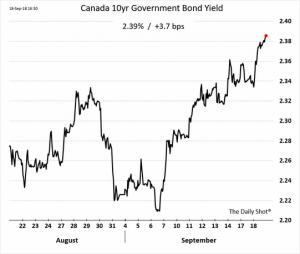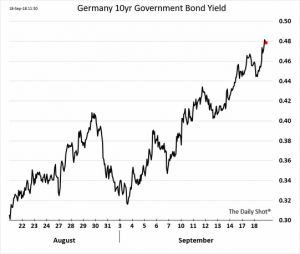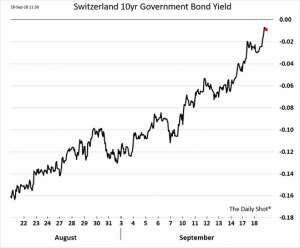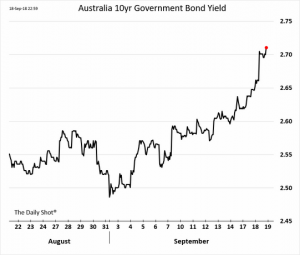 Bond yields across the globe are rising.  As global QE has ended in most countries and rates are rising, yields are following suit.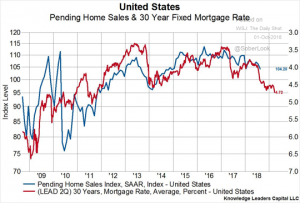 As yields and mortgage rates rise, home sales have declined and are expected to decline further.
I hope you enjoyed this months financial markets update.  If you have any questions please contact us directly.  If you're interested in a topic that you'd like us to address, please email us so we can include them in future updates.
If you're interested in starting a dialogue and learning how we can help, please click the link below to book a call or meeting with us.
Best Regards,
Jared Toren
CEO & Founder
Sources: Edges & Odds, WSJ Daily Shot
Proper Wealth Management's ("Proper") blog is not an offering for any investment. It represents only the opinions of Jared Toren and Proper . Any views expressed are provided for information purposes only and should not be construed in any way as an offer, an endorsement, or inducement to invest. Jared Toren is the CEO of Proper, a Texas based Registered Investment Advisor.   All material presented herein is believed to be reliable but we cannot attest to its accuracy. Opinions expressed in these reports may change without prior notice. Information contained herein is believed to be accurate, but cannot be guaranteed. This material is based on information that is considered to be reliable, but Proper and its related entities make this information available on an "as is" basis and make no warranties, express or implied regarding the accuracy or completeness of the information contained herein, for any particular purpose. Proper will not be liable to you or anyone else for any loss or injury resulting directly or indirectly from the use of the information contained in this newsletter caused in whole or in part by its negligence in compiling, interpreting, reporting or delivering the content in this newsletter.  Opinions represented are not intended as an offer or solicitation with respect to the purchase or sale of any security or financial instrument, nor is it advice or a recommendation to enter into any transaction. The material contained herein is subject to change without notice. Statements in this material should not be considered investment advice. Employees and/or clients of Proper may have a position in the securities mentioned. This publication has been prepared without taking into account your objectives, financial situation or needs. Before acting on this information, you should consider its appropriateness having regard to your objectives, financial situation or needs. Proper Wealth Management is not responsible for any errors or omissions or for results obtained from the use of this information. Nothing contained in this material is intended to constitute legal, tax, securities, financial or investment advice, nor an opinion regarding the appropriateness of any investment. The general information contained in this material should not be acted upon without obtaining specific legal, tax or investment advice from a licensed professional.
Jared Toren is CEO and Founder at Proper Wealth Management. Proper was born out of frustration with the inherent conflicts of interest at big brokerage firms influencing advisors to sell products that were not suitable for clients but profitable to the firm along with a consistently mixed message of who's interest was supposed to be put first; the clients', the firms', shareholders or advisors.
At Proper, our clients interests come first. We are compensated the same regardless of which investments we utilize so there's no incentive for us to sell high commission products. Since we focus on a small number of clients, we are able to truly tailor our advice to each person's unique circumstances.