I believe it's incredibly important to work with a team that understands not just your ideal or target allocation which takes into account your risks and goals, but one that also aligns your portfolio with market opportunities.  If I am comfortable driving up to 75 miles per hour, it doesn't always make sense to always drive at that speed, especially if you're approaching a sharp turn in the road or there's roadwork ahead.  I believe portfolio management should be approached the same way.
Below are a series of charts and graphs which we review on an ongoing basis to aid us in deciding "how fast" we are comfortable traveling.
FIGURE 1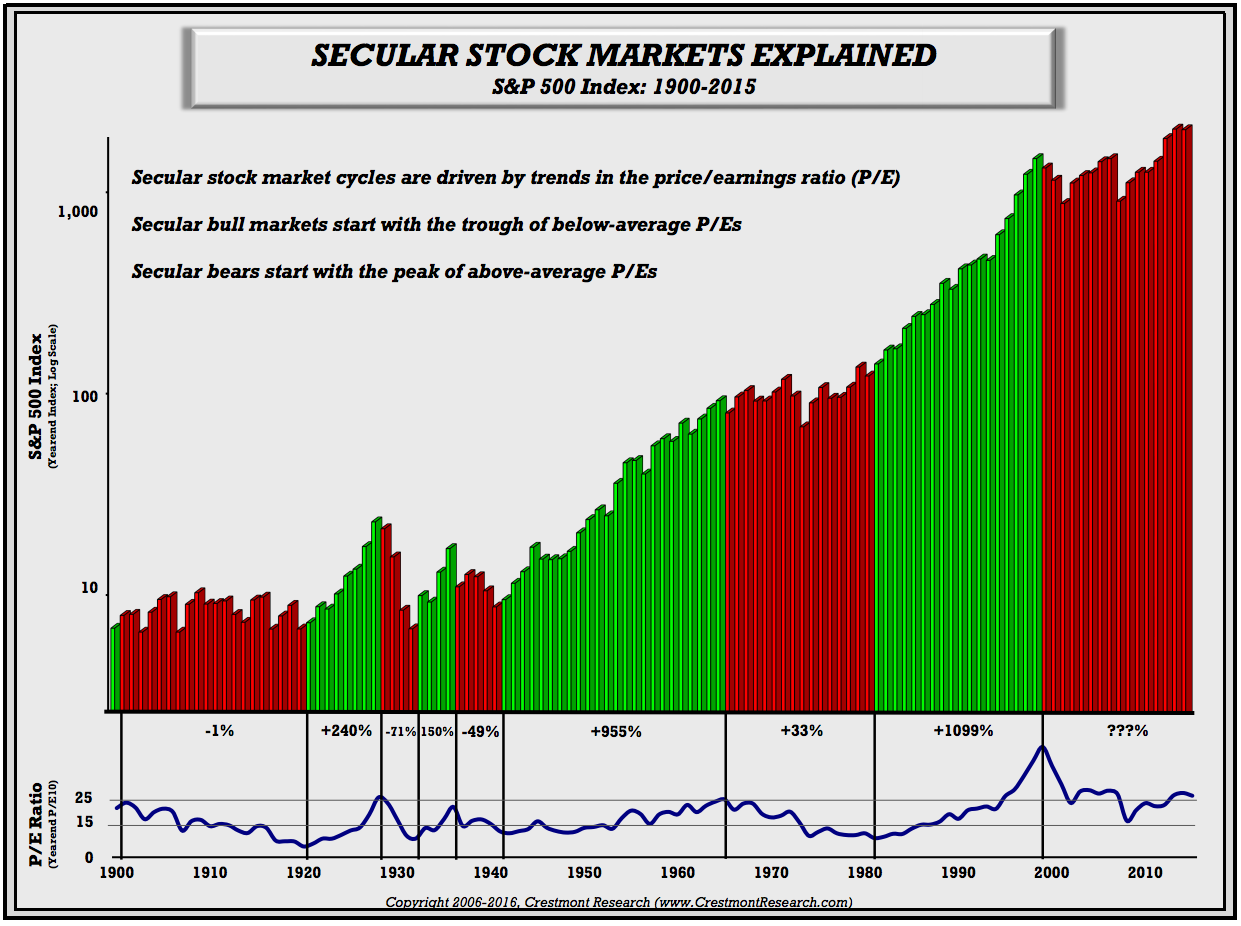 The US stock market has switched between secular bull and bear markets going all the way to 1900 (see Figure 1).  The secular bear and bull markets can last as long as 20 years such as the bull market we saw from 1981-2000.  Within these secular bull and bear markets have mini bull and bear markets.  The market crash in 1987, the interest rate spike in 1994 and Long Term Capital Management and the Asian Currency Crisis all happened within a secular bull market.  Whereas the market run-up from 2003-2007 and 2009-today happened within what many believe is a secular bear market.  In fact, there are a lot of professionals that believe the secular bear market we entered in 2000 has not ended.  How do we know when a secular bear market ends and when a secular bull begins?
                                     FIGURE 2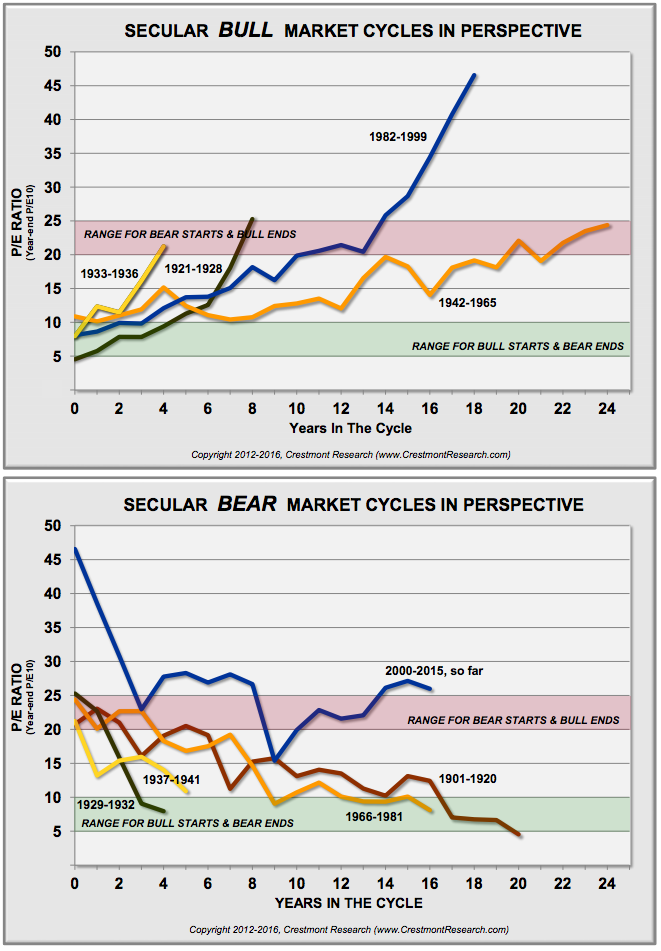 Secular bull markets tend to start when price to earnings ratios (PER) is in the single digits and secular bear markets tend to start when PER's are above 20 (see figure 2).  The secular bull market of 1982-1999 reached PER's that we have never seen before by almost double.  Since 1999, the lowest the PER has reached in this secular bear market is 15, which is about 30% higher than a PER of 10 (the highest starting PER of a secular bull market in US history).  If history is a guide, the PER ratio would have to drop by over 50% from current levels (21 – 25 depending on what measure of PER you use) before the ratio reaches 10 and a new secular bull market is formed.  Falling PER's usually happen in two ways  1. Earnings remain stable while the S&P 500 falls precipitously thus making the earnings multiple contract.  2. The S&P 500 falls (or remains flat) while earnings accelerate thereby reducing the earnings multiple.  So how have earnings forecasts been trending?
FIGURE 3
Since 2012, we've seen earnings forecasts being revised down each month starting from 24 months out until the actual earnings occur (see figure 3).  I have found companies and analysts to be overly optimistic when creating projections of future earnings.  If this trend continues, you can take the above mentioned scenario of a stable S&P and increasing earnings to reduce the PER out of the equation and we're left with a significant market decline needed to create lower PER needed to start the next secular bull market.  So where are we today?
FIGURE 4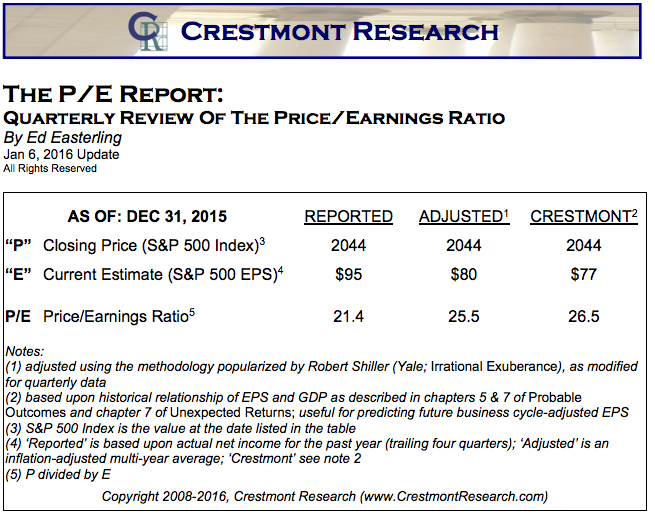 If you look at the snapshot below, the current PER for the S&P 500 closed the year at 21.4.  If you adjust the PER using methodology popularized by Robert Shiller using the Shiller PER (cyclically adjusted price-to-earnings ratio), you get a PER of 25.5.  Without adjustment, the current PER is significantly above the long term average PER for the markets and a long way from single digits needed to start a secular bull market according to past data.  What is wall street forecasting?
     FIGURE 5
To emphasize my belief that analysts are overly optimistic, here is a chart that shows wall street strategists S&P 500 annual gains targets and how the S&P actually performed.  There were a few years that strategists were close, but overall their predictions (AKA guesses) were significantly off from reality.  There wasn't one year that there was a consensus view that stocks would have a negative year.  I find that incredible.  What do I think?  My magic 8 ball keeps saying outlook not so good.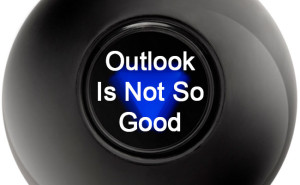 So what's happening with interest rates?
FIGURE 6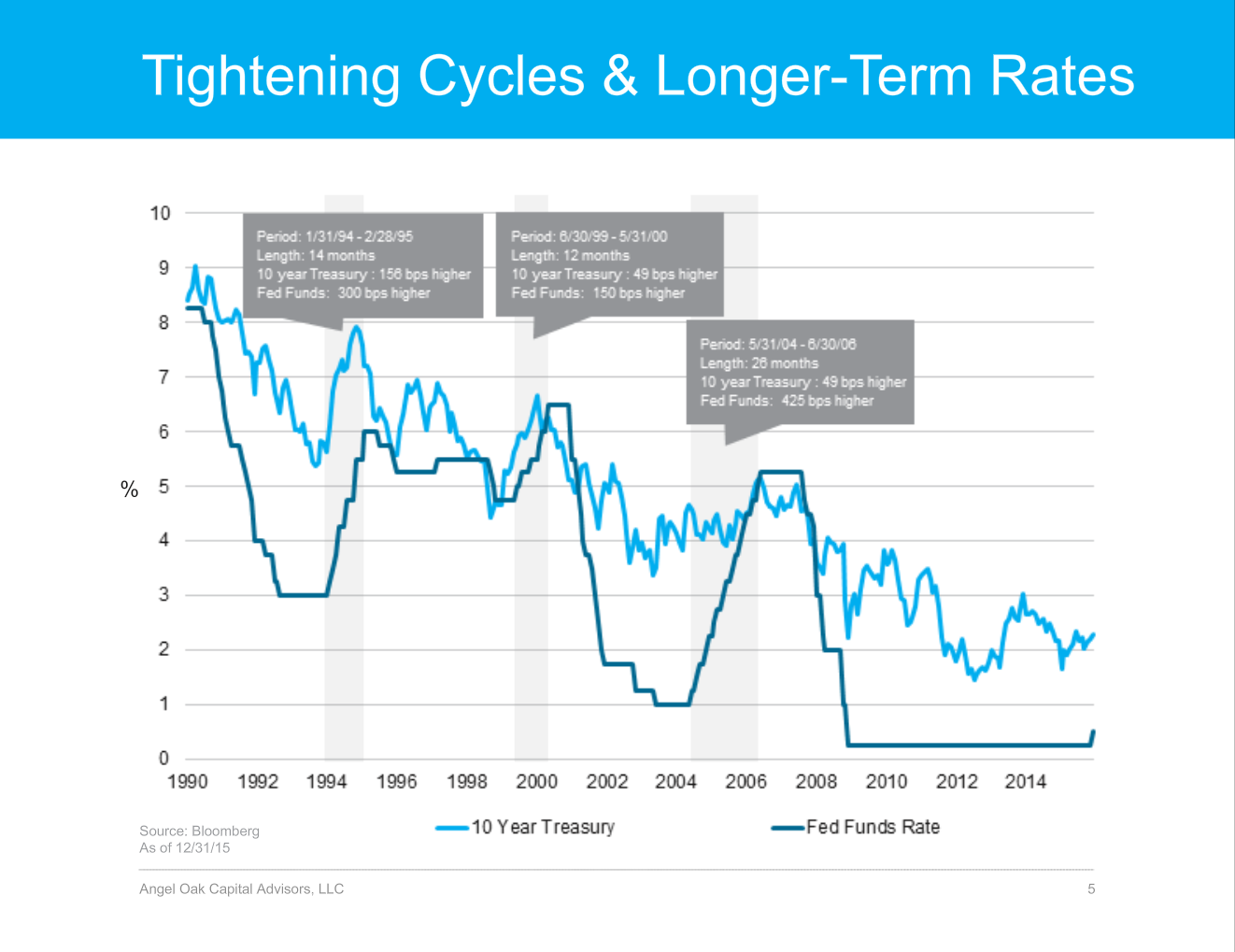 While this chart has nothing to do with PER's and stock market valuations, I came across it on a conference call and thought it was worth sharing.  The Fed finally started raising rates at the end of 2015 and the fed funds rate now sits at .25%.  We have had periods of rising and falling rates going back to the 70's.  In the chart to the left, the fed funds rates has ranged from 0% – 8% since 1990.  When the fed funds rate increased, it tended to cause short term spikes in the 10 year treasury which reversed itself and resumed a downward trend.  There were even times when the 10 year treasury didn't move or moved very slowly in response to rising fed funds rate such as from 2003-2008.  In 2003, the Fed slowly increased interest rates over a 3 year period (give or take) until it reached 5% in 2006 and the 10 year treasury moved from a low of 3.5% to a high of approximately 5% over that same time.  Just because the Fed is raising rates (or says they will) does not mean that the intermediate and long term treasury bonds will increase in yield by the same amount or at all.  During the past 25 years (at least), there's been a clear pattern of falling yields while the fed funds rate has been sporadic.  Technicians say the trend is your friend and if the current trend holds, we could see the 10 year treasury back below 2%.  It will be interesting to watch this pattern to see if it continues or breaks.  Continued falling yields is a bad sign in my opinion because it portends low inflation, disinflation, deflation and/or slowing growth; all of which are not good.
I am an optimist by nature as most people are, but I'm also a realist (not an oxymoron).  There are so many things excited about.  Stocks in my opinion are not yet one of those things.  I urge caution to all trying to pick a bottom in markets since you can get cut trying to catch a falling knife.
Regards,
Jared Toren
Proper Wealth Management, CEO & Founder
Sources used in this post were taken from: Crestmont Research, Angel Oak Capital, Bloomberg, S&P Capital IQ and Birinyi Associates.
Proper Wealth Management's blog is not an offering for any investment. It represents only the opinions of Jared Toren. Any views expressed are provided for information purposes only and should not be construed in any way as an offer, an endorsement, or inducement to invest. Jared Toren is the CEO of Proper Wealth Management, LLC, a Texas based Registered Investment Advisor.   All material presented herein is believed to be reliable but we cannot attest to its accuracy. Opinions expressed in these reports may change without prior notice. Information contained herein is believed to be accurate, but cannot be guaranteed. This material is based on information that is considered to be reliable, but Proper Wealth Management and its related entities make this information available on an "as is" basis and make no warranties, express or implied regarding the accuracy or completeness of the information contained herein, for any particular purpose. Proper Wealth Management will not be liable to you or anyone else for any loss or injury resulting directly or indirectly from the use of the information contained in this newsletter caused in whole or in part by its negligence in compiling, interpreting, reporting or delivering the content in this newsletter.  Opinions represented are not intended as an offer or solicitation with respect to the purchase or sale of any security or financial instrument, nor is it advice or a recommendation to enter into any transaction. The material contained herein is subject to change without notice. Statements in this material should not be considered investment advice. Employees and/or clients of Proper Wealth Management may have a position in the securities mentioned. This publication has been prepared without taking into account your objectives, financial situation or needs. Before acting on this information, you should consider its appropriateness having regard to your objectives, financial situation or needs. Proper Wealth Management is not responsible for any errors or omissions or for results obtained from the use of this information. Nothing contained in this material is intended to constitute legal, tax, securities, financial or investment advice, nor an opinion regarding the appropriateness of any investment. The general information contained in this material should not be acted upon without obtaining specific legal, tax or investment advice from a licensed professional.
Unless you've been on vacation without wifi access or a television, 2016 is off to a rough start for stock markets around the world.  On top of that, oil dipped below $30 a barrel briefly on January 12th for the first time in 12 years.  There's a lot of confusion and questions and a lot of people are very nervous about their portfolios and the markets in general.