10 best days myth in a blog post.  This myth as I call it is perpetuated by large money-center institutions as a way to show investors a) why they need them and b) why they should stay invested throughout market cycles in zombie-like portfolios for fear of missing a few large up days.  I came across a similar chart (but different enough) by Gary Shilling which looks at this myth slightly differently.  I won't bore you again with all of  the  details of the myth since you can read about it on our blog here.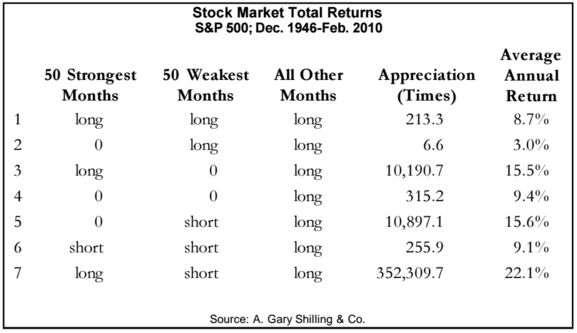 Lines 1 & 2
They say timing the market is difficult and trying to can destroy returns.   From 1926 through 1996, almost all of the total gain on stocks occurred in only 60 months or 7% of the total.  Thus, if you weren't invested during that 7% of the time, you didn't earn anything in the market. From December 31, 1946, through February 2010, the Dow rose at an 8.7% compound annual rate, including the reinvestment of dividends but with no deductions for taxes. In dollar terms, $1 invested in 1946 turned into $213.30 by February 2010.  If you happened to miss the 50 best months (line 2), your returns would have shrunk to 3% annually from 8.70%.
Line 3 & 4
Assume you were invested in the S&P 500 except for the 50 weakest months. Line 3 highlights that this significantly improves the results. The $1 invested in 1946 would have grown at a 15.5% annual rate to $10,191.  Due to the power of compounding, the $1 would have grown to $10,190 far outperforming the buy and hold strategy in line 1.  The benefit of being out of stocks during the periods of big market decline is even more powerfully shown in line 4.  If an investor missed the 50 best months and  50 worst months, the average annual return becomes +9.40%, beating the 8.7% return of the buy and hold strategy.  This is amazing considering you would have missed the 50 best months to be invested.  This fact is extremely comforting to anyone trying to time the market since he can hardly expect to be in cash in the biggest down months of bear markets without also being absent during some of the frequent final blow-off months of the bull markets that precede them.
Lines 5, 6 & 7
Lines 5, 6 & 7 show the potential returns in variation if you were shorting stocks (selling stocks you don't own only to buy them back at lower prices).  What's interesting here is that even if you were able to short the 50 weakest months and the 50 strongest months, your returns are still better than the buy and hold strategy of line 1.  The moral of the story is it's more profitable to be in stocks during bull markets, but it's even more profitable to be short stocks, or at least out of the market, during bear markets—even if many of the major bull market months are missed completely.  I don't believe lines 5 & 7 are reality since I have never come across anyone who can time the market long and short with this degree of accuracy.
The strategy we most often employ utilizes a technical indicator which has historically provided indication of impending bear markets and would have helped you miss bad months (most, not all).  A winning by not losing investment strategy is in our opinion the best way to build wealth over the long term.  Remember, if you lose 50% you need to earn 100% to break even!
If you have any questions on this or how we help clients, please contact us directly.
Best Regards,
Jared Toren
CEO & Founder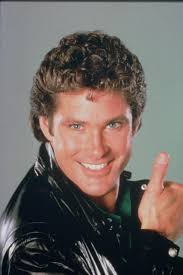 Proper Wealth Management's ("Proper") blog is not an offering for any investment. It represents only the opinions of Jared Toren and Proper . Any views expressed are provided for information purposes only and should not be construed in any way as an offer, an endorsement, or inducement to invest. Jared Toren is the CEO of Proper, a Texas based Registered Investment Advisor.   All material presented herein is believed to be reliable but we cannot attest to its accuracy. Opinions expressed in these reports may change without prior notice. Information contained herein is believed to be accurate, but cannot be guaranteed. This material is based on information that is considered to be reliable, but Proper and its related entities make this information available on an "as is" basis and make no warranties, express or implied regarding the accuracy or completeness of the information contained herein, for any particular purpose. Proper will not be liable to you or anyone else for any loss or injury resulting directly or indirectly from the use of the information contained in this newsletter caused in whole or in part by its negligence in compiling, interpreting, reporting or delivering the content in this newsletter.  Opinions represented are not intended as an offer or solicitation with respect to the purchase or sale of any security or financial instrument, nor is it advice or a recommendation to enter into any transaction. The material contained herein is subject to change without notice. Statements in this material should not be considered investment advice. Employees and/or clients of Proper may have a position in the securities mentioned. This publication has been prepared without taking into account your objectives, financial situation or needs. Before acting on this information, you should consider its appropriateness having regard to your objectives, financial situation or needs. Proper Wealth Management is not responsible for any errors or omissions or for results obtained from the use of this information. Nothing contained in this material is intended to constitute legal, tax, securities, financial or investment advice, nor an opinion regarding the appropriateness of any investment. The general information contained in this material should not be acted upon without obtaining specific legal, tax or investment advice from a licensed professional.
Jared Toren is CEO and Founder at Proper Wealth Management. Proper was born out of frustration with the inherent conflicts of interest at big brokerage firms influencing advisors to sell products that were not suitable for clients but profitable to the firm along with a consistently mixed message of who's interest was supposed to be put first; the clients', the firms', shareholders or advisors.

At Proper, our clients interests come first. We are compensated the same regardless of which investments we utilize so there's no incentive for us to sell high commission products. Since we focus on a small number of clients, we are able to truly tailor our advice to each person's unique circumstances.

A few months ago, we highlighted the